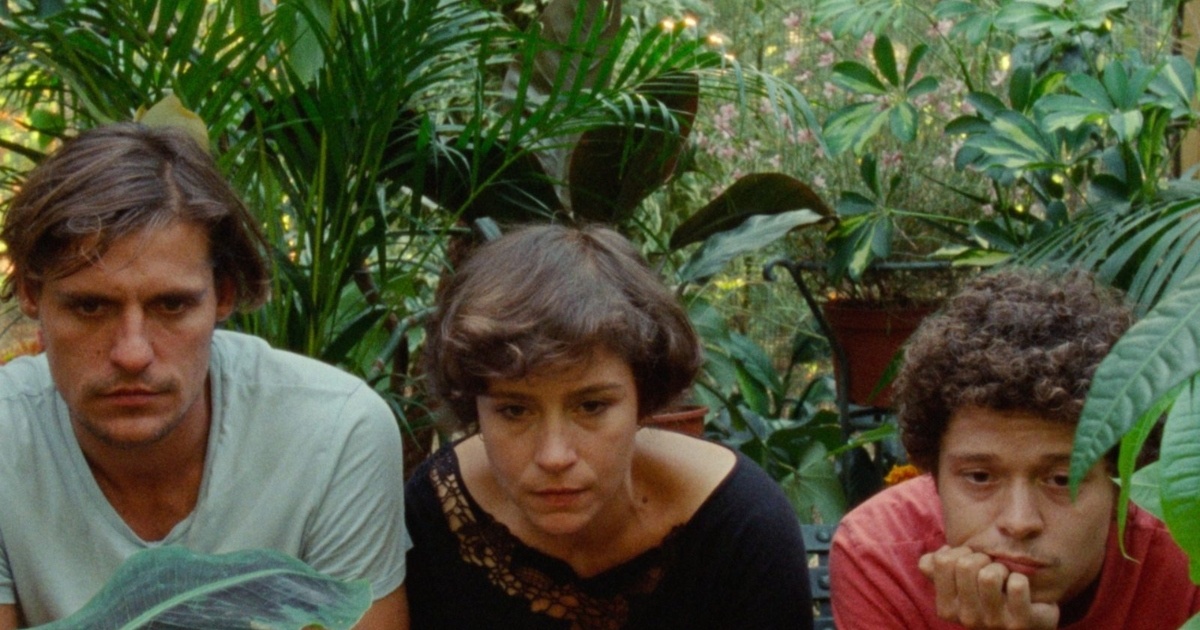 Starting off this year's dive into the New York Film Festival is a look at the section of the festival that's for "the real heads."
Despite going through some name changes over the years, what has become known as the Currents section of the festival is, in many cases, the most exciting and thought provoking arm of NYFF. Home to the latest and greatest in groundbreaking, avant garde cinema, Currents 2021 is no different.
Arguably the most talked about feature included here is the beautiful The Tsugua Diaries. Playing as the Opening Night feature for the section for a reason, The Tsugua Diaries is the return to the director's chair for beloved auteur Miguel Gomes (Arabian Nights, Tabu), who co-directs opposite Maureen Fazeneiro. One of the few films born out of the COVID-19 pandemic that feels at once inspired by and speaking directly to the isolation brought on by the pandemic without leaning into it as to make it historically time stamped.
In its own way an epistolary film of sorts, this film is structured as a diary of sorts told in reverse and tells the story of three housemates living during lockdown in what appears to be the epitome of a rural oasis. Shot in lush, unbelievably textured 16mm, The Tsugua Diaries is an expertly crafted film that feels at once playfully light and also too well composed to be anything less than essential viewing. Slightly glancing at the same magical realism that Gomes' previous films would foreground, his pairing here with Fazeneiro is an inventive experiment, a film about the passing of time that plays with narrative in ways that feel strange and alluring. A pandemic-era film that captures the weirdness of the moment less by making the pandemic the point than it does deconstructing the art of storytelling in a way that feels fitting for a moment in history where time truly felt skewed and strange.
Also, Frankie Valli's The Night is proven to once again be a banger, so there's that.
Next up is maybe the quietest film in the section this year. Outside Noise is the latest film from underrated Philadelphia filmmaker Ted Fendt (Classical Period remains one of the great "great films you've not heard of"), and tells the story of Daniela who has returned home after a brief excursion to New York. Set in both Berlin and Vienna, Outside Noise is a one of a kind character study that attempts to bring to life a very specific moment in one's life where the past and future both feel vaguely untouchable.
A step forward down the path of narrative deconstruction for Fendt, his latest clocks in at just a pinch over an hour in length and finds the director very much leaning into the idea of narrative sparseness. The narrative here feels solely structured around a series of interactions, involving characters caught in the strange proverbial purgatory that one's mid-thirties can become. Daniela is unsure of her next steps and where to live next, just like Mia is unsure of how to finish her master's degree and viewers will also encounter Natascha, a woman contemplating a move to an entirely new country that would upend her entire life. Less about the before or after and more about the journey one takes in between, Outside Noise is a gorgeously shot 16mm experiment in narrative weight and the bullshit concept of "stakes" as something legible or tactile. Driven by incredible performances from Daniela Zahlner and Mia Sellmann, this is humanist filmmaking at its very best.
Another film with a roughly hour-long runtime, Nature is the return to filmmaking for legendary director Artavazd Peleshyan, who hasn't been heard of in the director's chair since what was long thought to be his final film, 1993's Life. Ostensibly yet another dive into the relationship between man and nature, the core relationship within the soul of Peleshyan's larger project, Nature adds texture to this long discussed trope by deriving much of its archival material from the internet, giving the film a stark and grungy energy. Setting violent, literally explosive scenes like volcanic eruptions opposite plaintive landscape shots, Peleshyan's latest has a simple conceit, but its frames pack quite a punch.
"Shot" in black and white, the film carries throughout each frame a strange timelessness, a surreal energy that feels born less of modern documentary than it does the earliest stages of ethnographic filmmaking. Seeing this type of editing taken to its logical extreme given the rough nature of its rudimentary footage is profoundly thrilling, the film playing out as once a callback to the earliest stages of non-fiction filmmaking while also being a guttural scream into a future where nature truly always wins. Occasionally beautiful, often deeply terrifying, Nature is a portrait of a world that we've destroyed and will destroy us, with a look and energy that feels as if it were beamed straight to us from that dystopian future.
Now we head into the epics of the Currents section. At a mammoth 80 minutes comes Ste. Anne, arguably the section's biggest discovery. Coming to NYFF 2021 following a much talked about festival run, Ste. Anne is a fascinating, often haunting feature from director Rhayne Vermette. Despite being another of the numerous 16mm films here in this year's selection, Vermette's debut feature is decidedly its own beast, a film that takes the hazy energy 16mm gives you and embeds within her film an almost spiritual energy. A blend of scripted and improvised sequences shot over just over a year, the film tells the story of a formerly-missing woman's return to rural Manitoba.
Vermette also stars here as Renee, giving this film a strong sense of personal connection. Ostensibly a film about motherhood and connection, Ste. Anne finds much of its power less from any sense of narrative stakes or weight and more by the tactile energy brought on by the almost dream-like use of the 16mm. There are seemingly simple flourishes here like drowned out dialogue or overexposures, yet nothing feels derivative or maudlin, instead finding a film of profound intimacy and truth brought to life in an almost cosmic-feeling story. Very much influenced by the Metis community in which it is set, the film is less interested in the concrete truths about Renee or her sudden reappearance than it is the connection people share with both one another and the land that they inhabit. A film of incredible textures both visual and sonic, there's truly no other film like it in this year's NYFF writ-large.
Finally, closing out this look at the highlights of the feature section of this year's Currents lineup at the New York Film Festival, we go to the world of documentary for one of the more alluring and evasive documentaries of 2021 so far. Just A Movement is a fascinating, singular portrait of a fascinating and singular political revolutionary with a strange connection to the world of experimental cinema. While best known for his activism and controversial death at the age of 26, Niger-born French revolutionary Omar Blondin Diop is the focus of this new film from filmmaker Vincent Meessen, highlighting the legendary political figure's work both as an activist and also as an actor as seen in Godard's brilliant La Chinoise.
Using Godard's film not just as an influence but as some strange launching pad, Just a Movement blurs the line between fiction and non-fiction, becoming at once a classically structured documentary about a legendary political figure and also a free form meta-commentary about the making of the documentary itself. Very much a work of politics as much as it is cinema, Meessen's narrative weaves together talking head ruminations about Diop from those who knew him, various footage from Godard's film and a narrative that attempts to look at the colonization of modern day Senegal, balancing each aspect with profound maturity. The film's tension ratchets up during the third act as the circumstances around Diop's death come into the fore, adding yet another layer of narrative intrigue to what is an ever evolving melting pot of ideas.