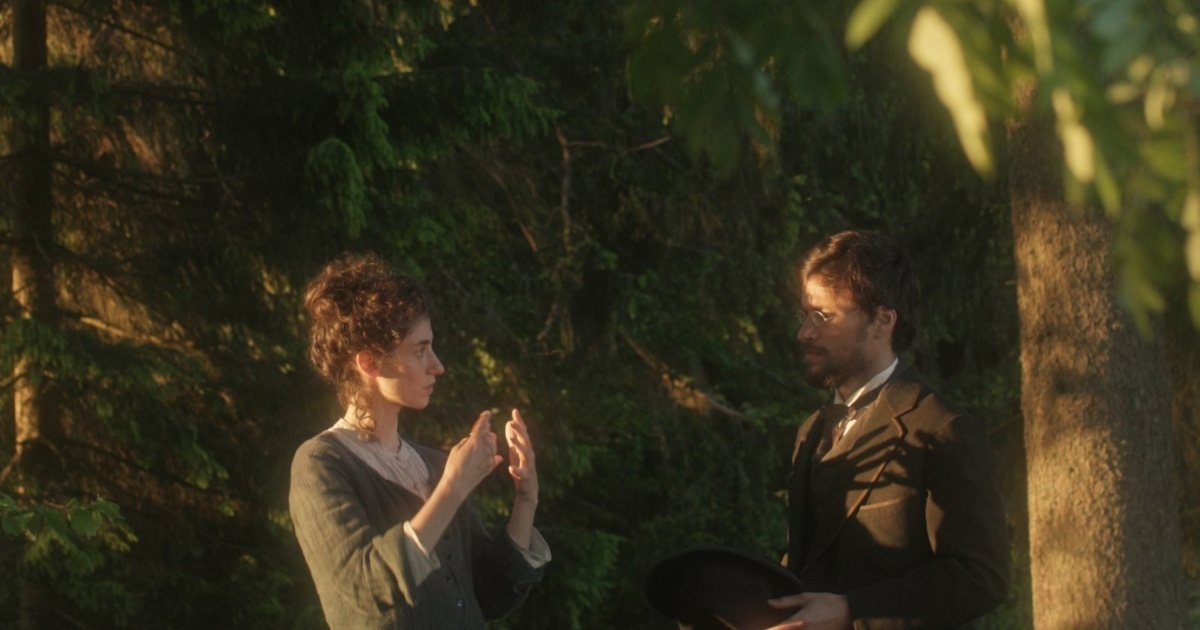 First up on this second NYFF dispatch is the latest from one of cinema's great documentarians. However, it's not quite the film one would expect from a director like Frederick Wiseman. The legendary filmmaker leaves the world of non-fiction cinema to instead bring to life the writings of one of history's great muses. Starring Nathalie Boutefeu, who also co-wrote the piece with Wiseman, A Couple tells, through her own words, the life of Sophia Tolstoy, wife to the legendary author Leo Tolstoy.
Structured around diary entry and as a collection of static, often verdant monologues about the couple and their relationship, the film finds Wiseman not just working in a more theatrical mode but also a much less epic scale as well. At just a pinch over an hour, the film does carry with it an incredibly light and almost dream-like energy to it, despite it being largely a portrait of a woman fighting for her place in a relationship opposite a figure of historic renown. Intercut with shots of flowers, bodies of water and landscapes, Wiseman's direction is subtle and focused, allowing Boutefeu's inspired performance to truly breathe and take tactile shape. A thoughtful, plaintive recontextualization of one of the great lives in literary history, as told through the eyes of the woman by his side, A Couple is a gorgeously composed rumination on the creative experience. "Most men live most of their lives as in front of a mirror."
Next up is arguably the festival's prettiest film. Directed by Cyril Schaublin, Unrest introduces viewers to Josephine, a cog in the large machine that is a Swiss watch factory in 1877. After becoming frustrated with the organization of labor and the focus on possession, she encounters famous Russian anarchist Piotr Kropotkin and begins to dive deeper and deeper into the movement, at a point where production itself is set to evolve after the introduction of things like photography and time studies.
Painterly and achingly romantic, Schaublin returns to features after 2017's brilliant Those Who Are Fine and has turned this quiet meditation on labor, production and class into a painterly and achingly romantic character study. The cinematography here is rich and feels strangely delicate, like the watches we see being created. A profoundly politicial film, the film has the trappings of an ornately composed period drama, but is a film of genuine rebellion and revolution. From the very outset, with these beautiful women in their beautiful dresses discussing, without holding any hands, the politics of the day, Schaublin's film leans into the dense nature of its narrative. It's a startling work of maturity and one of the years very best films.
Finally, NYFF wouldn't be NYFF without at least two films from director Hong Sang-soo, and that's exactly what we have here. First up is Walk Up, yet another film from the director that's about, more or less, himself. Here it's frequent Hong proxy Kwon Hae-hyo as the director, who is attempting to reconnect with his estranged daughter. While that all does sound like a typical Hong picture, Walk Up feels decidedly different, or at least decidedly more mature. The self-reflection here has a tinge of regret to it, or maybe more so a sense of melancholy that feels more brooding than his previous diary-esque works. While the jokes of "his characters drink wine and not soju so its evolution" can absolutely be made, they feel infuriatingly dismissive, as not only are the performances beautifully textured and layered but Hong's direction is subtle and points towards this being a film of a different ilk.
And then there's The Novelist's Film. Possibly Hong's very best film yet, this work follows a female novelist who takes a trip to get back with a friend. As far from his drunken ruminations on male/female relationships, The Novelist's Film tells the story of Jun-hee (Lee Hye-young), as she connects with an actress (Kim Min-hee) and attempts to sasitate her creative spirit. Absolutely a film of self-reflection (Kwon Hae-hyo even returns as, you guessed it, a middle-aged filmmaker of some renown), the film is also absolutely about Hong's own relationship with Kim Min-hee, culminating with inarguably Hong's greatest final scene. There's a stylistic shift in this last scene that turns the film into something startlingly rapturous, deconstructing the very film we've just spent 90-ish minutes watching. It's not a rug-pull, no. Instead, Hong gives us this film about the beauty of spontaneity, and makes that theme literal in his gushing love letter to his partner. If truth is beauty, and beauty truth, then few films this year are more evocative, more genuine.