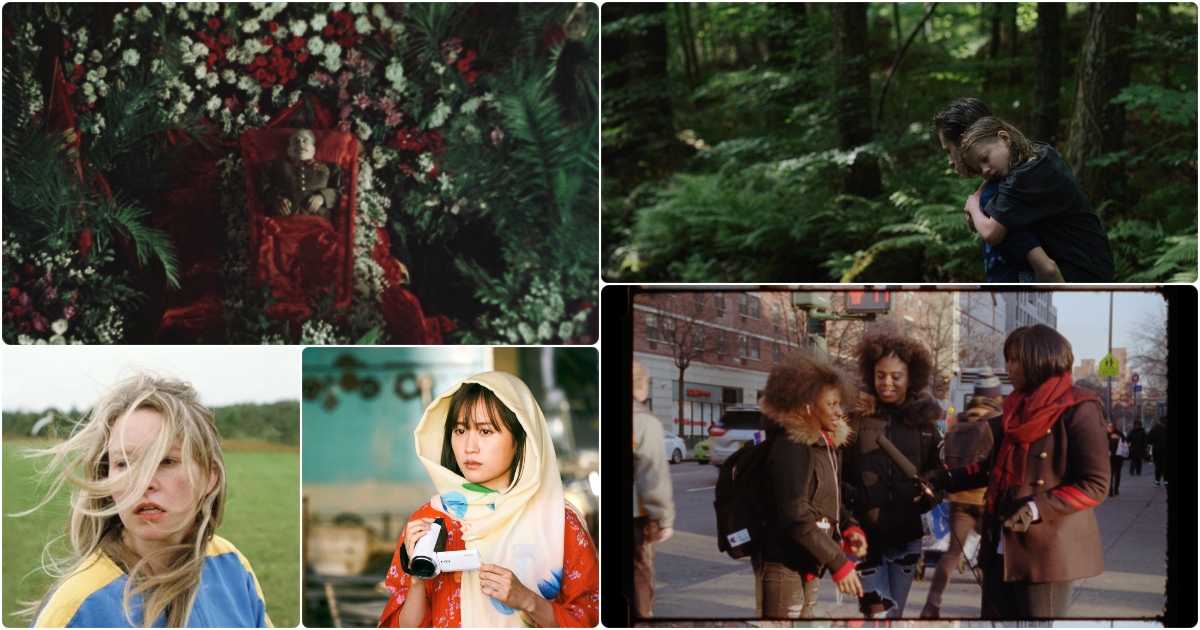 Well, it's that time of year once again. For the 43rd year, Portland plays host this March to the latest and greatest from filmmakers the world over. The Portland International Film Festival is routinely one of the great regional film festivals here in the states, bringing together highlights from festivals as niche as Rotterdam to as legendary as Sundance and TIFF, throwing under one roof an expertly curated collection of new films from established auteurs, experimental debuts and world cinema hits. But where should one begin? Well, that's what we're here for. These are the ten films you need to see from this year's incredible Portland International Film Festival lineup.
10. I Was At Home, But…
Starting off this year's preview of the Portland International Film Festival are two films that are now currently in theaters, and not just (arguably) the two best films in this year's lineup, but the two best films yet to hit screens in 2020. First up is Angela Schanelec's incredible I Was At Home, But…, a film we've covered here at some length, but would be criminals to not mention. Schanelec's latest tells the story of a middle-aged mother of two dealing with the death of her husband, and how this loss can cripple even the strongest of units. I Was At Home, But… is a tender, sometimes funny and frequently devastating rumination on grief and family, art and motherhood, all in the body of a formalist masterpiece by one of today's greatest filmmakers.
9. Vitalina Varela
Speaking of the great filmmakers of this generation, Pedro Costa returns to theaters with Vitalina Varela. Starring the titular actress, the film follows a 55-year-old Cape Verdean woman who, upon landing in Lisbon, is thrust into the world that her long estranged husband traversed with hopes of bringing about a new life for he and his wife. Coming to the area three days after his funeral, Varela sticks around with the plan of learning more and more about the life the led after leaving for work decades prior. The film is keeping in Costa's line of haunting, unshakably quiet ruminations on class, migration and colonialism, with soul-shattering bursts of poetic realism. Despite the perceived simplicity of his framing, his films (very much including this) find real power within the quiet naturalism of the moments he portrays, and often feels hypnotic or dream-like. Culminating in a final five minutes or so that are as spiritually transcending as anything we've seen on screen, Vitalina Varela is one of the best films of the last ten years, and a crowning achievement from today's best living filmmaker.
8. The Wild Goose Lake
Hitting limited release in correlation with the start of the Portland International Film Festival, The Wild Goose Lake is a gritty Chinese film noir, and not quite like anything else at this year's festival. From Black Coal, Thin Ice director Diao Yinan, Goose Lake introduces viewers to Zhou Zenong (Hu Ge), a mobster who, after killing a cop unintentionally, must make a run for it after a rather handsome bounty is put out on his head. One of the more strange and alluring "action" films you'll see this year, Yinan's direction is often quiet and meandering, the majority of the film standing as a hypnotic tone piece with plaintive framing and muted performances. However, when Yinan flexes his action muscles, he uses the violence in almost a painterly manner, with the real aggression coming across in the editing of the sequences. Each literal cut in the edit, particularly in a interior fight sequence near the film's third act, is used like a whip, lashing the film and in turn the viewer out of a languid daze. Arguably causing the film to feel a bit misshapen, it in actuality makes the film feel closer in line with silent cinema, with the editing in these action scenes feeling so radically raw and plain as to seemingly shake the viewer by the collar. It's simply a noir unlike any you've ever seen.
7. Marona's Fantastic Tale
From gritty, ultra-violent film noir to an animated film that, in any just society, will be the talk of the film world come Oscar season. Think the dream-like, surreal animated riff on Au Hasard Balthazar, Marona's Fantastic Tale is just that, a fantastic tale that introduces viewers to Marona, a charming little dog that's nearing the end of her clearly eventful life. More or less a recounting of her life as seen in connection with the men and women she encountered along her way, animator Anca Damian crafts a wholly unique world that uses animation to not just impress viewers with flashy tricks, but more properly portray the beauty, love and genuine sadness that these types of experiences carry with them. One may want to dismiss the film as just another candy-colored confection, however that would be foolish, and this is an endlessly moving odyssey with impressive character design, inspired surreal set pieces and a narrative that never overstays its welcome. A total knockout, this film.
6. Bird Island
Speaking of Robert Bresson, one of the festival's shorter features owes a great debt to the legendary auteur. This hybrid docufiction from directors Maya Kosa and Sergio da Costa has been billed as some sort of Diary of a Country Priest riff, which may sound pompous but it's not entirely wrong. The film introduces viewers to Antonin, a rat breeder at an isolated bird rehabilitation center, a rehab center that doesn't just bring birds back to life or put them out of their misery, but more or less attempts to do the very same for those men and women who also call it home. One of the more radical films in this year's PIFF lineup, Bird Island is an empathy bomb, an almost experimentally humanist portrait of a giver of life to things born to be eaten at a place where broken things go to get fixed. Gorgeously shot and deceptively simple in its framing, Kosa and da Costa craft a brazenly tranquil film that concludes with a gut punch of a final sequence.
5. It Must Be Heaven
It's been a decade since we've last seen a feature film from director Elia Suleiman, and thankfully it's been worth the wait. It Must Be Heaven is not just one of 2020's more hotly anticipated foreign-language films here stateside, but it's one of the year's better films writ-large. Ostensibly a Tati-style series of vignettes that find director Suleiman traversing various cities (including Nazareth, Paris and New York), where he is faced with what it's like to be from and have a connection to Palestine. Each sequence is more or less a dryly comic set piece that often pairs Suleiman's own love and admiration for each city with often comically heightened observations that attempt to compare and contrast each location to prove that we're more like one another than not. Very much a film about identity, It Must Be Heaven is a wonderfully engrossing comedy that concludes with one of the more hopeful crescendos you'll ever see, and yet it's not all soft humor. The film is a defiantly political work, a work that attempts to, through the comparing and contrasting of these different worlds, proves just how absurd life in Palestine truly is. It's a powerful, unshakable picture.
4. State Funeral
It Must Be Heaven may be slyly political, but the same can't be said for Sergei Loznitsa's latest. State Funeral is in keeping with the beloved filmmaker's long running documentary project, and is a film that faces the political history of Russia squarely, this time through a collection of footage shot during the funeral of one Josef Stalin. Displayed for public viewing from March 6-9, 1953, more or less just hours after he died from a cerebral hemmorhage, Stalin's body brought out millions of civilians an politicians to pay their respects, and using this footage Loznitsa doesn't build up a piece of propaganda, instead doing something far more interesting. While yes, it could be seen superficially as a piece of pro-Stalin propaganda (absurd given the final title cards at the film's close), Loznitsa's latest documentary is a gorgeously structured look at political pomp and circumstance born in response to the fall of a regime where that feels rightly perverse. Almost absurdist in its portrayal of how blind worship leads to deification, even in arenas where religion should be out of place, State Funeral is a 135-minute documentary where the runtime is very much the point.
3. The Giverny Document (Single Channel)
Arguably the most radical work at this year's festival, The Giverny Document (Single Channel) comes from director Ja'Tovia Gary and through a blend of various techniques ranging from woman-on-the-street interviews to animation ruminates on the perceived safety of Black women in America. Shot in both Harlem and Monet's gardens in Giverny, France, the film is a brisk 41 minutes and while that may not seem like it will pack much of a punch, it in actuality stands as one of the more intellectually dense films in this year's lineup. Gary's film is at points beautiful and experimental, at others hopeless and terrifying. "Do you feel safe" is the film's question, and over these 41 minutes Gary discovers answers that are sometimes haunting, other times empowering, and many absolutely soul crushing. Yet never are they not captivating, making this engrossing art film one of 2020's biggest discoveries.
2. Anne At 13,000 FT
Directed by Kazik Radwanski, Anne at 13,000 Ft. clocks in here as the penultimate entry and while the title may hint at some distance between the viewer and the film's lead character, it's almost laughably the opposite. One of the more claustrophobic character studies of recent memory, the film stars Deragh Campbell as Anne, who after going skydiving for a bachelorette party, attempts to view her life in a new, more free way. Shot almost entirely in tight close ups, the film is a captivating and humanist portrait of a woman on either the verge of a nervous breakdown or the verge of a transcendent breakthrough, and how the line between those two is almost unnoticeable. Feels in actuality like some sort of Jonathan Demme B-side, like a sort of Rachel Getting Married follow-up that the late filmmaker never got to make. Campbell also proves, once again, that she's maybe the best young actress working today and gives a performance that's tender and raw in a way that feels manic yet never arch. A fully rounded performance in a film that's human and beautiful.
1. To The Ends Of The Earth
From director Kiyoshi Kurosawa comes the most must-see film from this year's PIFF lineup, and arguably the best film of 2020 to this point. To The Ends of The Earth tells the story of Yoko (Atsuko Maeda), the host of a travel show who, while filmming an episode in Uzbekistan, becomes subject to a series of events that challenge her to keep her wits about her while being faced with almost absurd roadblocks. For a filmmaker best known for horror films, this is Kurosawa in a more dramatic mode, and is at points one of his most funny films, and also one of his most overtly moving pictures. A genre-bending portrait of one woman's existential isolation where the burst of theatricality and surrealism (like a musical sequence near the end that marks the film at its most rapturous) only compound the film's power, To The Ends of the Earth is a beautifully composed drama that, much like Anne at 13,000 Ft., finds its filmmaker working in a decidedly humanist key. It's heartbreaking and it's perfect. Just a masterpiece of the highest order.