When a filmmaker as wildly imaginative as Alain Resnais (Last Year at Marienbad; Hiroshima, mon amour; Mon Oncle D'Amerique) titles his latest film You Ain't Seen Nothin' Yet!, you'll have to forgive me if certain expectations are created, and commend Resnais all the more for continuing to keep me deliriously off-balance. Adapting two plays by Jean Anouilh in a manner so deft that I was only aware of one of them, Resnais (along with co-screenwriter Laurent Herbiet) continues to demonstrate that his rather simple artistic prerogative – direct the film as the story demands it – is anything but.
A group of actors, all of whom are playing themselves, are called to hear the reading of the will of their recently-deceased friend, Antoine d'Anthac, who, in the "reality" the film creates, wrote Eurydice. All of them had starred in productions of this play before, so he saw it fit that they should determine whether a troupe that's aiming to mount their own is deserving of the work, as he's no longer alive to do so. The actors assembled, all of whom play themselves in some capacity, will be at least partially familiar to those with a working knowledge of French cinema, and especially of Resnais' over the last few films; they include Sabine Azéma, Michel Piccoli, Pierre Arditi, Anne Consigny, Mathieu Amalric, Hippolyte Giarardot, and Michel Vuillermoz, among others.
It is not long into the video recording of the proposed production that the pull of the material is too strong to resist, and the actors begin rising and mounting their own interpretation on the spot. And that's when things really start to get fun. For starters, these are immensely talented performers, some of whom have aged beyond the ordinary call for characters capable of wildly unpredictable behavior, and this new lease on life of sorts is met with no small relish. If Resnais continues to cast his wife, Azéma, for example, it is not merely to personal ends, but to our undying benefit. A role intended for a much younger woman is given the depth of experience, and Azéma imbues Eurydice not only with the turmoil the character asks for, but with an unspoken perspective gained in the years since she would have first played the part.
The film can certainly be amply appreciated for the adaptation of Anouilh's Eurydice (and, structurally, of Dear Antoine: Or, the Love that Failed), but it is also very much about the fact of aging, and the vitality of experience. It is not simple nostalgia that the actors experience, though their performances are tinged with it, but the fact that they've performed these roles before, lived these lives, and have now seized the license to relive them, makes the film so vibrant. It's as much about the joy of creation and performance as it is what is being performed, and one comes away with a richer understanding of the actors (as characters, anyway) because of how we see their interpretations differ from one another. Azéma, Consigny, and – via video – Vimala Pons each play Eurydice, for example, and, sure enough, all three interact with one another and their respective companies.
---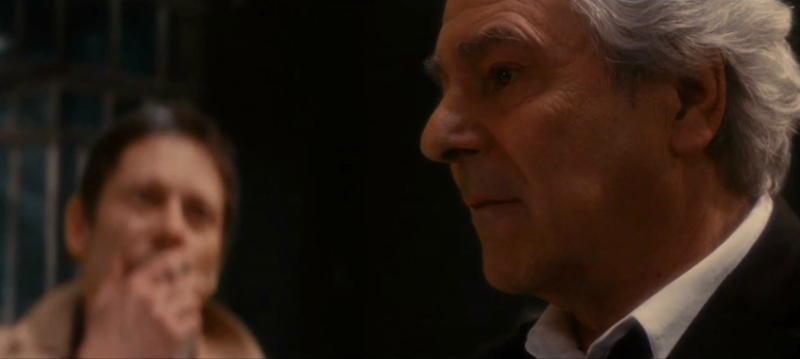 ---
Resnais, as always, keeps his cast and audience on their toes, allowing for just the right level of intrusion – the video segment was mounted almost entirely as a separate production, directed by Bruno Podalydès – to delicately offset his characteristically precise framing and camera movement, courtesy of master cinematographer Eric Gautier. Upon the release of his last film, Wild Grass, Resnais mentioned that he wasn't entirely sold on the theory that his films play largely on themes of memory, preferring instead that they be about imagination, and You Ain't Seen Nothin' Yet! is a wonderful exploration of both. On one hand, the actors are revisiting their pasts through performance (never mind more directly calling on their memory of Eurydice), but Resnais never quite tips his hand as to how literal the events of the film should be taken, cutting between three differing interpretations of a single scene happening, in cinematic space, simultaneously, only to quickly cut to the actors all seated attentively watching that exact scene resolve itself. Beyond that, the building to which they are called (which, functionally, seems to be a house, but aesthetically, more closely resembles a theater, inviting its own set of interpretations) gradually fades away to be replaced with CGI backgrounds of restaurants, train stations, and hotel rooms, giving the impression of an imagined space that was once the province of the black box theatre, but which is now an intrinsic aspect of a cinema increasingly invested in green screen stage work. The relationship between theatre and cinema is well-covered territory in Resnais' films, but he's still found new avenues of exploration as each medium has evolved.
As enriching and affecting as these more intellectual gambits are, I can't possibly discount the "Resnais Touch," if you will, a distinct deftness that makes all of this deeply engaging cinema. Even though I was watching this at home, on a screener, I often found myself leaning forward, either in a desperate attempt to actually enter the film or in an involuntary response to its allure. Eurydice certainly has its comic elements, while at heart remaining something of a tragedy, and Resnais brings a certain playful sense to his set-ups and cutting patterns, creating a dichotomy that's key to the film, which must toe the line between the melancholic, even mournful qualities of the play and the exuberance the actors experience in revisiting it. The act of putting it on must remain a joyful experience, and Resnais isn't likely to let you forget it.
I absolutely adored You Ain't Seen Nothin' Yet! I've adored thinking about it these past few weeks. I  will continue to adore its undoubtedly-lasting impact, and I cannot wait to revisit it in some theatrical setting down the line. Its pleasures and qualities are certainly receivable in a home video environment, but this is made for the big screen, and anyone with an opportunity to do so would be advised to seize it – experiences as rich as these are woefully rare, and this sort of cinema of wild imagination is the lifeblood of the form. Resnais may not be the most acclaimed filmmaker, even within his own country, but the cinema has benefitted exponentially from his involvement. May it continue to do so.
You Ain't Seen Nothin' Yet! plays twice at the 36th Portland International Film Festival – on Wednesday, February 20th at 6:00 PM at the Regal Fox Tower, and on Saturday, February 23rd at 9:00 PM in the Whitsell Auditorium. Go twice!
---
---
Full Schedule for the 2013 Portland International Film Festival