My final review of PIFF 36 brings me to the film I felt delivered the most impressive cinematic experience of the five I was privileged to see. A moody, intense and altogether engrossing meditation on the escalating tensions between the heirs of old money who hide behind barriers of protection and paranoia, and the hard-pressed underclass who are called on to cater to their employers whims without any real prospect of improving their fortunes, Neighboring Sounds drew my attention by generating a barrage of positive reviews from critics whose opinions I trust. I'm happy to say that it delivered on that promise, so effectively that I'd gladly go see it on the big screen or purchase it on blu-ray somewhere down the line just to further immerse myself in the dense audio-visual textures assembled by Kleber Mendonça Filho in his feature debut. After a brief photo-montage hop, skip and jump through the cultural evolution of Brazil over the past fifty years or so, Neighboring Sounds opens up with a glance at the lives of two ordinary people living in a high-rise condo block in Recife, one of that nation's many coastal cities.
---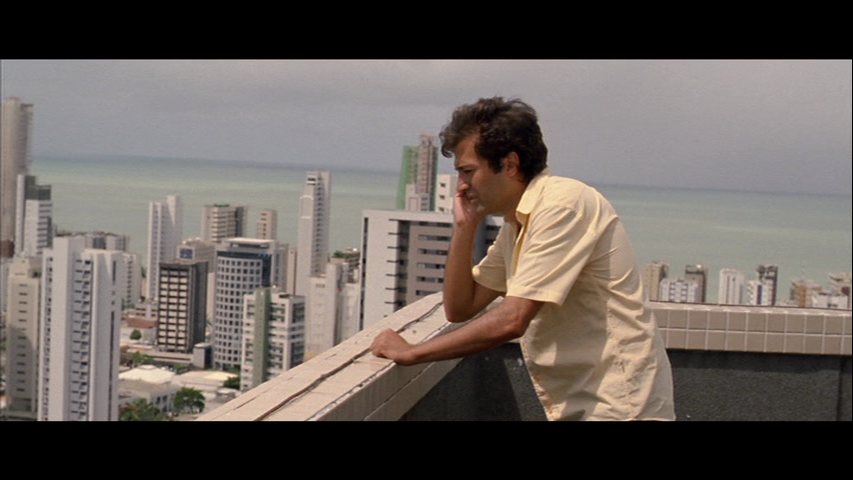 ---
Joao is a comfortably affluent son of privilege, whose grandfather's ownership of a massive tract of land in the middle of this elite neighborhood has set him up to be a man of influence in the area, despite the fact that the primary goal of his efforts seems to be the maintenance of his own comforts above any other considerations.
---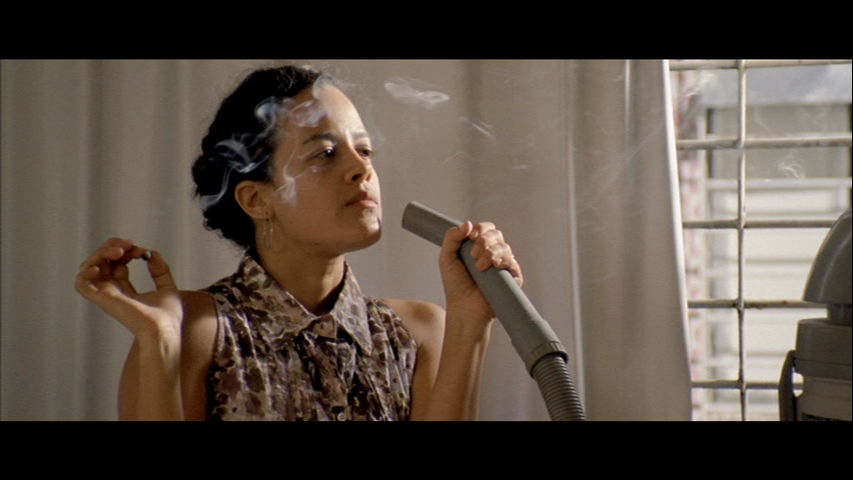 ---
Bia is a housewife, more than adequately cared for in regard to finances, but terminally bored and restless, left alone by her absent husband to raise a pair of children and fend for herself beyond that when it comes to any kind of purpose in life. Even though their stories gradually develop in terms of complexity and intrigue, it's difficult to make the case that the events of their lives elevate all that far above the banal as we get to know them. Joao has an up and down love life, and a troubled cousin Dinho, an overly-entitled petty thief that he reluctantly has to both confront and defend, depending on the context of the moment. Bia has a crazy sister, chronic insomnia, a drug dependency and a debilitating lack of interpersonal stimulation that leaves her emotionally paralyzed as she goes through the motions of being a dedicated mother to her two school-aged children.
---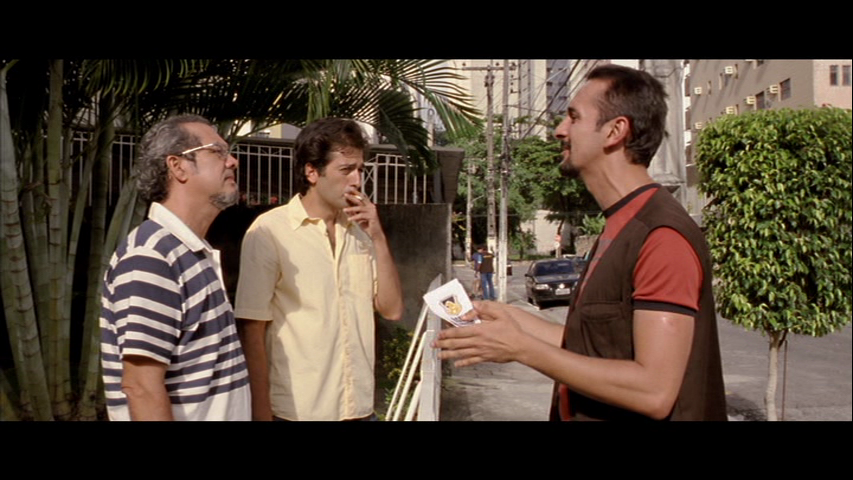 ---
Sliding in to stir added complexity into the mix is Clodoaldo, the smooth-talking front man of a more-than-slightly shady neighborhood security patrol that's just an aggressive blunder or two away from being nothing more than a crass shakedown operation: pay our price or suffer the consequences. His earnest sales pitch covers up for the blunt and amateurish crew of drifters he's assembled to stand guard at the intersection that provides access to their block, winning the allegiance of Seu Francisco, the venerable but slightly doddering patron whose endorsement gives the guards their cloak of legitimacy.
---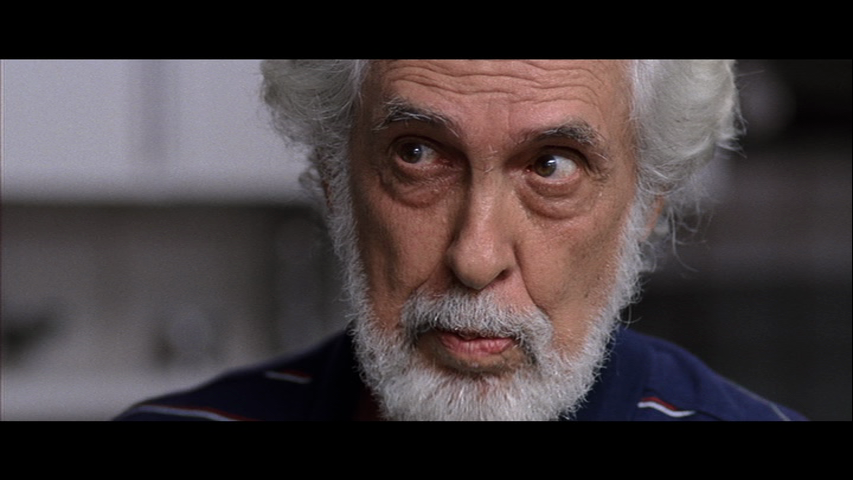 ---
That basic set-up is about all we need to situate ourselves with relative comfort in the uneasy equilibrium of Neighboring Sounds. Though a persistent rumble of insecurity and implied violence lingers throughout the film's two-hours plus running time, the actual eruptions of chaos and bloodshed are rare and isolated, sometimes only taking place in the haunted dreams (or hallucinations) of those whose psyches finally crack under the pressure. More often, we see the success (at a price) of the continual effort to push back the threat of the urban poor who dwell just a few blocks away, or the malicious criminals who scan the defenses looking for a way into the affluent enclave. While Filho's focus remains quite squarely on the individual characters he's chosen to inhabit this compressed slice of 21st century life, their experience is generic enough to speak meaningfully to residents of any number of societies that struggle similarly to Brazil's in finding a judicious balance between protecting the interests of the well-off and ensuring that the poor among them are given opportunity to improve their lot. The tense hostility of that negotiation and the wary standoff that mistrust on both sides has triggered, receive an artful portrayal in Filho's marvelously atmospheric compositions.
---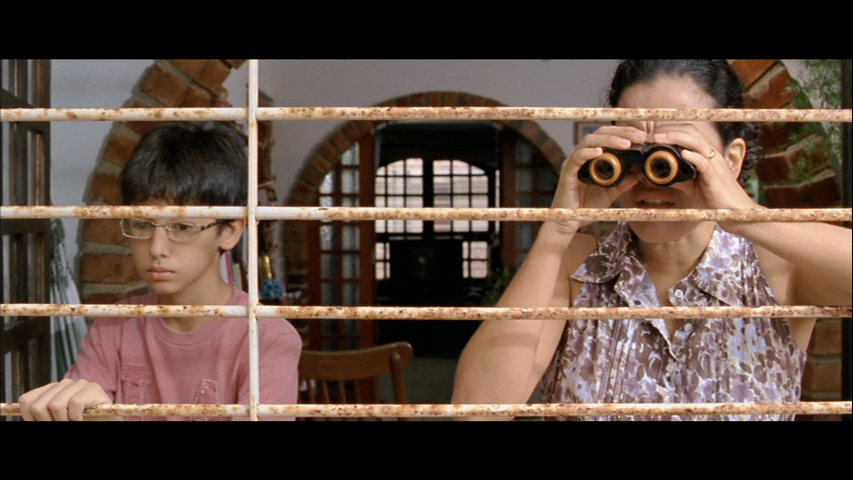 ---
The film's title (at least as translated into English) offers a vital insight into what makes Neighboring Sounds such an affecting and memorable piece of work. This is a film that seriously benefits from ears that are just as attentive and wide-open as one's eyes. Even in the relatively cramped soundscape of a home theater (or headphones on a laptop, a viewing experience I recommend without reservation), the ominous sound design comes through with power. Scene after scene ramps up portents of dread as we await some kind of grim payoff to break the tension and provide some relief. To the consternation of some reviewers I've read, Filho's payoffs don't always deliver the kind of clarity and resolution one might hope for, and I'll grant that there are more than a few moments over the last 20-30 minutes or so where the device could wear a little thin for some, where a narrower focus and a sustained concentration on tying up some narrative loose ends might gratify more conventional movie-watching habits.
---
[youtube http://www.youtube.com/watch?v=-A6eSp8kKrU?rel=0]
---
But I'm more than content to let Filho deliver the movie he envisioned, even if in retrospect I'm left wondering just what to make of some of the sidelines and images left relatively undeveloped. With a profound and explosively haunting conclusion, his portrayals of privilege, poverty, ennui and patient, calculated revenge made a lasting mark, even though they're set in a society that remains largely foreign and mysterious to me (aside from old and isolated visits in films like Black Orpheus or even Alfred Hitchcock's Notorious dalliance in Rio de Janeiro.) I think it's reasonable to put Filho on the list of emerging directors to give close attention to in years to come. I'll be watching, and listening.
---
PIFF 36 Link: Neighboring Sounds has completed its run at the Portland International Film Festival. Details and more information on the film can be found here.
Full Schedule for the 2013 Portland International Film Festival