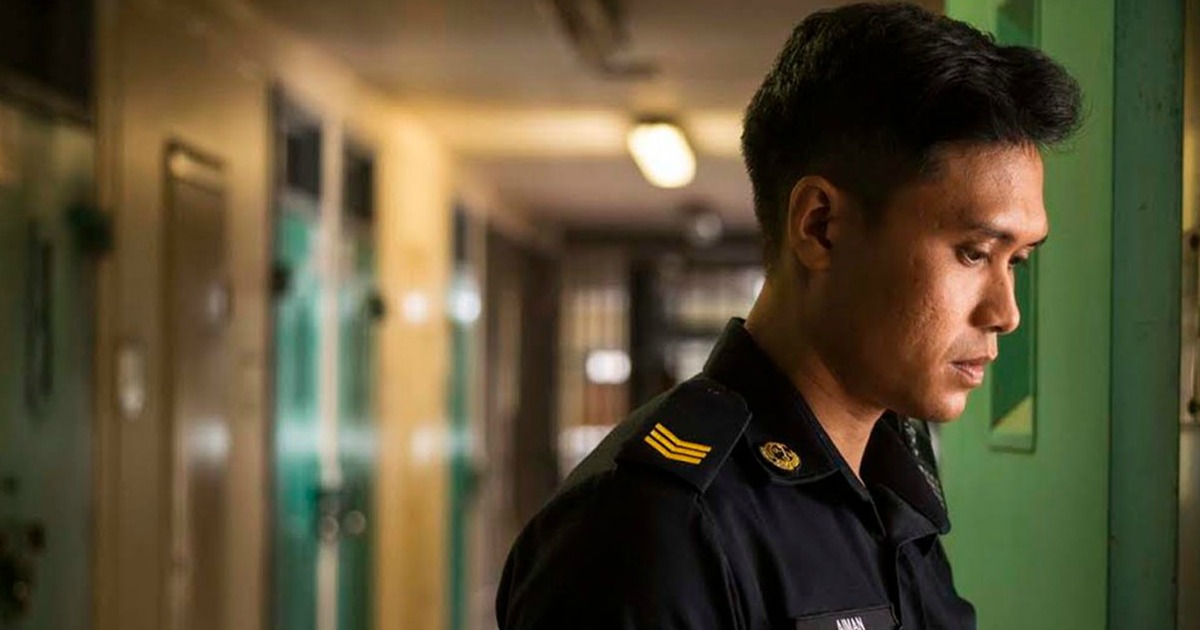 Since 2002, boutique distributor Film Movement have helped bring to light some of the truly great gems of world, genre and arthouse cinema from across the globe. Starting as a simple distributor which focused on offering a subscription model where any viewer could subscribe to have the latest release from the company shipped to their house as soon as it became available, the company has since been releasing film for the subsequent 15 years, even expanding into a classic label where one will find films from directors like Liliana Cavani and Eric Rohmer.
However, they've seen something of a reneissance the last handful of years. With films like Clement Cogitore's 2016 film Neither Heaven Nor Earth making this writer's ten best list of that same year, Film Movement are at the very forefront of the art cinema world. So it's no wonder the company would bring us, for 2017, a true gem from an award winning filmmaker.
Entitled Apprentice, Boo Junfeng's latest feature tells the story of Aiman, an up and coming, 28-year-old Malay corrections officer with a new gig at his territory's biggest and baddest prison. Slowly finding an interest in the work of his high ranking boss, the aging Rahim (Wan Hanafi Su), Aiman (first time actor Fir Rhaman) discovers that he's not just a sergeant, but also the prison's hangman. There world's ultimately collide when Rahim's assistant quits, leaving the executioner asking his young underling to take on the role from which this film draws its name.
With a pedigree not only in the film's run on the 2016 festival circuit but also from a creative team of Junfeng and award winning director of photography Benoit Soler, Apprentice is quite a solid, low key, minor scale drama. Gritty in its aesthetic, the film was Singapore's entry for this upcoming Oscar ceremony, and despite not garnering a nomination, it stands to reason that this is one of 2017's real foreign language highlights. Junfeng's camera is understated, embedding us within this world where the grey areas of human morality are truly tested. It's a deeply nuanced film, a well paced meditation on Singapore's shockingly extensive death penalty laws, at once clearly condemning the practice of capital punishment yet also not shying away from it. Shot on an Arri Alexa, the film is gorgeously composed, finding a real beauty within this macabre world, particularly in its use of pitch blacks. Lacking any sort of stylized fluff, the film's frames are sparse and capture a world where brutality meets brutality.
It also helps that the performances are superlative. At its best when it's ostensibly a two hander, Rahman and Wan Hanafi Su are absolutely fantastic, particularly when playing off one another. A subtle picture driven by two subtle performances, Rahman has a real handle with this character and this screenplay despite being a first time screen actor, especially when it comes to his physical presence. The film relies on subtle shifts in emotion, and both actors here have a great handle with it. Wan Hanafi Su is also a revelation here, playing off his younger counterpart perfectly, beat for beat. He doesn't "like" his job, yet he is the viewer's entry point when truly deciphering the moral grey area that this film attempts to work through.
Well paced with only a few brief lulls, the film's 90-plus minute run time is arguably a touch too long, but there is much to be taken from the film's narrative thematically. Relatively cold emotionally and not quite the most groud breaking work structurally or formally, Junfeng's film is a well crafted rumination on a major issue not only in Singapore but throughout the world. Even here in the United States, as some states attempt to add things like the firing squad to the possible ways the judicial system punishes the worst of the worst, capital punishment is an issue plaguing nations across the globe.
PIFF 2017 Screenings: Saturday, February 18th at 5pm at the Fox Tower and Thursday, February 23rd at 8:45pm at the Fox Tower.