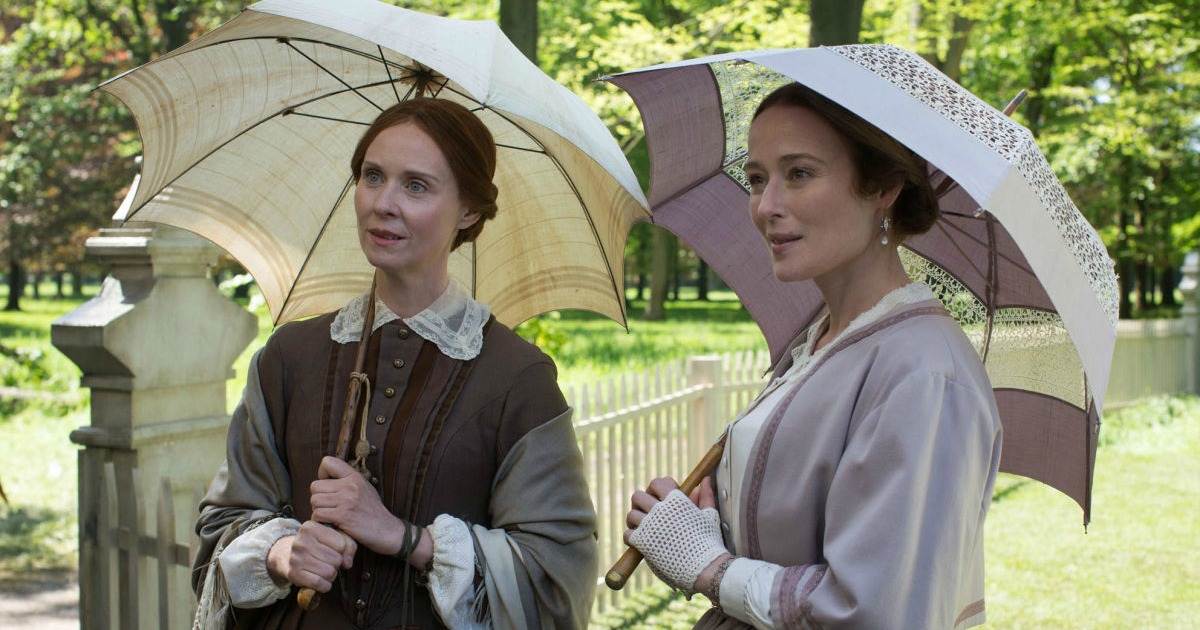 Terence Davies is apparently finding having the "moment" he's been rightly deserving for almost thirty years.
After having a quiet period from The House of Mirth in 2000 to his underrated documentary Of Time And The City in 2008, Davies has given us three new films in the subsequent nine years, including two that are arriving in theaters damn near one year apart. Sunset Song arrived to grandiose notices (including a rave by your's truly) in the first half of 2016, and thankfully the director has returned with a film that's arguably one of his best yet.
Entitled A Quiet Passion Davies jumps from the fictional world created by author Lewis Grassic Gibbon that was Sunset Song and into the real world of legendary scribe Emily Dickinson. Cynthia Nixon stars as the beloved 19th-century poet, as we see her go from teenage religious skeptic to something far less bright eyed and bushy tailed, if you will. Set all but entirely at her family home in Amherst, Quiet Passion is a narratively classic tale, following her from intellectual life to physical death, that embraces both Davies' wit and his impressionistic handle of the passing of time and turns both into a real gem of a film.
---
---
Arguably Davies' most cinematic work directorialy, Passion doesn't bill itself as a flashy piece of work. Quiet, wordy and profoundly intimate, it's a much more visually subtle film than something like the baroque and rustic Sunset Song, but no less assured. The film's color palette is muted, yet not afraid of embracing moments of startling visual contrast (There's a moment where the use of oranges and blues becomes almost blinding). And Davies as a filmmaker isn't afraid of challenging his audience. Superficially a classic chamber drama, Davies interjects moments of proto Ken Burns documentary with full 360 camera pans and shockingly intimate close ups. It's the type of film that sparks a new series in a director's career.
The performances are also superb. Nixon is career best, channeling Dickinson's poise and subverts it with a deep seated self-loathing and turns it into something more than just another costume drama performance. She's finally given an outlet to flex her acting muscle, giving a real nuance and lived-in nature to a performance that could easily leap into theatricality. Opposite names like Keith Carradine, Jennifer Ehle and a scene-stealing Catherine Bailey, Nixon leads a cast of actors at the top of their game.
PIFF 2017 screenings: Saturday, February 11th at 8pm at the Whitsell Auditorium and Wednesday, February 15th at 8:30pm at the Laurelhurst Theater