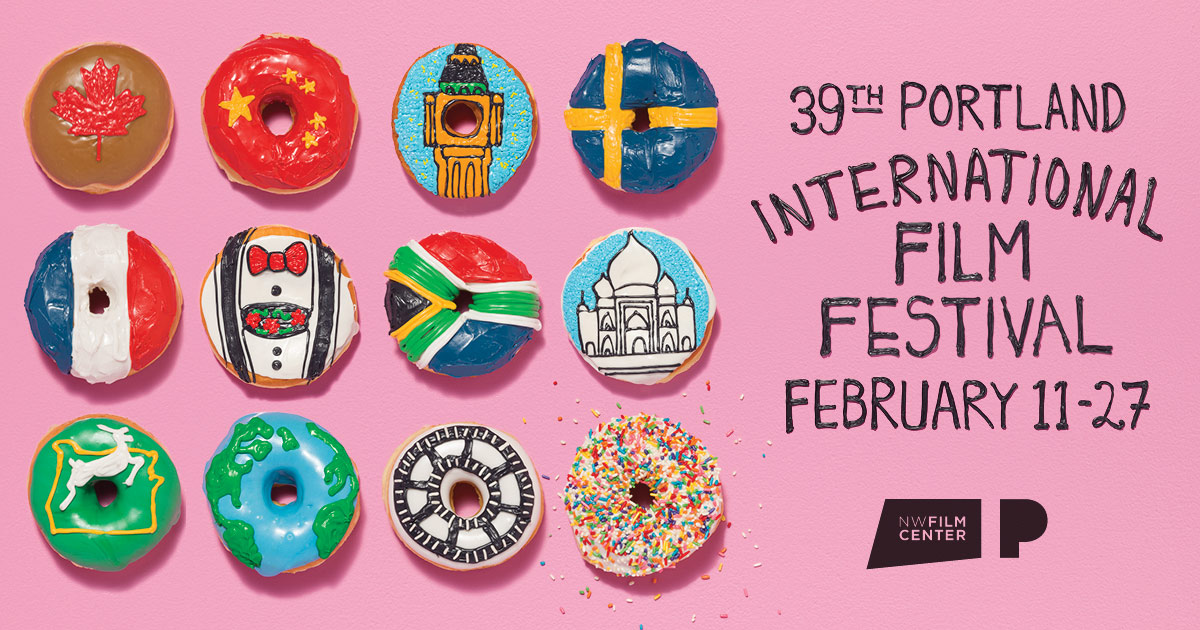 Tomorrow night, the Northwest Film Center kicks off their 39th annual Portland International Film Festival. They'll be screening Klaus Härö's The Fencer as the opening night film (unfortunately the screenings are sold out, but there will be an additional showing on Sunday the 14th).  Over the course of the next sixteen days there will be over 90 feature films shown around town at various theaters.
This is one of my favorite festivals that I've had the privilege of attending, and I cannot wait to see a some of the films that they have programmed.
As usual, we here at the site will be covering a number of the films throughout the festival, but I wanted to make sure that any local Criterion Collection fans were alerted to some of the treats that we have in store. While there are many films at the festival that will align with the cinematic tastes of those who enjoy the films featured in The Collection, there are five directly connected through directors whose films have received the Criterion treatment.
Below I've included showtimes for the Criterion-related films, trailers for the films, as well as links to the pages at the PIFF website, in case you want to bookmark them for later. We have the last films from Chantal Akerman and Albert Maysles, as well as the latest from Terence Davies, Guy Maddin and Arnaud Desplechin.
Are you in town for PIFF? What are you planning on seeing?
---
Tue, Feb 16, 2016 at 8:30 PM (Cinema 21)
Fri, Feb 19, 2016 at 8:30 PM (Roseway Theater)
A film that "has more ideas in ten minutes than most filmmakers have in their entire oeuvres" (Sight and Sound), The Forbidden Room has been favorably compared to taking LSD in a film archive. Reshaping cinematic images into surreal juxtapositions and ingeniously impossible narratives, we are led through delirious visions with an equally eclectic cast that includes Geraldine Chaplin, Udo Kier, Mathieu Amalric and Charlotte Rampling. "A wild, demented cinephiliac feast from the mind of Guy Maddin."—Hollywood Reporter. Best Canadian Film, Toronto Film Critics Association.
From Criterion: My Winnipeg (2007), Brand Upon the Brain! (2006)
---
Sun, Feb 14, 2016 at 7 PM (World Trade Center)
Mon, Feb 15, 2016 at 1 PM (World Trade Center)
Sun, Feb 21, 2016 at 7 PM (World Trade Center)
The final, fitting film of documentary legend Albert Maysles, In Transit, journeys into the hearts and minds of everyday passengers aboard Amtrak's Empire Builder, the busiest long-distance train route in America. Unfolding as a series of interconnected vignettes, ranging from overheard conversations to moments of deep intimacy, we are swept into a fleeting community that transcends normal barriers. To some passengers, the train is flight and salvation; to others it is reckoning and loss. But for all, it is a place for personal reflection and connecting with others they may otherwise never know. (76 mins.)
From Criterion: The Beales of Grey Gardens (2006), Grey Gardens (1975), Gimme Shelter (1970), Salesman (1968)
---
Thu, Feb 25, 2016 at 5:45 PM (Cinema 21)
Sat, Feb 27, 2016 at 5:45 PM (Whitsell Auditorium)
An intoxicating ode to romance and youthful coming-of-age, My Golden Days is a prequel to Desplechin's debut, My Sex Life… Or How I Got into an Argument (1996). When Paul Dédalus returns to France after living in Tajikistan for several years, he is detained at the airport and questioned by the police. It transpires that a Russian with the same name died in Australia. This news provokes a recollection of three memories from Paul's youth—his childhood with his eccentric mother who died young and his apathetic father; an eventful school trip to Russia with a secret; and, most passionately, his first love, Esther—all which resonate with the present. (123 mins.)
From Criterion: A Christmas Tale (2008)
---
Sun, Feb 14, 2016 at 4 PM (Whitsell Auditorium)
Tue, Feb 16, 2016 at 5:45 PM (World Trade Center)
"At the center of Akerman's enormous body of work is her mother, a Holocaust survivor who married and raised a family in Brussels. In recent years, the filmmaker has explicitly depicted, in videos, books, and installation works, her mother's life and their own intense connection to each other. No Home Movie is a portrait [of Akerman's mother] in the last years of her life. It is an extremely intimate film but also one of great formal precision and beauty, one of the rare works of art that is both personal and universal, and as much a masterpiece as her career-defining Jeanne Dielman, 23, Quai du Commerce, 1080 Bruxelles."—New York Film Festival. (115 mins.)
From Criterion: Jeanne Dielman, 23 Commerce Quay, 1080 Brussels (1975)
---
Sat, Feb 13, 2016 at 8:45 PM (Cinema 21)
Mon, Feb 15, 2016 at 6 PM (Moreland Theater)
"Davies exquisite treatment of Lewis Grassic Gibbon's 1932 novel gives him a broad canvas of rain-lashed farmland on which to apply his knack for literary adaptation. It's the early 20th-century in rural Scotland and Chris Guthrie is a young woman with plans. Excelling at her schooling and in possession of a burgeoning independent streak, she seems destined for a job in teaching. But as the constellation of her family shifts around her and romance comes calling, Chris grows into womanhood just as the First World War begins to devastate a generation. A true Scottish epic, Sunset Song laments the devastation of war and pays fine tribute to the endurance of the land."—London Film Festival. (135 mins.)
From Criterion: The Long Day Closes (1992)