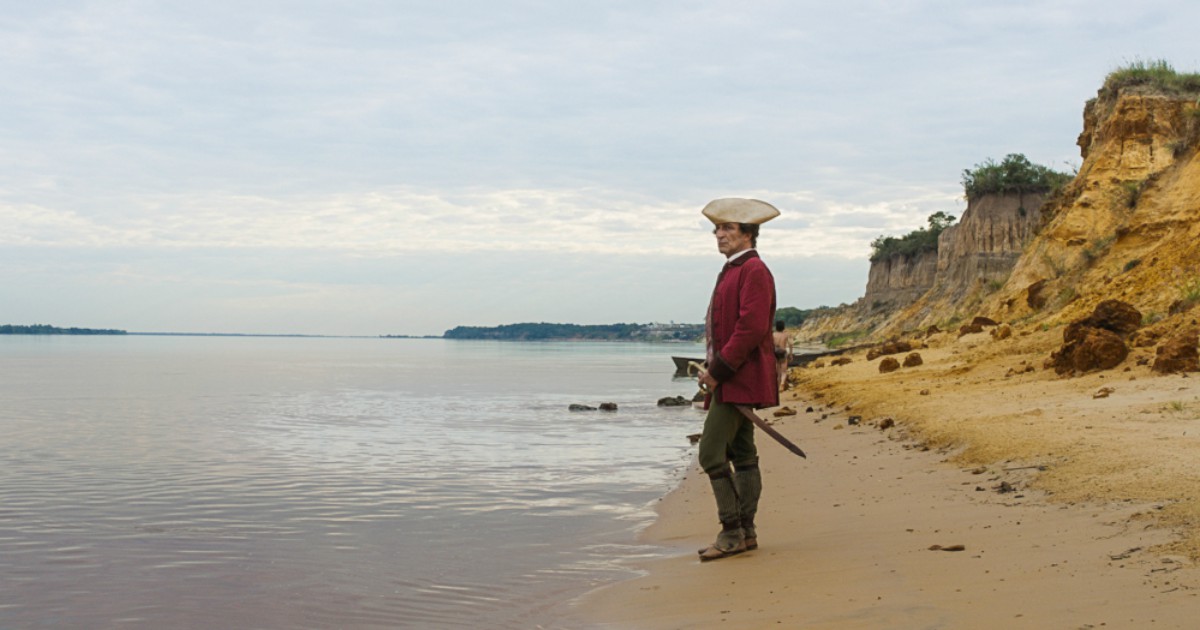 Well, it's that time of year again. Yes, the Portland International Film Festival is set to begin for it's 41st edition, and it's going to be one of the festival's best yet. Need some proof? Well, among it's numerous feature length films and short works, there are films from names as iconic as Abbas Kiarostami and genuine discoveries like documentaries from directors Ben Russell and Filipa Cesar. And that's just where this lineup begins. Here are ten (or more so eleven, but who's counting) films that you need to see from this year's bewildering PIFF lineup.
10. Jeanette, The Childhood Of Joan Of Arc
When imagining the type of film that would be the result of a retelling of the early life of Joan of Arc, Bruno Dumont's Jeanette is not the austere biography one would truly expect. Instead, telling the story of a young Joan Of Arc through the guise of a musical, fueled by modern day music ranging from rap to death metal, Jeanette is a continuation of the current Dumont project more than an attempt at the type of Bressonian naturalism found in many attempts at capturing this story. The music is delightfully anachronistic (there's a moment near the end of the film where a character begins to rap in a flow similar to many of today's hot Soundcloud rappers, for example), and while Dumont's camera is static and framed with clear intent, the energy found within each second of this film is a delicious change of pace for the filmmaker. Dumont has become a polarizing figure in modern cinema, and while this will surely not change that for many, something here truly clicks. Maybe it's the rousing performance from Lise Leplat Prudhomme as the younger Joan of Arc, or maybe it's the gorgeous photography or the surreal musical set pieces, all one knows after watching this superlative film is that there's truly nothing like it. At once profoundly spiritual and yet equally absurdist. It's a real achievement.
9. Cocote
A journey of faith in an entirely different mode, Cocote is a rare type of debut feature film. From director Nelson Carlo de los Santos Arias, Cocote tells the story of Alberto, a devout evangelical Christian who makes his way back to his home village in the wake of the death of his father. Murdered by a local man, the death leaves Alberto profoundly shaken, himself forced to look deep within himself and his faith to somehow come to grips with how and why this happened, and what response is proper and fitting. A story of loss and grief, Santos Arias' film is a gorgeously composed picture, both leaving the viewer guessing as to what will come next and yet completely at ease in the hands of the storyteller. Driven by a collection of ace performances, Cocote is a richly textured film, a film that doesn't strive for universality, instead thrusting the viewer into a specific world and a specific experience, thus forcing the viewer to ask more and more questions not only of the film but of themselves. Few films at this year's festival have been more thought provoking and there are few discoveries quite as rapturous.
8. Good Luck
That is, unless you take into account the newest film from artist Ben Russell. Titled Good Luck, Russell tells two different stories, both with equal intimacy and profundity. First he introduces viewers to a collection of miners in Serbia, only to cut rather abruptly to a group of renegade gold miners in Suriname, all while diving headlong into the worlds that these characters inhabit. Primarily told through hypnotically long takes that vary from the surreal and almost science fiction-like to the terrifying and claustrophobic, Russell punctuates his film with stark, black and white close ups of the faces of some of the people he meets. A definitive work in the ethnographic documentary tradition that has become quite the rage in non-fiction cinema today, Good Luck is both tactile and entirely otherworldly, feeling almost transcendental. We see the world in stark binaries here, and much like another documentary covered in a few spots, the experimentation comes in the understanding of mood and atmosphere as valid extensions of non-fiction filmmaking. And come the final moments, few documentaries pack quite as strong an emotional punch.
7. Western
12 years is far too long for a director of Valeska Grisebach's skill to be off of our screens. Following up her beloved 2006 film Longing, Grisebach returns with Western, one of the great films from this year's festival. On the surface, the film may seem abrasively esoteric, as its story of German builders at work in Bulgaria may not seem like grounds for a universal or movingly told motion picture. However, what Grisebach is able to mine not only out of this story is truly astounding. Riffing heavily on the very genre the film draws its title from, the film follows a rugged veteran looking to leave his life of violence behind, only to be caught in the middle of a world he has little understanding of. Meinhard Nuemann stars here as the stone faced protagonist, and turns in one of the truly great performances of 2018 so far, and even more unfathomable when realizing that he's a non-professional performer. It's an interior performance, one of captivating stoicism, and fits the film's unfussy aesthetic perfectly. To call the film unfussy, however, would be to imply that it is in some way simplistic or rudimentary, which would be completely wrong. This film is wonderfully crafted, proving the director to be attuned to the geography around her, understanding that the Western genre is not one just of narrative tropes, but also of specific connection to landscapes and the relationship between man writ large and the spaces they inhabit.
6. Lu Over The Wall
The only animated film on this list also happens to be one of this festival's most entertaining features. Rooted heavily in the type of Ghibli fantasia that that legendary haus would craft, Lu Over The Wall tells the story of Kai, a loner high school student whose passion lies in the world of music, specifically being a DJ. When one of his pieces finds an audience in his small village, he joins a band and comes in contact with a real mermaid, a youngster named Lu. From there the film delves head first into the type of Miyazaki-esque adventure film that will draw audiences in like moths to a flame, but what will keep them is two fold. First, the film is absolutely gorgeous. A pinch more anarchic than the previously mentioned animation legend's films, Lu is a coming of age film that may be a bit too long but has an energy and a vitality to each sequence that's wholly its own. Yes, it is long (at two hours it may overstay its welcome a bit), but it's also a moving portrait of youth and has a lightness to its fable narrative that's both refreshing and a welcome change of pace in this year's festival.
5. Spell Reel
One of the handful of great debut films, Spell Reel comes from Portuguese artist-turned-filmmaker Filipa Cesar, and is unlike anything this festival has to offer. A rumination on the relationship between images and a nation's history, the film specifically looks into the history of West African politics, all while using new footage as well as archival materials. Drawing much of its content from a collection of political films from Guinea-Bissau, shot during the country's fight for independence in the 1960's and '70s, the film looks at these pieces from directors like Flora Gomes and even Chris Marker, primarily shining a light on the legendary work from filmmaker Sana Na N'Hada. A thrilling work of historical contextualization, Spell Reel takes this archival footage, as well as other materials of a more contemporary vintage, and creates a portrait of a nation's relationship to its history and the images that remain as the only reminder of the past for those in the present.
4. El Mar, La Mar
The penultimate documentary on this list, this is a return documentary fans have been anxiously awaiting. Over the last decade or so, director J.P. Sniadecki has become, along with his fellow Sensory Ethnography Lab co-horts, one of today's most interesting documentarians. Here teaming with first time feature director Joshua Bonnetta, El mar la mar sees the tandem thrusting the viewer into the Sonoran Desert, particularly the places along the edge of the US-Mexico border. Splitting time between the immigrants risking their lives to cross the dangerous plot of land and the border police looking to stop them, the film is both incredibly timely and also one of the most experimental works to touch on this hot button issue. Broken into three sections, right from the outset, the section entitled "Rio," the film is proven to be an experiential work, a documentary less interested in the abstract political discussions surrounding this issue and more so the specific experiences of men and women on the front lines, if you will. Showing a deep understanding of this region and the issue at the center of this film, both Sniadecki and Bonnetta take the typical immigration issue documentary and subvert it by both crafting images that are both beautiful and abstract, and pairing them with first hand accounts that couldn't be more intimate and captivating. They never hide their emotional connection to the undocumented immigrants featured here, yet the film never comes across as anything more than a humanistic and humane portrait of a group of people in flux. It's truly a special achievement of political humanity.
3. Claire's Camera and The Day After
Hong Sangsoo is a lunatic. With three films playing this year's festival, I've decided to forgo discussing On The Beach At Night Alone, as I've waxed rhapsodic about the film on numerous occasions already. However, what I haven't done yet is discuss just how incomprehensible it is that in one calendar year, a director of Sangsoo's stature could have three films hit theaters, without a single dud. First there's Claire's Camera, a light journey through Cannes that tells the story of Claire, a teacher on her first trip through the French city, who encounters a young woman herself in the wake of a one night stand with a festival-bound filmmaker. A rumination on the power of filmmaking and the art of the image, Camera is a wonderfully paced and briskly plotted film, a breezy change of pace for the filmmaker. The Day After feels like a distant cousin of this film, itself telling the story of a book publisher caught in the middle of a midlife crisis of sorts. A prototypical Sangsoo picture, this soju-soaked meditation on love and fidelity is a gorgeously composed black and white relationship drama, that gets top tier performances from actors like Kwon Haehyo, Cho Yunhee and yes, the director's frequent muse Kim Minhee, all of whom give a sense of truth and gravitas to this captivating study of romance and regret. Toying with time and structure, Hong never loses sight of the heart of the picture, turning this potential trifle into a potent romance drama.
2. 24 Frames
These last two films feel like mammoth achievements from two of modern cinema's greatest artists. First up, there's the final film from Abbas Kiarostami, 24 Frames. Deseptively simple narratively, the film simply features 24 single frames, ranging from a painting that opens the film to images taken by the director himself, and sees the filmmaker abstractly alter the image to tell the story of the image, or so he imagines, either prior to or following the moment the image was taken. We watch as just over four minutes passes for each photograph, telling various types of stories that can bring up various emotions from any given viewer. Is it a film about the power of the photographed image? Is it an experiment in filmic storytelling? Is it all of these things and more? A film of almost transcendental experimentation, 24 Frames turns the still image into cinema without ever taking away the power from the form. Above all else, Kiarostami's film is about the passing of time, so much so that it carries such heavy weight coming as the director's final film. A film about the spanning of time and the mundanity of humanity, 24 Frames is a gorgeously composed cinematic achievement from one of cinema's greatest poets.
1. Zama
Lucrecia Martel is the greatest working filmmaker today. If that's not one's reaction walking out of the director's much anticipated return to the big screen, then you're watching it wrong. A superb adaptation of Antonio di Benedetto's iconic novel, Zama sees the La Cienega director introduce the viewer to Don Diego de Zama (Daniel Gimenez Cacho), a magistrate posted in Paraguay who himself spends the film awaiting a transfer that never seems to be coming. As the film progresses, Zama becomes more and more unhinged, as does the film that bares his name, culminating in a final act that's one of the director's most breathtaking and inventive sequences to date. Existential Hell is the abstract setting for the film, which manifests the Kafka-like terror that is the underlying thread of the beloved novel. Showing a deep understanding for the Benedetto novel, Martel's film is a humid picture, richly designed and cunningly crafted with a keen eye to the setting of the film, which itself plays heavily into the film's central themes. Thrillingly realised and quietly funny, Zama is a political film, a film about a political bureaucracy and colonial society that feels only moments from complete and utter collapse. Obtuse and utterly enthralling, Martel's latest film is one of the best films you'll see all year, if not for many to come.