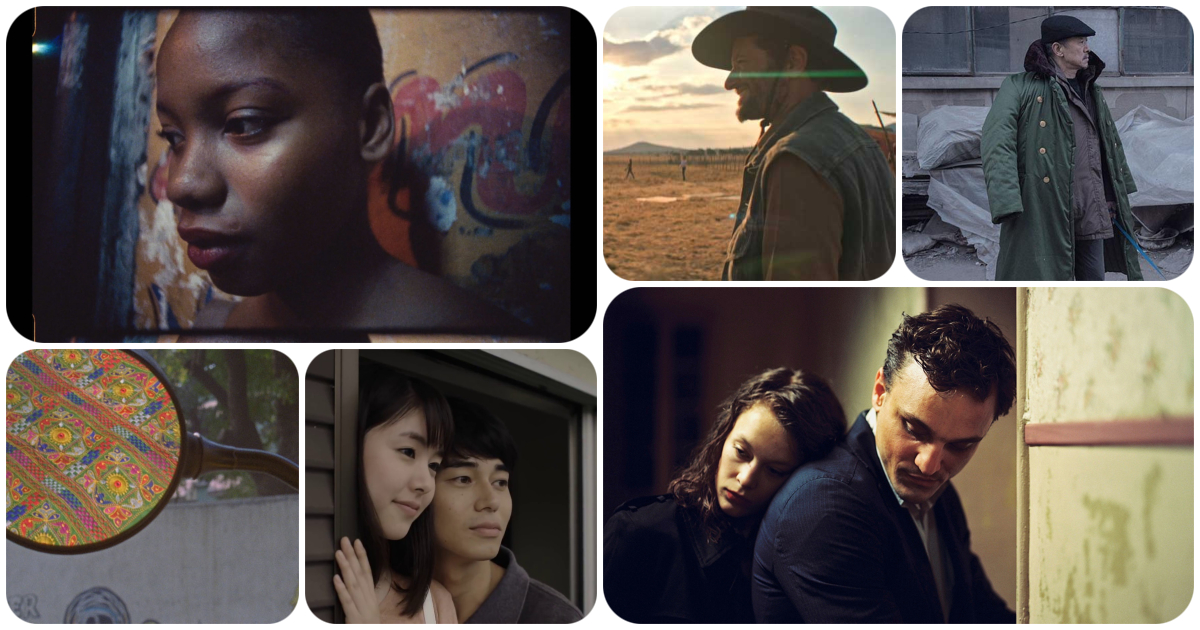 Well, we're back at it once again. For the 42nd year, Portland plays host this March to the latest and greatest from filmmakers the world over. The Portland International Film Festival is routinely one of the great regional film festivals this country offers, bringing together highlights from festivals as niche as Rotterdam to as iconic as Sundance and TIFF, throwing under one roof an expertly curated collection of new films from established auteurs, experimental debuts and world cinema hits. But where should one begin? Well, that's what we're here for. These are the ten films you need to see from this year's incredible Portland International Film Festival lineup.
---
10. Asako I & II
Starting off this list of the best films playing PIFF 2019 is the latest film from a world-renowned filmmaker. The follow-up to his beloved Happy Hour, Ryusuke Hamaguchi returns with another brilliant effort, Asako I & II. Asako, based on a Tomoka Shibasaki novel, follows the titular lead character, as suddenly the love of her life disappears. Two years pass, and out of nowhere a new man comes into her life, seemingly the perfect reproduction of her thought lost partner. Gorgeously shot and led by a star-making lead performance by Erika Karata, Asako may lack the breadth of Hamaguchi's previous masterpiece, but is a shattering follow-up. Ostensibly a riff on the films of Eric Rohmer, Hamaguchi is playing in quietly dream-like arena's here, with pacing that feels almost ambulatory and an atmosphere that's equal parts romantic and something slightly more surreal. The final act is a doozy as well, with the final shot becoming absolutely transcendent. The rare film you beg to be longer as its a world you're not sure you ever want to leave.
9. Ray And Liz
From a world you wish you could stay in longer to one you will want to leave as soon as possible. The debut feature of artist Richard Billingham, Ray and Liz sees the photographer jump from still portraits of his family into the world of cinematic autobiography. Telling the story of the titular parenting team, this slice of life drama takes an unflinching photographer's eye to 80's British class struggles, telling the story of this family as they come undone under the weight of a world that has no place for them. Billingham proves to be a superlative craftsman, telling this hauntingly personal story of life on the periphery of society through long takes, unsettling close-ups and an almost Terence Davies-like focus on youth under pressure. It's ostensibly a coming of age film, but this singular subversion of the kitchen sink ethos is something much more potent. It's something both beautiful and grotesque, both brutal and ethereal.
8. Woman At War
From Of Horses And Men director Benedikt Erlingsson comes Woman At War, a political satire par excellence. The film stars Halldóra Geirharðsdóttir as Halia, a middle-aged choral conductor with a passion for music and the environment, the latter to extreme extents. Moonlighting as something of an eco-terrorist, Halia spends most of her days bouncing between choral practice and attempting to bring down a local aluminum plant she believes to be destroying the local environment. With an adoption pending, Halia's life becomes something of a whirlwind in this tender, but biting, political statement. Playing as part call for revolution and part surrealist comedy, Woman at War is an expertly made film, focusing on the superb central performance, setting it opposite gorgeous photography and the occasional burst of surrealism through the use of a band that shows up throughout the film. There's a sense of whimsy to the film that's completely earned, and pairs beautifully opposite the ever-increasing stakes the film so deftly handles. It's a mature, thoughtful and often times hilarious social commentary picture.
7. Los Reyes
The first documentary on the list, Los Reyes is far from your typical non-fiction film, even from the artier corners of this filmmaking universe. Directed by the team of Ivan Osnovikoff and Bettina Perut, Reyes thrusts the viewer into one neighborhood skatepark in Santiago, Chile. Now, while this sounds like the beginnings of some sort of South American Minding The Gap, Los Reyes has a distinct perspective that makes it truly all its own. More or less seen through the proverbial eyes of two stray dogs that keep watch over this park, this unconventional documentary is a powerful and decidedly humanist portrait of life on the streets of a modern metropolis. A film very much about class and class struggles, this is a gorgeously shot documentary, a film of long, static scenes that allow the two superstar dogs to become some sort of therapeutic sounding board for the nameless and faceless population whose voices play as the film's "narration." It's simply not like anything you've ever seen.
6. Our Time
One of the bigger names to play this year's festival, Our Time is the latest effort from iconic world cinema pioneer Carlos Reygadas, his first feature since 2012's brilliant Post Tenebras Lux. Staring himself and his wife as some sort of thinly veiled riff on themselves, Our Time is another epic from Reygadas, this time instead of playing into the decidedly surreal, this is something uncomfortably personal. Reygadas and his wife star as a married couple whose relationship is on the brink of collapse, when despite being originally fine in their open relationship, things turn south after lies and jealousy threaten to tear them apart. The filmmaking here is utterly astounding, sticking to Reygadas' patented style of long takes told through intimate close-ups and a cold, static camera. However, this appears to see him return to his earlier works, particularly something like Silent Light, as instead of the otherworldliness of Tenebras Lux, we see a stark and haunting meditation on jealous and sexual politics of modern romance. There are brief flourishes of expressionism, particularly a scene set on what is revealed to be the landing gear of a jet plane, that only elevate the film into something truly resembling a lament, an emotionally moving poem of love lost at the hands of jealousy.
5. The Hidden City
Possibly the least well known of the films on this list, Hidden City is a documentary not quite like any you've ever seen. Very much in keeping in the recent tradition of sensory ethnographic documentaries, Victor Moreno's film is a haunting, almost science-fiction-like (literal) dive headfirst into an incredibly specific world. Following workers as they traverse tunnels and caverns below the streets of Madrid, The Hidden City is at once an incredibly modernist rumination on man's place in the world while being an unsettling experiment in the portrayal of a city on screen. Owing a debt to the world of early silent-era "city symphonies," the film is a brooding and unflinching look at a modernist landscape that threatens to chew people up and spit them out without much remorse. Opening with a title card telling viewers to see the film as loud as possible and in as dark a room as possible, this feels like a work whose home is most likely going to be your local modern art institute, but few experiences have earned the "need to see it in a theater" response more than this gorgeous, surrealist look at life below the streets we walk every day. Also? Probably the closest thing film has ever or will ever get to brutalist filmmaking. So there's that.
4. Black Mother
With just two features to his name, director/artist Khalik Allah has become something of a wunderkind in the world of avant-garde non-fiction filmmaking. His debut film, the incredible Field Niggas, thrust him into the world of high art film festivals and now his follow-up is set to cement his stardom. Entitled Black Mother, the film is Allah's love letter to his mother and his mother's homeland. A truly groundbreaking rumination on the history of Jamaica and where it stands in the modern global landscape, Black Mother is structured as a pregnancy of sorts, as we take to the streets of Jamaica for an engrossing non-fiction masterpiece. Shot on HD video and 16mm, the style of the film is thrilling and feels oddly spiritual, taking on the lives of everyone from sex workers to young boys and girls to tell the story of Jamaica. Impressionistic to no end, the anachronistic style never feels put on or some sort of filmmaking "flex" on Allah's part, instead feeling perfectly of a piece with both Allah's larger project (even down to his work on Beyonce's Lemonade visual album) and of the overall sense of atmosphere and intimacy he strives for with his pictures. Instead of a travelogue type documentary or some stale issue-centric work, Black Mother is a defiantly poetic rumination on history both singular and shared, be it the specific history of Allah's family or the broader focus on race, religion, the feminine experience and gender.
3. The Grand Bizarre
Now this is something special. The first feature-length film from visual artist Jodie Mack, The Grand Bizarre is one of the more singular filmgoing experiences within the PIFF 2019 lineup. Mack may not be a household name, but those with eyes towards the boundary-pushing world of visual art will be familiar with her and her exciting project, Bizarre fitting right alongside it. Once again using stop motion animation to tell her story, which is hard to truly describe despite its simple logline and brief 60-minute runtime. More or less a travelogue following a collection of brightly colored textiles and fabrics as they go along their journey from creation to completion, that one-liner doesn't truly do this film justice. A percussive, vital rumination on modern life, Bizarre is ultimately interested in production and consumption, travel and time. Be it the natural beauty surrounding us all like fire or waves crashing onto a beach, or the semiotics of various cultures whose language is seen and music is heard throughout this esoteric picture, Mack's vision is decidedly global despite the brief runtime. At just 60 minutes, the film has the energy of a dance party and is gorgeously shot on richly textured 16mm, embracing textures both sonically and visually. Energy is boundless here actually, playing as the most exciting and provocative music video you'll see all year. I'd say this film, like The Hidden City, would be best at home in an art museum space, but this soundtrack is as good a collection of music as there's been in ages, and the vitality of the aesthetics deserves the biggest of possible screens. Mack's a master artist, and this is her magnum opus.
2. Transit
Sliding into the number two slot is the latest film from Criterion Collection approved auteur Christian Petzold. Entitled Transit, the film is an adaptation of Anna Seghers' iconic 1942 novel of the same name, and stars Franz Rogowski as Georg, a man who has been able to escape not one but two concentration camps, only to assume the identity of a recently deceased novelist upon arrival in Marseille. While going about his life in the shadows, Georg falls for a woman named Marie (Paula Beer), who herself is looking for her husband who has recently disappeared. It just so happens that that man is the very man whose identity Georg has assumed, turning the film into both a quasi-Hitchcockian mistaken identity picture and a time-twisting social commentary about the current political climate and experiences of those men, women and children who find themselves displaced today. Setting the film both during WWII and the present day, Petzold crafts a mysterious and alluring picture, a film that's as engrossing as it is surreal and almost ambulatory. We see modern technology abound yet the narrative is ripped right out of WWII, which makes the film as haunting a story about love and obsession as it does a searing statement about the refugee experience in 2018-2019. It's a top shelf drama, ripped out of time and space, led by two ace performances and a director at the very height of his powers.
1. An Elephant Sitting Still
Topping this year's list of the best films playing the Portland International Film Festival is both one of the best films of recent memory, and also one of the more upsetting given the external context of its production. Marking the first, and final, feature film from filmmaking Hu Bo, An Elephant Sitting Still is an award-winning festival darling that, following its run at festivals like Berlin and TIFF, has become one of world cinema's most talked about films. Clocking in at four hours, Elephant is a haunting quartet of stories, woven together seamlessly into a portrait of one day in the life of men and women caught in a modern world that has little interest in doing anything other than chewing them up and spitting them out. A melancholic portrait of life on the outskirts of society, Elephant draws its title from a parable about an elephant that, in the town of Manzhouli, simply sits still with eyes closed and making no note of the world surrounding it. For the next four hours, viewers become privy to the lives of four men and women who are attempting to more or less do the same, despite the world around them seemingly crumbling with every subsequent step. Told through a lyrical camera and long, poetic shots (Hu was a student of Bela Tarr), the film is a quiet and profoundly moving rumination on class struggles. It's a work of astounding depth and empathy, made all the more upsetting knowing that in October, 2017, Bo took his own life. This is a crowning achievement of humanist filmmaking that's bleak for much of its runtime, but ends with such subtle humanity and slight hopefulness that given its broader context it truly feels like something we shouldn't be privy to. It's a great film, something you'll never truly be able to shake.