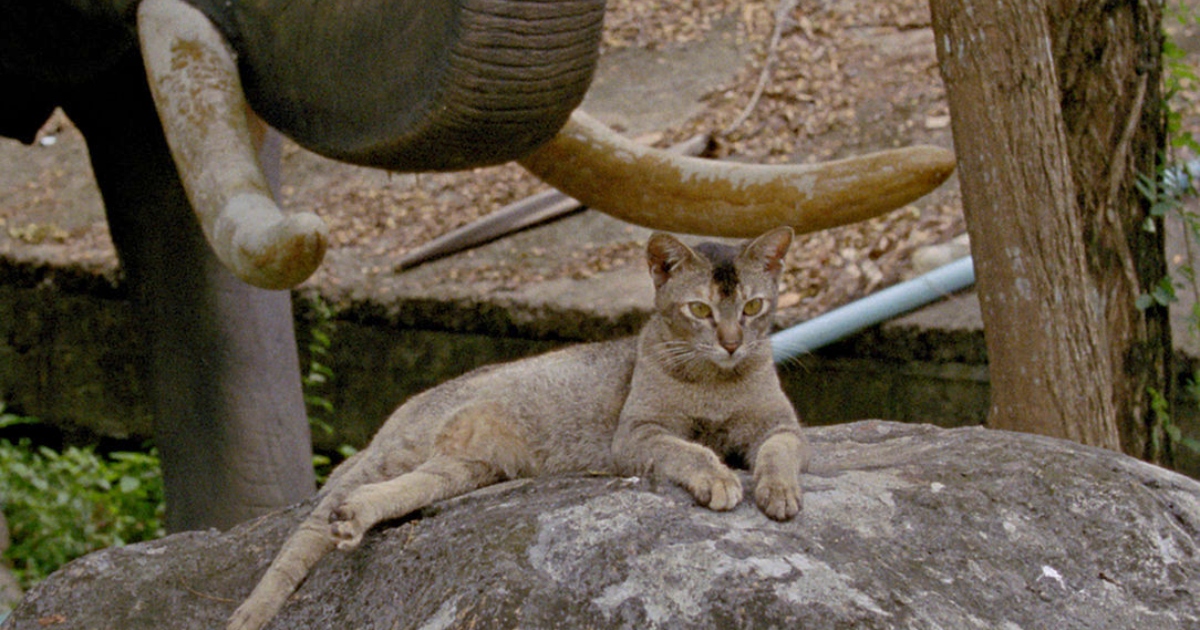 Now in its 19th year, The Museum of Modern Art once again kicks off the second month of the new year with its Doc Fortnight series. The museum's annual cross-section of non-fiction and hybrid filmmaking both feature length and short, Doc Fortnight brings together films from directors of all sorts, putting in context films like a new 14-hour film history documentary from Mark Cousins and a new two-minute short film from legendary filmmaker Lucrecia Martel, making its North American premiere here at this festival. Truly one of the year's most entrancing, incredibly well curated collections of films, Doc Fortnight is one of the few film festivals still placing experimental and avant-garde works alongside those of a more commercial focus. With over 28 films, however, the lineup can be a bit daunting, especially as the most interesting films are from those directors one may not be familiar with. So here are seven films from this 14 day event that will hopefully be the talk of the festival.
7. Reiwa Uprising
Not so much a film from a new voice as a new film from a filmmaker many may not be familiar with, Reiwa Uprising is the latest film from The Naked Emperor's Army Marches On director Kazuo Hara. One of world cinema's legendary documentarians, Hara returns with a film that introduces viewers to Ayumi Yasutomi, a cross-dressing professor at Tokyo University who, over the span of the film's four hours, tries her best to run for office in the Diet's Upper House. A proponent of human and civil rights, Yasutomi is proven to be a genuine and outspoken supporter of those with disabilities and placed on the margins of society, using her voice to give one to the previously voiceless. Very much rooted in the fly-on-the-wall tradition of his previous films, Reiwa Uprising is one of Hara's most energetic films, an exhaustive (and occasionally exhausting) look at a political revolution quite literally on the ground floor.
6. Ghost Strata
Next we go from one of the festival's most epic works to one of the handful of medium-length films that often stand as the festival's crowning curatorial achievements. From beloved artist Ben Rivers, Ghost Strata is his follow-up to the criminally underseen Krabi, 2562 co-directed with Anocha Suwichakornpong, and once again sees the director traversing the personal with the seemingly cosmic. A film about one's relationship to time both literal and figurative, the film finds Rivers jumping around the globe as he encounters various people who deal almost directly with the passage of time from fellow artists to geologists. Strata is Rivers at his most introspective, a mode which suits the director quite well, with him mining these stories for deep and often profound insights about memory, shared histories and even extinction. As our time on this Earth appears to be nearing its conclusion with more speed every day, Rivers examines this idea in a way that rarely comes across as pessimistic, instead pairing truly breathtaking photography with an atmosphere that's more melancholy than one would ever expect.
5. Wilcox
Only slightly longer at a comparatively epic 66 minutes is Denis Cote's indescribably moving Wilcox. The film is making its US premiere as part of this festival's lineup and, after a well regarded run at Locarno 2019, this is surely bound to be one of Doc Fortnight 2020's most talked about films. It introduces viewers to a nameless man as he traverses the roads less traveled, if you will, of Quebec. More or less a wordless film, Wilcox is a tale of isolation bookended by various title cards about people who have similarly jettisoned themselves out of society, with little known about the story behind the man we are following and his own attempt at exiting the proverbial grid. This is a gorgeously shot film, a film of strange, desolate beauty that never turns away from the plight that finds our lead, as he attempts to find whatever peace he may or may not be hunting for. Concluding on a final sequence that turns the film from something simply experiential into something truly spiritual and transcendental, Wilcox is a one-of-a-kind film from a one-of-a-kind filmmaker.
4. Straight Flush
Another one-of-a-kind film, this time from a trio of filmmakers known collectively as 13BC, Straight Flush is sincerely a film unlike anything you've ever seen. Shown as part of a small sidebar known as Modern Mondays, Straight Flush is shown in connection to the trio's short film Corpse Cleaner, and sees directors Vic Brooks, Lucy Raven and Evan Calder Williams telling the story of Claude Eatherly and Gunther Anders, two men who would become synonymous in their own ways with the rise of nuclear armament. Eatherly is best known as the pilot who gave the historic "all clear" to bomb Hiroshima, and in turn started a correspondence with Anders (then an anti-nuclear activist) as Bob Hope's production team began inquiring about potentially bringing Eatherly's life to the big screen. Born out of that back and forth and the never-made picture, this trio of filmmakers task three actors (including the always incredible Lily Gladstone) with the job of reading these various documents in order to dive head first not just in one of the more interesting stories of the time period, but also find deep insights regarding history, technology and the interplay between man and the land we have such disregard for. It's a haunting work, told through split screen sequences that themselves toy with time and narrative, and it's a work you'll want to return to often, in order to truly unravel the many threads that are woven throughout the briskly told, hour-long work.
3. That Which Does Not Kill
Making its US premiere here as part of this festival is the alluringly titled That Which Does Not Kill, a film that, much like Straight Flush finds its narrative out of various men and women reading a found text in order to themselves dive into their own histories. This time instead of a series of letters, this collection of performers read from one woman's recounting of her rape, with each new man or woman responding directly to not just the literal case, but their own relationship to sex, sexuality, trauma and violence. Told entirely through static, intimate and unflinching talking head interviews, That Which Does Not Kill has the body of a relatively simplistic issue documentary, only to find itself given "essential" status through director Alexe Poukine's deeply empathetic and involving framing. The film rarely cuts, allowing the reading of the violent act to be processed in, for all intents and purposes, real time, with a thrillingly diverse cross-section of men and women being given time to deal publicly with their own pasts. The film is arguably a bit too analytical, but that's too what makes this such a sensational achievement. Instead of avoiding the grief and trauma we all deal with in our own lives, That Which Does Not Kill verbalizes it in a way that feels sincere and inquisitive, empathetic and never confrontational.
2. Mother, I Am Suffocating. This is My Last Film About You
At the runner-up position is maybe the festival's great discovery. From director Lemohang Jeremiah Mosese, Mother, I Am Suffocating. This is My Last Film About You is a surreal, sensory experience that's genuinely one of a kind. Billed by the artist as a "lamentation of exile," the film is a visceral look at the director's exile from both of his homelands, Lesotho and Berlin. Directed, written and produced by Mosese, the film opens on a woman of unknown origin walking the streets of an equally unknown city, cross weighing heavily on her back, as we hear voice over that's as confrontational as it is strangely alluring, with what follows playing out as some sort of almost Homerian Odyssey through an Africa torn apart by war and violence. Mosese's film is a richly textured black and white feature that, at just 76 minutes in length, is one of the festival's most visceral and "in your face" works. It's also one of the festival's most raw, with the black and white photography playing as volatile as the direction is rightly surrealist, embedding the viewer in a world that's unlike any you'll see at Doc Fortnight 2020. Mosese recently made his fiction debut at Sundance and, if this haunting rumination on identity and memory is any indication, we are in for one of the most exciting discoveries in quite some time.
1. Women Make Film: A New Road Movie Through Cinema
I am nothing if not an easy get when it comes to documentaries about cinema. However, for every LA Plays Itself there are ten turgid talking head biographies about a filmmaker or writer that make me wonder just what about these films I actually enjoy. And then there's Women Make Film. Capping off a trilogy of sorts for director Mark Cousins, Women Make Film is the director's latest epic retelling and re-contextualizing of film history, this time through the lens of female filmmakers that have helped shape the art form since its very inception. Structured around 40 separate chapters, the film features various narrators ranging from Tilda Swinton to Adjoa Andoh, as they take various subjects like "endings" and "bodies" and examine how female filmmakers have subverted and elevated each concept through their films. Hundreds of films are highlighted here, as are dozens of filmmakers who vary from the legendary like Agnes Varda to the relatively unknown like Binka Zhelyazkova, which makes this not just an engrossing way for film fans to discover their new favorite directors, but also gives a scholarly re-contextualizing of the entirety of film history through the lens of female creators. Billed as a film school where the teachers are all women, this is arguably Cousins' greatest achievement to date, and is one of the very best documentaries of the last handful of years.