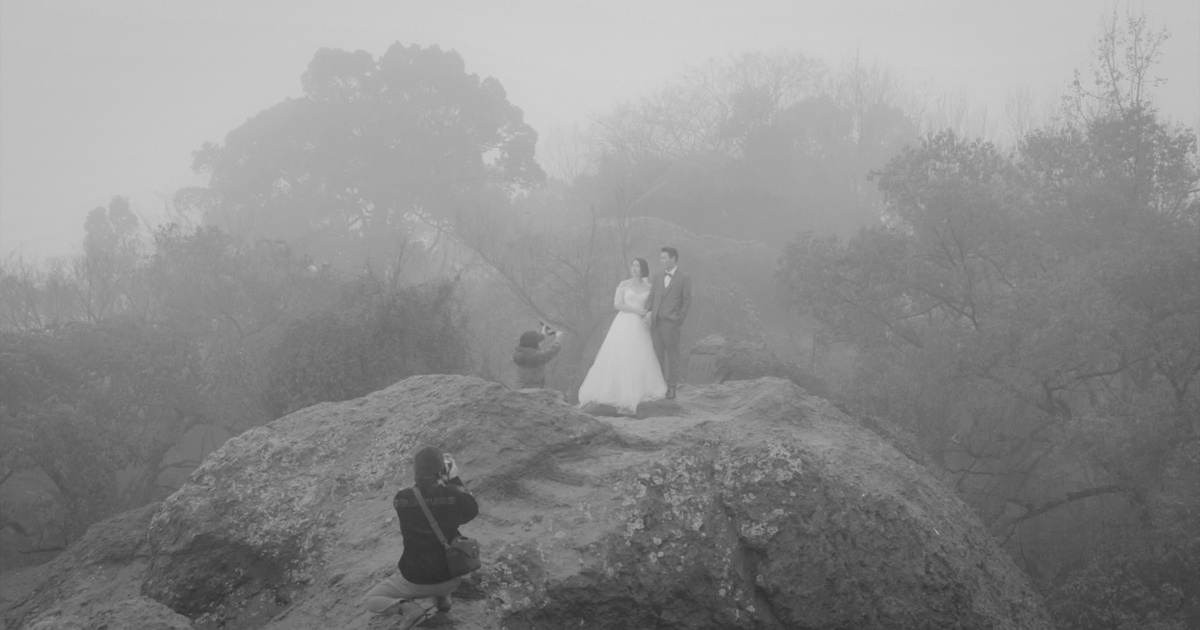 While the list of legendary film festivals with incredible pedigrees seems to be growing ever so quickly, few film festivals have the sheer history within their alumni as Film At Lincoln Center and the Museum Of Modern Art's New Directors/New Films. Names like Fassbinder, Akerman, Bi Gan and even the likes of Spike Lee and Kelly Reichardt have all been associated with this annual collection of films, all from filmmakers at the very earliest stages of their careers. One of the most exciting and exhilarating collections of films within any given year, New Directors/New Films 2020 is no change in that history. And these are just seven of the incredible films from this year's lineup that you need to keep an eye on.
7. Red Moon Tide
Starting off this list of films from New Directors/New Films 2020 is the second feature film from director Lois Patino. Entitled Red Moon Tide, this film tells the story of a small community off Spain's Galician coast where, after a local diver has gone missing, must cope with the disappearance, mourning the loss of a very important figure within the community. The film itself opens on auspicious grounds, with Rubio, having just drowned. Himself a diver who recovers bodies from shipwrecks, no one is their to save him or retrieve his body. From there the film goes into increasingly surreal arenas, while never once breaking free of its decidedly stoic and static aesthetic. A film functionally built around a series of tableaux, the film jettisons all sense of naturalism, instead building a world of witches and monsters. Lovecraftian in many ways, the film's gorgeous direction and photography gives way to a film that turns a relatively mundane coastal town into the epicenter of a seemingly cosmic battle against man and beast. The final beats have become something of a controversy for some critics, yet I found the sudden stylistic shift to a deep red filter to be both menacing and properly otherworldly. This is a film about death's ceaseless winning streak and while it's one of the more terrifying and bleak works on this list it's also one of the more alluring and brazenly singular.
6. Servants
Returning to the director's chair some four years after his previous picture Koza, director Ivan Ostrochovsky arrives at ND/NF 2020 with a provocative and brooding new drama. Servants tells the story of two seminary students, Michal and Juraj, working their way through their schooling in early-1980's Czechoslovakia. Seemingly crumbling under the weight of a Communist regime ever increasing its stranglehold, the school itself begins to splinter, finding our two leads at a cross roads. A classical crisis of faith picture. Clearly influenced by filmmakers like Dreyer and Bresson, particularly in its use of black and white photography set against a larger morality play fitting of the stark aesthetic contrast, Servants is a film largely comprised of static frames split between harrowing and claustrophobic close ups and slice of life tableaux attempting to properly portray life under the iron fist of a totalitarian regime. Ostrochovsky's latest is what I've previously described as a geometric film, using the rigid structure of both life under communism and life in a religious sect to give an almost dystopian spin on the common ground the two totalitarian ideas share. It's an icy picture, but also an incredibly rewarding one, a deeply haunting and haunted rumination on faith and power.
5. The Killing Of Two Lovers
The first of two English-languge films on this list, The Killing Of Two Lovers is also maybe one of the festival's most accessible works, despite it's rather intense narrative conceit. Directed by Robert Machoian, The Killing of Two Lovers sends viewers to Utah, and introduces them to David and Nikki, as they attempt to navigate a trial separation. Little is known about why the two parents of four are separated, yet what is revealed is the depth of despair this has set upon the patriarch of the seemingly upstanding family. Compassion and empathy are the name of this film's game, despite the harrowing opening shot of David seemingly set to murder his partner. The star of the show here is Clayne Crawford as David, whose increasing rage is both complex and upsetting, yet never once judged or glorified. An incredibly textured and nuanced interior familial drama, The Killing of Two Lovers is a devastating portrait of a man, father and husband who, with the world seemingly crumbling around him, simply wants to keep his proverbial head above water. It's also beautifully directed, allowing the spaces between words and phrases to speak even more powerfully than any direct dialogue. It's a film of mood and texture, and one that takes a tried and true narrative and spins it on its head. A complete and absolute knockout with unbridled empathy.
4. Los Conductos
Marking his feature debut, Camilo Restrepo's Los Conductos is easily one of 2020's great freshman pictures, and one of the more auspicious debuts in recent memory. Following a character named Pinky, this debut is less interested in direct, rigid narrative than it is completely formulating atmosphere and mood. Pinky (played brilliantly by Luis Felipe Lozano) traverses a truly nightmarish vision of Colombia where he attempts to break free from a religious cult run by a leader simply named "Father." Gorgeously rendered in surreal 16mm, this is a defiantly experiential work, a work primarily drawing its narrative from obtuse narration and the otherworldly direction of its fearless leader. Shirtless men manually print flames onto textiles in what appears to be a literalization of Hell, and, come the film's final sequence, Los Conductos delves head first into pure fever dream — potholes have gotten to be so enormous that they actually lead to an entirely new city. Jodorowsky is the film's clearest father, carrying with it similar interest in mind bending imagery and a strangely metaphysical atmosphere, yet Restrepo's eye is much more focused and grounded. This film is one about identity, oppression, and corruption, utilizing a hallucinatory visual landscape that plays as a brazenly esoteric vessel for its universal message.
3. Identifying Features
The proverbial bronze medal here goes to Identifying Features. Directed by Fernanda Valadez, this film tells the story of two people, caught on the outskirts of society, as they attempt to find missing connections in their own lives through one another. The film introduces viewers to Magdalena, a middle aged mother attempting to find her son after he disappeared following a journey across the border to find work. Then there is Miguel, a young man himself who has recently been deported back to Mexico. The two find solace in one another, particularly as the journey to find Magdalena's son becomes one of increasing danger. At points deeply intimate and moving and others utterly harrowing, Valadez's film is a haunting work of empathy and humanity. Owing a debt to the increasing strain of hybrid cinema found within the world of modern independent/art filmmaking, Identifying Features is a film of both beauty and desperation, a film embracing raw, human performances in a manner as to both evolve a compelling narrative and hit at larger truths about life, loss and the blind eye we as a society turn to a pandemic of murder at our borders.
2. Anne At 13,000 Ft.
Directed by Kazik Radwanski, Anne at 13,000 Ft. clocks in here as the penultimate entry and while the title may hint at some distance between the viewer and the film's lead character, it's almost laughably the opposite. One of the more claustrophobic character studies of recent memory, the film stars the ever impressive Deragh Campbell as Anne, who after going skydiving for a bachelorette party, attempts to view her life in a new, more free way. Shot almost entirely in tight close ups, the film is a captivating and humanist portrait of a woman on either the verge of a nervous breakdown or the verge of a transcendent breakthrough, and how the line between those two is almost unnoticeable. Feels in actuality like some sort of Jonathan Demme B-side, like a sort of Rachel Getting Married follow-up that the late filmmaker never got to make. Campbell also proves, once again, that she's maybe the best young actress working today and gives a performance that's tender and raw in a way that feels manic yet never arch. A fully rounded performance in a film that's human and beautiful.
1. The Cloud In Her Room
Finally, the number one film on this breakdown of ND/NF 2020, and it's number one with a bullet, if you will. This film marks the debut of director Zheng Lu Xinyuan and, after winning the top prize at the International Film Festival Rotterdam, The Cloud in Her Room has become one of the most buzzed about debuts yet in 2020. The film follows 22-year-old Muzi (Jin Jing), a woman attempting to make her way through an increasingly isolating Hangzhou. A film very much about the navigating of modern spaces both literal and figurative, Zheng Lu Zinyuan's film follows Muzi as she returns home to celebrate the new year with her family, only to dig up old proverbial skeletons. Shot in impressive black and white, the film is an icy one, yet one of increasing intimacy and humanism.
An occasionally surreal mix of documentary and fiction filmmaking techniques, bringing about comparisons of other modern Chinese filmmakers, who so brilliantly blur the lines between fact and fiction in order to hammer out larger ideas about a dramatic change in their homeland. Here it's something as simple as suddenly shifting to a negative version of the scene we are watching, inverting the black and white contrast into almost pure abstraction. And this abstraction is even done in a much more physical manner. Maybe the film's most startling scene finds our lead simply taking a calming bath, a soothing moment that turns into one of maybe discovery as she moves her hand down to her pubic hair, the camera moving in to watch as each strand bobs up and down in the calming water. It's a close-up of genuinely gobsmacking proportions, turning something seemingly purely carnal into a deeply moving moment of artistic abstraction.
New Directors/New Films runs 12/9-12/20. Purchase tickets here.