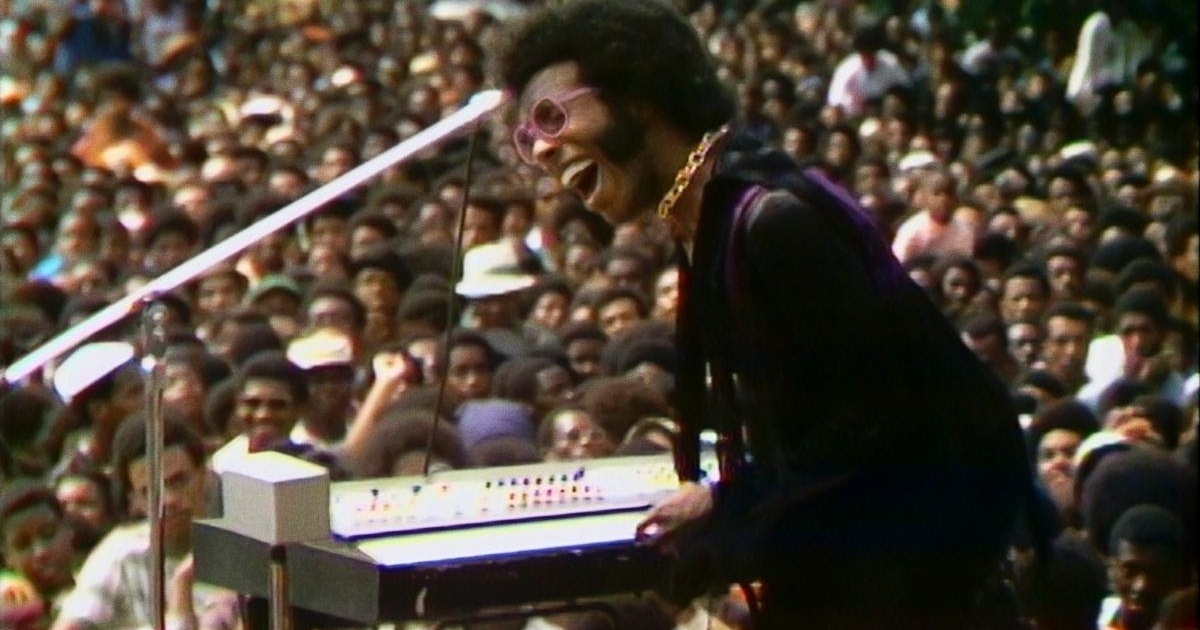 Expectations are a complicated thing sometimes.
While every filmmaker must start somewhere, a vast majority of "first films" are thin, relatively bland efforts lacking the eventual maturity and nuance that comes with seasoning behind the camera. And, in turn, this only compounds when the director is someone with no true experience working behind the camera.
This is why a film like Summer of Soul: When The Revolution Could Not Be Televised is such a gob-smacking achievement.
Ahmir "Questlove" Thompson may be best known as part of the legendary hip-hop collective The Roots, but one can add "esteemed documentarian" to his list of credentials. Hopping into the director's chair for Summer of Soul, Questlove sends viewers back to 1969 Harlem, to tell the previously-untold story of the Harlem Cultural Festival. Over the span of the summer, the series (hosted some 100 miles from Woodstock in that same year) saw over 300,000 people attend, with the hopes of seeing iconic musical acts ranging from Stevie Wonder (whose cover of "It's Your Thing" opens the film in a decidedly cool manner) to The Chambers Brothers. Featuring incredible archival footage that's been previously never before seen since the festival itself, as well as a series of interviews with everyone from performers to attendees, Summer of Soul is a beautiful, engrossing re-contextualization of one of America's most tumultuous moments.
Opening with Wonders' "Its Your Thing" cover, Summer of Soul announces itself with a real bang. While the politics of the moment is never far from the film's mind, what makes this such a captivating picture is its deep appreciation and admiration for the music of this moment. Soul, R&B and Gospel all get real representation here, with performers like B.B. King and the Edwin Hawkins Singers getting the same moment in the spotlight.
But it's not a simple concert documentary either. Structured around these performers and performances, each shift in focus comes not just as a press of shuffle on a Spotify playlist, but as a furthering of the larger conversation around the moment in which these performances were seen. Take, for example, the film's crowning achievement. Centered around a performance from the pair of Mavis Staples and Mahalia Jackson, the pair's rendition of "Take My Hand, Precious Lord," is not just a moving gospel tune. Not in the least. Preluded by a speech from Reverend Jesse Jackson, the performance is infused with the fury from opening the still-fresh wound of Martin Luther King, Jr.'s assassination, with this being one of his favorite songs and the song Jackson reveals was requested by the late MLK right before losing his life. Given extra power by a near-collapse Mahalia Jackson gathering herself after Mavis Staples tore down the house, this sequence is Summer of Soul in a concise nutshell. Through this exploration of music, Questlove's able to give a shockingly textured and nuanced recounting of not just a mythical musical series, but the Black experience during one of America's darkest moments. Vietnam is raging, political figures are being snuffed out right and left, and through these pieces this community is able to not just cope but do so with a sense of rebellion and hopeful revolution.
There's also a startling economy within the film. One of the highlights comes near the beginning of the film, with The Chambers Brothers' "Uptown" playing opposite a brisk and increasingly crushing recollection of the acts of violence that built up to 1969. As the song increases its volatile energy, the film's quasi-prelude does so as well, setting the stage not just for the concert but for the film's subsequent exploration of Black life in 1969. It's a testament to the director and his team that this same propulsive energy flows throughout the film, turning some of these set pieces into something truly euphoric.

Summer Of Soul is many things. Concert documentary, anthropological study, historical document, all could be fitting descriptors for Questlove's debut feature. And yet they all seem a bit too narrow, a bit too small. Marking one of the more auspicious directorial debuts in some time, Summer of Soul is a profoundly moving recontextualizing of the usually white-washed end of the 1960's. Embodying perfectly the festival's hope to bring to light music that can cross borders, this is one of Sundance 2021's greatest documentaries, a raucous rumination on American culture that feels oddly prescient despite its vintage.