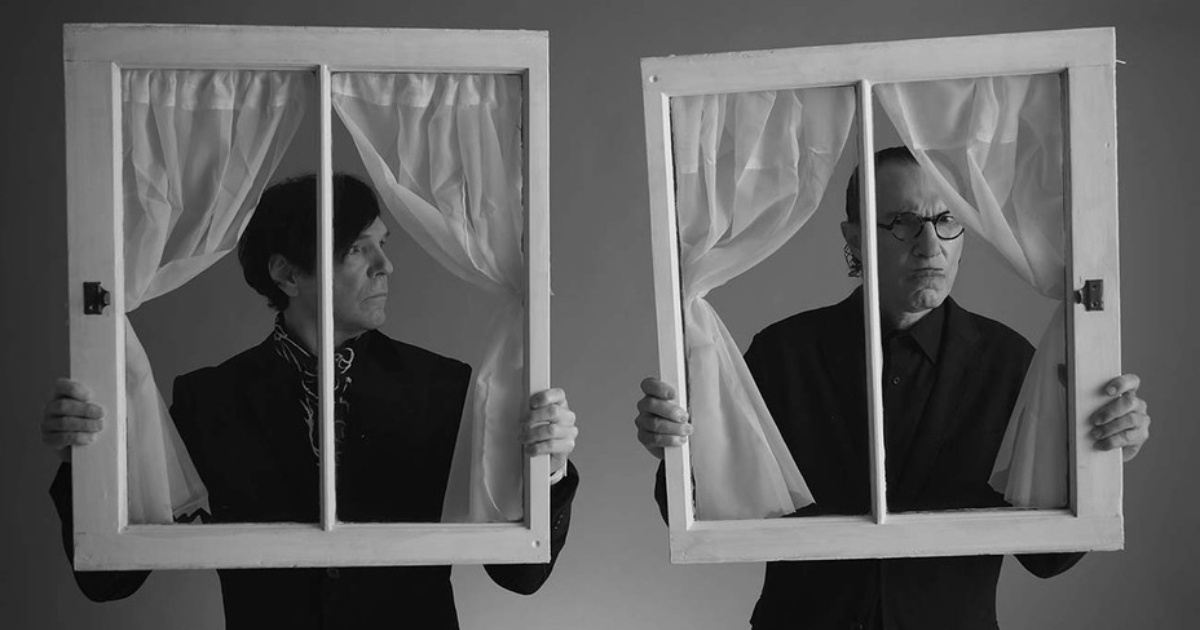 While it may not be all that rare for a filmmaker to start in either fiction or non-fiction cinema and subsequently jockey between them as their career progresses, it is quite bizarre to see a filmmaker become a bonafide megastar in both. You have your Werner Herzog and your Spike Lee, but that list is quite short, and features some of the very most talented directors of their generations.
And maybe, just maybe, after the infectious and utterly surreal The Sparks Brothers, Edgar Wright may be able to cement himself as a member of that list.
Marking his first foray into documentary feature filmmaking, The Sparks Brothers is Wright's exhaustive (almost to a fault) love letter to "your favorite band's favorite band" Sparks. The pair of Ron and Russell Mael make up the heart and soul of Sparks, a band originally formed in 1967 under the moniker of Halfnelson. An ever-evolving pair of musicians, the brothers have for the last 50+ years seen wave after wave of music go by, themselves seemingly always a step ahead. Easily the most influential and important rock group a vast majority of people viewing this doc haven't heard of, Sparks is a deeply fascinating subject for a documentary, a pair of Southern California-born brothers who grew up connecting to French New Wave cinema and British pop and rock music. Russell grew into the singer role while the charming and almost Dali-like Ron became as talented a songwriter as there has been in the last 5+ decades, pairing up to become a genre-bending duo seemingly caught in the periphery of every movement in rock music since their formation.
Startlingly exhaustive, The Sparks Brothers plays less like a "Greatest Hits" compilation than it does one of those mammoth career retrospectives. At over 140 minutes, the film is structured around each subsequent release by the band, and all the peaks and valleys that go with. The film covers their introduction to legendary producer Todd Rundgren, their attempt at working with late French icon Jacques Tati and all the changes in style and sound that have made them as contemporary and ahead of the curve today as they were the first time they played on American Bandstand.
That isn't to say that this length and breadth is distancing in any way. If anything has been made clear in Wright's previous pictures, it's that there are few directors working today with more energy and vitality than he. Blending together gob-smacking archival footage and interviews with names ranging from Beck to Weird Al Yankovic, the film's energy is easily its greatest attribute. Drawn from the band it is focusing on and their endless, boundless energy, The Sparks Brothers is also Wright at his most focused. The runtime may have one thinking a swift editing may be needed, however Wright's structure reigns things in relatively well, with digressions down rabbit holes like documenting the pair's workout schedule serving as window dressing only on rare occasion. Instead, Wright expertly tells the tale of the band not just through the records they've made, but the waves they have ridden to 50+ years of work and two dozen albums to their name. This is largely done through the first hand interview sequences that, despite being shot in stark black and white, are relatively straight forward and help expound upon the collaboration between the brothers. Interviews with contemporaries and artists influenced by them are also quite enthralling, picking people ranging from comedians to fellow musicians to muse beautifully about the importance of this relatively underrated pair of siblings.
While biographical documentaries are more often than not stuffy, stiff and stifled, the opposite is true of this epic yarn about the best band you've never heard of. The use of archival footage here is incredible and adds real texture, as does some charming animation and a pair of artists that have boundless charisma. Ron is particularly a fascinating figure, a talented songwriter and a surreal performer whose melancholy is as endless as his irony and charm. Russell is your run-of-the-mill handsome leading man, with a self awareness that is rather startling. These two play as perfectly leads through this densely crafted biography, never once allowing the film to dip in momentum or energy. As exhaustive as it is energetic, The Sparks Brothers is maybe Wright's best film since Hot Fuzz and is one of the best biographical documentaries in years.