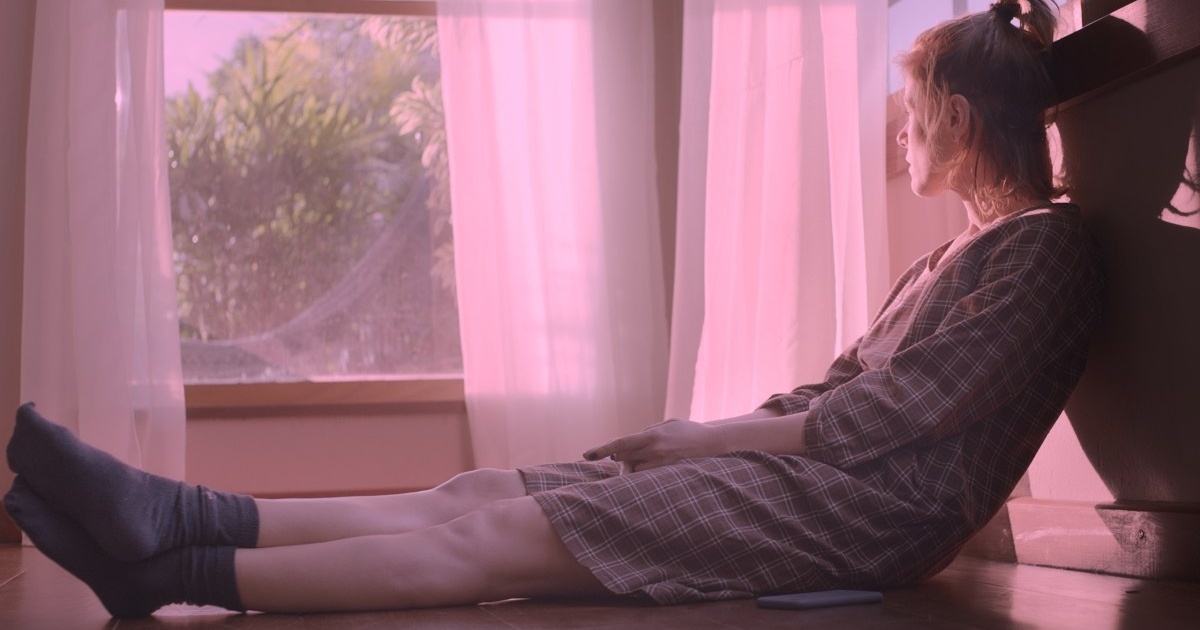 At first glance, The Pink Cloud sounds like a film born entirely out of the last year of COVID-19, global quarantines and endless isolation.
Directed by first time feature director Iuli Gerbase, The Pink Cloud tells the story of Giovana and Yago, two seemingly mild-mannered strangers who meet at a party, spend the night together and due to an unforeseen pink cloud mysteriously covering their city, are subsequently forced to quarantine with one another. With days adding up to weeks, which add up to months and then full years, the quarantine is an endless one, leading to increasing tensions as the world these two share exponentially implodes.
At its very heart a film about time, isolation and human connection, The Pink Cloud is in many ways the first essential fictional text of the COVID-19 era. However, writer/director Gerbase conceived of the project in 2017 and shot the film in 2019, predicting our current state with a specificity and humanity that feels otherworldly in its prescience.
Ostensibly starring Renata de Lelis and Eduardo Mendonca as the two quarantined love birds and few other faces that crop up, usually, on a number of different screens we encounter throughout the film, this is at its very best a deeply moving character study. De Lelis is the biggest takeaway here, taking on the role of Giovana with a shattering sense of humanity and a physicality that makes the unraveling of the central relationship truly heartbreaking. Some of the peaks and valleys found here feel strangely redundant and paint-by-numbers (the initial few acts do structurally feel quite telegraphed), but what gives the film real heart is de Lelis' earnest, textured performance as a woman trying to break free not just from an oppressive world of isolation but of a toxic relationship. Mendonca is also quite great here as the other half of this evolving partnership, and the chemistry he has with de Lelis is nuanced and layered. Viewers can feel that there was love somewhere in this connection, but with the weight of a world they may never see again weighing squarely on their shoulders, their ability to handle the daily machinations of everyday life cause true, deeply human problems. These are two ace performances that make the final act of Gerbase's mature debut feature truly enthralling.
Gerbase also proves to be a genuine talent behind the camera. Covering her film in a rightly pastel pink sheen, Gerbase's direction is intimate and naturalistic, leaving the surrealism of a world only as big as the house you live in left to the periphery. There are small bits of otherworldliness like a man attempting to kiss the breast of a woman he's chatting with on a big screen TV, with these small flourishes varying in tone and atmosphere. Setting the majority of her film in one location may seem like a problem, but Gerbase seems to be more than capable. Time within this bubble is properly elliptical, with single moments taking on entire set pieces of the film and entire years passing with a simple edit or a camera move. Gerbase's script is humane, yet challenging, with both parties unraveling in their own, deeply human ways. When things hit their emotional peak, the film concludes with a final sequence that is both tragic in its resignation and yet strangely moving in the sense of freedom that it comes from. Simply put this is a mature, textured rumination on loneliness that may have come from the "before times" but feels not just of this moment we currently live in but of deep seeded human truths about a world of increasing isolation.