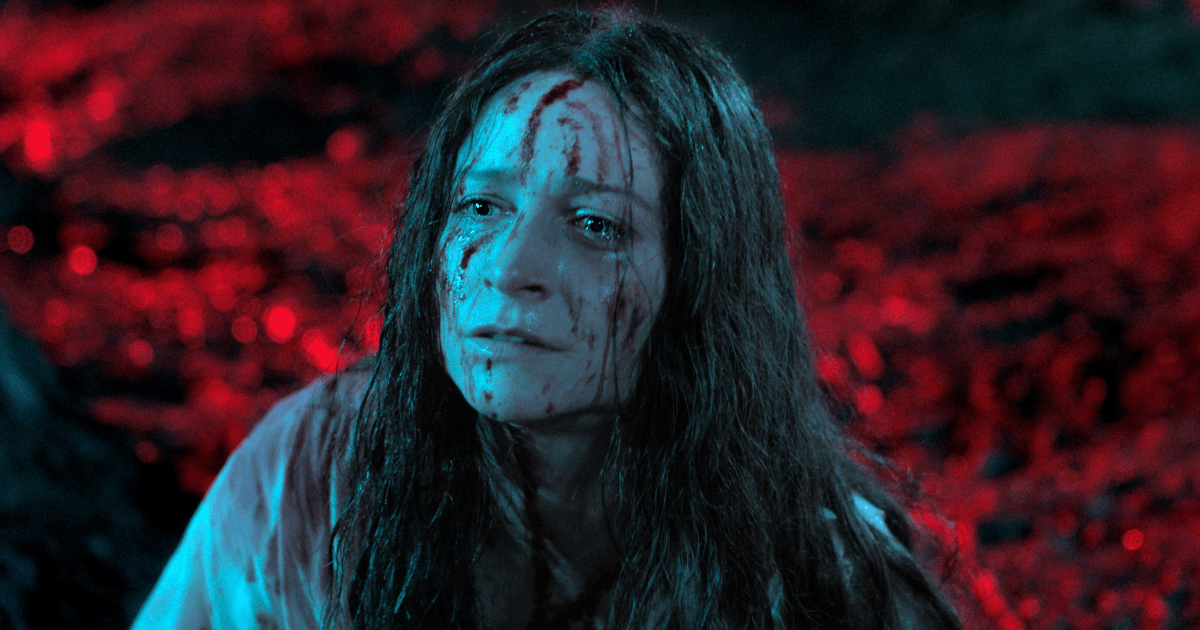 When one thinks of potential topics for compelling horror storytelling, film censorship isn't entirely the route one would go down.
But most films aren't Censor.
Seeing the feature debut of director Prano Bailey-Bond, Censor tells the story of film censor Enid, a woman who, to the chagrin of both her contemporaries and the filmmakers she encounters, takes pride in being the axe wielder between the corrupting images of sex and violence she faces every day and the general public. However, this isn't all that drives our hero. Haunted by a past that includes the disappearance of her sister (an event that she remembers nothing of) and the subsequent declaration of death in absentia, Enid is a passionate, guilt-ridden woman who, after viewing a film out of an archive, is forced to face her past head on.
1980s-era horror cinema is not just a topic here, with director Bailey-Bond proving to be much more than a good mimic of one of horror's golden moments. Drawing squarely from the type of no-budget slashers and strange phantasmagorias that made that decade famous, Censor is a brooding, brazenly surreal deconstruction of grief and memory. Bailey-Bond's direction is assured and textured, using this era of cinema less as a reference point than a launching pad of sorts. As the narrative begins to blur the lines between reality and something more otherworldly, the direction matches, with the bursts of violence increasing in both gore and aesthetic ambition.
One thing that elevates this film above its influences is the lead performance. Actress Niamh Algar stars here as Enid, and is maybe the discovery of Sundance. Her performance is nuanced yet muscular, forced by the filmmaker behind the camera to carry much of the proceedings, at least emotionally, on her face. Bailey-Bond challenges Algar with numerous close-ups, sequences where the emotional peaks and valleys rely on the actresses deft ability at modulating facial expressions to match the ever evolving atmosphere of the film. Algar's performance also communicates, in often soul crushing ways, the central issues of grief and memory that bleed throughout the film. To consider a horror film as being "about grief and trauma" in 2021 seems like a cloying, almost comical idea, but besides being at the very heart of Censor's narrative, these concepts embed themselves throughout the film, be it in the surreal breaks from reality that make the film's final act truly devastating or the brief shifts in tone and atmosphere that draw the viewer in. It's a beautiful, alluring and often brutal picture, but one that doesn't use its brutality as anything more than a vessel for sincere and nuanced emotion.
But, again, if it weren't for the incredible performance by Algar, the film would be little more than a curio for horror hounds to discover on whatever streaming service it ends up on. Instead, backed by that towering performance, this film becomes a deft and mature character study, a film whose gradual descent into madness is less a stylistic choice and more one that feels deeply rooted within the film's own world view. The final act is a percussive blow to the senses, concluding a film that feels both in conversation with a moment in film history now four decades on and a decidedly modern take on violence and memory. A film truly unlike any other here at Sundance 2021.