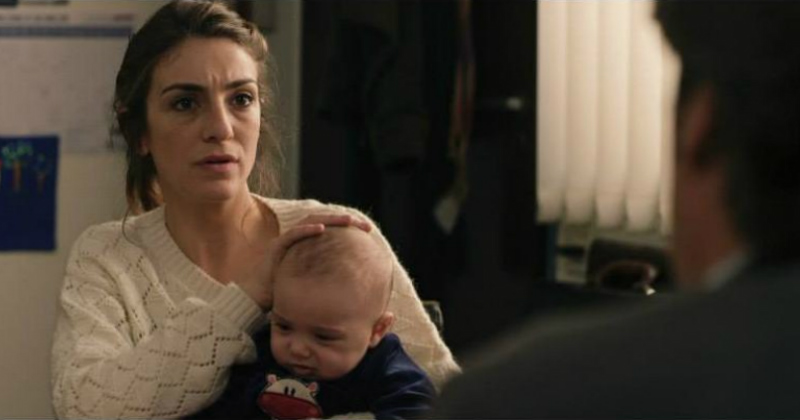 Among the countless movies made about being a new parent, I can't say I recall many that deal with the sheer physical terror of caring for something incredibly fragile that could never survive on its own. Near the beginning of My Friend From the Park, Liz (Julieta Zylberberg) is bathing her infant son, and realizes she left the towel just a touch out of reach of the bathtub. She stretches and stretches and on some level you realize that the tub floor can't have that good of grip because we've all slipped a little and it's still a little full with just enough water to possibly drown the kid, or if she slip she's going to kick him or fall on him and who knows what that'll do, but she can't just leave him in the tub either because what if he rolls over, and sure it'd only be two seconds but crazier things have happened in that span of time. And it all gets very easy to see how every small decision or movement could bring irreparable harm to her newborn.
Her husband is traveling for work; they can only connect on Skype. Like many new mothers, she looks for empathy and comfort among others. The moms in her more obvious social circle don't feel the most welcoming. They gossip and have impressively-detailed discussions about sex and invite her to a get-together in which they discuss a different topic of motherhood each week – one will be fears, the next anxieties, and so on. Not a lot of space to reinforce the joys of having a child. One week, though, she runs into Rosa (Katz), a slightly older, very eccentric woman with a child of her own to look after. Within a few hours of their first meeting, she's asked to borrow Liz's car and stolen some money from her as she forced a dine and dash. The problems only mount from there.
For a good stretch of the movie, Liz (and we) are left to wonder why she continues to engage with this woman. Stories swirl around her with the other parents – did she really steal someone's car? And what's the deal with this sister of hers? And where'd this gun come from? Katz, who directed the film and cowrote it with Inés Bortagaray, so invests her audience in the paranoia surrounding new motherhood, how one becomes especially attuned to potential dangers, and the wariness surrounding where to look for safety. But Katz also confronts head-on the possibility for #problematic territory by gracefully undercutting our perceptions of Rosa and her sister, opening up a more generous realm of empathy and confronting – without being confrontational – our assumptions not just of people in a certain position in society, but of storytelling trajectory. It's a lovely, intelligent film all around.