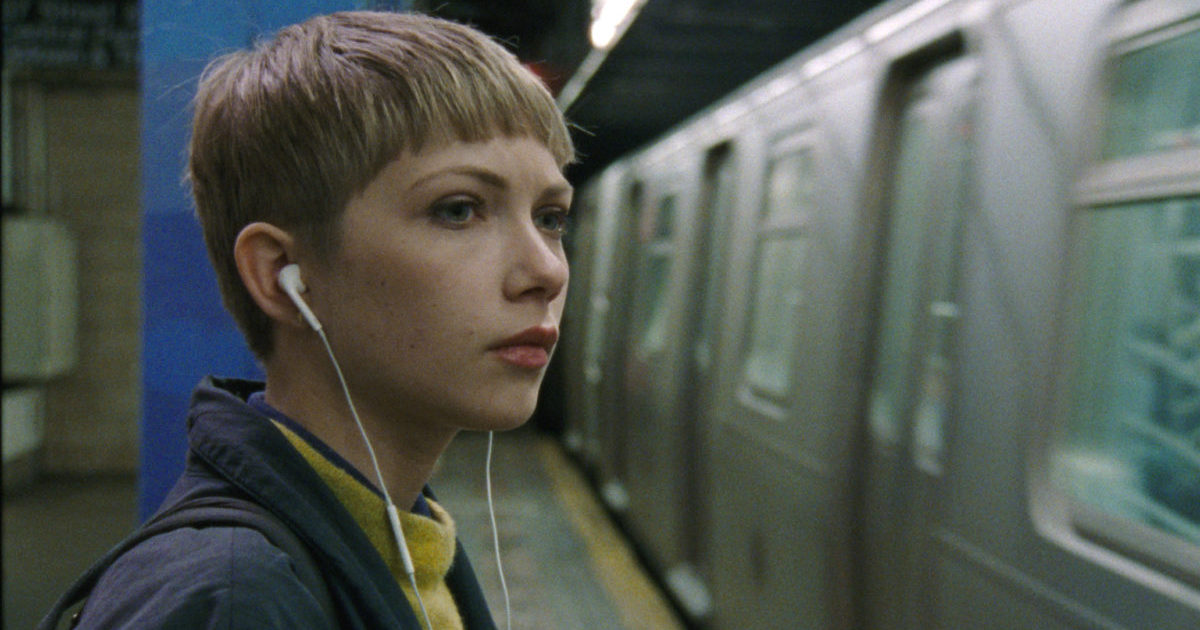 I've mapped it out, and best as I can say, there are five discrete narratives in writer/director/editor Dustin Guy Defa's Person to Person. Some of them overlap, some do not. They bolster one another through opposition, the way each shows very different ways of relating to other people. It's a light comedy involving murder, fraud, and betrayal after all. Contrasts are its driving force.
In one thread, newspaper editor Phil (Michael Cera) is training new reporter Claire (Abbi Jacobson) by taking her around to investigate a woman (Michaela Watkins) suspected of murdering her husband. That woman has taken a broken watch, which may or may not be key to the case, to a shop run by Jimmy (Philip Baker Hall) for repair. In a separate thread, Bene (Bene Coopersmith) is trying to acquire a rare Charlie Parker record, chasing its possible seller all over town once their deal complicates; meanwhile, Bene's roommate Ray (George Sample III) is being chased all over town by his ex-girlfriend's brother upon the revelation that Ray posted her nude photos online. And entirely separate from all of these, teenager Wendy (Tavi Gevinson) persuades her best friend Melanie (Olivia Luccardi) to skip school with her, but comes to regret the inevitable presence of the latter's boyfriend.
Whew.
At 84 minutes, none of this feels particularly rushed, or even slight. Defa has a finely-tuned sense of how little time we need to spend with well-cast characters to get a sense of them. Coopersmith in particular, despite not being a professional actor and having very few credits, emerges as a totally genuine, big-hearted presence. He's given the film's final, heartwarming scene the summarizes its generous perspective without being at all declarative or didactic. He's the ray of sunshine amidst a slightly-more-bitter group of characters. Phil is only training Claire, who isn't very adept at her new work and seems to not know why she signed up for the job, as a means of possibly sleeping with her. Wendy is extremely open (in an almost Rohmer-esque fashion) about how extremely she tries to isolate herself from others (though, it should be said, Gevinson is very talented at finding the sympathetic center here).
Shot on 16mm by Ashley Connor, with no apparent effort to digitally clean up damage done to the celluloid, the film has a clear love for old, lived-in environments and tacticle objects. Its Brooklyn is not devoid of modernity, but seeks to capture these aging environments (record shops, clock stores, run-down small-press newspaper offices) before they collapse under the weight of accumulated materials. The internet functions as an uncontrollable object of evil in Ray's story and the source of occasional distraction in Wendy's, while cell phones give away a hiding place in Bene's and allow for light spy work in Claire's. Technology is a bit of an intrusion in Defa's world, but you get the sense it's also winning.
This is only Defa's second feature (I've not seen his 2011 debut, Bad Fever, nor the several shorts he's made), but his willingness to make it come across as a dashed-off sketch of a film – injecting so much life into it without underlining that effort – distinguishes him from many of the other filmmakers in his loose-knit generation of Brooklynites. Person to Person is a real pleasure to watch, and one of the best films I saw at the festival.