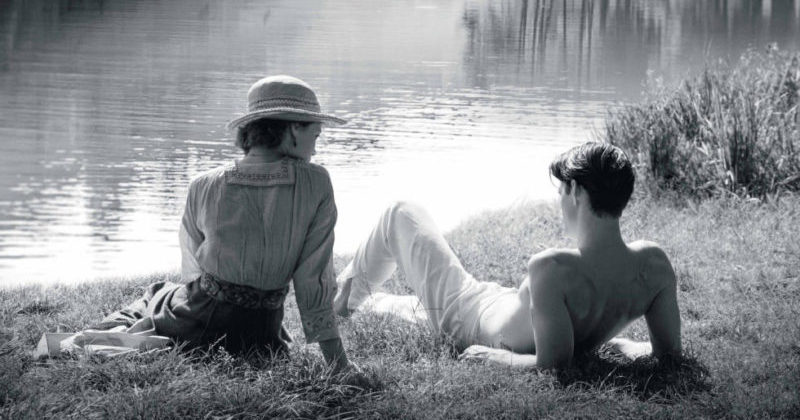 At first glance, it seemed odd for François Ozon – whose sexy melodramas more closely resemble thrillers – to remake a largely-unseen 1932 Ernst Lubitsch film (Broken Melody), even if it is said to be something of an outlier in the bawdy director's filmography. I have not seen that Lubitsch film myself, unfortunately, but the more I thought about Ozon and Lubitsch, the more I realized they often share one prominent concern – malleable identity. Both often revisit the idea that one can quite literally be a different person depending on whose company you keep, and that any of these various identities need not necessarily be a lie. What's in a name, after all. And the lie is sometimes necessary to maintain a sense of peace and harmony.
The film takes place in Germany, immediately after World War I, when anti-French sentiment still runs high. There, Anna (Paula Beer) lives with her late husband's parents (Ernst Stoetzner and Marie Gruber), all going about their business and honoring the memory of Frantz (Anton von Lucke), who fought and served what now seems like a futile effort. One day, when she visits his grave, she sees a Frenchman standing over it crying. She's suspicious at first, and her parents-in-law are outright hostile, but the more they get to know Adrien (Pierre Niney), the more his connection to Frantz starts to bring their loved one alive to them. I was quickly reminded how valuable oral tradition still was in the early 20th century; how, absent many other contrivances, a simple story told around a living room or a violin performance was a plenty captivating escape for the evening.
But Adrien knows a lot more about Frantz than he lets on, knowledge that only Anna is to learn, putting her in a compromising position not only with her parents-in-law, but also with Adrien, in whom she had been taking a loose romantic interest. The question of whether this newfound knowledge can permanently damage all that is an open one, or if Anna is doing the right thing by withholding what she discovers. Everyone is a lot happier ignoring it, but can it be fully ignored? And given Frantz's death, should it? At what point does honoring someone's memory inhibit life to go on?
These questions, as well as the burning resentment over the war having even put them in such a position in the first place, are potent driving forces, carried extraordinarily well by Beer and Niney. Their restrained performances speak to the restrictions of the time, particularly around women and the ability to express either joy or sorrow in a shared space. The notion that Anna would be drawn to a Frenchman is especially offensive to her German neighbors (and German would-be suitor), but the film makes a lovely case that much bigotry and hatred can be overcome through simple exposure. The more you come to know someone, the less you can hate them, and the less you can let some amorphous idea of "the other" become their defining trait. Everybody was sent to war for the same reasons, and nobody is glad to have their children dead. If this point is sometimes driven home with speeches, this is no great bother to me, as they are heartfelt, impassioned, and in the context of the oral tradition I mentioned above, probably not so unusual.
The film is photographed beautifully in black and white by Pascal Marti (who shot Ozon's prior two films, Young & Beautiful and The New Girlfriend), with color sections inserted whenever Frantz's memory is particularly potent. These color sections, digitally touched-up by the looks of it, isn't quite as appealing to look at, but the effect is often quite moving in transition.
While still a departure in many ways for Ozon, offering none of the more overt social transgression for which he's come to be recognized, Frantz is still very in keeping with the sort of drama built around secrets and lies that sits at the heart of his drama. While I always enjoyed the more lascivious aspects of his work, it's nice to see he doesn't need them, and that he has many avenues to the same themes and emotions.