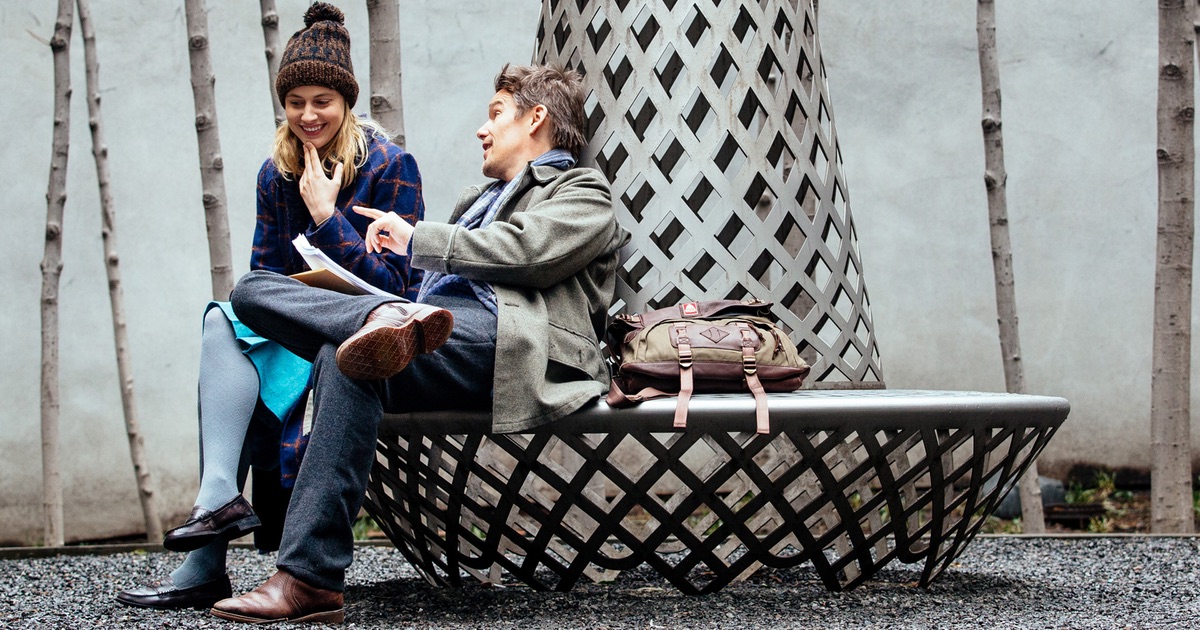 Maggie's Plan begins with a compelling premise – Maggie (Greta Gerwig) is ready to have a child with or without a man, and enlists the proper doofus (Travis Fimmel) to supply the semen; little does she know she will quickly fall in love with John (Ethan Hawke), whose marriage to Georgette (Julianne Moore) is almost beyond the rocks. And believe it or not, the titular plan isn't even about the intended insemination, though that storyline nicely establishes how quickly our designs for our lives go awry. No, the true plan will be saved for after the film cuts ahead three years, when Maggie and John have built a bit of a life together.
But that's for you to discover. Writer/director Rebecca Miller (working from a story by Karen Rinaldi) has prematurely entered late-Woody Allen territory. She has a tremendous, purposefully arch premise, strongly-defined eccentric characters, and resourceful actors to bring them to life. What she's missing is connective tissue, a sense for things to happen for any reason other than to move along story beats. Some of her designs are pleasant enough – Maggie and John meet because Maggie's legal name is quite close to his, and their checks get switched – others are belabored to the point of nonsense. People get locked out of apartments (or stranded in a snowstorm) at the most opportune moment, they show up, unwanted, to book readings for no reason, outright ask one another about their back stories, or pick juuuuuust the wrong moment to suddenly drink heavily.
It pains all the more than Miller's moments of true discovery – a date night to an illegal gambling den in the basement of a Chinese restaurant, leading to a great, teasing sex scene stands out most – feel so well-earned, and are so lovingly performed. Moore fares roughest, dealing with a German accent and an ice-cold character, but even she gets to delight in being told how good she looks in just the right light. Gerwig and Hawke, two actors incapable of telling a lie on screen, are very good, drawing some interest out of any scene. The central conception that they could ever have too much to fight about feels instinctively fraudulent. They've been too damn open to us for too long; not just here, but in so many movies, and in the way we've come to regard them. I'm at the point now where I am incapable of not empathizing with them, wanting the best for them. Even the ferocity with which Gerwig has chased the sort of performative Whit Stillman bug can't erase the quality which made her so magnetic in Baghead, Nights and Weekends, or Greenberg. She has an honest face. And Hawke, whose project selection seems only slightly removed from simply answering the phone, has such palpable enthusiasm when these more literate films come his way that his excitement carries his audience with him. This is maybe the first time I've seen him so willing to look foolish – Miller beautifully twists his action hero persona, getting a laugh at him entering a cafe in full motorcycle gear – and he carries it exceptionally well. This is without even getting into the excellent supporting cast, especially Bill Hader and Maya Rudolph as a perpetually-fighting husband and wife.
But good performances only carry a film so far before it starts to feel like the film is betraying them. Miller and her cast feed off one another well, but that energy too rarely translates to screen. It comes across in the big ways mentioned above, but more jarringly in the little ways – the awkward silences that feel less a product of the drama than one of cutting into a shot too early, or out too late; the shot/reverse that accelerates the action on one side while keeping the other remarkably stationary (down to the amount of wine in the glasses). These aren't continuity errors or "goofs"; they're the rhythm of the film, perpetually upset and thrown into nonsense when a clearer filmmaker would find the distinct rhythms of her material, no matter how arhythmic. This is, after all, a film about the impossibility of planning one's life; let the chaos fold into the material, rather than constantly fighting against it.
---