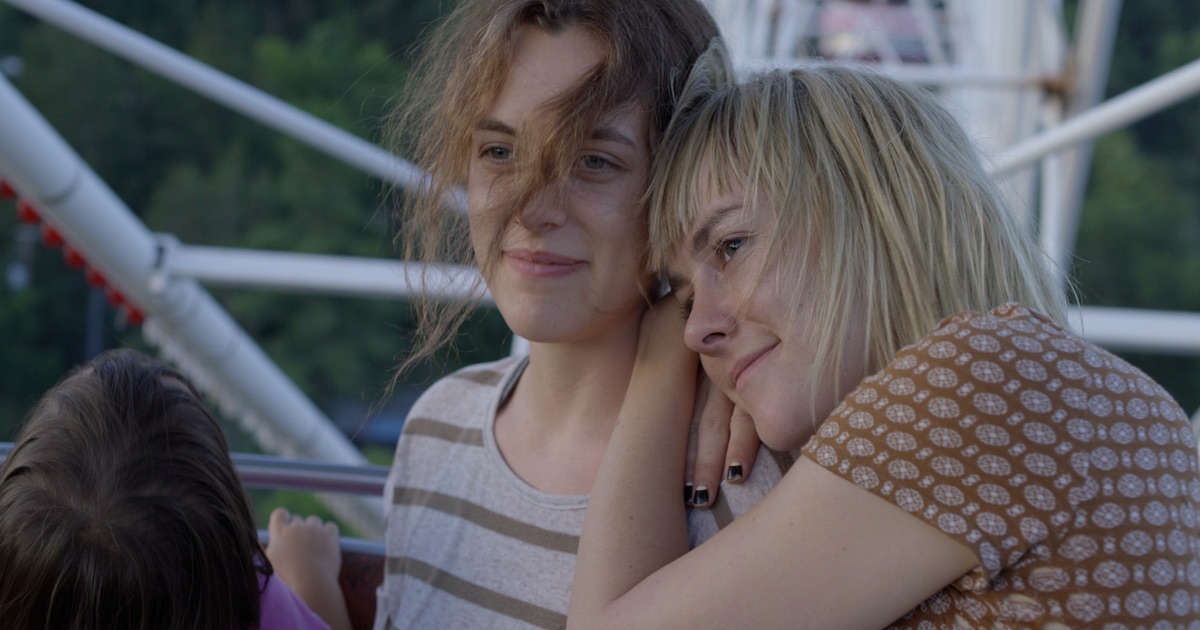 I've never been a young parent who suddenly fell in love with my same-gendered best friend, but boy if Lovesong didn't nail what it felt like to be in my early twenties. This is a film all about the difficulty to say what you truly want to say, and the distance that crops up between people as a result of that prideful fear. It's a fear of both rejection and acceptance, what Joni Mitchell was talking about when she warned against expressing honest feeling in "Both Sides Now." A "no" could end everything between you and this one other person. A "yes" could end everything between you and everyone else.
Sarah (Riley Keough) and Mindy (Jena Malone) are around 23 when we meet them. Sarah already has a young daughter, but her husband, Dean (Cary Joji Fukunaga) is away for months on end for business. She's lonely and terrified most of the time. She loves her daughter (played at a young age by a very resourceful Jessie Ok Gray), but she doesn't seem to have (m)any friends, and Dean doesn't really see what the big deal is with him being away if it means supporting them financially. Enter Mindy, Sarah's best friend of over a decade. She's gone on a much different trajectory since they graduated college, using her youth to meet and date as many people as she desires. They quickly fall back into old patterns; jokes and drink relieve Sarah's bundled anxiety greatly. Mindy flirts with a cowboy at a rodeo, she looks after Mindy, she eggs Sarah on in just the ways she needs. And then, suddenly, they drift into something else.
Sarah hasn't slept with many people, by her own admission; Malone is a savvy enough performer to know that Mindy is used to saying "goodbye" a lot before much emotional involvement can set in. So they've no sooner begun talking about what's happening between them than Mindy's back on a bus for the city, and they don't see one another over the next three years, until a Major Life Event finally brings them back together.
Lovesong, which Kim (Treeless Mountain) cowrote with her husband Bradley Rust Gray, recognizes how much distance hurts, how awkward it can be to try to restart an old friendship when your last encounter was so emotionally loaded, and never discussed. The handheld cinematography, under the direction of Guy Godfree and Kat Westergaard, adds to the fleeting sense of each scene, how moments can never truly be recaptured or repeated, only mimicked in variation. The second section of the film throws Sarah in with a completely unfamiliar crowd, and Keough and Kim nicely express the uncertainty one feels in a new social set run by a close friend, how you simultaneously want to impress them and just sort of wish they'd all just go away. As Sarah slowly gets one wish, we're left with the dread and suspense that she can't see many other wishes come true; they simply might not be brave enough.
I find myself using a lot of personal pronouns in discussing the film because it comes across so personally. It leaves so much space in what's left unsaid for the audience to fill in with their own experiences. Doubtlessly there are audiences without comparable stories; I feel bad that they won't get as much out of this film as I did, but I also sort of envy them.