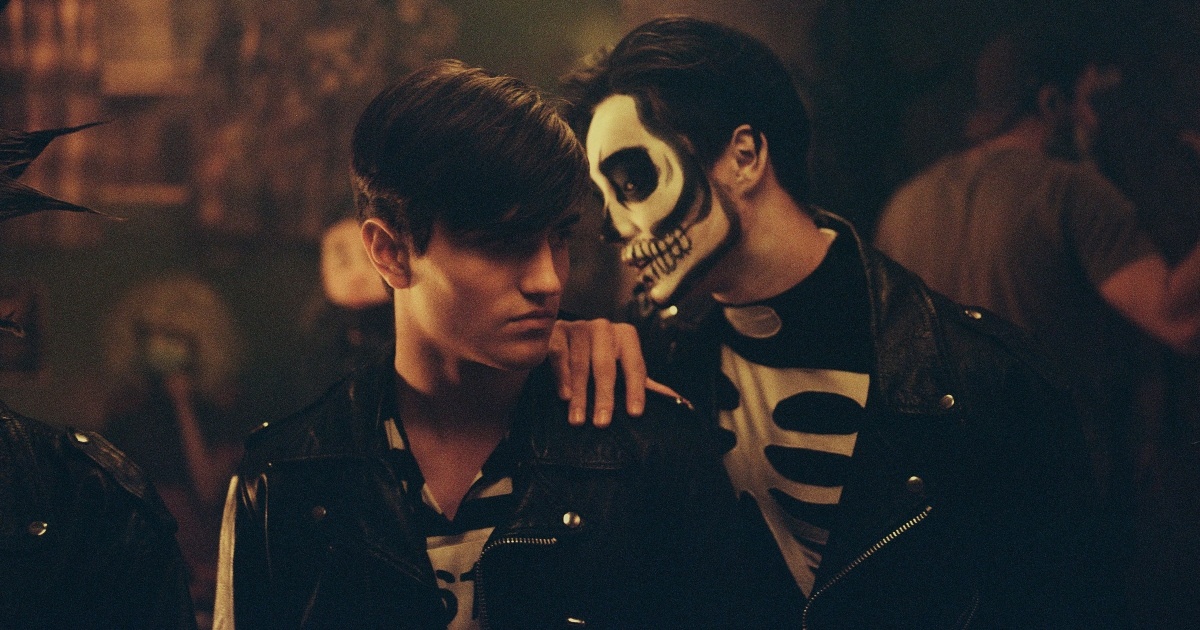 Up first for this second Sundance dispatch is arguably the first real knockout of the festival. Entitled Heroic, director David Zonana introduces viewers to 18-year-old Luis (Santiago Sandoval Carbajal) as he enters the Heroic Military College in Mexico. Ruled with a seemingly iron fist and surrounded by stone and statues of Gods, Luis slowly begins to unravel mentally, as the day-to-day abuse and humiliation that feels almost ritualistic at the school starts taking its toll. Ultimately becoming ensnared in the web of abuse and violence laid by his commanding officer, Sergeant Sierra, Luis devolves into a hallowed out vessel of a human.
Told with an unflinching camera, Heroic is a harrowing character study that takes a look at life inside military barracks and the violence therein. The real star here is Carabajal, who gives a gobsmacking performance here as Luis, himself playing on his own experiences as a cadet. It's a deeply human performance, a performance that balances perfectly the fight between the increasingly volatile actions Luis is committing and his own strive to make he and his family's lives better. This is a young man who enters service out of utter necessity (medical bills have made this his only outlet) and is stripped bare of every ounce of his humanity in the meantime. It's a shattering piece of work that is unlike anything at this festival.
Next up is the first thing yours truly had the pleasure of seeing at this year's festival, and one of the handful of episodic works showing this year. Entitled The Night Logan Woke Up, the series comes from filmmaker Xavier Dolan, and the first two episodes were screened in the "Indie Episodic" sidebar this year. The show more or less tells the story of the Larouche family, as they deal with the passing of the family matriarch.
The second episode ends with what feels like the launching pad for the entirety of the series (involves the reading of a will, I hesitate to say much more), but despite seeing only two episodes, this is a rather captivating start. Dolan's direction here is rightly arch, leaning a surprising amount into the surreal horror of the proceedings, particularly with his use of daydream sequences, with each jolting the viewer out of any sense of normalcy that they'd expect given the genre of story being told. This is as much a story about trauma as it is a family drama, with Dolan adapting a Michel Marc Bouchard play in a manner that he only could. Performances here are uniformly good, at least from what was shown, and with the final shot of episode two, viewers can't help but yearn for more time with these characters. Think of it as Dolan doing Summer Hours, and all the baggage that that claim carries with it.
Staying in the world of fiction, we have the incredibly titled Sometimes I Think About Dying. Starring Daisy Ridley, the film follows Fran who works a seemingly deadening day job in Oregon where she does more daydreaming than she does seemingly active work. That is, at least, until Robert joins the company. With a friendly exchange over Slack, the two spark a seemingly fruitful relationship, or at least a friendship that neither of them were ever expecting to encounter.
Director Rachel Lambert makes a quietly moving character study with Sometimes, a film that doesn't just rely on a performance to carry its weight. The cinematography here is rightly antiseptic, turning the office space Fran works into something more akin to a morgue than a real workspace. The direction is quiet and muscular, with cubicles becoming framing devices to amplify the otherworldliness of the modern workplace. The performances here are, however, fairly great, particularly Ridley who turns in one of her more measured performances yet. It's not a one-note role, however, with Ridley able to play the subtle shifts in energy that make this film feel a bit more alive than the deadening photography may make one think. Dave Merheje co-stars as Robert, also giving a solid performance. The film does have roots as a short film, and it does feel a little too long, but it's a compelling drama about modern human connection.
Finally, we're closing this dispatch out on something a little bit different. Entitled A Common Sequence, this documentary comes out of the New Frontier sidebar and is directed by the team of Mary Helena Clark and Mike Gibisser. The film is ostensibly a rumination on the balance between science and labor, delving into things like medicine research, food harvesting and even extinctions, all through a decidedly political lens.
Be it apple harvesting or coding of the genome, the film looks at who is involved in these processes while thrusting viewers squarely into them as they're happening. Touching on things ranging from colonialism to intellectual property laws, A Common Sequence is, again, an unapologetically political work, as interested in the datafication of the known world as it is who owns that data and what that ownership means. Very much in conversation with other entries in the "slow" cinema canon, the film will not be for everyone but if you've seen films like The Unstable Object II or other films along that line, this will be nothing if not absolutely captivating. This is an important and essential document about imperialism through data, something that's only going compound as time progresses.