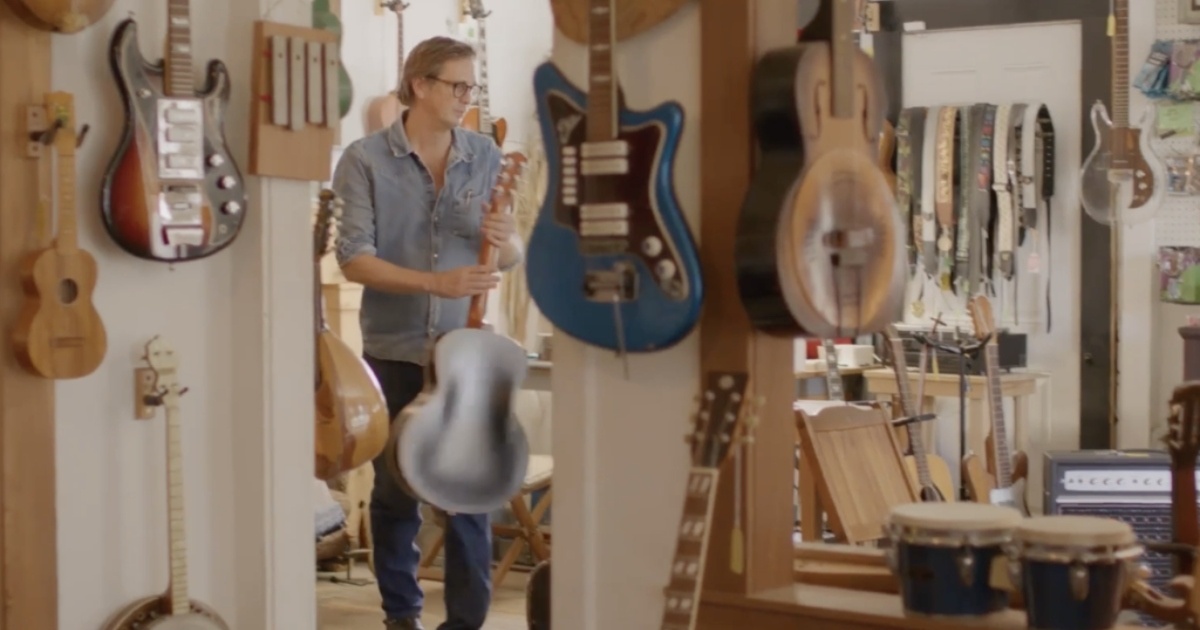 SXSW 2022 is under way, and with dozens of features, shorts and episodic programming making its way to Austin March 11-20, we're going to be bringing you three dispatches highlighting some of the best works playing the festival.
5. Really Good Rejects
Starting off this SXSW 2022 dispatch is one of four documentaries featured here (again, the festival continues its run of incredibly curated documentary sections), and one of the real discoveries therein. Entitled Really Good Rejects, the film comes from director Alice Gu and tells the story of Reuben Cox, an Los Angeles luthier who has gone from simple crafter of guitars to one of the great craftsmen in the market. Told through a series of interviews with Cox himself as well as many of the legendary artists, ranging from Perfume Genius to Jackson Browne, who have played his guitars, Really Good Rejects is a moving, thoughtful rumination on music, art and the power of spontaneous innovation. Without getting incredibly technical or caught "in the weeds," Gu has made a wonderfully approachable, if maybe a bit too classically structured, documentary that embraces the ramshackle nature of Cox's creations (there's a specific story in the film that dives into a guitar that sounds like it's made of not just different material but entirely different instrument pieces) and spins it into a story where the beauty comes less from the music it sparks (which is admittedly quite beautiful, particularly the moments with someone like Andrew Bird) but the moment where an artist sparks an idea and simply runs with it. Few documentaries so far in 2022 have been quite as enjoyable as Gu's love letter to artistic innovation.
4. Tony Hawk: Until The Wheels Fall Off
From one surprise to one of the festival's most talked about documentaries. Tony Hawk: Until The Wheels Fall Off comes from director Sam Jones (I Am Trying To Break Your Heart: A Film About Wilco) and sends viewers through the life and times of inarguably the most influential extreme sports athlete of all time. With startling candor and intimacy, Jones sits down Hawk and his family, friends and contemporaries to dive into not just the career of the "Birdman," but even more so the rocky life that he's led up to this point. As interested in talking about his work ethic as he is Hawk's history with various vices, Jones crafts a deeply personal, if maybe a pinch too classically structured, tale about one of sports truest titans. Pairing these interviews with captivating never-before-seen material, Until The Wheels Fall Off is a superlative character study caught in the body of a typical sports documentary. Lives up to every ounce of hype.
3. The Cow
Settling in at the middle of this first SXSW dispatch is the sole fiction film discussed here, and one that's worthy of mention if only due to its superb lead performance. The Cow is the first feature of Homecoming co-creator Eli Horowitz, and stars Winona Ryder as Kath, a teacher who finds herself on the road with her student-turned-boyfriend (played by the always enjoyable John Gallagher Jr.). When they arrive at their rental cabin only to find that it's been double booked, the couple share the night with a mysterious younger couple, only to have her boyfriend seemingly run off with the much younger pair. What results is a relatively straight-forward mystery that's part cult thriller and part relationship drama, all made of some weird import by Ryder's typically superb lead turn. With a face and physical presence very much built for this type of thriller, Ryder is endlessly watchable, breathing humanity into a character that could have easily fallen victim to the same one-note storytelling that the rest of the film gets hindered by. Very much a "first film," Horowitz proves to be talented behind the camera, if unable to get out of his own way during some of the more tense moments, but Ryder is always there to bring the viewer back in with a simple glance or gesture.
2. Diamond Hands: The Legend of WallStreetBets
Back to documentaries we go for the penultimate film on this first SXSW dispatch, Diamond Hands: The Legend of WallStreetBets. From filmmaking team Zackary Canepari and Drea Cooper, this MSNBC-backed documentary looks into the rise of the now iconic Reddit group known as r/WallStreetBets and how their backing of GameStop in many ways broke our financial system in ways previously unforeseen. Caught in the wake of a global pandemic and with commodities trading becoming more democratized through apps like RobinHood, Diamond Hands tells an incredibly specific story of an incredibly specific moment in global economic history, and one driven by a group of Reddit users with tons of money to throw around and no fucks to give. While financial docs (even the best ones) are often stuffy, heady ruminations on late capitalism, Diamond Hands is a rightly percussive film, an art-pop exploration of a moment in time where financial systems became codified around little more than memes. Canepari and Cooper turn in a work of high energy, a perfectly propulsive primer on what has become one of the stranger moments in the history of late capitalism.
1. Kids In The Hall: Comedy Punks
Rounding out this list is maybe the best documentary here at SXSW, and one of the more buzzed about works in general. Kids in the Hall: Comedy Punks comes from filmmaker Reginald Harkema, and introduces viewers to arguably the great modernist comedy troupe. Backed by new interviews with the legendary comedic team and never before seen footage of them on their journey to cult stardom, Comedy Punks is a classically structured, yet endlessly compelling look into Kids in the Hall, their journey from ramshackle comedy clubs in Canada to their own TV series here stateside. The interviews are intimate and often quite engrossing, but as with any great bio-documentary, the archival material is what will keep viewers watching, as every new bit that pops up throughout the film is funnier, more inventive and feels more modern than anything else playing at this year's festival. The film doesn't break much new ground structurally or aesthetically, but as comedy becomes less and less inventive and ultimately less interesting, seeing this troupe formulate their own voice some decades before proves that they truly don't make them like they used to.