As much as I'm not a "movies were better back when" type of guy, the regularity with which I return to the theme of work in recapping the TCM Classic Film Festival should make clear that movies "back when" understood this issue. It's not just that characters in modern films (of all scales, the biggest blockbuster to the smallest independent) seem to not work, it's clear that when they do, the writers and directors behind the films have no idea how any job functions.
Conversely, in the random smattering of fourteen classic films I saw over the four-day festival, four of them clearly, cleanly explored the expectations set by a regular work schedule, and how that work has a genuine effect on our day-to-day lives even outside the office. The best of them, Clarence Brown's Wife vs. Secretary (1936), stars Clark Gable as a magazine publisher, with Myrna Loy and Jean Harlow, respectively, filling the title roles. That title sets up a gendered showdown full of catfights and sexual come-ons, but this is actually a nuanced exploration of how intoxicating work can be when you truly love it, and how easily it can blind you to everything else.
Van (Gable) is closing in on a deal to buy out a rival, but has to be very secret in going about it. He can only tell his secretary Whitey about it; not even his wife Linda can know. Unbeknownst to him, his mother has been filling Linda's head with the suspicion that Van and Whitey are sleeping together, a theory bolstered by nearly everyone at the office who can't imagine why a red-blooded man like Van would otherwise work so closely with someone who looks like Jean Harlow. The truth is she's just extraordinarily good at, and devoted to, her job. She's fine with breaking a dinner-and-a-show date with her fiancé-to-be Dave (James Stewart, no less) if it means assisting Van. She doesn't do this out of love for him, exactly; she just genuinely loves her work.
Van and Whitey's relationship will probably feel very familiar to anyone who has worked with someone they have every reason to be attracted to. It's not that there isn't a sexual charge to these partnerships, exactly. When you're good at what you do, and you find yourself alongside someone who can complement that productivity, it's as intoxicating as any date where you riff on similar life experiences. If the other people fits your romantic preference, and you theirs, confusion is bound to ensure, and the film dives fully into that. Van and Whitey probably aren't unaware of what the people around the office say about them, but they have no reason to expect Dave and Linda would think the same; they trust their respective romantic partners and expect the same trust in return. In being so blindly trusting, though, they forget to bolster them when they need it most.
The confusion, too, extends to themselves. There of course comes a moment in which Van and Whitey could very easily consummate whatever it is that exists between them. It becomes very easy when you have something like what Van and Whitey have to confuse compatibility at work with compatibility in bed. Sometimes people do find both in another person, but it's rarer than we'd probably like.
The film (which is now available on FilmStruck for a limited time) was based on a short story by Faith Baldwin, and women comprise two thirds of its credited screenwriters (Norma Krasna and Alice Duer Miller, with John Lee Mahin filling out the team), so the film takes a refreshingly progressive attitude toward the notion of women at work. The title could almost refer to Whitey's own dilema. Dave is pressuring her to marry, and she wants to be with him, but he wants her to give up work and tend to the home. She isn't really interested in that, having found so much fulfillment at work. The pull each way is genuine, and Harlow plays very well the gradual realization that she's giving up so much of her personal life for work, even if she does love it. The end plays things a bit ambiguously, but her intent seems genuine – to seek a balance that will keep her professionally engaged, but not obligated.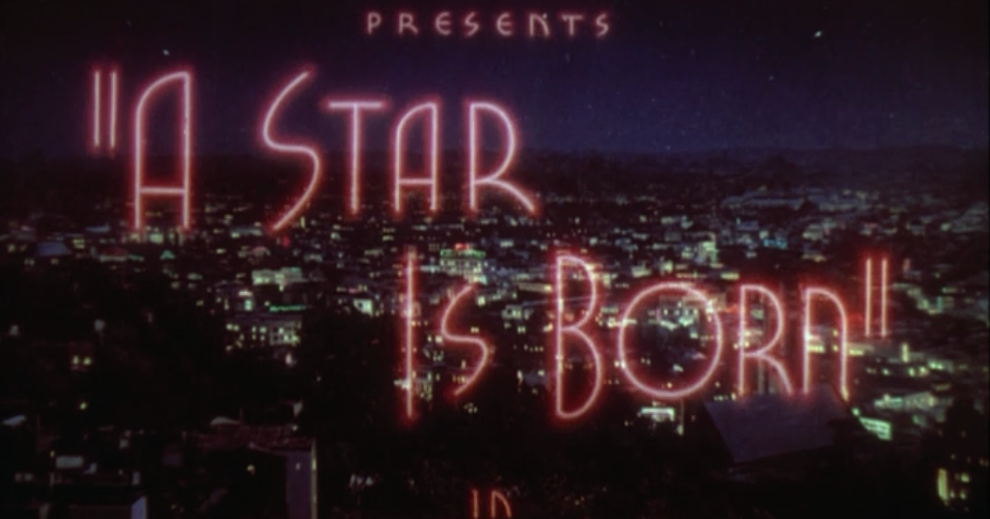 The difficult balance was again explored in William Wellman's A Star is Born (1937). Remade twice, and on its way towards a third, there remains something elementally appealing in this story about a man's career on the decline while his wife's is on the rise. Here, in this original version, that man is movie star Norman Maine (Fredric March), whose appeal in box office dollar is drowning almost as quickly as he is in booze. His wife is Esther Blodgett, quickly studio-christened as Vicki Lester (Janet Gaynor). The issue of pride inherent in Wife vs. Secretary is reversed. Here, the wife has no concerns for her future, only his. Unlike Van, though, Vicki isn't blind to Norman's desperation, his deep wound that no one can heal. He doesn't even care enough for her to find happiness there. He can only putter about the house and imagine what might be, dragging her further and further down with him. The scenario does a lot of the talking about the limits of love and commitment, the near-impossibility of finding true balance in a relationship built on work. There's no talk of children, nothing for him to pour himself into all day but more drink and gambling and ruin. For a man, particularly of this time period, work is everything, and unlike Whitey, nobody wonders why he can't be content merely as a spouse. Wellman doesn't explore the depths of their despair with nearly the same investment that George Cukor brought to the 1954 remake, and Gaynor isn't asked to do half as much as Judy Garland comes to give to the role, but this is an affecting, beautiful film nonetheless.
Somewhat less beautiful is Alexander Hall's screwball comedy This Thing Called Love (1940). Ann (Rosalind Russell) is a sort of sociologist working for an insurance company who thinks the best way to get the company to avoid paying out on divorce is to encourage couples to refrain from having sex for the first three months of marriage. This will give them time to get to know each other more intimately without getting tied down, if not by kids than simply the constraints of a consummated marriage in 1940. And what better test subject than herself, who is set to marry Tice Collins (Melvyn Douglas), a man she met abroad and barely knows? He's assured by his lawyer (Allyn Joslyn) that his wife-to-be will forget all about it, and they'll get right to business, but in the meantime, the film will work overtime to conspire to keep them apart.
First hurdle is a huge loan Tice needs to do something-or-other with a big mine in South America, which he's hoping to secure from Peruvian businessman Julio Diestro (Lee J. Cobb). Julio's not too keen on loaning big sums to men who have no family to work for, so Tice's lawyer suddenly blurts out that Tice is, in fact, expecting kids. But let's not tell Ann, that will just confuse her. So onward leads a who section of film dedicated to not telling Ann that this foreign investor thinks she's pregnant, and if you think that's the climax of the film, well, I'm sure the writers were hoping it would be too, but no, they still have a whole other half-hour to fill out with a bunch of nonsense before these crazy kids hit the sack.
In its own blundering way, This Thing Called Love does get at the tension experienced in a marriage when both people work and care deeply about their work. Push comes to shove and compromises have to be made, and in the early stages of marriage, you're often at odds over how much of your independence to cede. Both Ann and Tice want to be successful in their careers, and more than the sex itself, the tension of the film resides in how much of that drive they're willing to give up for mutual happiness. As these things tended to go in 1940, Ann ends up giving more, but not before putting her husband in a straight jacket, which isn't nothing.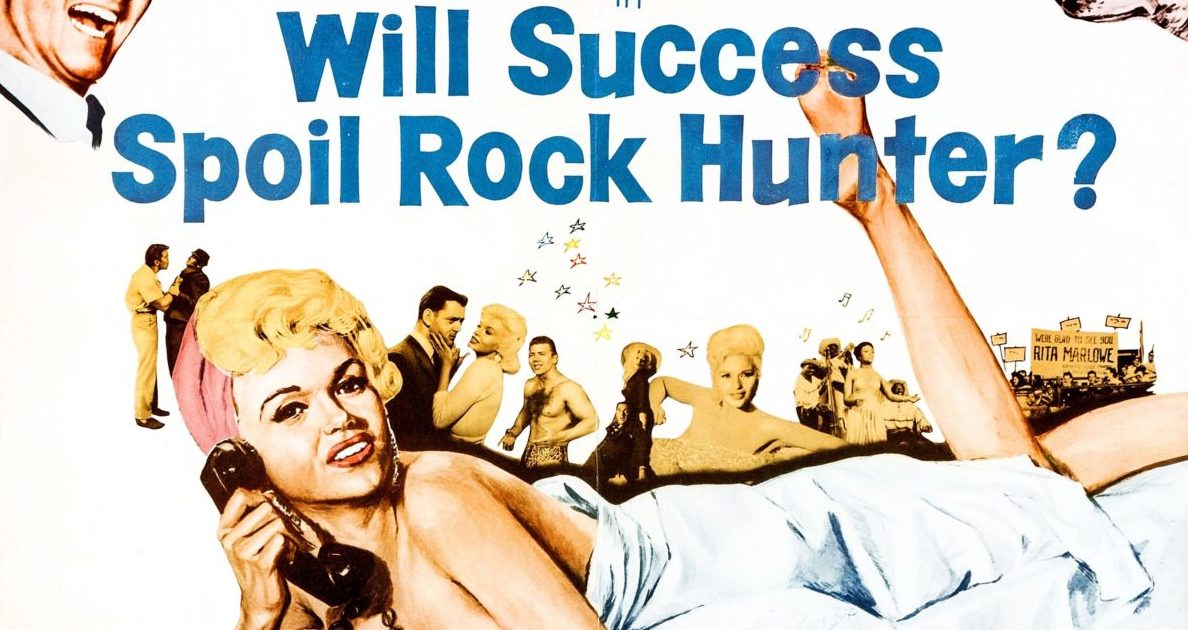 Finally, I revisited an old, dear favorite, Frank Tashlin's 1957 masterpiece Will Success Spoil Rock Hunter?. I'd never seen it on the big screen before, where those wide-wide compositions really have the space to stretch out, so that alone – plus the laughter of the audience – was a joy. But I was reminded too, perhaps placing it in the context of all these other films, how very much about the office it is. Rockwell P. Hunter (Tony Randall) is an advertising copywriter desperate for a leg up in a very characteristic 50s-era Manhattan ad firm. That leg comes in the form of Rita Marlowe (Jayne Mansfield), a big Hollywood star whose famously oh-so-kissable lips would be just perfect for the lipstick account his firm is desperately trying to keep. Never mind about Don Draper's endorsements-are-for-losers policy, this one's a winner! Luckily, Rita's on the outs with her lover, and Rockwell comes along just at the right time to pose as her new lover boy to make him jealous. So long as he keeps posing, Rita will do the same, and everybody wins.
Everybody except Jenny (Betsy Drake), Rockwell's secretary and fiancée (and Van thought he had it tough having them separated). Jenny knows the score, it's not like Rockwell is hiding anything from her. But she can't shake the feeling that a bigger bust and higher-pitched voice might be more appealing to him, and so she goes about remaking herself in the image of Ms. Marlowe. Meanwhile, Rockwell's niece April (Lili Gentle) is abandoning her schoolwork for her Rita Marlowe fan club, Rockwell's firm is pulling out all the stops to push him straight to the top over this, and he has teenage girls chasing him in the streets, convinced that whatever Rita is pretending to see in him must be real.
Tashlin has a real ferocity for the media industry that made him so successful, brilliantly toeing the line in films like this, The Girl Can't Help It, Artists and Models, and Hollywood or Bust between portraying the entertainment industry in all its colorful glory and cutting it off right at the knees. The film begins with a series of fake ads featuring beautiful people hawking terrible products, and virtually every big-wig in Rockwell's circle is a little bit silly. But the media industry's effect runs deeper, spoiling Rockwell in his quest for pure success at any price, and his relationship with his wife-to-be along the way. Like Van, he strives so much at work that he casts aside any worries of what that might do at home; unlike Van, he knows exactly the effect it's having and presses on anyway.
This being a comedy, naturally everybody comes to their senses at just the right time, redefining the notion of success along the way. The film was semi-adapted from a stage play by George Axelrod, who wrote it after 20th Century Fox ravaged his play The Seven-Year Itch in bringing it to the screen. Of course, they arguably did worse to Will Success Spoil Rock Hunter?, discarding almost everything about it, but in the process making a much better film. Success can only spoil so much.