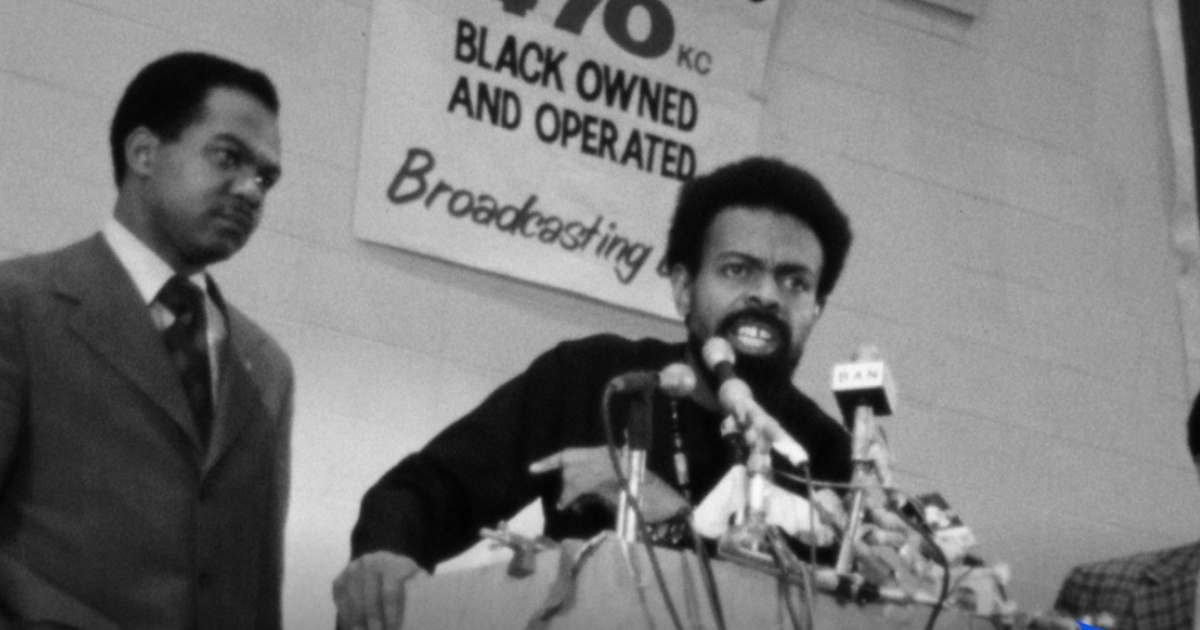 As COVID-19 continues to ravage the globe, more and more film festivals are, instead of skipping a year, simply going to a digital version, with tickets available for any and every person with a computer and decent internet access. One of the recent festivals to have just concluded their first online-only editions is AFI DOCS 2020, one of the US's great documentary film festivals. And with that comes numerous films worth hunting down for those who were unable to make a digital screening or weren't even aware the festival was open to the general public. So how do you dig through an extensive list of films like the one that is the AFI DOCS 2020 lineup? Well, let me do it for you. Here are the ten films you need to see from this year's AFI DOCS.
10. Dads
Starting off this look at this year's AFI DOCS festival is something that will be hitting close to home for those cinephiles with children. From director Bryce Dallas Howard comes Dads, a documentary that, you guessed it, talks about fatherhood and the various experiences of dads both famous and not. Mixing interviews with famous comedians like Judd Apatow or Conan O'Brian with first hand accounts of a handful of "everyday" dads, Howard's film is relatively conventional in its structure, but what makes it worth one's time is its sincerity regarding its central question: what makes a good dad a good dad? This is a question fathers have asked themselves for generations, and with a world that's changing every day, it can be a question of incredible nuance and specificity. At just under 90 minutes, the film feels a bit too brisk but it's one of the festival's most enjoyable films.
9. Bully. Coward. Victim. The Story of Roy Cohn
For something entirely different but still admittedly conventional in its structure and form, Bully. Coward. Victim. The Story of Roy Cohn comes in at number 9, and is one of the more interesting biographical documentaries here at this year's festival. Currently available on HBO, this Ivy Meeropol-directed documentary tells the story of legendary conservative lawyer Roy Cohn, as told through his own words and those of his friends and foes. A brazen and incredibly controversial figure, Cohn began his career prosecuting alleged spies Julius and Ethel Rosenberg (who just so happen to be the director's own grandparents). From there he would move on to be part of the McCarthy trials in the 1950s, only to end up as one of the closest councils to one Donald Trump. A legend within the American right, the film doesn't pull any punches in its critique of the man, yet does so by highlighting his own hypocrisies. With interviews ranging from Nathan Lane to Alan Dershowitz, the film has varied takes on the man himself, whose own fall from grace and end of life is more layered than one would ever expect.
8. Freedom On My Mind
Taking to the retrospective side of things, the first of two classics that was shown during this year's festival is a 1994 documentary from directors Marilyn Mulford and Connie Field. Entitled Freedom on My Mind, the film introduces viewers to The Mississippi Voter Registration Project, which teamed black activists and white allies in a fight to register more black voters in the South from 1961-1964. Told through a mixture of archival footage and interviews with the men and women who put their money where their mouth is in this fight, Freedom is a timely and profoundly moving portrait of political activism and grassroots revolution. Originally released in 1994 and ultimately earning the directors an Oscar nomination, the film remains one of the great documents of political activism in American cinema, and feels as urgent and essential today as it did then, or when the original footage was taken some 30 years even before that.
7. Freedia Got A Gun
Back to the current-day releases, Freedia Got A Gun crops up at number 7 not because it's some sort of informative look into the life of the legendary bounce music pioneer, instead, it's something even more important. After finding out that her brother had been murdered in New Orleans, Freedia turned her eyes towards the issue of gun violence, primarily through the lens of what masculinity means in this moment in history, particularly within the African American community. This is a textured and nuanced discussion of gun violence as told on a human level, one that feels decidedly specific in its depiction of a city ravaged by disasters both natural and man made as well as universal in its discussion of masculinity and manhood leading to misguided violence. Freedia is a fascinating figure in her own right, yet while her bounce music bonafides are crystal clear, she becomes a charismatic and thoughtful proponent for gun advocacy, with her deep connection to the issue giving the film a deep and heartfelt emotional center.
6. Through The Night
A much smaller film, Through The Night comes from director Loira Limbal, and tells the story of two working mothers and their childcare provider. A deeply intimate and raw piece of non-fiction filmmaking, this no-frills documentary attempts to bring some much-needed light to the world of 24-hour childcare, particularly in lower-income areas where parents are forced to work multiple jobs or jobs later in the evening. The film introduces viewers to two providers and the space that they've built, a safe space for children to find the care and support that they would otherwise get from the home but simply can't due to various existential reasons. As much a film about the growth of income inequality in America and specifically urban America, Through The Night is a fascinating, intensely intimate document of one of America's great failings and the people pushing to fix it, any way that they can.
5. City So Real
The sole episodic release on this list, City So Real comes from director Steve James, and once again sees the master documentarian take to the streets of Chicago for a four-part documentary series looking at the various neighborhoods of the iconic city in the wake of the tragic murder of Laquan McDonald at the hands of a police officer. Setting itself against that backdrop as well as the 2019 mayoral election, the series (and I must admit to only seeing one of the four episodes at the writing of this piece) is James at his very best. Shining a light on the specific players within this community which in turn gives a strangely epic scope to a film very much about the places we come from, City So Real is a powerful and engrossing look at the cities that make us who we are and how we can effect genuine and sincere change within those communities.
4. Miracle Fishing
The sole real "true crime" doc on this list, Miracle Fishing is not quite like any other documentary on this list. Director Miles Hargrove takes to his own family history for this haunting and fascinating documentary that, in many ways, feels closest to a film like Dear Zachary, a film that uses home video footage to shine a light on a personal story of family trauma. In this film Hargrove takes to his own video diary to rehash the kidnapping of his father by a rebel group in Cali, Columbia, ultimately turning what is a profoundly upsetting and tense tale of personal trauma into something that's strangely universal in its portrayal of a family in crisis. We're privy to all the moments between the family, all the horrors and the moments in-between, turning this film into something almost perversely personal, while also showing an incredible eye for editing and craft despite its raw, modest beginnings.
3. A Thousand Cuts
In the bronze spot on this list is one of the more thrilling films here in this top 10. From director Ramona S. Diaz comes A Thousand Cuts, a film that tells the story of Maria Ressa and the news website Rappler, a site that attempts to put the feet of the evil Duterte regime in the Philippines to the proverbial fire despite their dictatorial manipulations. Once the site is given the "fake news" moniker by the regime following Ressa's arrest, the battle kicks into high gear turning the documentary into something resembling a political thriller moreso than a typical documentary. Looking at one journalist's attempts at bringing truth to the masses, the film feels oddly universal in today's post-truth era, and the verite style gives the film a profound urgency to the proceedings. Truly one of the best documentaries of 2020.
2. Transhood
Coming in the silver position here, and easily the best new release in this year's lineup, Transhood is a beautiful and engrossing look at the life of a handful of trans youth of various ages, and their battling cultural stigmas and, in many ways, their own bodies, over the span of five years. Facing issues like body dysphoria and bullying, these incredible kids find their stories being told by director Sharon Liese, in what is one of 2020's most empathetic and humane documentaries. Ranging from a young woman trying to find a place in the modeling industry to a young woman who battles with her growing body as well as her place within the trans movement following a cover story in National Geographic. Focusing on the kids as well as their family, Transhood feels like an empathy bomb coming in the year 2020 and with a world consistently imploding, with each family trying to battle various existential issues in order of giving their children the most fruitful and loving life they possibly can. It's a textured and humanist slice of life documentary that may span five years, but has such rich intimacy that it becomes truly epic despite a roughly 100 minute runtime.
1. Nationtime, Gary
The second retrospective entry on this list, the one film beyond them all that should be at the top of your watch list is the William Greaves-directed masterpiece, Nationtime, Gary. In 1972 nearly 10,000 people ranging from activists to artists joined forces in the National Black Political Convention taking place in Gary, Indiana, with speakers ranging from Rev. Jesse Jackson to Amiri Baraka. Narrated by Sidney Poitier, this film attempts to bring to light the event in all of its urgency and power, giving life to an underprivileged group and their attempt to form a genuine and united political front. At once a thrilling time capsule of political revolution, the film also feels timely in its portrayal of the Black Power movement in its relative infancy, at least on a united and politically-focused front. Newly restored in 4K, the film has the backing of Jane Fonda and the Hollywood Foreign Press Association as well as IndieCollect who restored the film, and will hopefully be bringing this timeless and powerful documentary to mass audiences later this year.