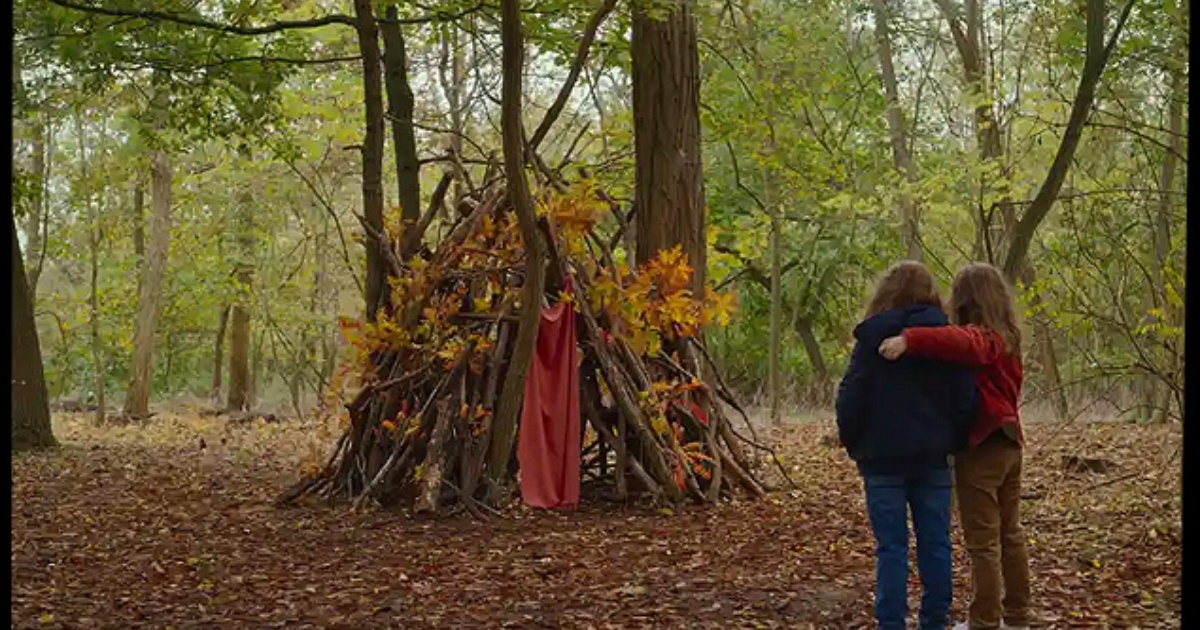 With TIFF 2021 now officially in the can, it's about time to dive into a handful more films that made waves at this year's strange, polarizing edition. Leading the way is inarguably one of the festival's most hotly anticipated films, and maybe its very best.
Petite Maman is the latest film from beloved filmmaker Celine Sciamma, and marks a distinct change of pace for the Portrait of a Lady on Fire helmer. Returning back to the world of small, character-driven dramas, Petite Maman finds Sciamma leaving the 18th Century for a brisk, modern fable that tells the story of an eight-year-old girl and her response to a world-changing trauma. Following the loss of her grandmother, young Nelly begins helping her parents clean out her mother's childhood home, only to one day find her mother missing. In her stead is a young girl of a similar age to herself, with the two sparking a connection all their own.
At just 77 minutes, this stands as Sciamma's shortest feature, and yet may very well be one of her most fascinating and moving. Driven by a star-making performance from Jesephine Sanz, Petite Maman isn't sly in its flights of fancy and narrative experimentation. This is a coming of age fable that sets the viewer squarely side by side with the young heroine as she nears the precipice of something truly profound. Sciamma is one of the great writer/directors of our time, a filmmaker of profound intimacy and in this taut, unassuming rumination on loss and self-knowledge she doubles down, reverting to a moment in childhood where lives truly begin to awaken. Tender and humane, this is arguably the very best film of 2021.
From one near masterpiece from a master filmmaker to another, Benediction is the latest drama from legendary Brit auteur Terence Davies. Damn near twice the length of the Sciamma film, Benediction is in no short order an epic yarn of war and romance as only Davies could craft. The film tells the story of Siegfried Sassoon, iconic turn-of-the-century poet who went from decorated war veteran to anti-war poet, finding Jack Lowden in the lead role here in what should be a hotly discussed performance come awards season. An elliptical, time-hopping narrative that sees the great Peter Capaldi in the role of the older Siegfried Sassoon, this is less a generic, cookie cutter biographical feature and more a poetic rumination on a life driven by furious righteousness and a profound sense of humanity.
While the performances here, at least particularly Lowden, will likely get much of the buzz, Davies once again proves that there are few filmmakers with as strong a sense of filmic lyricism than he. Interjecting archival footage to both set the film in a specific moment in global history and also give the film an air of impressionism, Davies teams with cinematographer Nicola Daley to create images of unshakable intimacy and engrossing texture. A film very much about identity both on a personal basis and of a more global context, Benediction is a thrilling yet delicate portrait of a revolutionary figure.
Speaking of revolution, the next film in this dispatch is one of 2021's most talked about form-pushing features, the animated documentary Flee. Directed by Jonas Poher Rasmussen, Flee introduces viewers to a man known to us as Amin Nawabi, who recounts his story of fleeing Afghanistan as a child which took him on a journey to the Denmark that he to this day calls home. Told through thrilling, often deeply moving animation, Rasmussen crafts a captivating picture, that uses different styles and aesthetics to properly pair with the various emotions at the heart of the film.
Manifesting most potently in a heart-stopping sequence involving black and white drawings, Flee is an engrossing film that finds its power not in the recounting of dates or events, instead embracing the freedom of animation to properly stage each narrative as to best reach the emotion at the core of the story being told. Art director Jess Nicholls puts in incredible work here, particularly in the modern day sequences which, despite being animated, feel almost more intimate and textured than if we were actually in the room with Amin and his partner. Childhood sequences are often told with rich, beautiful colors, setting a haunting contrast opposite the ever increasing stakes that Amin would find himself in. There's simply no other documentary quite like it seen yet this year.
Finally, the last films we'll talk about from this year's TIFF couldn't be further from one another, so I won't try a segway. First up we have the sole remake on this list, The Guilty. Based on Gustav Moller's incredible 2018 film of the same name, this new Antione Fuqua film stars Jake Gyllenhaal as a demoted cop working the phones who gets a call from a woman he believes to have been abducted. Set in the call center alone, The Guilty is more or less a showcase for the leading man, with Gyllenhaal admittedly giving a rather impressive, if slightly arch, performance as our anti-hero. Very much a "your mileage may vary" picture, particularly with regards to portrayals of cops on screen (the uttering of "broken people save broken people" is bewilderingly tone deaf and the most Nic Pizzolatto line of this Nic Pizzolatto-penned picture), as a sheer acting class it's worth spending the briskly paced 90 minutes. Tension is properly raised throughout, until the twists begin unraveling, and Fuqua proves to be an able filmmaker despite confining himself to one sole location. I'm absolutely positive this won't make any waves when it gets on Netflix later this year (said with tongue firmly in cheek).
And we close out this dispatch on a personal favorite documentary of mine, Oscar Peterson: Black and White. Directed by Barry Avrich, this documentary looks at the life and times of legendary jazz performer Oscar Peterson, and his journey from piano prodigy to elder statesman of the jazz scene. Almost laughably classic in its style and narrative, the film comes alive through its brilliant use of archival footage, really allowing Peterson's work to take center stage. The few breaks from the rigid structure come in the form of new performances from modern day luminaries like Denzal Sinclaire playing Peterson tunes, playing beautifully opposite the story of a man driven to give back to the art form that gave him so much. Ostensibly a serviceable music biography, jazz fans will find this film to be utterly essential viewing, and the performances alone should make this a small hit when it arrives on streaming.