With fall film festival season up and running, one of the film festival world's biggest names, The Tribeca Film Institute, the group behind the Tribeca Film Festival, has announced that they will be moving forward with a fund to help filmmakers create their art.
---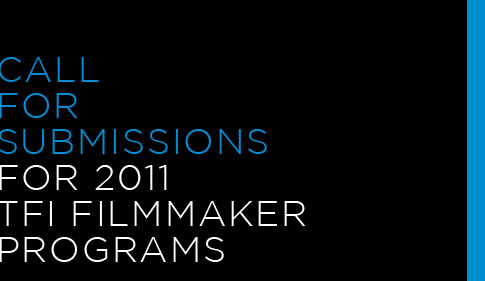 ---
The institute announced on Wednesday that they are taking submissions for grants, which will total roughly $500,000 in filmmaker support throughout 2011, with another $100,000 going to filmmakers thanks to the newly announced Documentary Fund, presented by HBO.
Known as the Gucci Tribeca Documentary Fund, it will give finishing grants to documentary filmmakers which the institute thinks 'highlights and humanizes topics of social significance.' Toss this in with the TFI Sloan Filmmaker Fund, which awards filmmakers up to $140,000 to create narrative films, and you have a filmmaking institute not only looking to bring the public the latest and greatest in independent and foreign fare, but giving back to filmmakers who want to do just that, and you have a great piece of news for anyone looking to get into the world of filmmaking.
Toss this in with new outlets like the Time Warner Cable Short Film Contest, and you have one hell of a time to live in for independent filmmakers.
What do you think?
Source: The Wrap
From the official press release:
TFI Documentary Fund Announced, plus Submissions Open for 2011 TFI Filmmaker Programs

Fall is in the air, and that means it's time to open submissions for Filmmaker Grants here at Tribeca Film Institute! The familiar family of TFI FIlmmaker Programs are back this year with even more to offer, plus an exciting new addition in the form of TFI Documentary Fund.

The TFI Documentary Fund, presented by HBO, was created to further the development of character-driven documentaries. The Fund will arrange one-on-one meetings with key HBO Documentary Film executives, in addition to providing financial support, supervision and guidance from TFI and HBO, to select filmmakers developing artistically significant and engaging feature-length documentaries that emphasize character.

Submissions are now open for the existing 2011 TFI FIlmmaker Programs, including:


Gucci Tribeca Documentary Fund, now in its fourth year, will provide finishing funds totaling $100,000 to feature-length documentaries which highlight and humanize issues of social importance from around the world.

TFI Sloan Filmmaker Fund, a program in partnership with the Alfred P. Sloan Foundation, will administer up to $140,000 in grants, plus professional guidance and mentorship, to narrative film projects in any stage of development that dramatize science and technology themes or portray scientists, engineers or mathematicians in prominent character roles.

Tribeca All Access (TAA) will expand its scope this year and provide $10,000 grants and extended mentorship to filmmakers from traditionally underrepresented communities who participated this year, in addition to the workshops, panels and one-on-one meetings. In addition, TAA will extend its year-round programming and support for alumni by awarding a total of $20,000 in grants for past TAA projects in development or new works by program alumni.

TFI Latin America Media Arts Fund, which supports innovative film and video artists who are living or working in Mexico, Central and South America and working independently in their efforts to reach a larger audience, will administer $20,000 in grants to a minimum of two artists working in documentary or hybrid forms.

So be your next project a narrative or documentary feature, we've got a variety of ways to help get it off the ground, or put the fishing touches. Get your submissions in today and beat the rush – the early deadline of November 8, 2010, and the final deadline of December 8, 2010.

For complete details on submission rules and regulations, please visit the respective program pages at www.tribecafilminstitute.org.