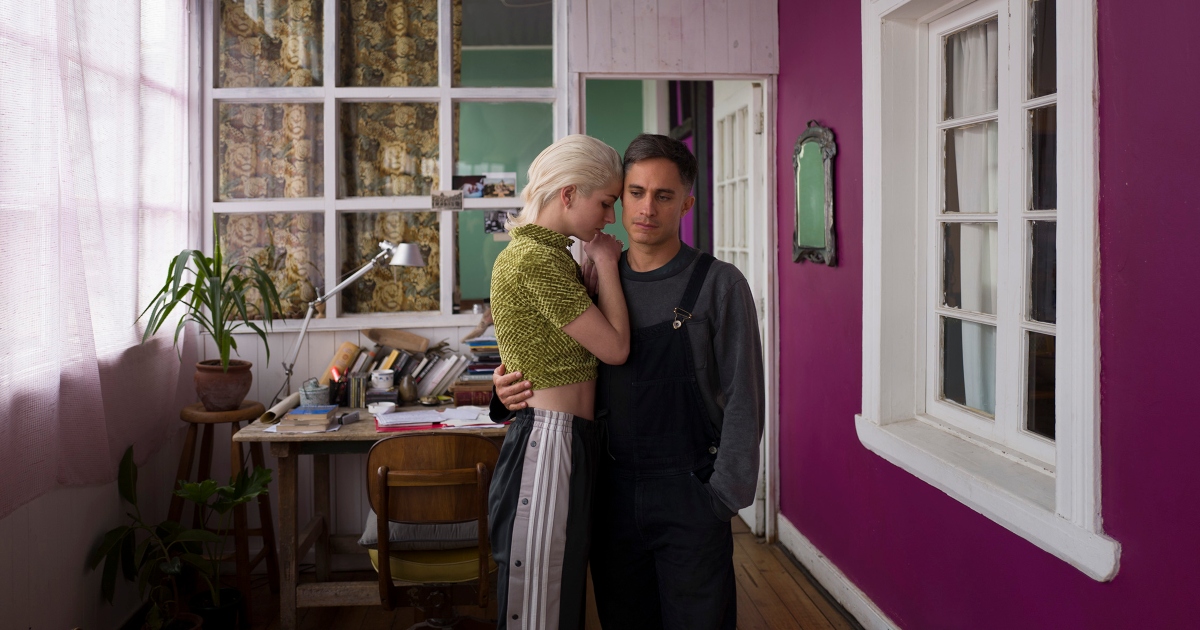 Latin America has not only been, throughout the history of film, one of the most fruitful landscapes for filmmakers and their artistic process but has become over the last handful of years a breeding ground for some of cinema's most exciting and essential films. Be it horror films, classical dramas or experimental art films, there isn't a shortage of incredible works from incredible artists in Latin America. And now, going into its fifth year, Film at Lincoln Center and distributor Cinema Tropical are teaming up for Neighboring Scenes, the annual cross-section of the latest and greatest in Latin American cinema. And here are five films from this year's incredible slate that you need to keep an eye on.
5. Again Once Again
Leading off this preview is one of the more experimental works within this lineup. Making its US debut as part of this year's series, director Romina Paula brings attendees Again Once Again, a strangely asymmetrical rumination on storytelling, time, shared histories and identity. Blurring the line between fiction and non-fiction, the film is ostensibly a blending of archival photographs, staged interview sequences and fictionalized set pieces, all playing as an extremely personal deconstruction of family for the legendary Argentine novelist and actress-turned-filmmaker. Paula's debut feature, this is a gorgeously rendered, deeply felt character study that, despite being rather soft-spoken, what with its muted photography and static direction, traverses one woman's experience diving into the history of her family and the world's they'd inhabited with beauty and humanity. This form bending docu-fiction is a film unlike any seen elsewhere in this series and is as tender and heart-felt a film as you'll find yet this year.
4. Death Will Come And Shall Have Your Eyes
A film of an entirely different stripe, Death Will Come And Shall Have Your Eyes is next on this list of best films from Neighboring Scenes 2020, a film that despite coming from modest means (the film's based on a sole line of poetry from legendary writer Cesare Pavese) packs quite a punch. From Chilean artist Jose Luis Torres Levia, the film stars Amparo Noguera and Julieta Figueroa as a couple pushed to the brink when one half is diagnosed with a terminal illness. Instead of accepting help in the form of treatment, they instead decide to excise themselves to a cabin in the woods where they attempt to reconnect in what is one of the more raw and emotionally explosive works here in this festival. A film oozing with impending doom and a strange melancholic cloud of despair (Pavese, afterall, did commit suicide, as did the author of a poem that's read near the start of the film, Alejandra Pizarnik), with both Noguera and Figueroa enstilling within their characters a helplessness that feels incredibly tactile. A film so bluntly about mortality and death, the film is broodingly shot with washed out photography, keeping the viewer at arms lengthy despite the evocative performances. The film is one of glances and gestures, a film that doesn't give us much back story for what we're witnessing, instead focusing on two women as they reconnect with the world crumbling around them.
3. Mute Fire
Returning to the more experimental works within the lineup, the third film on this list is one that experiments with documentary form, telling a personal story that evolves into one of a nation's history. Pirotecnia aka Mute Fire comes from director Federico Atehortua Arteaga and takes an attempted coup in 1906 and uses it as a launching pad not only to look at his family's history but how the event itself helped ostensibly launch Columbian cinema, and how it still resonates in the country to this very day. After his mother is rendered mute, Arteaga begins looking for reasons why this has stricken her, all the while blending in a discussion around the history of oppression within Columbia. A film at its very core about oppression and silence, Mute Fire is an elliptical, densely packed portrait of one family and one nation, where the micro becomes the macro at seemingly the drop of a hat. A line springs to mind from the film as one descriptive of this experience. "For him, images are just not a good place to look for the truth." Mute Fire is an incredible well crafted and deeply personal look at shared histories, memory and storytelling, meshing together the personal and the national, the personal and the political. It's an act of great anger and sadness, and one that feels as personal and raw as cinema can truly get.
2. In The Middle of The Labyrinth
Showing the breadth of this series, the penultimate film on this list is truly one of a kind. In the mold of the great American slacker dramas like those from filmmaker Richard Linklater, the deceptively titled In The Middle of the Labyrinth takes the story of a pair of teens as they navigate the streets of Trujillo, Peru. As told primarily through the eyes (and in a strangely radical move, the narration) of skater Renzo, Labyrinth sees the young man spark a relationship with Zoe, a young woman similarly driven by self expression. The beauty of the film, besides the lush photography, comes from the simplicity of its narrative. Love and the future are very much on this film's mind, as it perfectly captures that moment in a young person's life where the future is a known entity, but its empty face makes it all the more terrifying and all the more worthy of trying to evade. The film is making its North American debut here during Neighboring Scenes, and with two superb performances at its core, a brisk 65-minute runtime and a narrative that feels decidedly modern, Labyrinth may very well have the best chances of being the real crossover hit of this year's lineup. And thankfully it's also one of its best films, full stop.
https://www.youtube.com/watch?v=5STq1J7DuU4
1. Ema
Topping this year's list of films to see at Neighboring Scenes is the latest from one of Latin America's most important filmmakers. Returning to the big screen is director Pablo Larrain, with yet another gorgeous, radical motion picture. After an excursion into the world of historical dramas with Neruda and the knockout Jackie, Larrain jumps back to present day, this time telling the story of a couple in present-day Chile as their relationship completely collapses. The film introduces viewers to the titular Ema, a wild-at-heart reggaeton dancer, and her collaborator/partner Gaston, as they ostensibly abandon their adoptive son. Another expertly crafted film from Larrain and cinematographer Sergio Armstrong (frequent Larrain collaborator, so this film does feel stylistically in conversation with their previous work), Ema is a muscular bit of filmmaking, driven by lyrical direction that sees our leads flowing through a world that is at once expanding and yet collapsing all around them. Ema's the clear lead here, with the film attempting to dive into the head of a woman who is rising from the ashes of a relationship she had part in setting ablaze. It's a melancholic character study, a film about art and liberation told in the body of what could very well be described as a dance film. It's truly a one of a kind motion picture and with performers Mariana Di Girolamo and Gael Garcia Bernal putting in career-best work, it's also one that will be hard to shake.