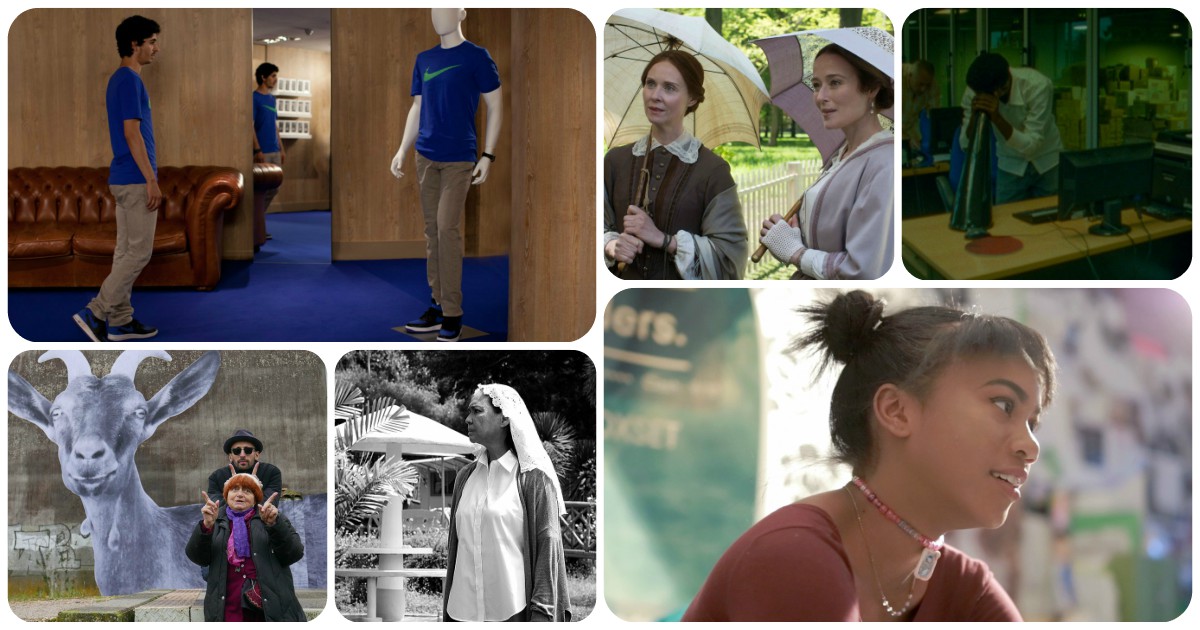 2017 was a hell of a year, no? It's hard to discuss a year in review, even as specific as one about cinema, without trying to make amends with the fact that this has been a chaotic year on a global level. However, as we as a world become more divided, cinema from around the world is slowly evolving the language with which we communicate on a global level. Films with a focus as specific as a woman dealing with the loss of her brother to one looking at the experiences of teenage girls in the US, all reaching deep truths about the human condition that do their small part in bringing all of us together. And with that, these are the ten best motion pictures of 2017.
Oh, first, a disclaimer that will, itself divide. Twin Peaks: The Return is absolutely a movie, and is the greatest cinematic achievement of this century. However, since I didn't include the Netflix Original Series Sense8 on my list in 2015, I'm one for continuity so I won't be including it here. Just know that you nerds are wrong, it's a film and it's one of the greatest pieces of visual art made in this century. Now, the top 10.
---
10. The Human Surge
One of a few genuine discoveries on this list, starting off this year's top 10 is maybe the year's most aesthetically esoteric film. From director Eduardo Williams comes The Human Surge, a documentary style drama that takes the viewer literally across the globe, telling the story of modern human connection. Formally inventive, especially given Williams' status as a first time feature filmmaker, the film is split up into three sequences, all separated both by characters and formats as well. Shot in Super 16, Super 16 shooting a film screen and the RED camera, the film flows in a way far more naturally than one would imagine, and with the rise of ethnographic documentary in today's film world, this is a resounding experiment in what it means to portray "the real." We start in Buenos Aires, only to, in the blink of an eye or an edit, jump to Mozambique, only to conclude in the Philippines, in what itself might be one of the great sequences of this still young year.
We meet Exe, a 25 year old Brazilian cam model who, after being fired from his day job, looks to cash in quick with a group of friends and their cybersex scheme. He connects with a group of guys in Mozambique, who become our leads for the third portion, only to end with us dropping in on the life of Canh, a Filipino. It's this fluid connection that turns Surge into something far greater than just an experiment in filmmaking. It's a really special film.
---
9. The Florida Project
Speaking of special films, and special filmmakers, Sean Baker follows up his hit film Tangerine with maybe his greatest piece to date. Telling the story of a mother and daughter on the outskirts of society, the film is set in a project just outside of Disney in Florida, and while that simple description could make the film sound like it dwells in the realm of "poverty porn," what makes this a crowning turn for Baker is that it cements him as an heir apparent to the humanist mantle held by directors like the late Jonathan Demme.
Carrying much of the same energy found within Baker's last film, Project takes as its central character a young child named Moonee, who is as shrill as she is strong willed. Co-starring Willem Dafoe as the owner of the said project, the film is a performance-driven meditation on freedom and a deeply moving look into a group of people left behind by America writ-large. There's a dream-like energy to the film, specifically in sequences that Baker frames Moonhee and her friends against the isolating backdrop of the world around them, and with maybe the year's most polarizing final sequence, Baker has made a film that's singular in its execution and yet profoundly human in its characterization.
---
8. All This Panic
From Jenny Gage comes the first of two documentaries on this list. Entitled All This Panic, Gage's film is arguably the year's most moving film that hasn't garnered enough buzz from critics or the general public. Looking at the teenage years of a group of New York women, Panic watches as these young women bob and weave through a world that is at once deeply scary and yet exhilarating and exciting. Besides being a beautiful documentary, the film is superlative for the breadth of its views. Not setting its sights heavily on any one of these women, we meet a great deal of young women all with their own fears and dreams.
There are people like Lena, the awkward and devastatingly charming youngster with familial strife that is looking to wreak havoc on her future. Then there are people like Ginger, who is both Lena's best friend and also her kindred spirit. Equally as awkward and insecure, they both share fears about the future. Her younger sister and her best friend are subjects as well, as Dusty and Delila are of a slightly younger generation and yet trying to parse what to learn from watching older girls above them in school. Then you have someone like Olivia, a surfer and introspective soul who is mature beyond her years. The true greatness of this film is not just in the intimacy with which we are given here, but also the great breadth of views here. More films could stand to take this type of route.
---
7. Nocturama
Bertrand Bonello is really one of a kind. Be it the superb Jean Pierre-Leaud-led The Pornographer or the baroque House Of Tolerance, Bonello is a captivating voice in world cinema. His latest does little to change that. Nocturama tells the story of a group of youths as they make their way through the streets of Paris. As the opening sequences begin to unfold, we the viewer become privy to the bombing plot that they are attempting to hatch. These almost Bressonian moments of procedure and impending dread are marked by the finalization of their bombing, and ultimately the fleeing of these young men and women into a nearby shopping mall. Surrounded by the consumerist culture they so viscerally loathe, Bonello's youths begin to lose themselves within these cultural artifacts (in some ways quite literally). Think Godard's children of Marx and Coca-Cola but this time they're fueled by Chief Keef and cognac.
A profound meditation on the malaise found within modern youth culture, a culture that spouts often socialist rhetoric while embracing much of consumerist society, there's a distancing from the surroundings that the characters feel that is completely palpable. Puts me in mind of a lyric from the aforementioned Chief Keef song played during the film. "Fake Gucci, that's that shit I don't like." Within this almost punk-like anthem, a formative force within the evolution of hip hop into modern punk music waxes poetic about his disdain for fake high end clothing. It's a small concept, but Bonello seems deeply fascinated by what it means to be young within this very moment. A perfect fit on a double bill with a film like All These Sleepless Nights, Bonello's film takes a far quieter approach, yet mines the same intellectual territory, this time with explosive results.
---
6. The Woman Who Left
Sometimes a runtime can be truly daunting. However, for slow cinema master Lav Diaz, lengthy runtimes shouldn't be surprising. For the director's latest, The Woman Who Left, Diaz clocks his film in at just under four hours, telling the story of Horacia Somorostro, a former teacher who has just seen her release from prison after spending 30 years locked up for a crime we learn she truly did not commit. Framed by a fellow inmate named Petra who herself was paid by Horacia's ex-boyfriend to do so, Horacia spends the next nearly four hours caught in a never ending limbo between forgiveness and revenge.
Told in Diaz's patented long, static takes, The Woman Who Left is a devastating, profound and moving portrait of a woman in crisis trying to keep her head above water as she comes to grips with the world she left and the one she's entering back into. Based somewhat on a Leo Tolstoy short story, the film is a dense but unforgettable piece of work from arguably the greatest Filipino filmmaker of all time. The black and white photography is stark and noir-influenced, and the performances here are uniformly superlative. Don't turn away due to the long runtime. Embrace it, and embrace one of the great films of 2017.
---
5. On The Beach At Night Alone
Hong Sang-soo is an absolute madman. I say this not for any reason other than for a director to be as prolific as he and also have as high a level of quality, it simply does not make a lick of sense. However, in a year that's seen him send three films to theaters or film festivals, On The Beach At Night Alone is not only the best of the year and maybe his most personal film, it may also simply be the director's crowning achievement writ-large. More or less plot free, the film tells the story of Young-hee, a young woman fresh off a break up and trying to come to terms with the end of that relationship. A Hong Sang-soo film in every way aesthetically imaginable, what makes this film truly great is not just the director working at the height of his powers filmically, but also narratively.
Deeply personal to he and his lead (and romantic partner) Kim Minhee, the film is unshakably intimate, using everything from his patented use of zooms to a quietly devastating use of negative space in larger group sequences. Gorgeously composed frames make this one of the director's more esoteric works visually, Beach is an assured and moving look at love and loss, communication and incommunicability. It's simply a great motion picture.
---
4. Faces Places
2017 was a rather tough year. Be it the rise of the alt-right here stateside or nationalist politics across the globe, turning on the news each and every day could prove to be a stressful, emotionally heavy concept. So to see a film as vibrant, as full of life, and as profoundly humane as the newest film from director Agnes Varda is an absolute game changer. Varda, along with visual artist JR, takes to the streets of France in an adorable camera van, which itself produces large print photos of various subjects the two encounter on their journey.
With nearly 60 years separating the two, Varda and JR are two peas in a proverbial pod, finding great chemistry with one another, helping to make this superlative documentary even more magnetic. At once a road trip film and also a profoundly moving meditation on aging and memory, Faces Places is one of the best documentaries of this century so far, and a resounding artistic statement by one of the great filmmakers of her time.
---
3. By The Time It Gets Dark
Maybe the least known film on this list, Anocha Suwichakornpong's sophomore feature is 2017's great revelation. Easily the cornerstone of this year's New Directors/New Films series, Dark is a truly unforgettable piece of work. Garnering numerous comparisons to Thai brethren Apichatpong Weerasethakul, Suwichakornpong's film tells the story of a young documentarian and the making of a project about the 1976 massacre of students at Thamassat University.
However, while Weerasethakul's films are obtuse in ways vastly more surreal, Suwichakornpong's film is more grounded in reality, while using its focus on memory and one's relationship to it to give a more dream-like atmosphere. Punctuated by one of the year's great final scenes, Dark is told primarily through static, muted frames that all form into a moving meditation on reality, memory and history. It's an absolute doozy of a film.
---
2. A Quiet Passion
There are few filmmakers working today that are more intriguing than Terence Davies. After having a relative dry spell to start off the 00's, Davies has since seen a rush of interest in his work, giving us back to back masterpieces in the form of 2016's Sunset Song and now maybe his best work to date, A Quiet Passion. More or less an Emily Dickinson biopic, the film gets a career-defining performance from Cynthia Nixon as the legendary writer, and sees Davies working in his most cinematic mode.
Not his most flashy picture, Davies structures the film as more or less a wordy, profoundly intimate character study that plays on subtlety in ways few directors truly can. Davies toys with things ranging from documentary editing to startlingly intimate close ups all to create a costume drama unlike any we've seen in quite some time. And while it's easy to describe the film as less baroque than much of his previous work, there are still bursts of aesthetic energy here, through things like the use of color to even sporadically used 360 pans. Toss in a cast led by a career-best Nixon and maybe the year's best supporting actress Jennifer Ehle, and you have a film that will hopefully keep this moment that Terence Davies is having going for quite some time.
---
1. Personal Shopper
And finally the number one slot. With 2017 being a truly banner year for film, creating this top ten list was quite a chore. However, the top spot was the one film that was never in question. Olivier Assayas, throughout his career, has proven to be one of film's most talented artists, and this may be his masterpiece. Starring Kristen Stewart, the film tells the tale of Maureen, a woman making ends meet by being, you guessed it, a personal shopper. Moonlighting as a medium, Maureen's true hope in life is to commune with the spirit of her recently-deceased brother, that concept ultimately taking the turn for the thrilling as things in her life become increasingly more strange. Beginning to receive text messages from a mysterious source, Maureen gets closer and closer to this goal, concluding in a final sequence that will leave your jaw on the floor.
Having the uncanny ability to make texting the most stressful of all things, Assayas is at the very top of his game here, crafting a film that is at once classically beautiful and yet punctuated by moments of surreal thrills. There's a sense of energy to this film that's intrinsically connected to the work of Assayas, and he takes this potentially campy premise and turns it into a deeply human meditation on loss and grief, brought to life by a performance from Stewart that is one of this decade's truly great acting turns. Not a single film in 2017 is as beautiful, nor is there one as moving and thought provoking. One of a kind, this film.