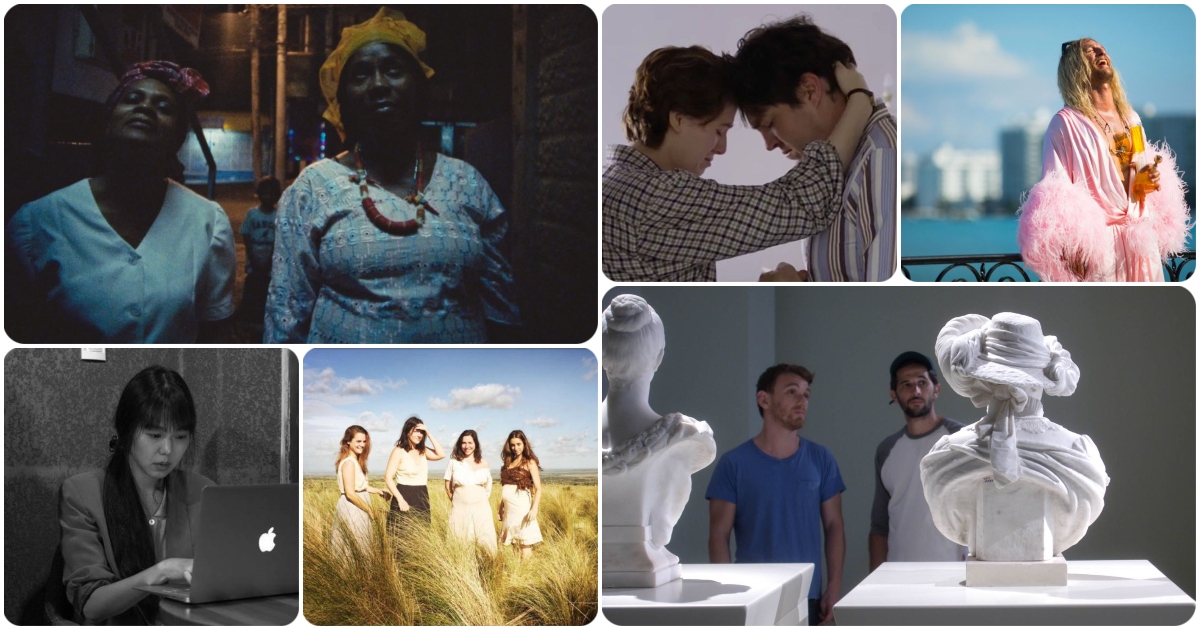 Well, 2019 is on the way out and while we all saw cinemas flooded with more blockbusters than one could even conceive of and even a new "highest grossing film of all time," some of the year's very best have gone relatively under-discussed. That is until now. With hundreds of films hitting theaters, VOD and a million different streaming services, how in the world could one break this year down into a single list of ten great films? Well, here's this writer's best shot, and the ten very best films of the year 2019, with 15 more that I felt compelled to mention, as 2019 stands tall as one of this decade's very best years.
25-11: The Runners-Up
25. MS Slavic 7
24. Her Smell
23. Hotel By The River
22. Portrait of a Lady on Fire
21. Non-Fiction
20. Pain and Glory
19. A Hidden Life
18. High Life
17. The Wolf House
16. Synonyms
15. I Was At Home, But…
14. What You Gonna Do When The World's On Fire?
13. Uncut Gems
12. The Grand Bizarre
11. Little Women
The Top 10
10. Grass
Starting off this year's list of the 10 best films of the year is the one of the very best films from one of cinema's most prolific auteurs. Grass stars the filmmaker's muse Kim Min-hee as Areum (yes, the same as her character in Hong's The Day After) and throws viewers into the lives she encounters while working on her laptop at a local watering hole. Areum envelopes herself in these lives, telling their stories as refracted through her own point of view, turning Hong's film is an elliptical work, one that begins as a typically intimate chamber drama into something much more dream-like. A mournful film that's as much about the love and loss that's portrayed on screen as it is the art of storytelling itself, Grass feels almost stage-like, a sort of Separate Tables-like experiment in narrative fiction that's as beautifully shot as it is strangely ambulatory.
9. Black Mother
With just two features to his name, director/artist Khalik Allah has become something of a wunderkind in the world of avant-garde non-fiction filmmaking. His debut film, the incredible Field Niggas, thrust him into the world of high art film festivals and now his follow-up is set to cement his stardom. Entitled Black Mother, the film is Allah's love letter to his mother and his mother's homeland. A truly groundbreaking rumination on the history of Jamaica and where it stands in the modern global landscape, Black Mother is a film that's thrilling and feels oddly spiritual, taking on the lives of everyone from sex workers to young boys and girls to tell the story of Jamaica. The anachronistic style never feels put on or some sort of filmmaking "flex" on Allah's part, instead feeling perfectly of a piece with both Allah's larger project and ultimately becomes a thrillingly poetic rumination on history both singular and shared, be it the specific history of Allah's family or the broader focus on race, religion, the feminine experience and gender.
8. End of the Century
From "end of the decade" to End of the Century. The title of director Lucio Castro's incredible debut feature, End of the Century tells the story of Ocho, a gorgeous and unassuming Argentine 30-something with a penchant for meditative strolls and poetry. After spending some time in Barcelona at an AirBnB, Ocho encounters Javi, an equally handsome young man and the pair spark what ultimately becomes a love affair that spans time and space. Jumping through time with little real notice to viewers, the film becomes an epic of sorts, a meta-physical rumination on love, loss and human connection. At just 84 minutes, Castro's debut is profoundly moving, playing out as an intensely quiet and immensely poised work of melancholic romance. It's not all static shots and muted photography as that would make one think. The film's lushly composed, and the chemistry between the two leads is engrossing, culminating in a dance sequence that's truly otherworldly.
7. The Image Book
From a groundbreaking debut to a director who has only become more vital as his career enters a new decade. Jean-Luc Godard's The Image Book is one of the filmmakers great late-career works, capping off a decade that's been arguably his most exciting and, again, groundbreaking. Billed as some strange documentary/horror hybrid, Image Book is a textured, genuinely haunting essay film that feels more in the line of Histoire(s) du Cinema than a Film Socialisme. Over its brisk 85 minutes, the film blends everything from footage from other motion pictures to surveillance footage of attacks by ISIS, all attempting to recontextualize these images in a defiantly political way. Doing away entirely with the typical documentary language, the film again feels brazenly experimental, portraying violence and war as seen through filmed history. Growing exponentially on each subsequent viewing, Godard's latest is part dystopian science fiction film and part political manifesto. A game-changing masterpiece from a filmmaker truly without compare.
6. The Beach Bum
Speaking of filmmakers who are without any comparison, Harmony Korine released a film in 2019 and it's an absolute gem. Released without much real hype somewhere in the middle of the year, The Beach Bum finds Korine at his most anarchic and yet his most poetic and beautiful. Part Trash Humpers and part Homeric odyssey, Korine's latest stars Matthew McConaughey as Moondog, a burnout poet icon who seems to have beamed here from an entirely different galaxy who flows in and out of the lives of various men and women in Key West and South Florida more broadly. Led by a career-best McConaughey performance, Beach Bum has the makings of raucous comedy surrounded by grotesques that pop up at every turn, yet is brazenly tender and astoundingly surreal that concludes with a rapturous epilogue. A film at its very core about letting go of everything both literal and meta-physical, Korine's surrealist epic plays as a new step forward in the career of modern film's great firestarter.
5. An Elephant Sitting Still
Now one of the more tragic entries on this list. Marking the first, and final, feature film from filmmaking Hu Bo, An Elephant Sitting Still is an award-winning festival darling that, following its run at festivals like Berlin and TIFF, has become one of world cinema's most talked about films. Clocking in at four hours, the film is a haunting quartet of stories, woven together seamlessly into a portrait of one day in the life of men and women caught in a modern world that has little interest in doing anything other than chewing them up and spitting them out. A melancholic portrait of life on the outskirts of society, Elephant draws its title from a parable about an elephant that, in the town of Manzhouli, simply sits still with eyes closed and making no note of the world surrounding it. For the film's four hours, viewers become privy to the lives of four men and women who are attempting to more or less do the same, despite the world around them seemingly crumbling with every subsequent step. Told through a lyrical camera and long, poetic shots, the film is a quiet and profoundly moving rumination on class struggles, a work of astounding depth and empathy made all the more upsetting knowing that in October, 2017, Bo took his own life. This is a crowning achievement from a humanist filmmaker gone far too soon.
4. Liberte
The first of two films on this list that have yet to see a release stateside outside of film festivals, Albert Serra made a splash at Cannes in 2019 with the utterly radical Liberte. The culmination of a years-long project, Liberte is the director's third attempt at bringing to life the story of a band of Libertines who, on the eve of the French Revolution, take to the woods along with German progressive Duc de Walchen to let their inhibitions fly, if you will. Watching as these relationships devolve into primal, grotesque interactions of power and perversion, Serra's film is a head-first dive into the sickened world of the .000001% in the moments leading up to their destruction. Near the end of the film a character utters the line "finally, an image that satisfies me," and it's in this detatchment from human norms where Serra's latest becomes truly provocative. Once a theater production as well as a multi-channel art installation, Liberte is clearly one of Serra's most important works, a film that feels at once unquestionably gorgeous and yet baroquely grotesque. There's truly not another film this year (Bonello's House of Tolerance is probably the closest cinema's come to this blending of surreal and perverse this decade) that's as intensely radical and defiantly political as Serra's latest.
3. The Souvenir
In at number 3 is the latest film from beloved filmmaker Joanna Hogg. Entitled The Souvenir, Hogg's newest feature is one of the filmmaker's most personal, an autobiographical tale about a young filmmaker caught not only in the early stages of a burgeoning directing career but also at a critical moment in what is a destructive romantic relationship. Viewers watch as Hogg's proxy, played brilliantly by a revelatory Honor Swinton-Byrne, begins to get traction as an artist and also falls head over heels for a charming and volatile young man. Very much a step forward for the Unrelated and Exhibition director, The Souvenir is Hogg's most visually impressive film, with incomparable editing and an atmosphere that leans heavily into the idea that this is a collection of vague memories recounted with all the haziness, and occasional soul-shattering clarity, that goes with it. It's a powerful and uncompromising portrait of a love affair and life as an artist where the passage of time is hypnotic and the use of close-ups sometimes blur into near metaphysical abstraction. Concluding on a final sequence that feels almost tectonic in its emotional power, The Souvenir is the rare film that leaves you reeling for weeks on end, changing the very core of what one expects out of a picture. A brilliant piece of work.
2. Vitalina Varela
In the runner-up slot is the second of the two festival films that will be getting a wider release in 2020, and it's an absolute knockout. From iconic filmmaker Pedro Costa comes Vitalina Varela, which stars the titular actress, a 55-year-old woman who lands in Lisbon from Cape Verde just three days after the funeral of her husband. An autobiographical work sans comparison, Vitalina Varela is keeping in Costa's line of haunting, unshakably quiet ruminations on class, migration and colonialism. However, while his films aren't afraid of a burst of poetic realism or downright surrealism, this feels like an entirely different beast. Culminating in final five or so minutes that are as spiritually transcending as anything we've seen on screen in ages, Costa's latest is a hypnotic, deeply haunted film that's ground-shattering in its mournful atmosphere. Almost experimental in its monochromatic photography, this is a film made not about the afterlife but caught very much in the wake of it, a film of proverbial ghosts both literal and figurative, personal and political. An undying achievement.
1. La Flor
Topping this year's list is not just one of the year's best films, but one of the decade's very greatest filmmaking achievements. At 14-plus hours long, La Flor is truly unlike anything else featured here on this collection of masterpieces. A rigorously structured film, the first three chapters are expertly told yarns ranging from the frivolous (Chapter 1) to the strangely moving (Chapter 3), with genre conventions being subverted at almost every turn. When things go off the rails the film becomes even more alive, turning in on itself in Chapter 4, continuing the sense of genre subversion while adding self-referential layers upon increased formal experimentation. It's truly a masterful experiment in narrative deconstruction. La Flor ranges, narratively, from a romantic tale between two spies to a remake of Renoir's A Day In The Country, and while this all may sound endlessly disjointed, there is not a single film from this year that does a more effective job at examining fiction, the creative process and the conversation between artist and muse. There's a freedom, a liveliness, to this picture that simply does not exist anywhere else this decade, finding a filmmaker and his muses in conversation with one another in a manner that feels both playful and decidedly confrontational. It's a genuine masterpiece that will go down as one of the great films, full stop.