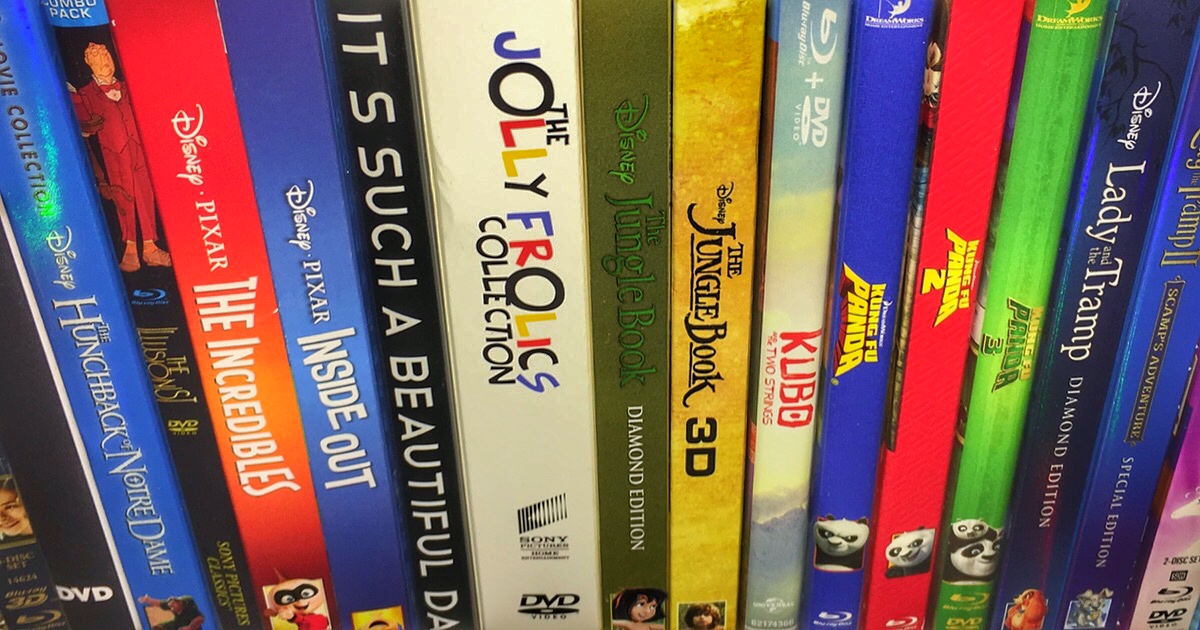 It's a new month, and with that, some retrospection. Each month, hundreds of home video releases hit the streets, and who better to curate the best of the best than us here at the CriterionCast. So with that, here are the five best home video releases of September 2019, as per yours truly:
5. Ida Lupino Filmmaker Collection (Kino Lorber)
Usually box sets will finish off a list of this sort, but the month of September was such a strong collection of releases that the sole set on this list will be the one that starts it. Collecting four films directed by legendary director Ida Lupino (also available in single releases from Kino Lorber as well), the Ida Lupino Filmmaker Collection box set is an absolute must own. Bringing together the films Not Wanted, Never Fear, The Hitch-Hiker and The Bigamist, this set attempts to paint a broad story about Lupino's work in various different contexts, through four of the filmmaker's very best films. All seeing either brand new 2 or 4K restorations, the set breathes new life into films as beloved as Hitch-Hiker, as well as those more than worthy of reappraisal like the criminally underrated Not Wanted. The real highlight of this box, Not Wanted is Lupino's directorial debut and is a gorgeous, yet lo-fi, tale of an unwanted pregnancy made during a moment in time where few taboos were more volatile. It's a deeply intimate and moving work, a film of incredible immediacy and, despite being an uncredited gig, carries many calling cards Lupino would later become legendary for.
As far as a release goes, this is also quite a knockout. Again all four films are newly restored and it shows, with each film looking crisp and textured in a way they haven't in quite some time. Each disc comes with a commentary (look out for the Imogen Sara Smith commentary on Hitch-Hiker, it's a doozy. We do Stan a legend), as well as a trailer. Really, it's the fact that all four of these films are both newly restored and collected under one roof that makes this release worth while. The commentaries add even more to the conversation being had within this box and between these films, further extended into the booklet which is extensive (if a bit oddly designed) written by Ronnie Scheib. It's a simple concept, but despite being a seemingly lean collection, there's a lot to be had intellectually here, offering a glimpse into the life and career of one of cinema's great directors.
4. The Circus (The Criterion Collection)
Speaking of great Hollywood directors, it's about damn time we get some more Chaplin here stateside through The Criterion Collection. The latest in the ongoing partnership between the mighty C and the Chaplin estate, The Circus arrived on DVD and Blu-ray this September and while a certain John Waters film may have stolen much of the month's focus, this shouldn't be forgotten. One of Chaplin's most legendary films, this incredibly well crafted comedy revolving around his iconic Tramp character as he goes from petty criminal to sideshow superstar is a gorgeously made, often profoundly thrilling comedy that's both high on craft and high on laughs. Most notably is a tightrope walk that, be it your first or one-hundredth time seeing it will leave you utterly breathless. Maybe less moving than a City Lights, less provocative than a Modern Times or less outright radical than a Monsieur Verdoux, The Circus finds Chaplin the entertainer working at a truly historic clip. Bit for bit one of the best comedies ever made, this classic is a must-have for both collectors and those looking to expand their viewing horizons.
Newly restored in 4K, this release is of the 1969 re-release version that includes a superb original score from Chaplin himself. The release looks and sounds incredible, with each set piece bursting off the screen in a way they haven't in quite some time. As with all Criterion-backed Chaplin releases, the supplements here are almost too many to list, spearheaded by yet another insightful commentary from Chaplin biographer Jeffrey Vance. Always a welcome voice on these releases, Vance is the foremost scholar on Chaplin the filmmaker and performer, adding context to a film whose production history was more than a bit troubled. There's an interview with Chaplin from 1969 which is always nice to have, as is a 2003 documentary about the making of the film which itself pairs perfectly with a new program about the film's aesthetics from scholar Craig Barron. There's footage from the film's premiere (including that legendary "time traveler" that became a Reddit staple some years go), an unused cafe sequence and related outtakes and a cavalcade of other interviews that make this one of the year's most dense home video releases. It's the type of release it feels like Criterion does all too infrequently these days, taking what seems to be every bit of material they have and doing their form of a "notebook dump" in the form of a stacked Blu-ray release. And this is absolutely one of those.
3. The Cloud-Capped Star (The Criterion Collection)
The second of three Criterion Collection releases on this list (I promise it's not bias, they're just that good) also happens to be one of the company's most exciting yet this year. Directed by iconic Bengali filmmaker Ritwik Ghatak, The Cloud-Capped Star is one of the more anticipated releases by Criterion in some time, with it being rumored for what feels like the better part of a year now, and it lives up to the hype. Ghatak's most well known and beloved film, Cloud-Capped Star is an emotionally shattering motion picture, a film that tells the story of Neeta, a self-less woman caught between her own aspirations and the debt she feels she owes to her family. A haunting and deeply felt rumination on gender and tradition in Indian culture, Star is a gorgeously composed, radical piece of experimental melodrama that sees Ghatak and star Supriya Choudhury teaming up for a film that's as deeply felt as it is stylistically transgressive. It's simply unlike any Bengali film you've ever seen.
A bit less stacked comparatively speaking to something like their release of The Circus, Criterion's Star release is still incredibly noteworthy. The new 2K restoration is an absolute beauty, with Ghatak's rich composition's looking rightly expressive and textured. Filmmakers Saeed Akhtar Mirza and Kumar Shahani are in conversation here, which is exciting as it helps add some broader context to the film's impact on an entire generation of Indian filmmkers, and opposite that is a gallery of images that's not your typical "image gallery," instead offering up some rare photographs shot by Ghatak, that help add more context to just what the director's voice truly was. Toss in an essay by Ira Bhaskar and you have a release that may seem thin, but packs a mighty punch.
2. Polyester (The Criterion Collection)
Rounding out the trio of Criterion Collection releases found on this list is the most buzzed about Criterion release in quite some time. The company's latest foray into the filmography of one John Waters, Polyester is the director's beloved venture into studio-backed production, a Divine-starring melodrama truly unlike anything you've ever seen. Paired opposite GOAT heartthrob Tab Hunter, Divine stars as the incredibly-named Francine Fishpaw, a housewife with the most keen sense of smell you'll ever see portrayed on the big screen. In keeping with this supernatural power, the film comes included with the ever-iconic Oderama card, a scratch and sniff card that gives you the power to join in Francine's otherworldly ability and bask in what remains one of the great gimmicks in all of film history. A gorgeously composed, deeply felt melodrama proving Waters was more than just your run of the mill filth peddler, Polyester is a rich and textured film that pairs Sirkian melodrama with the ever radical sensibilities of its director.
The Oderama card is one of Criterion's great supplements, and while it isn't all that surprising that they'd include it with any release of this film, it's a beautifully recreated little supplement that adds so much to this release. Waters is all over this release as well, with a commentary from 1993 included along with a new conversation between he and critic Michael Musto. There's a new collection of interviews with cast and crew along with a similar series of interviews that were made in 1993. Toss in some deleted scenes and one of the year's very best covers, and you have an incredible release giving new life to one of the great melodramas of all time.
1. The Major And The Minor (Arrow)
You may be asking yourself, what could possibly be better than a gorgeous restoration of a classic John Waters film that even happens to include a reprinting of Oderama cards? Well, while that may sound like a release worthy not only of the top of the month spot but very serious consideration for best of the year, Arrow happens to have a release from September that may even be better. The Major And The Minor comes to us from director Billy Wilder with a script from Wilder and legendary writer Charles Brackett (Hold Back The Dawn) that tells the story of Susan Applegate (Ginger Rogers), a young woman who, under duress one day, pretends to be a kid no older than 11 in order to hop a train out of town. Fleeing conductors who have discovered her ruse, Susan hides away in the cabin of one Major Philip Kirby (Ray Milland), only to cause even more chaos as she hops off with him upon arrival at a military base where Kirby works. This strangely perverse romantic comedy revolving around a mistaken identity has the makings of a relatively minor work in the otherwise grand Wilder filmography, yet below the surface there's a shocking sense of subversion with regards to the tropes of classical Hollywood romantic comedy that it becomes almost timeless. These tropes are taken to such stark extremes that it becomes not just absurd but almost completely surreal.
And thankfully the new Arrow release helps add some much needed context to the film. The HD presentation is quite beautiful with Wilder's direction, particularly the stark use of black and white photography and fantastic costume design, really coming to life, and the commentary from scholar Adrian Martin is both entertaining and informative. Critic Neil Sinyard's filmed appreciation of the film is included here, and is a welcome critical deep dive into just what makes this work so special as both a Wilder picture and a film in the broader rom-com genre. There's an archival interview with Milland that's interesting enough, and there's a radio adaptation with Rogers and Milland from 1943 that is a perfect thing to throw on in the background while folding laundry or cooking dinner. Toss in a trailer and one of the coveted image galleries and you have another knock-out release from Arrow.