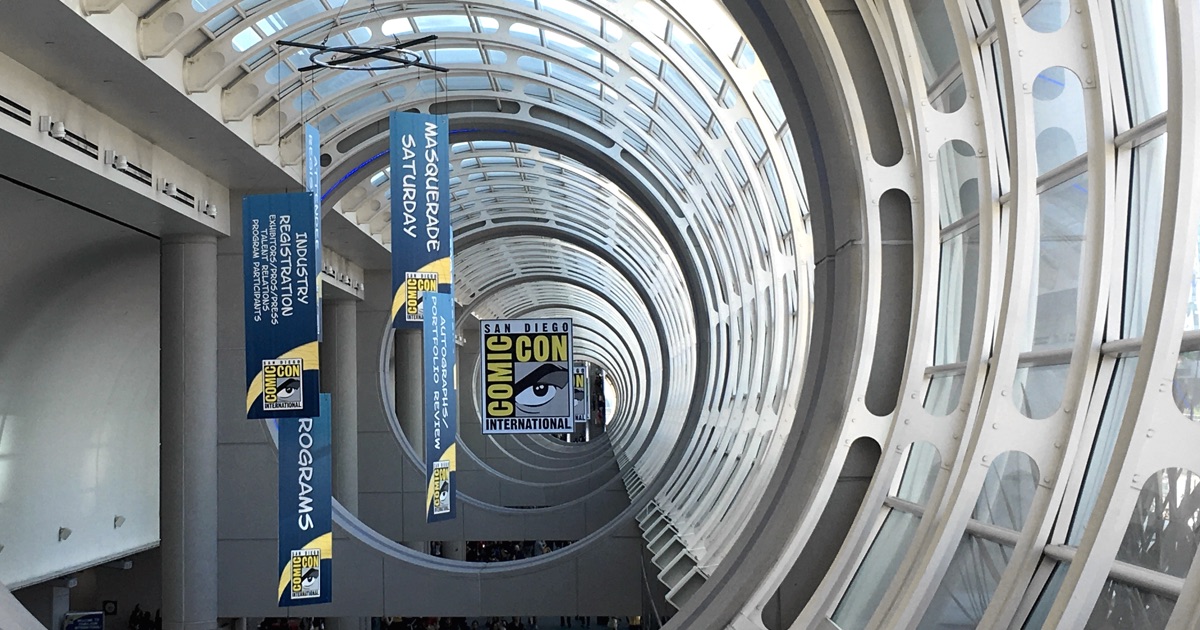 I've gone through the schedule and picked out panels for each day of the convention that I think you, our readers, would enjoy attending (assuming you have most of my geeky home video sensibilities).
There is a lot going on this year for the modern home video geek, and I am incredibly excited to see what else I find.
If you're heading to San Diego this week, feel free to tweet at me, or our @CriterionCast Twitter account.
Booths
Shout! Factory = 4118 (Announcements)
Stuff
The folks at Mondo will have a print by Martin Ansin for The Man Who Fell to Earth!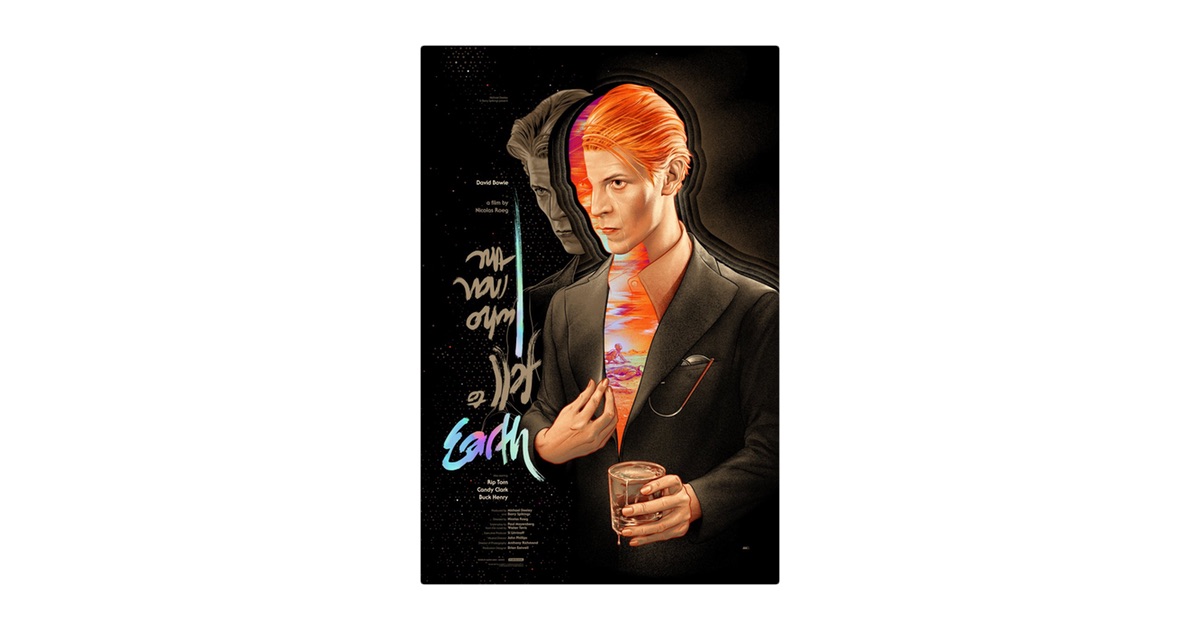 Panels
Thursday
You're Wrong, Leonard Maltin!
11:30 – 12:30 // Room 24ABC
Discussing movies on social media has become a blood sport instead of a forum for debate. Leonard Maltin and his daughter Jessie, who host the "Maltin on Movies" podcast for the Nerdist network, are willing to take on all comers who have a gripe over one of Leonard's reviews. Marquis of Queensbury rules will be enforced, but anyone who wants to have a lively discussion is welcome to spar (verbally) with America's best-known film critic.
12:30 – 1:30 // Room 6A
Warner Bros. Home Entertainment (WBHE) and the Arthur C. Clarke Society take a look back across a half-century (and the distant universe) to celebrate one of the most iconic films in history. Panelists will examine Stanley Kubrick's science fiction masterpiece, which WBHE will release on 4K Ultra High Definition (UHD) Blu-ray in premium collectible packaging and 4K UHD Digital this fall. Kubrick's Academy Award-winning achievement is a compelling drama of man vs. machine, a stunning meld of music and motion. Kubrick (who co-wrote the screenplay with Clarke) first visits our prehistoric ape-ancestry past, then leaps millennia (via one of the most mind-blowing jump cuts ever) into colonized space, and ultimately whisks astronaut Bowman (Keir Dullea) into uncharted space, perhaps even into immortality. For the first time since its original release, new 70mm prints were struck from pristine printing elements made from the original camera negative. A longtime admirer of the late American auteur, Christopher Nolan worked closely with the team at Warner Bros. Pictures throughout the mastering process. Building on the work done for the new 70mm prints, the 4K UHD with HDR presentation was mastered from the 65mm original camera negative. The stars of the film— Keir Dullea and Gary Lockwood—and an impressive array of scholars give attendees a glimpse at the remastered footage and a lively discussion of this landmark film. The panelists include Sheldon Brown (director of the UCSD Arthur C. Clarke Center for Human Imagination, visual arts professor), David Brin (Hugo and Nebula Award-winning science fiction writer, PhD physicist), Wu Yan (world renowned Chinese science fiction author), Matt Grob PhD (chief technology officer XCOM Corporation, communications engineer), Laurel Riek (UC San Diego professor of robotics), Shelley Streeby (UC San Diego professor of literature, specialist in science fiction) and Paul Jacobs (CEO and founder of XCOM). Erik Viirre, M.D. PhD (UCSD Arthur C. Clarke Center for Human Imagination, physician and neuroscientist) will moderate the panel. 2001: A Space Odyssey will be available on 4K UHD from WBHE on October 30.
4:30 – 5:30 // Room 6DE
A generation before Kara Zor-El conquered the airwaves, a soon-to-be-legendary actress made her motion picture debut as the "Maid of Might" in a big-screen follow-up to Superman: The Movie. As a fan-favorite phantasmagoria, Supergirl arrives in heroic high definition at last (after decades of demand) from your friends at the Warner Archive Collection (WAC). The original Supergirl, Helen Slater (The Secret of My Success), alongside her Jimmy Olsen, Marc McClure (Superman, Back to the Future), and WAC podcasters Matt Patterson and D. W. Ferranti shine the super spotlight at this caped wonder and reveal what's in store on the new Supergirl Blu-ray release. Moderator Gary Miereanu will have goodies for some lucky fans.
Friday
2:30 – 3:30 // Room 5AB
Fandango and TCM correspondent Alicia Malone (author, Backwards & In Heels; The Female Gaze) conducts a conversation about women working in genre film, the essential movies, the pioneers who paved the way, and the evolving landscape. Experts and filmmakers on the panel will give insights, discuss favorites, and share sneak peeks of their upcoming movies. Panelists include filmmakers Susanna Fogel (director, The Spy Who Dumped Me), Christina Hodson (screenwriter, Bumblebee, Batgirl), Jennifer Yuh Nelson (director, The Darkest Minds, Kung Fu Panda 2 and 3), and commentators Angie Han (Mashable) and Danielle Radford (Screen Junkies). Free movie tickets and The Future of Film is Female buttons for select attendees.
3:30 – 4:30 // Room 5AB
One of the most noted (and notorious) science fiction films of the 1950s, The Queen of Outer Space, starring Zsa Zsa Gabor, may be turning 60, but she's never been more stunning thanks to an eye-popping new Blu-ray! Legendary film critic Leonard Maltin (Maltin on Movies), Academy Award-nominated filmmaker and showrunner Eddie Schmidt (Ugly Delicious, In Search Of), Warner Archive podcasters D. W. Ferranti and Matt Patterson, and moderator Jessie Maltin (Maltin on Movies) reveal more than you ever wanted to know about the Queen's finest film and investigate the movie DNA of her cinematic Space Age relatives like Forbidden Planet and World Without End. Also stay tuned for some sneak peeks of upcoming cult, sci-fi, and horror films from the Warner Archive Collection.
4:30pm – 5:30pm // Room 5AB
This panel of professional geeksperts celebrate the remarkable year of 1968 by looking back at the genre classics that helped inspire their love of genre cinema, including the original Planet of the Apes, the mind-bending 2001: A Space Odyssey, the Farrow-rific Rosemary's Baby, as well the new number two, The Prisoner, Night of the Living Dead, Barbarella, Yellow Submarine, Ice Station Zebra, and the gonzo Danger: Diabolik, and Kirk and Uhura's not-so-platonic kiss in Star Trek. Panel includes moderator Mark A. Altman (The Librarians, Agent X), Fred Dekker (The Predator, The Monster Squad), Charles de Lauzirika (The Alien Anthology, The Martian Extended Edition), Steve Melching (Star Wars Rebels, The Clone Wars), Ashley E. Miller (Thor, X-Men: First Class), Robert Meyer Burnett (ST: TNG Blu-rays), Jeff Bond (Geek Monthly magazine), and Thomas P. Vitale (producer, former SYFY channel executive).
7:00 – 8:00 // Room 32AB
Shout! Factory's Brian Ward (producer) and Jeff Nelson (senior marketing director), along with moderator Bill Hunt (The Digital Bits), will take you behind the scenes at Shout! Factory and Scream Factory. They'll have exclusive announcements, sneak peeks from upcoming Blu-ray, DVD, and theatrical releases and more.
Saturday
1:30pm – 2:30pm // Horton Grand Theater
Jay Chandrasekhar, Kevin Heffernan, Steve Lemme, Paul Soter, and Erik Stolhanske discuss the fan-funded film phenomenon Super Troopers 2. Get a behind-the-scenes look at the making of the film and a first look at hilarious deleted scenes from the all-new Blu-ray with moderator Steve Weintraub (Collider.com). Entry to each Horton Grand Theatre panel requires a separate ticket and a Comic-Con badge.
4:15 – 5:15 // Room 6DE
As the most acclaimed superhero animated television series in history, Batman: The Animated Series has captured the imaginations of generations with its innovative designs, perfect voices, and landmark approach to characters and stories. In late 2018, fans will finally be able to enjoy a remastered Blu-ray release from Warner Bros. Home Entertainment. Join many of the key forces behind Batman: The Animated Series for a celebration of the series and the first announcement of details of the upcoming Blu-ray box set. Panelists include producers Bruce Timm (Batman: The Killing Joke), Paul Dini (Lost, Batman Beyond), Alan Burnett (Suicide Squad: Hell to Pay), and Eric Radomski (Batman: Mask of the Phantasm); eight-time Emmy Award-winning voice director Andrea Romano; actors Kevin Conroy, the fan-favorite voice of Batman, Tara Strong (Batman and Harley Quinn), voice of Barbara Gordon/Batgirl, and Loren Lester (Rock 'n' Roll High School), voice of Robin; and some other beloved Bat-surprises.
Sunday
10:00am – 12:00pm // Room 6BCF
Everyone's favorite Great Dane is back for an all-new, action-packed, culinary mystery adventure with the world premiere of Scooby-Doo! and the Gourmet Ghost. Featuring the voice talents of internationally acclaimed celebrity chefs Bobby Flay (Beat Bobby Flay), Giada De Laurentiis (Giada in Italy), and Marcus Samuelsson (Chopped), Scooby-Doo! and the Gourmet Ghost takes your favorite teen sleuths on an unforgettable adventure to New England, where they investigate the haunting of a historic colonial inn that's been turned into a state-of-the-art culinary resort. See the film, then get ready for a fun panel discussion amongst actors and filmmakers. Scooby-Doo! and the Gourmet Ghost features the familiar voice talents of Frank Welker (nearly 50 years as anchor of the Scooby-Doo franchise) as Scooby-Doo and Fred Jones, Grey Griffin (DC Super Hero Girls films) as Daphne Blake, Matthew Lillard (Twin Peaks, Bosch, Good Girls) as Shaggy Rogers, and Kate Micucci (Unikitty!) as Velma Dinkley. The film is executive produced by Sam Register, written by Tim Sheridan (Justice League Action), and directed by Doug Murphy (Young Justice). TV Guide Magazine senior writer Damian Holbrookmoderates. Scooby-Doo! and the Gourmet Ghost comes to Digital on August 28 and DVD on September 11 from Warner Bros. Home Entertainment.
12:15pm – 1:30pm // Room 6BCF
The girls of Super Hero High take a deep dive in their latest adventure as Warner Bros. Home Entertainment brings the World Premiere of DC Super Hero Girls: Legends of Atlantis to Comic-Con International. In this all-new entry to the worldwide DC Super Hero Girls franchise phenomenon, the young super heroes must venture to Atlantis when the powerful Book of Legends is suddenly stolen from Super Hero High. Once there, Wonder Woman, Batgirl, Supergirl, Bumblebee, and the rest of the Super Crew must contend with the formidable Mera and Siren, the ocean-dwelling thieves. In order to recover the stolen tome and return it to its rightful place, the Super Hero Girls must band together and use their collective powers to successfully get back to land . . . and back to class! Grey Griffin (Velma in the Scooby-Doo franchise), voice of Wonder Woman, will give a special introduction to the film. Produced by Warner Bros. Animation, DC Entertainment, and the LEGO Group, DC Super Hero Girls: Legends of Atlantis will be distributed by Warner Bros. Home Entertainment October 2 on Digital and DVD.
1:45pm – 3:30pm
Aquaman must battle foes in the air, on land, and in the depths of the Seven Seas, along with some help from The Justice League, to save the day in his latest animated adventure, LEGO DC Comics Super Heroes: Aquaman: Rage of Atlantis. Enjoy the first-ever live showing of the film, then prepare for laughs when the postscreening panel takes the stage. Discussing the fun of making a LEGO movie will be actors Dee Bradley Baker (American Dad!) as Aquaman, Troy Baker (The Last of Us, Batman: Arkham Knight) as Batman, Grey Griffin (DC Super Hero Girls) as Wonder Woman and Lois Lane, Cristina Milizia (Bunsen Is a Beast) as Green Lantern/Jessica Cruz, Susan Eisenberg (Justice League / Justice League Unlimited) as Mera, and Fred Tatasciore (Batman Ninja) as the villainous Lobo. Filmmakers on the panel include Matt Peters (LEGO DC Comics Super Heroes: Gotham City Breakout), screenwriters Jim Krieg (Batman: Gotham by Gaslight) and Jeremy Adams (LEGO DC Comics Super Heroes: The Flash), and executive producer Brandon Vietti (Young Justice). As usual, expect some additional surprise panelists, plus everyone in the audience will receive an exclusive LEGO mini-figurine of Jessica Cruz/Green Lantern! Produced by Warner Bros. Animation, DC Entertainment, and the LEGO Group, the film will be distributed by Warner Bros. Home Entertainment on July 31 on Blu-rayT Combo Pack, DVD, and digital.