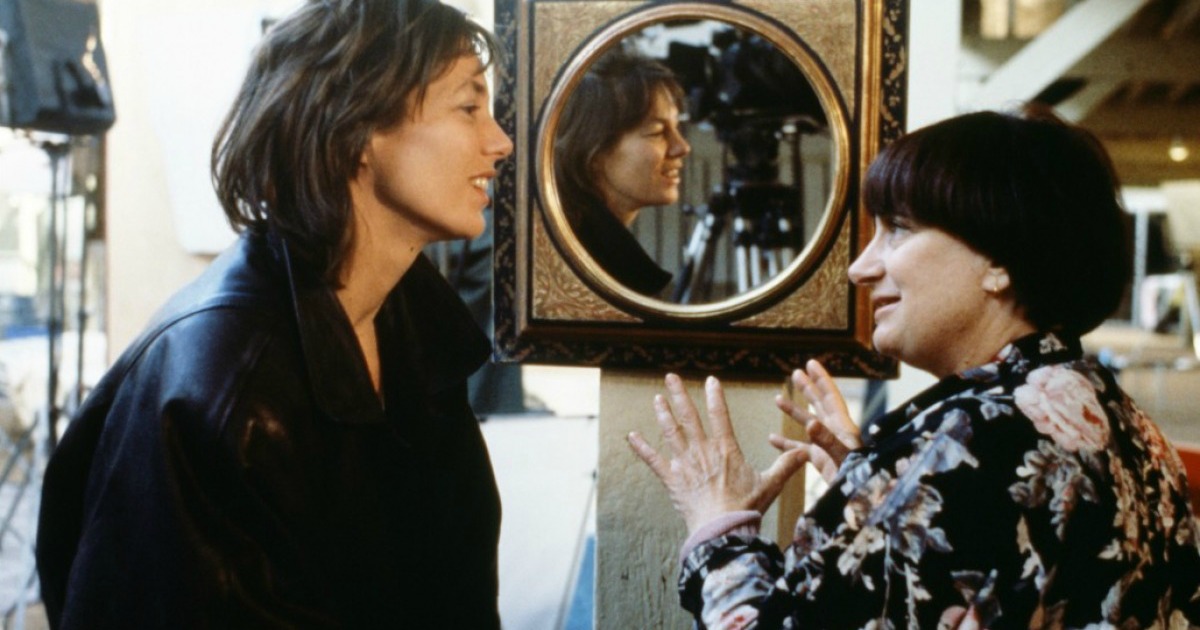 Cinelicious Pics, after releasing the films in theaters late last year, are releasing two of director Agnes Varda's most interesting, and yet underseen, features on DVD and Blu-ray this week. Teaming Varda with actress Jane Birkin (best known for her turn in Blow Up), a pairing of a French New Wave icon and a multi-hyphenate actress/singer/model that would foster two truly breathtaking experiments the likes of which are rarely seen.
---
---
Entitled Jane B. Par Agnes V. and Kung-Fu Master!, we've previously reviewed both films during their theatrical run in Los Angeles, and here are a few thoughts about each film from your's truly:
Jane B. Par Agnes V.:
Jane B. Par Agnes V. finds Varda at her most playful. Described by Varda, in the film itself, as "an imaginary bio-pic," Jane is a faux-documentary about actress and singer Birkin, coming out of the idea of Birkin being melancholy about turning 40. Attempting to dig into the psyche of Birkin, Varda's film is a rather potent look at a woman on the brink of an emotional crisis, and also a delightfully playful bit of cinematic experimentation. With most of the sequences staged, the film's greatest flight of fancy comes when they begin discussing ideas for a film, that ultimately becomes the brilliant gem of this pair Kung-Fu Master!

Jane B. is a truly great achievement. A definitively Varda experiment in structure, tone, mood and craft, the film is an anarchic, expressionistic look at a women in the middle of a melancholic crisis. At one moment a costume drama featuring some of the most ornate and baroque set and costume design Varda would ever use in her pictures, and the next it becomes a black and white comedy in the silent tradition. It is in this blending of tones and aesthetics that the energy of the film is truly shown. Varda is a major player within the history of the French New Wave movement, and it's this type of film that proves her spirit was just as vital and experimental as any of her contemporaries.
Kung-Fu Master!:
Kung Fu Master was shot along with that film, and tells the story of a 40 year old single mother who falls in love with a friend of her daughter, a 14 year old boy played by Mathieu Demy, Agnes Varda's real life son.

Yes, it's a more conventional, a more stayed and a more structured composition, but it's also genuinely emotionally involving. As mentioned above, the film tells the story of a middle aged single mother who begins a quiet romance with a teenage friend of her daughter. Beautifully shot with washed out blues and deep, warm browns playing as the palette for this emotionally powerful narrative, Kung-Fu Master! is a shockingly intimate picture, with great performances. Birkin proves herself to be a genuinely superb dramatic actress, giving the character a level of nuance and humanity that makes the proceedings absolutely heart-shattering.
Cinelicious Pics is releasing the film on DVD and Blu-ray, and it's a gorgeous release, the third in the young company's existence. After Adi Shankar's Gangs Of Wasseypur and Adam Rufkin's Guiseppe Makes A Movie, the company has upped the ante with their latest Blu-ray. Besides the truly beautiful artwork, composed of lovely pastel hues, leading even to the discs themselves, both simply designed but nonetheless striking. Supplements here include superb interviews with Varda on the actual discs, which also feature top notch restorations overseen by Varda, but it's really the booklet that will have fans of the filmmaker, and these films, craving this release. Not only is there a great essay from scholar Sandy Flitterman-Lewis, that is not only a necessary read for these films, but a solid overview of Varda as a filmmaker, and Varda herself gets to speak here, in an with fellow director Miranda July. It's a shockingly dense release from a company that, if they keep this level of quality up, will become yet another boutique label worth keeping an eye on.
And if you need even more reason to take a chance on this release, we have an exclusive clip from Kung-Fu Master!, arguably the more accessible of the pair, but this should hint at just how entrancing these two films truly are.
Read more about the two films from our review HERE and you can buy the Blu-ray directly from Cinelicious Pics or Amazon.