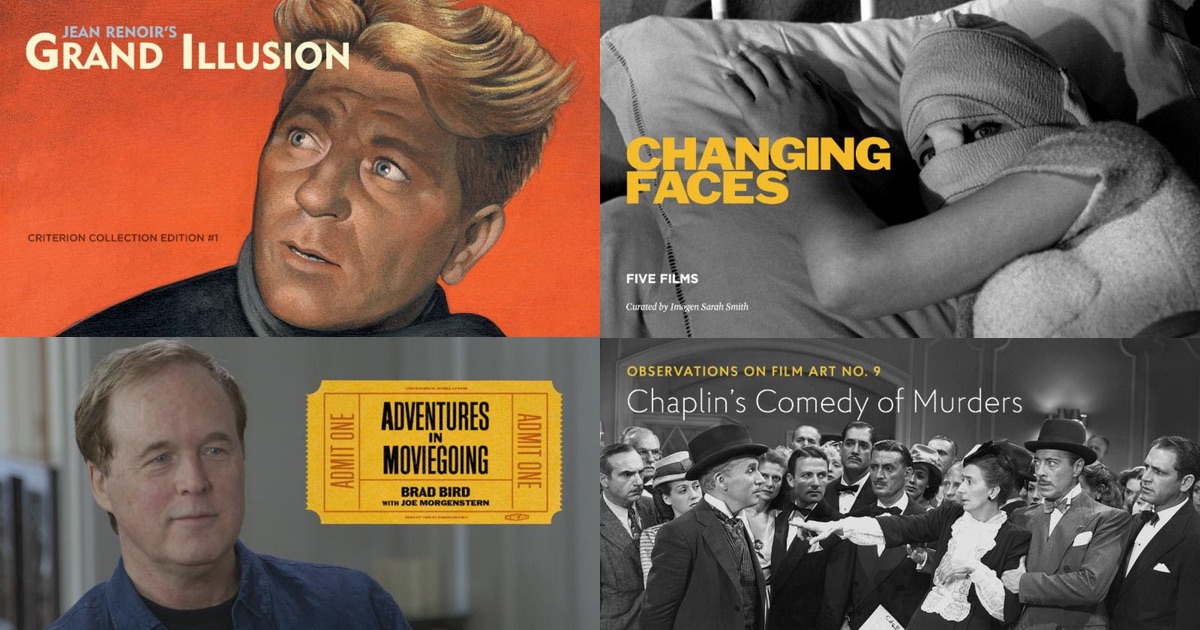 Each month, the fine folks at FilmStruck and the Criterion Collection spend countless hours crafting their channels to highlight the many different types of films that they have in their streaming library. This July will feature an exciting assortment of films, as noted below.
To sign up for a free two-week trial here.
---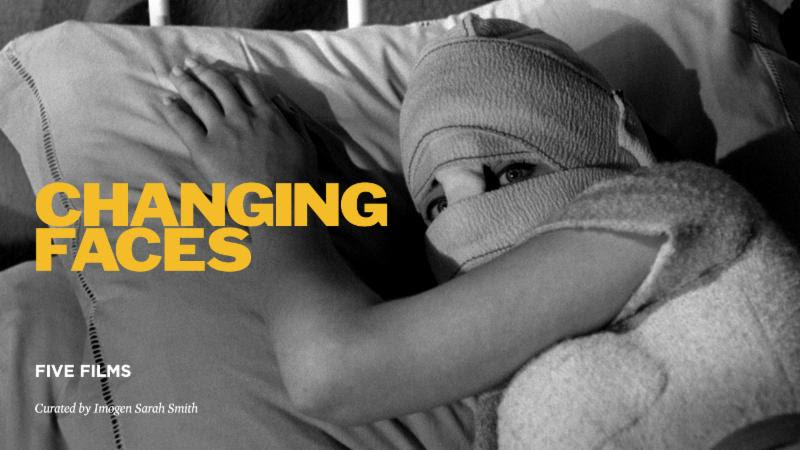 Saturday, July 1
Changing Faces
What does a face tell us even when it's disguised or disfigured? And what does it conceal? Guest curator Imogen Sara Smith, a critic and author of the book In Lonely Places: Film Noir Beyond the City, assembles a series of films that revolve around enigmatic faces transformed by masks, scars, and surgery, including Georges Franju's Eyes Without a Face (1960) and Hiroshi Teshigahara's The Face of Another (1966).
---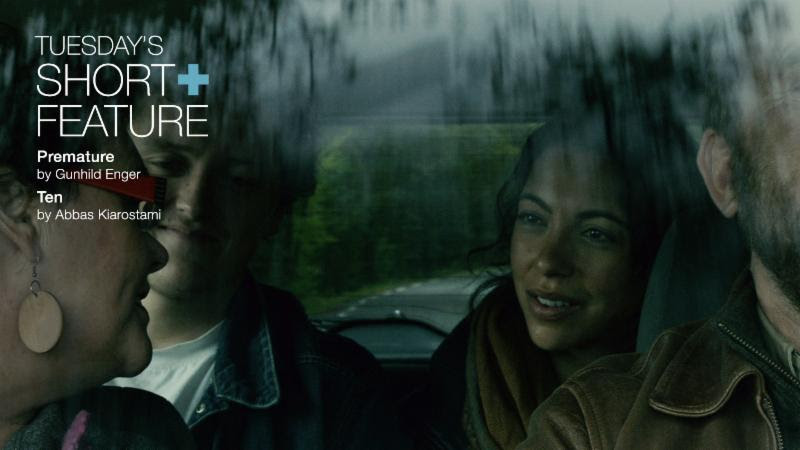 Tuesday, July 4
Tuesday's Short + Feature: Premature* and Ten*
Come hitch a ride with Norwegian director Gunhild Enger and the late Iranian master Abbas Kiarostami in two films that take place entirely within moving cars. In Enger's 2012 short Premature, a pregnant Spanish woman has an agonizing encounter with her boyfriend's family upon arriving in Norway, while in the 2002 feature Ten, Kiarostami takes a boldly minimalist approach to the fissures within Iranian society, capturing ten conversations between a female driver and a series of passengers.
*Premiering on the Channel this month.
---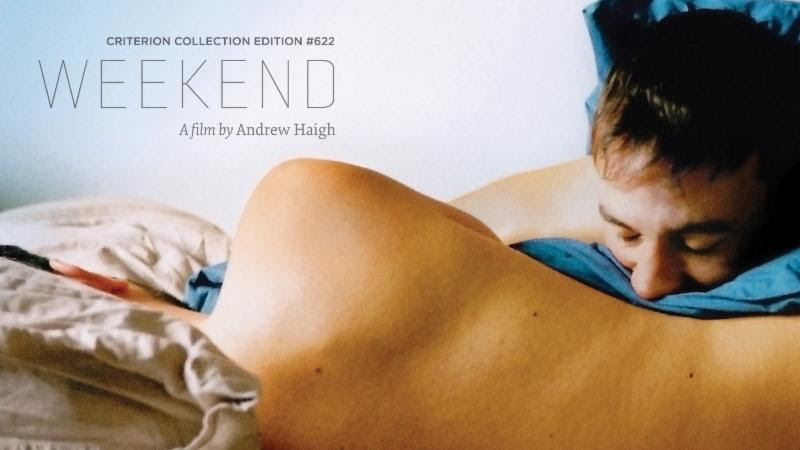 Wednesday, July 5
Weekend*: Criterion Collection Edition #622
A casual hookup between two young men teeters on the cusp of something more in this bittersweet romance, the breakout film by British director Andrew Haigh (45 Years). Our edition includes interviews with Haigh and his cast and collaborators, footage from the film's shoot, and two of the director's early shorts.
*Premiering on the Channel this month.
---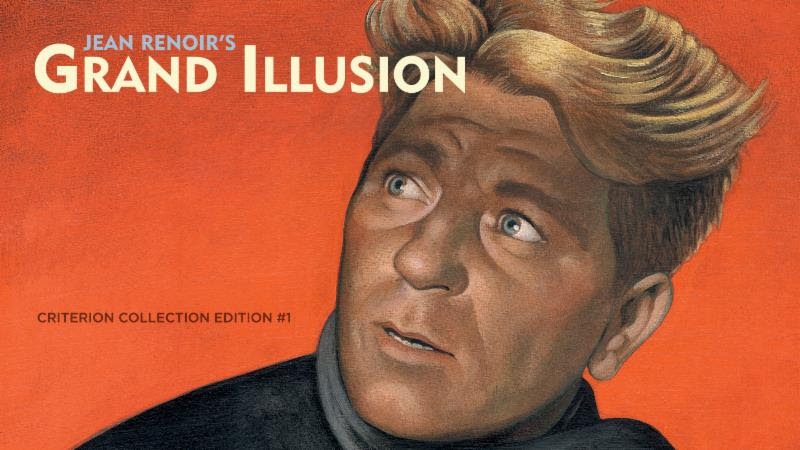 Thursday, July 6
Grand Illusion: Criterion Collection Edition #1
"If I had only one film in the world to save, it would be Grand Illusion," said Orson Welles. No wonder it was our first DVD edition! Jean Gabin, Pierre Fresnay, and Erich von Stroheim star in Jean Renoir's masterpiece, a prison-escape film that sounds an elegiac note for the doomed nobility of Europe. We're commemorating the eightieth anniversary of this masterpiece – and the ongoing World War I centennial – with our edition, which includes video footage of Renoir discussing his experiences in combat.
---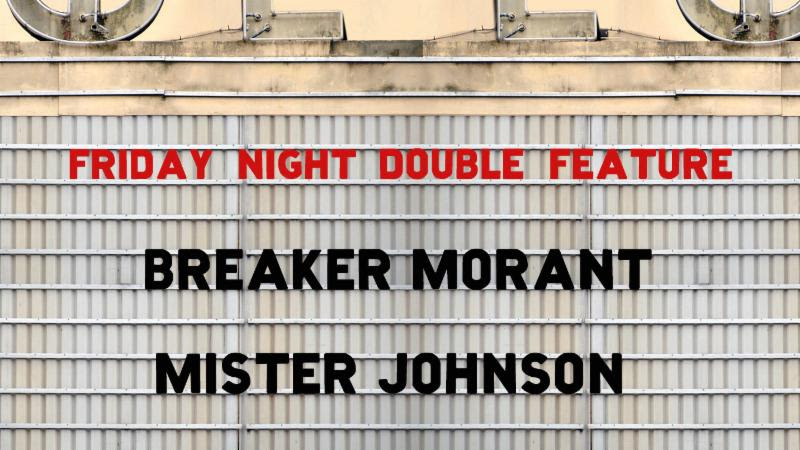 Friday, July 7
Friday Night Double Feature: Breaker Morant and Mister Johnson
Australian director Bruce Beresford, celebrated for American hits like the Oscar-winning Driving Miss Daisy and Tender Mercies, broke through internationally with Breaker Morant (1980), the riveting drama of three Australian soldiers who are court-martialed and made scapegoats for the crimes of the British Empire during the Boer War. Ten years later, he again trained his eye on the human costs of colonialism in Mister Johnson, which adapts Joyce Cary's novel about a Nigerian villager who seeks to ingratiate himself with the British authorities in hopes of realizing his ambitions.
---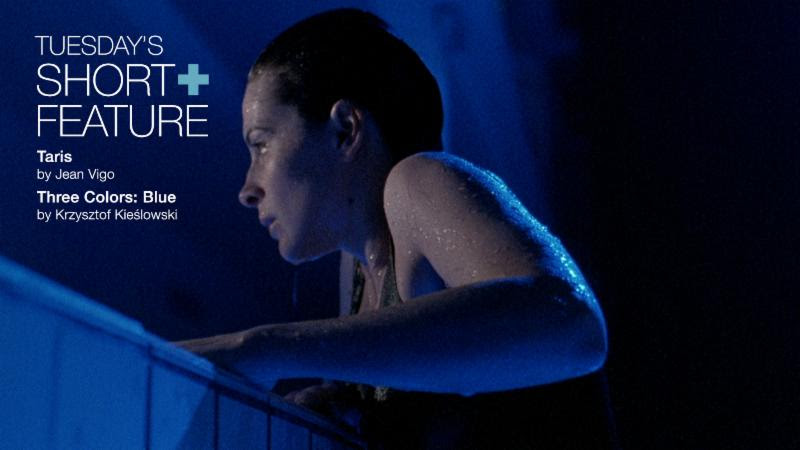 Tuesday, July 11
Tuesday's Short + Feature: Taris and Three Colors: Blue
In 1931's Taris, Jean Vigo uses every trick in his toolbox-including underwater photography, whiplash editing, and slowed and reversed motion-to capture the athletic prowess of a champion swimmer. We've paired this short with another film that makes evocative use of water: the mournful first entry in Krzysztof Kieślowski's Three Colors trilogy, in which a grief-stricken Juliette Binoche finds solace in a blue-lit swimming pool.
---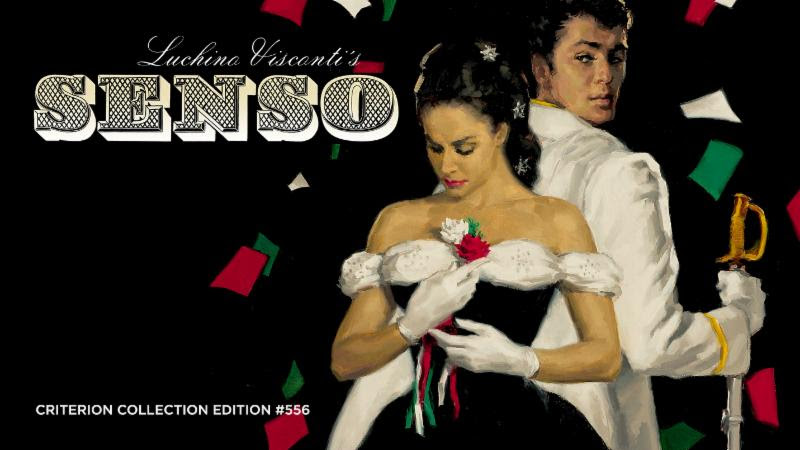 Wednesday, July 12
Senso: Criterion Collection Edition #556
Period melodrama doesn't get more operatic than this Luchino Visconti masterpiece from 1954, adapted from a novella by Italian author Camillo Boito. The film's lush Technicolor palette glistens anew in a celebrated restoration by The Film Foundation and the Cineteca di Bologna featured on our edition, which also includes The Wanton Countess, the rare English-language version of the film, and documentaries on the production and Visconti's work in opera.
---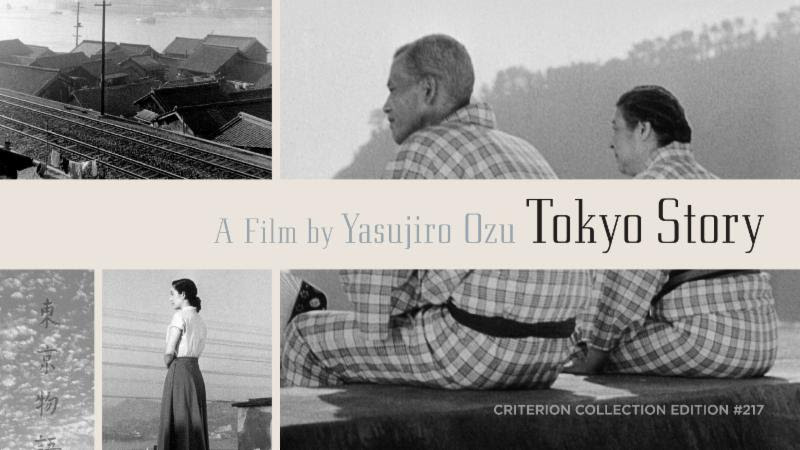 Thursday, July 13
Tokyo Story: Criterion Collection Edition #217
Widely regarded as one of the greatest films of all time, Yasujiro Ozu's 1953 family drama follows an aging couple as they pay a visit to their increasingly distracted adult children in the city, giving profound expression to the director's recurrent theme of intergenerational conflict. Supplements on our edition include I Lived, But …, a feature-length documentary about Ozu's life and career, as well as Talking with Ozu, a tribute to the master with reminiscences by filmmakers such as Lindsay Anderson, Hou Hsiao-hsien, and Wim Wenders.
---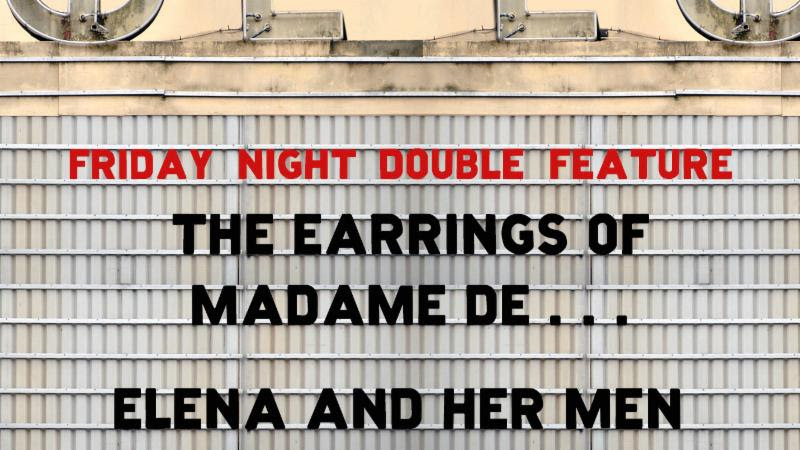 Friday, July 14
Friday Night Double Feature: The Earrings of Madame de … and Elena and Her Men
Journey back to the belle epoque with two films that revolve around dazzling women in high society, both by master filmmakers: Max Ophuls's 1953 The Earrings of Madame de …, a romantic tragedy swept along by the director's famously fluid camera work, stars Danielle Darrieux as a general's wife who falls in love with a baron, while Jean Renoir's 1956 Elena and Her Men, a freewheeling farce shot in lavish Technicolor, stars Ingrid Bergman as a Polish princess whose allure ultimately steadies the French government.
---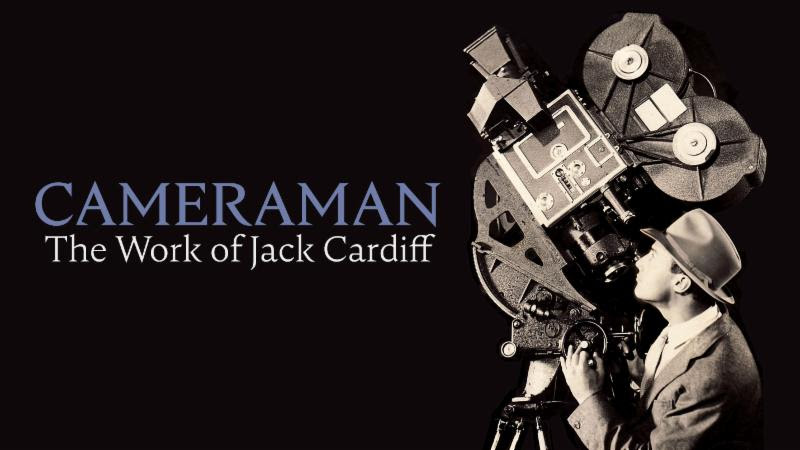 Monday, July 17
Cameraman: The Life and Work of Jack Cardiff*
Jack Cardiff, who in 2001 became the first honorary Oscar recipient to win primarily for his work as a cinematographer, gets a close-up of his own in this 2010 documentary by Craig McCall. The film surveys a career that included collaborations with King Vidor, Alfred Hitchcock, and, most famously, Michael Powell and Emeric Pressburger. We're showcasing two of the most stunningly vibrant Technicolor films he made with the Archers: the gripping convent drama Black Narcissus (1947) and the bewitching ballet fantasia The Red Shoes (1948).
*Premiering on the Channel this month.
---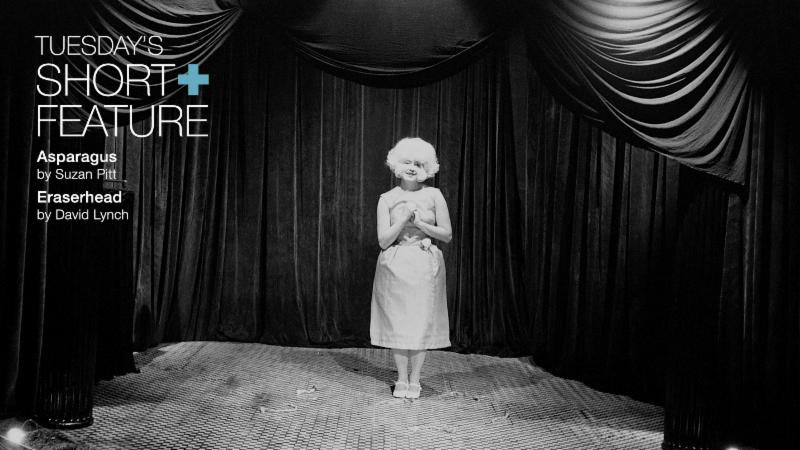 Tuesday, July 18
Tuesday's Short + Feature: Asparagus* and Eraserhead
Reuniting two movies that made a mark playing back-to-back on the midnight-movie circuit in the late seventies, this week's Short + Feature pairs off David Lynch's unnerving black-and-white family nightmare Eraserhead with Suzan Pitt's colorful animated short Asparagus, a psychosexual phantasmagoria that, like Lynch's film, goes all in on surrealist imagery.
*Premiering on the Channel this month.
---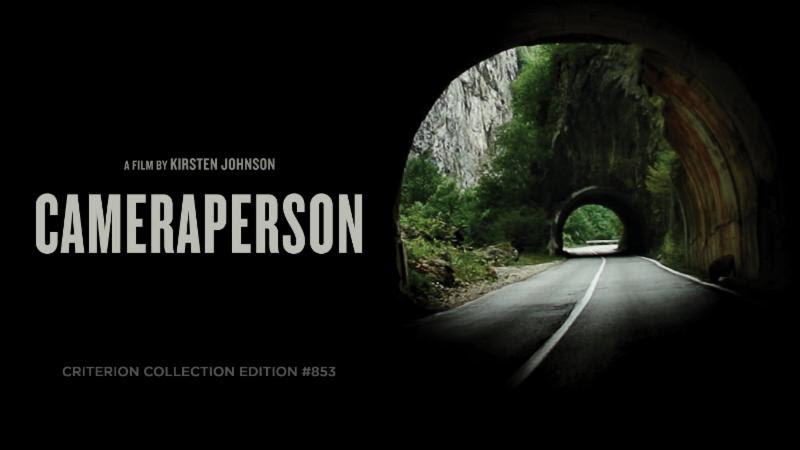 Wednesday, July 19
Cameraperson*: Criterion Collection Edition #853
Deftly weaving together outtake footage she shot while on assignment for other films, veteran documentary cinematographer Kirsten Johnson's lauded directorial debut takes viewers all over the world, from a hospital in Nigeria to a farm in Bosnia to a boxing match in Brooklyn, as it reflects on the nature of nonfiction filmmaking and a life spent on the road. Our complete edition features a program on the editing of the film, interviews with Johnson and her collaborators, and more.
*Premiering on the Channel this month.
---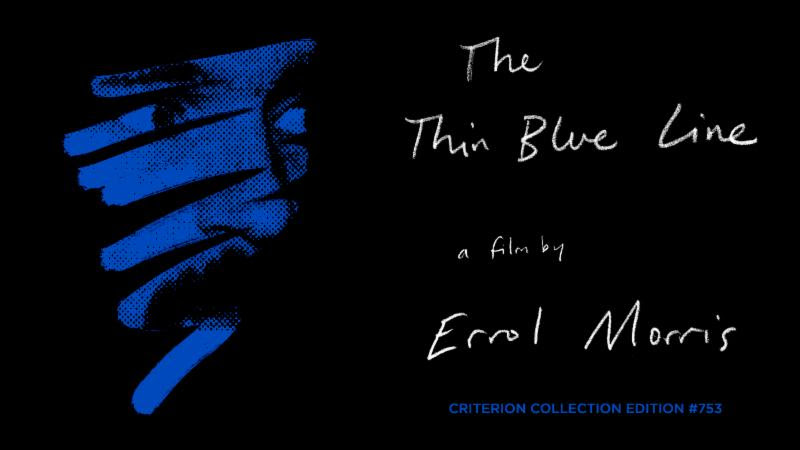 Thursday, July 20
The Thin Blue Line: Criterion Collection Edition #753
A watershed work in the history of the documentary form, and a stylistically influential film featuring staged reenactments and a swirling score by Philip Glass, Errol Morris's 1988 true-crime masterpiece The Thin Blue Line closely examines the case of a man on death row for the murder of a police officer – a crime he may not have committed. New interviews with Morris and The Act of Killing director Joshua Oppenheimer are among the supplements on our director-approved edition.
---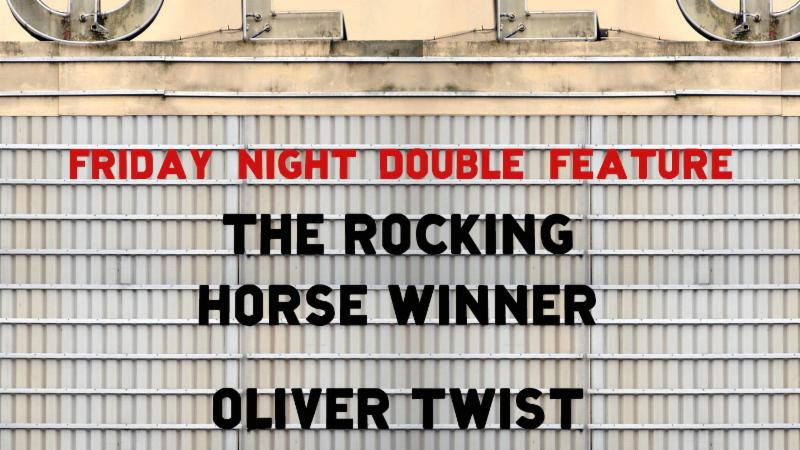 Friday, July 21
Friday Night Double Feature: The Rocking Horse Winner* and Oliver Twist
The young British actor John Howard Davies headlines two classic literary adaptations about the fickle fortunes of boyhood: Anthony Pelissier's 1949 The Rocking Horse Winner, a little-known gem based on a short story by D. H. Lawrence, tells the tale of a child who discovers a magical talent for predicting the outcomes of horse races; David Lean's 1948 masterpiece Oliver Twist, based on the Dickens novel, tags along with the titular orphan as he lands in a den of thieves in the notorious underworld of nineteenth-century London.
*Premiering on the Channel this month.
---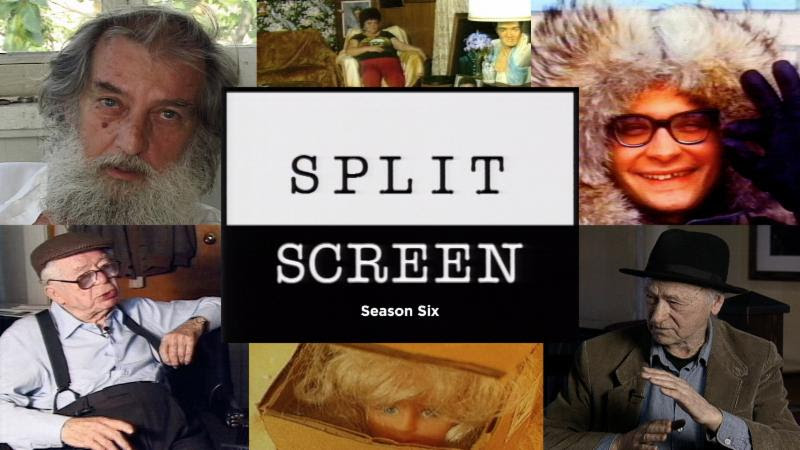 Saturday, July 22
Split Screen Season 6
Two decades after it premiered on IFC, the pioneering television series Split Screen has a streaming home on the Channel, with batches of episodes from the show's four-year run going up every month. A priceless time capsule of independent American cinema at the turn of the millennium, the series features producer and host John Pierson guiding viewers across the country for an irreverent look at filmmaking communities and movie-loving culture. This month's newly available installments include appearances by Billy Wilder, George Kuchar, Guy Maddin, and Jonas Mekas.
---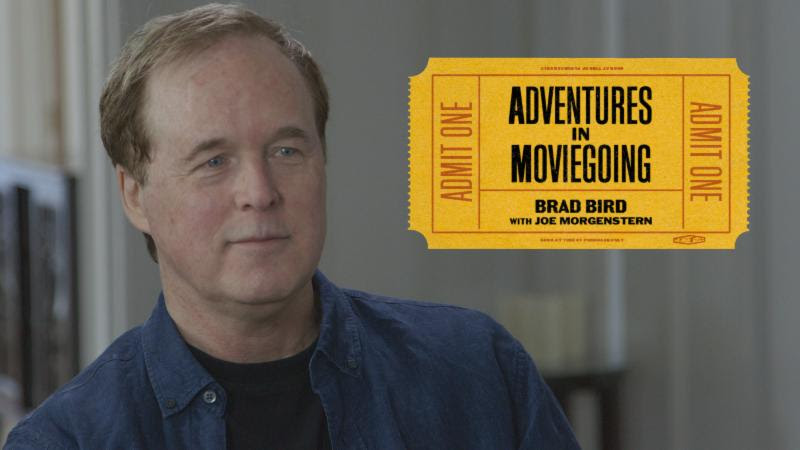 Monday, July 24
Adventures in Moviegoing with Brad Bird and Joe Morgenstern
The director of Mission: Impossible – Ghost Protocol and some of the most acclaimed animated films of the past few decades (Ratatouille, The Incredibles, The Iron Giant), Brad Bird speaks with Pulitzer Prize-winning film critic Joe Morgenstern about his journey through cinema. Alongside the interview is a selection of films that have had an impact on Bird's life, including The Red Shoes (1948), Yojimbo (1961), and Stranger Than Paradise (1984). This program marks the eighth installment of Adventures in Moviegoing, a Channel-exclusive series in which artists from a variety of backgrounds discuss their formative cinematic experiences. Previous contributors include Jhumpa Lahiri, Jonathan Lethem, Mary Karr, Roger Corman, and Bill Hader.
---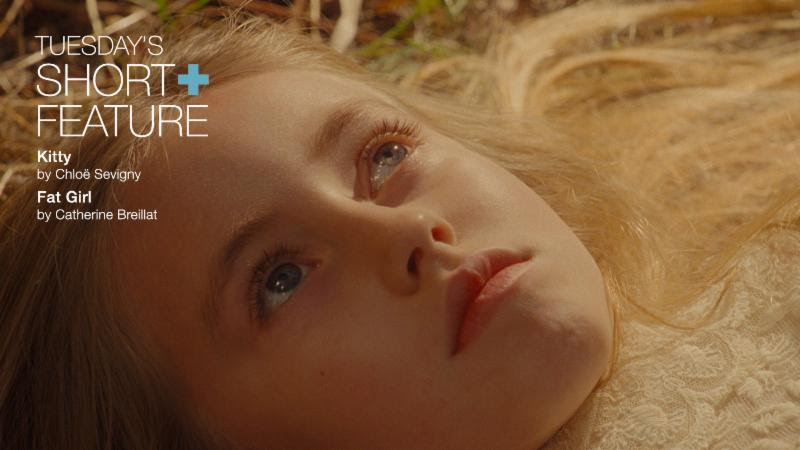 Tuesday, July 25
Tuesday's Short + Feature: Kitty* and Fat Girl
Actor Chloë Sevigny made her directorial debut with Kitty, a luminous adaptation of a 1980 Paul Bowles short story in which a young girl finds herself transformed into a cat. Sevigny's film, which had its premiere at Cannes, serves as a prelude to a provocative feature that the director has selected herself: Catherine Breillat's 2001 Fat Girl, a shocking portrait of adolescent sexuality and strained sisterhood.
*Premiering on the Channel this month.
---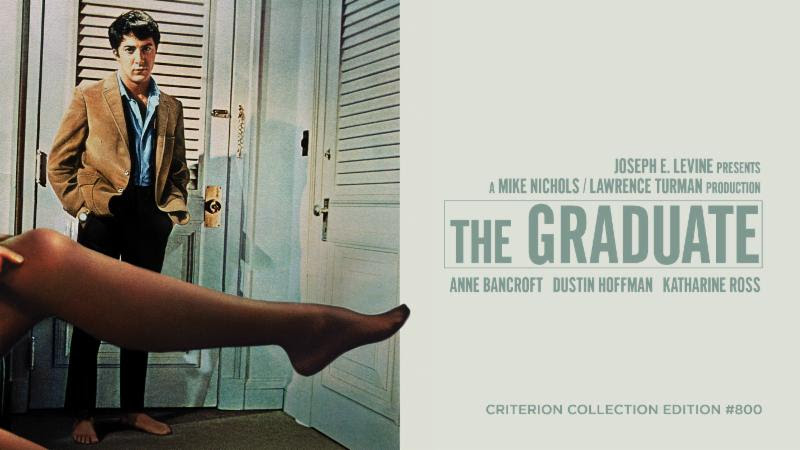 Wednesday, July 26
The Graduate: Criterion Collection Edition #800
This year marks the fiftieth anniversary of Mike Nichols's The Graduate, one of the most influential American films of the 1960s. In this bitingly funny tale of postcollegiate existential confusion, a young Dustin Hoffman stars as Benjamin Braddock, a recent graduate who has an affair with an older, married friend of the family (Anne Bancroft). Our edition features an audio commentary with Nichols and Steven Soderbergh, screen tests, a program on Harold Michelson's innovative storyboards, and interviews with Hoffman, screenwriter Buck Henry, and Paul Simon, whose songs form the centerpiece of the film's iconic soundtrack.
---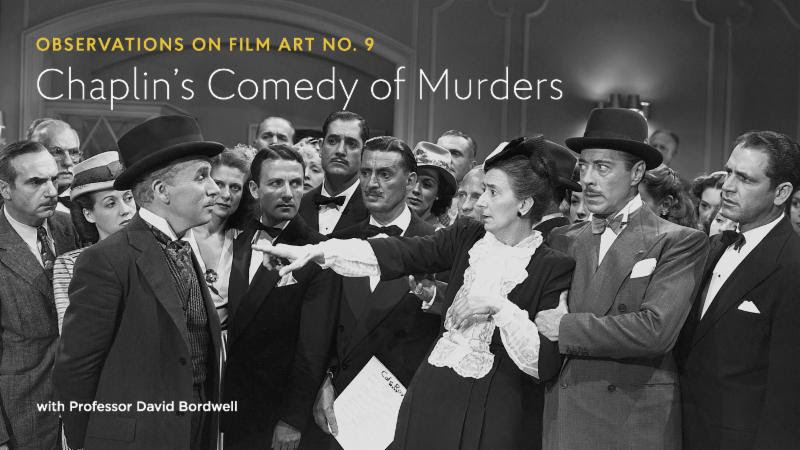 Thursday, July 27
Observations on Film Art No. 9: Chaplin's Comedy of Murders
Our Channel-exclusive series Observations on Film Art offers thought-provoking doses of film school for movie lovers, delivered by professors David Bordwell, Kristin Thompson, and Jeff Smith, the authors of the canonical textbook Film Art: An Introduction. This month's episode features Bordwell examining how Charlie Chaplin jettisoned his iconic tramp persona to portray a cold-blooded serial killer in the 1947 satire Monsieur Verdoux. Previous subjects in this series include offscreen sound in Claude Chabrol's La cérémonie, camera movement in Krzysztof Kieślowski's Three Colors: Red, music in Alfred Hitchcock's Foreign Correspondent, editing in Akira Kurosawa's Sanshiro Sugata, and landscapes in the work of Abbas Kiarostami.
---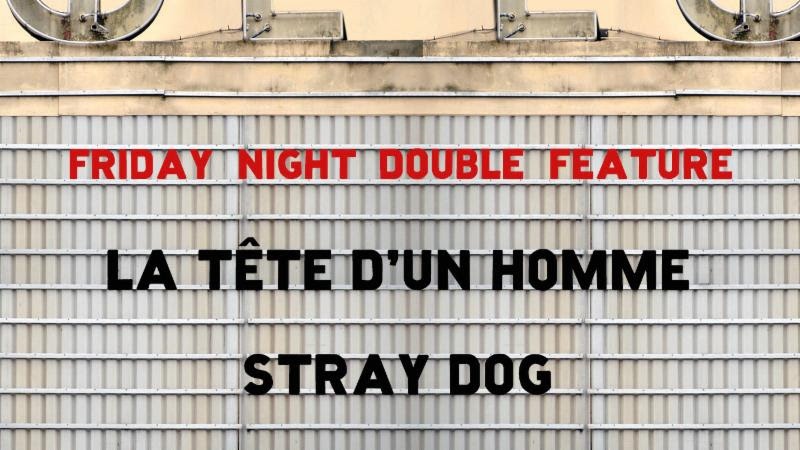 Friday, July 28
Friday Night Double Feature: La tête d'un homme and Stray Dog
Go on the chase with some of cinema's most charismatic detectives in this pair of thrillers inspired by the writing of Georges Simenon. In Julien Duvivier's 1933 La tête d'un homme, Harry Baur stars as the author's most iconic creation, Inspector Maigret, who spends the film investigating an American woman's murder in Paris. Toshiro Mifune's rookie homicide detective scours a sweltering Tokyo for his stolen gun, with the help of a seasoned detective (Takashi Shimura), in Akira Kurosawa's 1949 psychologically penetrating drama Stray Dog.
---
Complete list of films premiering on the Criterion Channel this month:
July 1
A Woman's Face, George Cukor, 1941
The Face Behind the Mask, Robert Florey, 1941
July 4
Premature, Gunhild Enger, 2012
Ten, Abbas Kiarostami, 2002
July 5
Weekend, Andrew Haigh, 2011
July 7
Young and Innocent, Alfred Hitchcock, 1937
July 14
What Did the Lady Forget?, Yasujiro Ozu, 1937
Ornamental Hairpin, Hiroshi Shimizu, 1941
Princess Yang Kwei-fei, Kenji Mizoguchi, 1955
Samurai Saga, Hiroshi Inagaki, 1959
The Third Shadow Warrior, Umetsugu Inoue, 1963
Sincere Heart, Masaki Kobayashi, 1953
July 17
Cameraman: The Life and Work of Jack Cardiff, Craig McCall, 2010
July 18
Asparagus, Suzan Pitt, 1979
July 19
Cameraperson, Kirsten Johnson, 2016
July 21
Fallen Angels, Wong Kar-wai, 1995
Chinese Odyssey 2002, Jeffrey Lau, 2002
Miao Miao, Cheng Hsiao-tse, 2008
The Eagle Shooting Heroes, Jeffrey Lau, 1993
The Rocking Horse Winner, Anthony Pelissier, 1949
July 25
Kitty, Chloë Sevigny, 2016
July 28
And the Ship Sails On, Federico Fellini, 1983
Il bidone, Federico Fellini, 1955
Le petit soldat, Jean-Luc Godard, 1963