Is there anything cooler than samurai films?
One of the most beloved cult samurai films is set to get a much longed for high definition release thanks to the folks at AnimEigo, who will be releasing a brand new HD version of the famed film, Shogun Assassin. The film was first released on DVD in 2006 through the company, but this marks a new, restored version of the film, that will be released to mark the film's 30th anniversary, this July, just in time for the San Diego Comic Con.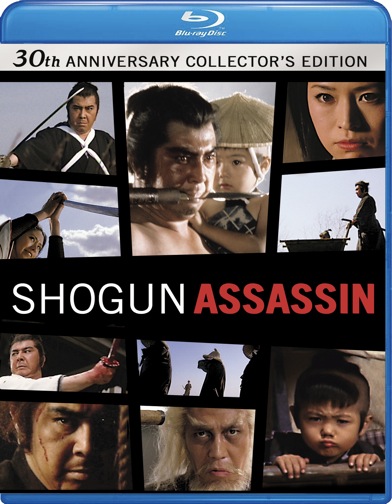 The new release will feature a collection of new features as well. This edition of the film will feature an over 10 minute long interview with the king of badassery himself, Samuel L. Jackson about his love for the film, and the genre as a whole, as well as a brand new commentary featuring producer David Weisman, illustrator Jim Evans, and narrator, Gibran Evans.
I've never had the joy of checking out this film, but I do love me some samurai films, especially ones that have as big of a following as this one. While this doesn't seem like a Kurosawa film, it does seem like a fun romp, and for only 25$, I can't help but want to pick this one up.
From Wikipedia:

Shogun Assassin was edited and compiled from the first two films in the Lone Wolf and Cub series, using 12 minutes of the first film, Lone Wolf and Cub: Sword of Vengeance (Kozure ?kami: Kowokashi udekashi tsukamatsuru or Wolf with Child in Tow: Child and Expertise for Rent), and most of Lone Wolf and Cub: Baby Cart at the River Styx (Kozure ?kami: Sanzu no kawa no ubaguruma or Wolf with Child in Tow: Perambulator of the River of Sanzu). Both were originally released in 1972. There were six films in all in the series. These in turn were based on the long-running 1970s manga series, Lone Wolf and Cub, created by the writer Kazuo Koike and the artist Goseki Kojima.
[Note from the Editor: if you've never seen the Lone Wolf and Cub films, or read the manga, do yourself a favor and pick up everything available, related to this massively influential series. You will not regret it.]
From the Press Release:
Wilmington, NC – May 21, 2010 – AnimEigo is proud to celebrate the 30th anniversary of the legendary samurai cult classic, Shogun Assassin, by announcing the first ever high-definition version of the film! The most famous samurai film in the Western World is finally coming to North America in the clearest and most pristine version ever seen by man, woman, or ninja.

In 2006, our first official release of Shogun Assassin set the bar for high quality with its crystal-clear DVD picture. This time around, we once again reconstructed the film, this time using uncompressed 1080p 24p source materials.

But that's not all! For this special edition of samurai slaughter, we've compiled some incredible exclusive extras, only available on this disc. For starters, there's a must-see 10+ minute interview with Samuel L. Jackson about his fondness of Shogun Assassin and other samurai films, shot exclusively for this release in 2009. And to top it all off, we gathered three of the original cast and crew for a brand new, highly-informative, feature-length audio commentary. This new commentary features never-before-heard insider perspectives of the 1980 film's creation from some of the key players who made it all happen: Producer David Weisman, Illustrator Jim Evans, and Gibran Evans, who provided the epic voice narration of Daigoro!

And the best part of the disc is'¦ the price! We've set our suggested retail price at $24.98, so expect great deals on this groundbreaking release.

See the most famous Samurai movie of all time'"that the Japanese have still never heard of!

See the movie that you've watched a million times, but never really seen'"because you've never seen it in 1080p!

It's the one… the only… Shogun Assassin'¦ in High Definition!

Because the best color for blood'¦ is Blu!

The Shogun Assassin 30th Anniversary Collector's Edition Blu-ray will be available on the AnimEigo website in July and from a store near you August 24, 2010.