With the recent re-release (and rumored Criterion Blu-ray) of Jean-Luc Godard's seminal piece of work, the legendary French New Wave classic, Breathless, comes a new wave of marketing for the film.
And I must say, one hell of a campaign this truly is.
While this new line of clothing is directly done by the film's distributor, Janus Films, the line of tee shirts is no less amazing.   The famous Rodarte sisters recently teamed up with Paris based boutique Colette, on what can best be described as a collection of tees directly inspired by the classic piece of cinema.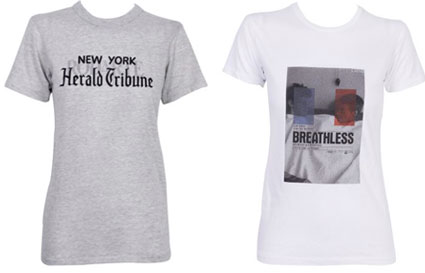 Including the famous New York Herald Tribune shirt that Jean Seberg made into a classic, the line also includes a pair of shirts that feature a photo of Seberg and Belmondo with a set of graphic overlays.   While these aren't the most interesting or creative takes on the film, they are definitely the epitome of cool, which in a way, fits the film the best.   They will set you back a pretty penny, a.k.a. about $150 each, so they may not be quite worth the price, but if you are a massive fan of the film (like your's truly), then these are definitely worth the purchase.

Source: The Frisky / Colette
---
There was before Breathless, and there was after Breathless. With its lack of polish, surplus of attitude, crackling personalities of rising stars Jean-Paul Belmondo and Jean Seberg, and anything-goes crime narrative, Jean-Luc Godard's debut fashioned a simultaneous homage to and critique of the American film genres that influenced and rocked him as a film writer for Cahiers du cinéma. Jazzy, free-form, and sexy, Breathless (À bout de souffle) helped launch the French New Wave and ensured cinema would never be the same.
DVD Disc Features
SPECIAL EDITION DOUBLE-DISC SET FEATURES
New, restored high-definition digital transfer, approved by director of photography Raoul Coutard
Archival interviews with director Jean-Luc Godard, and actors Jean-Paul Belmondo, Jean Seberg, and Jean-Pierre Melville
New video interviews with Coutard, assistant director Pierre Rissient, and filmmaker D. A. Pennebaker
New video essays: filmmaker and critic Mark Rappaport's 'Jean Seberg' and critic Jonathan Rosenbaum's 'Breathless as Film Criticism'
Chambre 12, Hotel de suede, an eighty-minute French documentary about the making of Breathless, with members of the cast and crew
Charlotte et son Jules, a 1959 short film by Godard, starring Belmondo
French theatrical trailer
New and improved English subtitle translation
PLUS: A booklet featuring writings from Godard, film historian Dudley Andrew, Francois Truffaut's original film treatment, and Godard's scenario