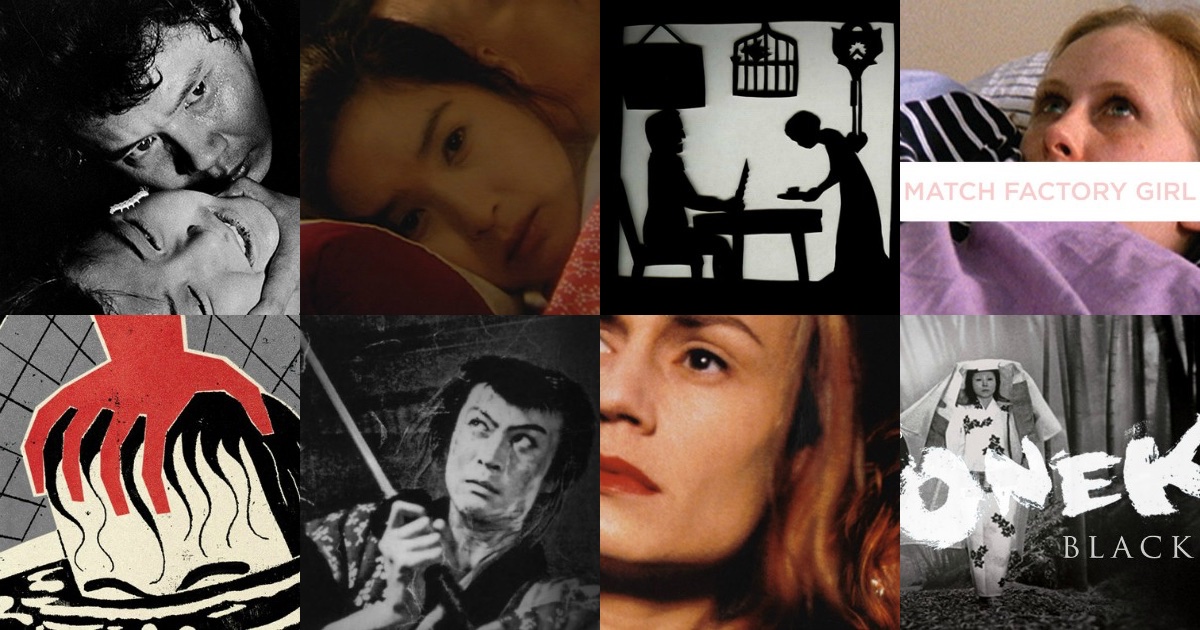 This week's new additions to the Criterion Collection area on Fandor feature some pretty incredible films, with powerful perfomances from women around the world.
---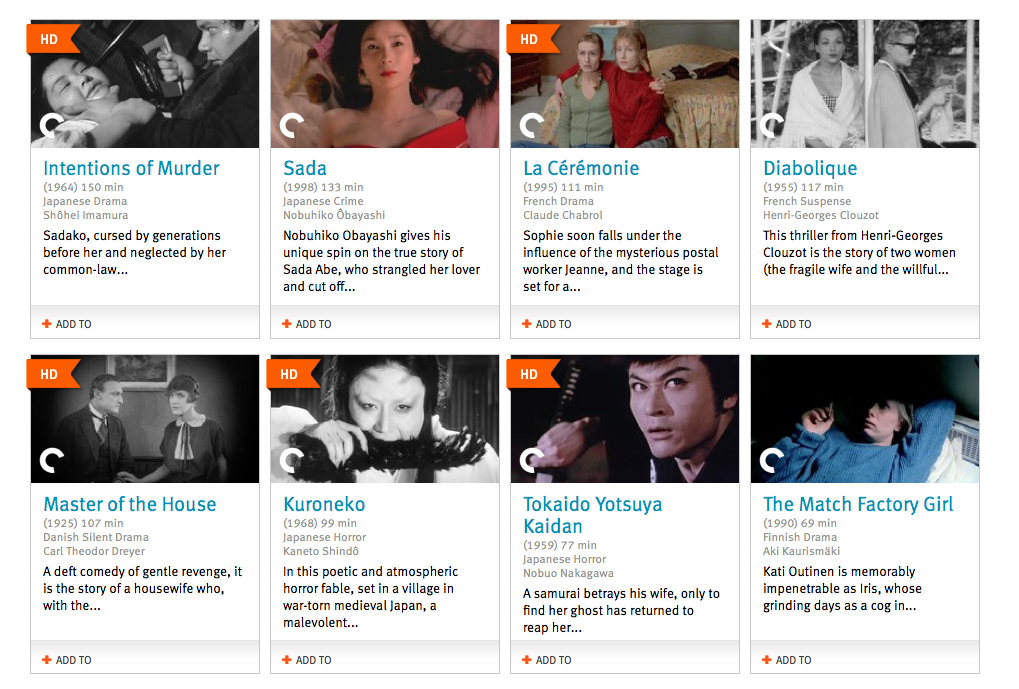 ---
The following eight films will be available to stream on Fandor for the next twelve days. Sign up for a free trial.
---

La Cérémonie, the French Drama by Claude Chabrol
Catherine hires the illiterate Sophie as her maid. But Sophie soon falls under the influence of the mysterious postal worker Jeanne, and the stage is set for a tale of murder, violence, and betrayal.

Diabolique, the French Suspense film by Henri-Georges Clouzot
This thriller from Henri‑Georges Clouzot, which shocked audiences in Europe and the U.S., is the story of two women (the fragile wife and the willful mistress of the sadistic headmaster of a boys' boarding school) who hatch a daring revenge plot. With its unprecedented narrative twists and terrifying images, DIABOLIQUE is a heart-grabbing benchmark in horror filmmaking, featuring outstanding performances by Simone Signoret, Véra Clouzot and Paul Meurisse.

Intentions of Murder, the Japanese Drama by Shôhei Imamura
Sadako, cursed by generations before her and neglected by her common-law husband, falls prey to a brutal home intruder. But rather than become a victim, she forges a path to her own awakening. This disturbing and pitiless evocation of domestic drudgery and sexual violence is also a fascinating, unsentimental account of one woman's determination. Filled with director Shohei Imamura's characteristic flashbacks and dream sequences, INTENTIONS OF MURDER is a gripping, audacious portrait of a woman coming into her own in a man's world.
Kuroneko, the Japanese Horror film by Kaneto Shindô
In this poetic and atmospheric horror fable, set in a village in war-torn medieval Japan, a malevolent spirit has been ripping out the throats of itinerant samurai. When a military hero is sent to dispatch the unseen force, he finds that he must struggle with his own personal demons as well. From Kaneto Shindo, director of the terror classic Onibaba, KURONEKO is a spectacularly eerie twilight tale with a shocking feminist angle, evoked through ghostly special effects and exquisite cinematography.

Master of the House, the Danish Silent Drama by Carl Theodor Dreyer
Before he turned to the story of Joan of Arc, the Danish cinema genius Carl Theodor Dreyer fashioned this ahead-of-its-time examination of domestic life. A deft comedy of gentle revenge, it is the story of a housewife who, with the help of a wily nanny, turns the tables on her tyrannical husband. In it, Dreyer combines lightness and humor with his customary meticulous craft and sense of integrity. MASTER OF THE HOUSE, an enormous box-office success in its day, is a jewel of the silent cinema.

The Match Factory Girl, the Finnish Drama by Aki Kaurismäki
Aki Kaurismäki took his penchant for despairing character studies to unspeakably grim depths in the shockingly entertaining THE MATCH FACTORY GIRL. Kati Outinen is memorably impenetrable as Iris, whose grinding days as a cog in a factory wheel, and nights as a neglected daughter living with her parents, ultimately send her over the edge. Yet despite her transgressions, Kaurismäki makes Iris a compelling, even sympathetic figure. Bleak yet suffused with comic irony, THE MATCH FACTORY GIRL closes out the "Proletariat Trilogy" with a bang, and a whimper.
Sada, the Japanese Crime film by Nobuhiko Ôbayashi
Nobuhiko Obayashi, director of the cult horror/comedy HOUSE, gives his unique spin on the true story of Sada Abe, who strangled her lover and cut off his genitals as a keepsake

Tokaido Yotsuya Kaidan, the Japanese Horror film by Nobuo Nakagawa
A samurai betrays his wife, only to find her ghost has returned to reap her vengeance upon him.