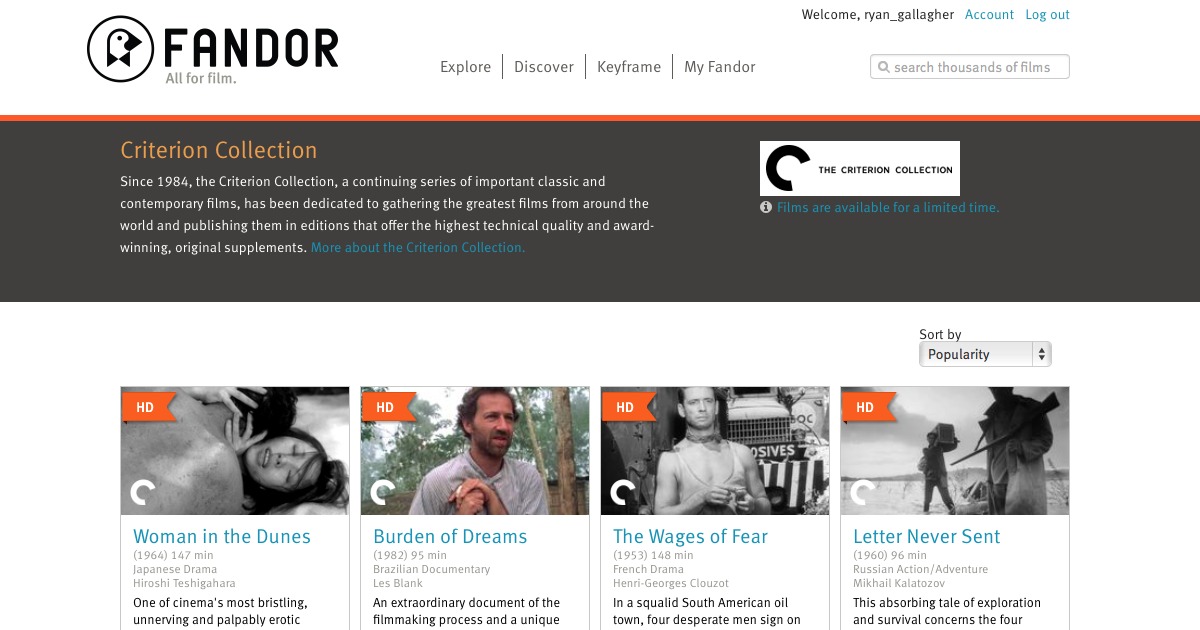 Last week Fandor, the online streaming service, announced that they had worked out a deal with Hulu to allow them to co-stream the films of the Criterion Collection. For the past several years Hulu has had an exclusive arrangement with Criterion, regarding the streaming of their films online. Obviously, Criterion films can be found on iTunes and Amazon, but the way Hulu streams is different from Amazon, and with iTunes you're downloading a file.
Readers of the site will know that Josh has highlighted Fandor many times on his Armchair Vacation series, but I don't know if enough of you realize what a tremendous streaming option it is. There are hundreds of films on here that you won't find on the bigger streaming services, with an absolutely genius system set up to search through them. You can filter by any number of geeky genre categories to find exactly what type of film you want to watch, length in case you are in the mood for a short, or by release year in case you don't want to see anything from the past twenty years. It's that well designed. You can build lists, a queue, and can review and track all of the films that you watch.
Fandor is available to stream on the web, through your Roku box, Chromecast, or other mobile apps (iPhone / iPad / Android). It'll run you $10 per month, unless you pay for a full year which will knock it down to $7.50 per month. There is a free trial as well, if you want to test the quality of the streams on your devices. Not everything is in HD, but the depth of their library outweighs the occasional iffy stream.
Each week Fandor will rotate seven films from the Criterion Collection, centered around a theme. This week's theme is "Island Life." The films will be available to watch for the next twelve days. There is a ticking clock on the film's pages, to give you an idea of how much time you have left.
In addition to the seven feature films that you can watch this week, you also have the ability to stream two different supplementary features discussing Ingmar Bergman.
You'll find links to all of the new additions below.
---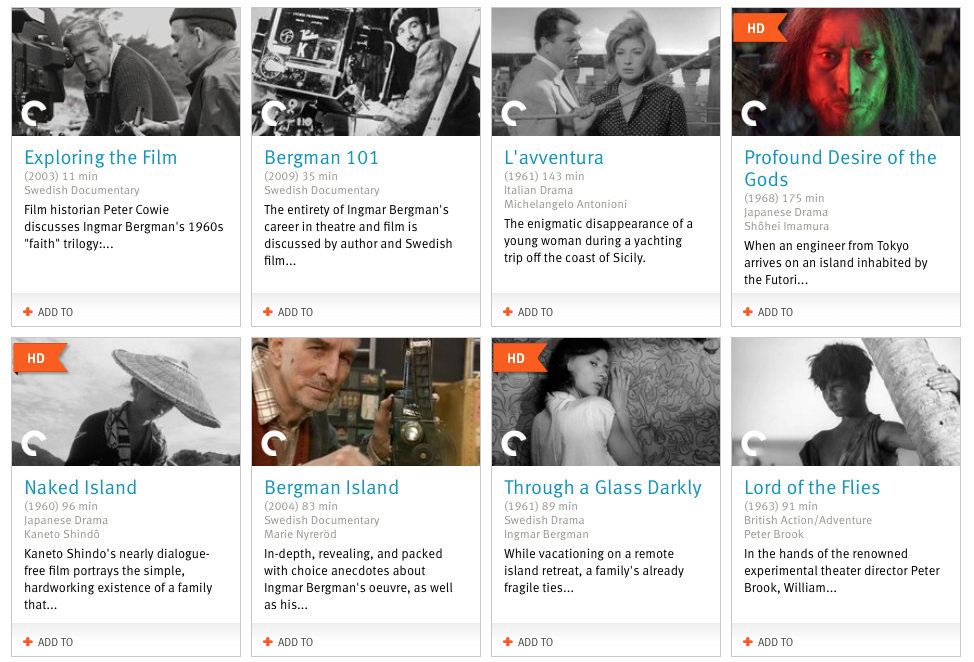 ---
Features
dir. Michelangelo Antonioni
Michelangelo Antonioni invented a new film grammar with this masterwork. An iconic piece of challenging 1960s cinema and a gripping narrative on its own terms, L'AVVENTURA concerns the enigmatic disappearance of a young woman during a yachting trip off the coast of Sicily, and the search taken up by her disaffected lover and best friend. Antonioni's controversial international sensation is a gorgeously shot tale of modern ennui and spiritual isolation.
dir. Marie Nyreröd
Just four years before his death, legendary filmmaker Ingmar Bergman sat down with Swedish documentarian Marie Nyreröd at his home on Fårö Island to discuss his work, his fears, his regrets, and his ongoing artistic passion. This resulted in the most breathtakingly candid series of interviews that the famously reclusive director ever took part in, later edited into the feature-length film BERGMAN ISLAND. In-depth, revealing, and packed with choice anecdotes about Bergman's oeuvre, as well as his personal life, Nyreröd's film is an unforgettable final glimpse of a man who transformed cinema.
dir. Peter Brook
In the hands of the renowned experimental theater director Peter Brook, William Golding's legendary novel about the primitivism lurking beneath civilization becomes a film as raw and ragged as the lost boys at its center. Taking an innovative documentary-like approach, Brook shot LORD OF THE FLIES with an off-the-cuff naturalism, seeming to record a spontaneous eruption of its characters' ids. The result is a rattling masterpiece, as provocative as its source material.
dir. Kaneto Shindô
Kaneto Shindo's nearly dialogue-free film portrays the simple, hardworking existence of a family that lives on an remote island.
5. Profound Desire of the Gods (1968)
dir. Shohei Imamura
When an engineer from Tokyo arrives on an island inhabited by the Futori family, he is drawn into their primitive culture and superstitions.
dir. Roberto Rossellini
The first collaboration between Roberto Rossellini and Ingrid Bergman is a devastating portrait of a woman's existential crisis, set against the beautiful and forbidding backdrop of a volcanic island. After World War II, a Lithuanian refugee marries a simple Italian fisherman she meets in a prisoner of war camp and accompanies him back to his isolated village on an island off the coast of Sicily. Cut off from the world, she finds herself crumbling emotionally, but she is destined for a dramatic epiphany. Balancing the director's trademark neorealism (exemplified here in a remarkable depiction of the fishermen's lives and work) with deeply felt melodrama, STROMBOLI is a revelation.
7. Through a Glass Darkly (1961)
dir. Ingmar Bergman
While vacationing on a remote island retreat, a family's already fragile ties are tested when daughter Karin discovers her father has been using her schizophrenia for his own literary means. As she drifts in and out of lucidity, the father, along with Karin's husband and her younger brother are unable to prevent Karin's harrowing descent into the abyss of mental illness. THROUGH A GLASS DARKLY presents an unflinching vision of a family's near disintegration and a tortured psyche further taunted by God's intangible presence.
---
Supplements
Film historian Peter Cowie discusses Ingmar Bergman's 1960s "faith" trilogy: THROUGH A GLASS DARKLY, WINTER LIGHT and THE SILENCE.
The entirety of Ingmar Bergman's career in theatre and film is discussed by author and Swedish film scholar Peter Cowie. An insightful and informative biography, the concise documentary pairs Cowie's erudite commentary with numerous excerpts from Bergman's work.
---
You can