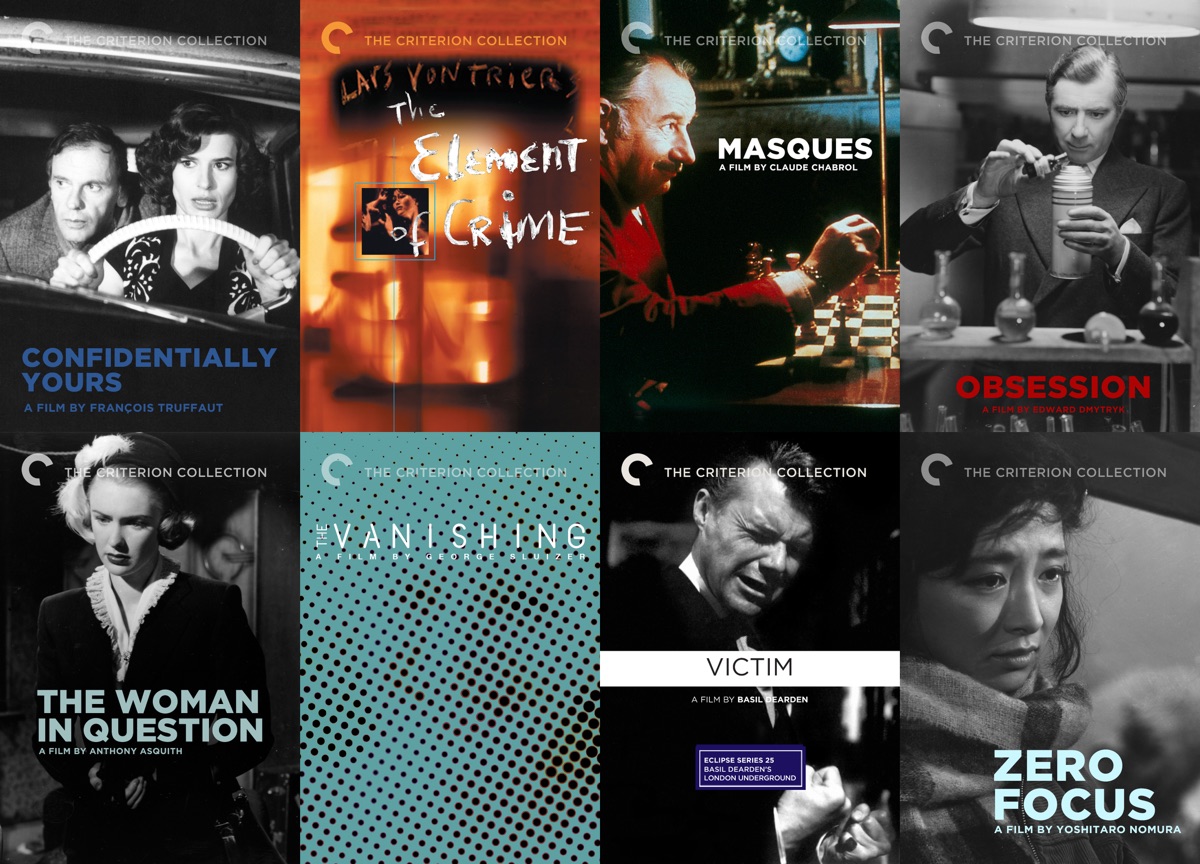 Each week, the fine folks at Fandor add a number of films to their Criterion Picks area, which will then be available to subscribers for the following twelve days. This week, the Criterion Picks focus on 8 mystery films.
Secrets, lies, clues and questionable motives: follow these films as they insist on (or resist) throwing light on the dark corners of human nature.
Don't have a Fandor subscription? They offer a free trial membership.
---
Confidentially Yours, the French Crime film by François Truffaut
When a real estate agent is framed for the murders of his wife and her lover, it is up to his faithful secretary to solve the mystery.
The Element of Crime, the Danish Crime film by Lars von Trier
Lars von Trier's stunning debut film is the story of Fisher, an exiled ex-cop who returns to his old beat to catch a serial killer with a taste for young girls. Influenced equally by Alfred Hitchcock and science fiction, von Trier boldly reinvents expressionist style for his own cinematic vision of a post-apocalyptic world. Shot in shades of sepia, with occasional, startling flashes of bright blue, THE ELEMENT OF CRIME combines dark mystery and operatic sweep to yield a pure celluloid nightmare.
Masques, the French Crime film by Claude Chabrol
In this deadly game of cat and mouse Roland Wolf is writing a book on the life of game show host Christian Legagneur… or is he? He spends a weekend doing research in which he meets Legagneur's oddball friends and his juvenile charge who suffers from a mysterious ailment.
Obsession, the British Crime film by Edward Dmytryk
A Scotland Yard man investigates a psychiatrist's diabolical revenge against his adulterous wife's lover.
The Vanishing, the Dutch Suspense film by George Sluizer
A young man embarks on an obsessive search for the girlfriend who mysteriously disappeared while the couple were taking a sunny vacation trip. His three-year investigation draws the attention of her abductor, a mild-mannered professor with a clinically diabolical mind. An unorthodox love story and a truly unsettling thriller, Dutch filmmaker George Sluizer's THE VANISHING unfolds with meticulous intensity, leading to an unforgettable finale that has unnerved audiences around the world.
Victim, the British Crime film by Basil Dearden
An extraordinary performance by Dirk Bogarde grounds this intense, sobering indictment of early-sixties social intolerance and sexual puritanism. Bogarde plays Melville Farr, a married barrister who is one of a large group of closeted London men who become targets of a blackmailer. Basil Dearden's unmistakably political taboo buster was one of the first films to address homophobia head-on, a cry of protest against British laws forbidding homosexuality.
The Woman in Question, the British Crime film by Anthony Asquith
When a real estate agent is framed for the murders of his wife and her lover, it is up to his faithful secretary (Fanny Ardant) to solve the mystery.
Zero Focus, the Japanese Crime film by Yoshitaro Nomura
After a woman's new husband disappears on a business trip, she discovers a pair of mysterious postcards hidden away in a book that may be clues to his fate.