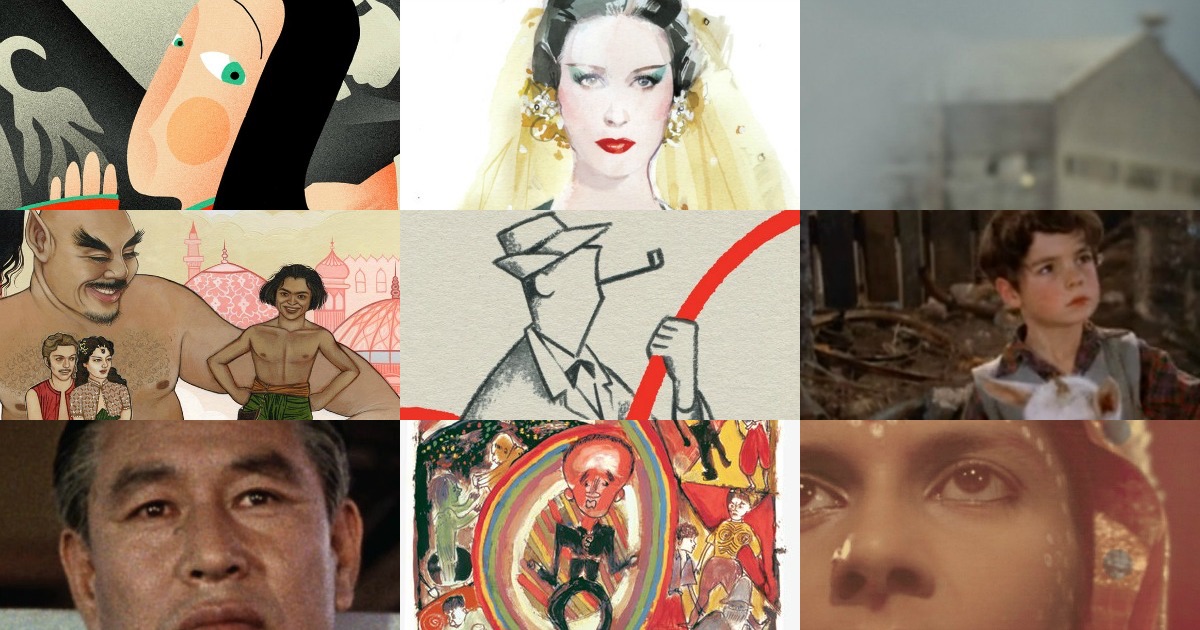 Each week, the fine folks at Fandor add a number of films to their Criterion Picks area, which will then be available to subscribers for the following twelve days. This week, the Criterion Picks focus on nine films where some of the most famous directors in the Criterion Collection first directed a feature in color.
Saturate yourself in the vivid stylings of some of our favorite directors, wielding a whole new spectrum of expression for the very first time.
Don't have a Fandor subscription? They offer a free trial membership.
---

Dodes'ka-den, the Japanese Drama by Akira Kurosawa
The unforgettable DODES'KA-DEN was made at a tumultuous moment in Kurosawa's life. And all of his hopes, fears and artistic passion are on fervent display in this, his gloriously shot first color film.

Equinox Flower, the Japanese Drama by Yasujirô Ozu
Later in his career, Yasujiro Ozu started becoming increasingly sympathetic with the younger generation, a shift that was cemented in EQUINOX FLOWER, his gorgeously detailed first color film, about an old-fashioned father and his newfangled daughter.

Gate of Hell, the Japanese Drama by Teinosuke Kinugasa
A winner of Academy Awards® for best foreign-language film and best costume design, GATE OF HELL is a visually sumptuous, psychologically penetrating work from Teinosuke Kinugasa.

A Kid for Two Farthings, the British Comedy by Carol Reed
In Carol Reed's film, a little boy buys a baby goat with one horn, believing it to be a unicorn and, by extension, capable of granting his neighbors' every wish.

Lola Montès, the Austrian Drama by Max Ophüls
With his customary cinematographic flourish and, for the first time, vibrant color, Max Ophuls charts the course of Montès's scandalous past through the invocations of the bombastic ringmaster of the American circus where she has ended up performing.

Mon oncle, the French Comedy by Jacques Tati
The second Hulot movie and Tati's first color film, MON ONCLE is a supremely amusing satire of mechanized living and consumer society that earned the director the Academy Award® for best foreign-language film.

Red Desert, the Italian Drama by Michelangelo Antonioni
With one startling, painterly composition after another (of abandoned fishing cottages, electrical towers, looming docked ships) RED DESERT creates a nearly apocalyptic image of its time, and confirms Antonioni as cinema's preeminent poet of the modern age.

The River, the Indian Drama by Jean Renoir
Director Jean Renoir's entrancing first color feature (shot entirely on location in India) is a visual tour de force.

The Thief of Bagdad, the Iraqi Action/Adventure film by Ludwig Berger, Michael Powell and Tim Whelan
Legendary producer Alexander Korda's marvel THE THIEF OF BAGDAD, inspired by "The Arabian Nights", is one of the most spectacular fantasy films ever made, an eye-popping effects pioneer brimming with imagination and technical wizardry.