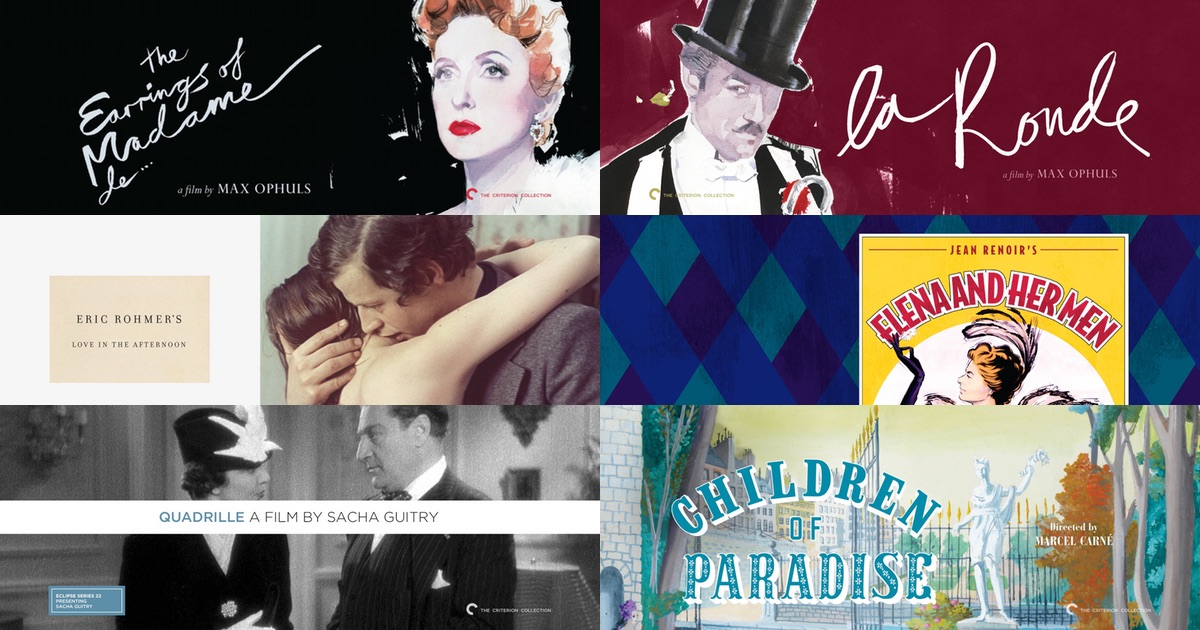 Each week, the fine folks at Fandor add a number of films to their Criterion Picks area, which will then be available to subscribers for the following twelve days. This week, the Criterion Picks focus on eight delightful French films.
Three decades of exceptional French cinema in the service of that most intoxicating, unpredictable and stubborn of muscles, to which laws of convention and commitment prove no barrier: the heart.
Don't have a Fandor subscription? They offer a free trial membership.
---

Children of Paradise by Marcel Carne
Poetic realism reached sublime heights with CHILDREN OF PARADISE, widely considered one of the greatest French films of all time. This nimble depiction of nineteenth-century Paris's theatrical demimonde, filmed during World War II, follows a mysterious woman loved by four different men (all based on historical figures): an actor, a criminal, a count, and, most poignantly, a mime (Jean-Louis Barrault, in a longing-suffused performance for the ages). With sensitivity and dramatic élan, director Marcel Carné and screenwriter Jacques Prévert resurrect a world teeming with hucksters and aristocrats, thieves and courtesans, pimps and seers. And thanks to a major new restoration, this iconic classic looks and sounds richer and more detailed than ever.

The Earrings of Madame de… by Max Ophüls
The most cherished work from French master Max Ophuls is a profoundly emotional, cinematographically adventurous tale of deceptive opulence and tragic romance. When an aristocratic woman known only as Madame de… sells a pair of earrings given to her by her husband in order to pay some debts, she sets off a chain reaction of financial and carnal consequences that can end only in despair. Ophuls' adaptation of Louise de Vilmorin's incisive fin de siècle novel employs to ravishing effect the elegant and precise camera work for which the director is so justly renowned.

Elena and Her Men by Jean Renoir
Set amid the military maneuvers and Quatorze Juillet carnivals of turn-of-the-century France, Jean Renoir's delirious romantic comedy ELENA AND HER MEN stars a radiant Ingrid Bergman as a beautiful, but impoverished, Polish princess who drives men of all stations to fits of desperate love. When Elena elicits the fascination of a famous general, she finds herself at the center of romantic machinations and political scheming, with the hearts of several men, as well as the future of France, in her hands.

Les grandes manoeuvres by René Clair
A wonderfully autumnal work from Rene Clair, this was also his first film in color and he uses the production design and the story coupled with the range of available hues to impart a dreamlike quality to plot a romantic escapade by a vain military officer on the eve of World War I. Michele Morgan is the object of Gerard Phillipe's affections in this wistful tale of a world and an era gone by.
Love in the Afternoon by Eric Rohmer
Though happily married to his adoring wife Hélène, with whom he is expecting a second child, the thoroughly bourgeois business executive Frédéric cannot banish from his mind the multitude of attractive Parisian women who pass him by every day. His flirtations and fantasies remain harmless until Chloé (played by the mesmerizing Zouzou), an audacious, unencumbered old flame, shows up at his office, embodying the first genuine threat to Frédéric's marriage. The luminous final chapter to Rohmer's "Moral Tales" is a tender, sobering, and wholly adult affair that leads to perhaps the most overwhelmingly emotional moment in the entire series.

Une parisienne by Michel Boisrond
Brigitte Bardot was best-known as an actress (as opposed to a sex symbol) for her dramatic performances. Michel Boisrond's UNE PARISIENNE proved that she could be just as effective as a comedian (getting her compared to Marilyn Monroe at her best) and hold her own alongside no less a figure than romantic leading man Charles Boyer. Between the two of them and the movie's beautiful cinematography by Marcel Grignon and Boisrond's lively frothy direction of this story about a young married couple coping with fears of infidelity UNE PARISIENNE remains a treat for fans of Bardot Boyer or romantic comedies.

A sparkling four-way affair overflowing with dialogue that showcases writer-director Sacha Guitry's wit, QUADRILLE stars Guitry as a magazine editor whose longtime girlfriend, to whom he plans to finally propose, is uncontrollably drawn to a handsome American movie star. Meanwhile, a discerning reporter watches from the sidelines with amusement and provides the final corner to this romantic rectangle.

Simone Signoret, Anton Walbrook, and Simone Simon lead a roundelay of French stars in Max Ophuls's delightful, acerbic adaptation of Arthur Schnitzler's controversial turn-of-the-century play "Reigen." Soldiers, chambermaids, poets, prostitutes, aristocrats are all on equal footing in this multi-character merry-go-round of love and infidelity. Directed with a sweeping gaiety as knowingly frivolous as it is enchanting, and shot with Ophuls's trademark mellifluous cinematography.