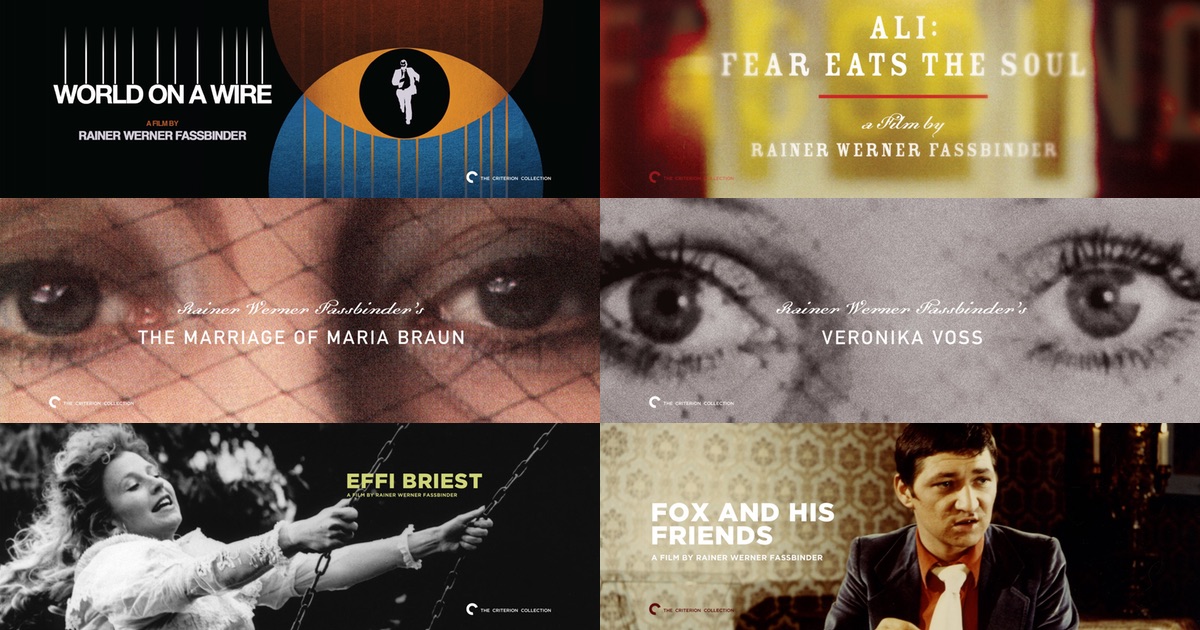 Each week, the fine folks at Fandor add a number of films to their Criterion Picks area, which will then be available to subscribers for the following twelve days. This week, the Criterion Picks focus on eight films from Rainer Werner Fassbinder.
Fall in love with a giant of New German Cinema with a selection of curated highlights from the prolific yet truncated career of iconoclast director Rainer Werner Fassbinder.
Don't have a Fandor subscription? They offer a free trial membership.
---

The wildly prolific German filmmaker Rainer Werner Fassbinder paid homage to his cinematic hero Douglas Sirk with this update of that filmmaker's 1955 ALL THAT HEAVEN ALLOWS. A lonely widow meets a much younger Arab worker in a bar during a rainstorm. They fall in love, to their own surprise, and to the outright shock of their families, colleagues, and drinking buddies. In ALI: FEAR EATS THE SOUL, Fassbinder expertly wields the emotional power of classic Hollywood melodrama to expose the racial tensions underlying contemporary German culture.

The Bitter Tears of Petra von Kant
In the early 1970s, Rainer Werner Fassbinder discovered the American melodramas of Douglas Sirk and was inspired by them to begin working in a new, more intensely emotional register. One of the first and best-loved films of this period in his career is THE BITTER TEARS OF PETRA VON KANT, which balances a realistic depiction of tormented romance with staging that remains true to the director's roots in experimental theater. This unforgettable, unforgiving dissection of the imbalanced relationship between a haughty fashion designer and a beautiful but icy ingenue (based, in a sly gender reversal, on the writer-director's own desperate obsession with a young actor) is a true Fassbinder affair, featuring exquisitely claustrophobic cinematography by Michael Ballhaus and full-throttle performances by an all-female cast.

A young woman is married to a much older man and begins a flirtation with one of his close friends that leads to dire consequence.

Upon winning the lottery, a blue-collar man finds himself very popular with his new lover's friends.

After her husband kills his boss and himself, Mother Kusters becomes drawn into the activities of the German Communist party and then a group of anarchists.

Maria marries Hermann Braun in the last days of World War II, only to have him disappear in the war. Alone, Maria uses her beauty and ambition to prosper in Germany's "economic miracle" of the 1950's. Rainer Werner Fassbinder's biggest international box-office success and the first part of his "postwar trilogy," THE MARRIAGE OF MARIA BRAUN is a heartbreaking study of a woman picking herself up from the ruins of her own life, as well as a pointed metaphorical attack on a society determined to forget its past.

Once-beloved Third Reich-era starlet Veronika Voss lives in obscurity in postwar Munich. Struggling for survival and haunted by past glories, the forgotten star encounters sportswriter Robert Krohn in a rain-swept park and intrigues him with her mysterious beauty. As their unlikely relationship develops, Krohn comes to discover the dark secrets behind the faded actresses' demise. Based on the true story of a World War II UFA star, VERONICA VOSS is wicked satire disguised as 1950s melodrama.

A gloriously paranoid, boundlessly inventive take on the future from German wunderkind Rainer Werner Fassbinder. With dashes of Stanley Kubrick, Kurt Vonnegut, and Philip K. Dick, Fassbinder tells the noir-spiked tale of reluctant hero Fred Stiller, a cybernetics engineer who uncovers a massive corporate conspiracy. At risk? Virtual reality as we know it. Originally made for German television, this recently rediscovered, three-and-a-half-hour labyrinth is a satiric and surreal look at the world of tomorrow from one of cinema's kinkiest geniuses.