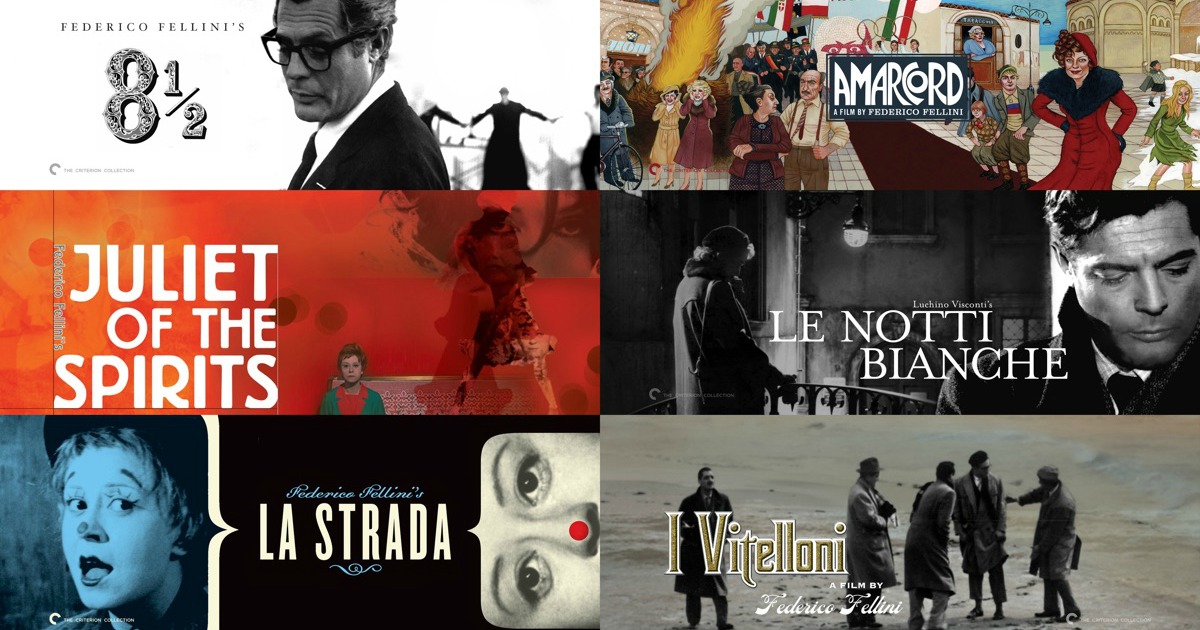 Each week, the fine folks at Fandor add a number of films to their Criterion Picks area, which will then be available to subscribers for the following twelve days. This week, the Criterion Picks focus on seven films featuring the music of Nino Rota.
Celebrate iconic Italian films in a new way: ears first, through the scores composed by this long-time collaborator of Fellini (and many others).
Don't have a Fandor subscription? They offer a free trial membership.
---
Marcello Mastroianni plays Guido Anselmi, a director whose new project is collapsing around him, along with his life. One of the greatest films about film ever made, Federico Fellini turns one man's artistic crisis into a grand epic of the cinema. 
This carnivalesque portrait of provincial Italy during the fascist period, the most personal film from Federico Fellini, satirizes the director's youth and turns daily life into a circus of social rituals, adolescent desires, male fantasies and political subterfuge, all set to Nina Rota's classic, nostalgia-tinged score.
Cinematographer Gianni di Venanzo's masterful use of Technicolor transforms JULIET OF THE SPIRITS, Fellini's first color feature, into a kaleidoscope of dreams, spirits and memories.
Luchino Visconti's LE NOTTI BIANCHE, an exquisite adaptation of Dostoyevsky's "White Nights," translates this romantic, shattering tale of two restless souls into a ravishing black-and-white dream.
What initially seems a carefree tale of friendship soon morphs into a thrilling saga of seduction, identity theft, and murder. Featuring gorgeous location photography of coastal Italy, PURPLE NOON is crafted with a light touch that allows it to be at once suspenseful and erotic, and it gave Delon the role of a lifetime.
With LA STRADA, Fellini left behind the familiar signposts of Italian neorealism for a poetic fable of love and cruelty, evoking brilliant performances and winning the hearts of audiences and critics worldwide.
Federico Fellini's second solo directorial effort (originally released in the U.S. as THE YOUNG AND THE PASSIONATE) is a semi-autobiographical masterpiece of sharply drawn character sketches. I VITELLONI compassionately details a year in the life of a group of small-town layabouts struggling to find meaning in their lives.