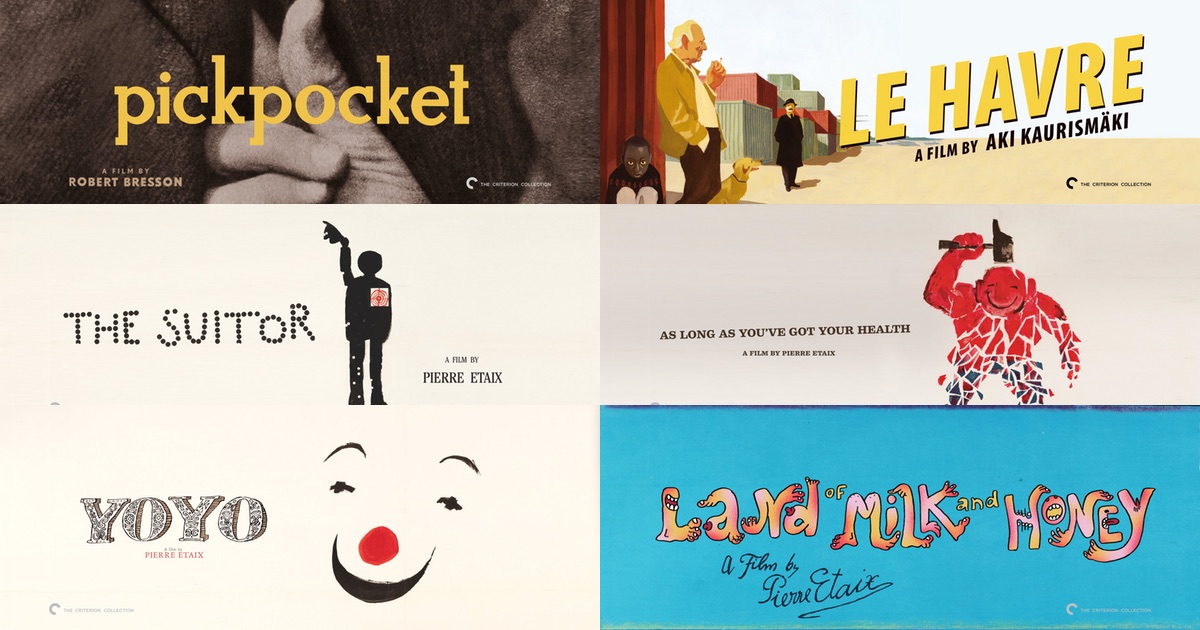 Each week, the fine folks at Fandor add a number of films to their Criterion Picks area, which will then be available to subscribers for the following twelve days. This week, the Criterion Picks focus on the brilliant French comedian: Pierre Étaix.
Now re-discovered and restored after decades suppressed by distribution red-tape, enjoy "greatest hits" from this clever, warm-hearted clown's directorial oeuvre and highlights from his acting career.
If you've never seen any of his films, this is a perfect opportunity watch some of his finest work. Don't have a Fandor subscription? They offer a free trial membership.
Order the Pierre Etaix Blu-ray collection from Amazon, currently only $31.99 (47% off)
---

As Long as You've Got Your Health
In this endlessly diverting compendium of four short films, Pierre Etaix regards the 1960s from his askew but astute perspective. Each part is as technically impressive as it is riotous: a man attempts to read a novel about vampires beside his sleeping wife but cannot seem to separate reality from fiction; a simple afternoon at the movies becomes a consumer-culture assault; a jarringly noisy urban landscape keeps a city's population on edge; and a day in the country means something different to a picnicking city couple, a hunter and a farmer.

Despite having a loving and patient wife at home, a good-natured suit-and-tie man, played by writer-director Pierre Étaix, finds himself hopelessly attracted to his gorgeous new secretary in this gently satirical tale of temptation. From this simple, standard premise, Etaix weaves a constantly surprising web of complexly conceived jokes. LE GRAND AMOUR is a cutting, nearly Luis Buñuelian takedown of the bourgeoisie that somehow doesn't have a mean bone in its body.

In this warmhearted comic yarn from Aki Kaurismäki, fate throws the young African refugee Idrissa into the path of Marcel Marx, a kindly old bohemian who shines shoes for a living in the French harbor city Le Havre. With inborn optimism and the support of his tight-knit community, Marcel stands up to the officials doggedly pursuing the boy for deportation. A political fairy tale that exists somewhere between the reality of contemporary France and the classic French cinema of the past, LE HAVRE is a charming, deadpan delight and one of the Finnish director's finest films.

Pierre Etaix's most radical film, and perhaps unsurprisingly the one that effectively ended his career in cinema, LAND OF MILK AND HONEY is a fascinating investigative documentary about post-May '68 French society. In it, Etaix trains his discerning eye on idle summer vacationers, but the film has bigger fish to fry, asking pertinent questions about the sexualization of culture, class and gender inequality, media and advertising and even architecture.

This incomparable story of crime and redemption from the French master Robert Bresson follows Michel, a young pickpocket who spends his days working the streets, subway cars, and train stations of Paris. As his compulsive pursuit of the thrill of stealing grows, however, so does his fear that his luck is about to run out. A cornerstone of the career of this most economical and profoundly spiritual of filmmakers, PICKPOCKET is an elegantly crafted, tautly choreographed study of humanity in all its mischief and grace, the work of a director at the height of his powers.
Pierre Étaix's first feature introduces the droll humor and oddball charm of its unique writer-director-star. As a tribute to Buster Keaton, Étaix fashioned this lovable story of a privileged yet sheltered young man (played by Étaix himself, in a nearly silent performance) who, under pressure from his parents, sets out to find a young woman to marry, though he has a hard time tearing his mind away from the famous singer whose face decorates the walls of his bedroom.

This elaborately conceived and brilliantly mounted comedy is Pierre Etaix's most beloved movie, as well as his personal favorite. Beginning as a clever homage to silent film, complete with intertitles, YOYO blossoms into a poignant family saga (in which Etaix plays both a father and his grown son) and a celebration of the circus Etaix adored. Chock-full of nimble sight gags and ingenious sound effects, YOYO is very sweet, a little bit melancholy, and wholly imaginative.
---
The Pierre Etaix films will be available on Fandor for the next twelve days. These films will be featured on Criterion's Hulu channel on Friday, September 18th.