Each month, the programmers at the Criterion Channel produce incredible line-ups for their subscribers. For November, the Channel will feature films from Barbra Streisand, Terrence Malick, Julie Dash, Margarethe von Trotta, and more!
Below you'll find the programming schedule for the month, along with a complete list of titles that Criterion has in store for us. Don't forget to check the Criterion Channel's main page regularly though, as they occasionally will drop surprises that aren't included in the official press release.
Don't subscribe yet? Start a 14-day free trial
Tuesday, December 1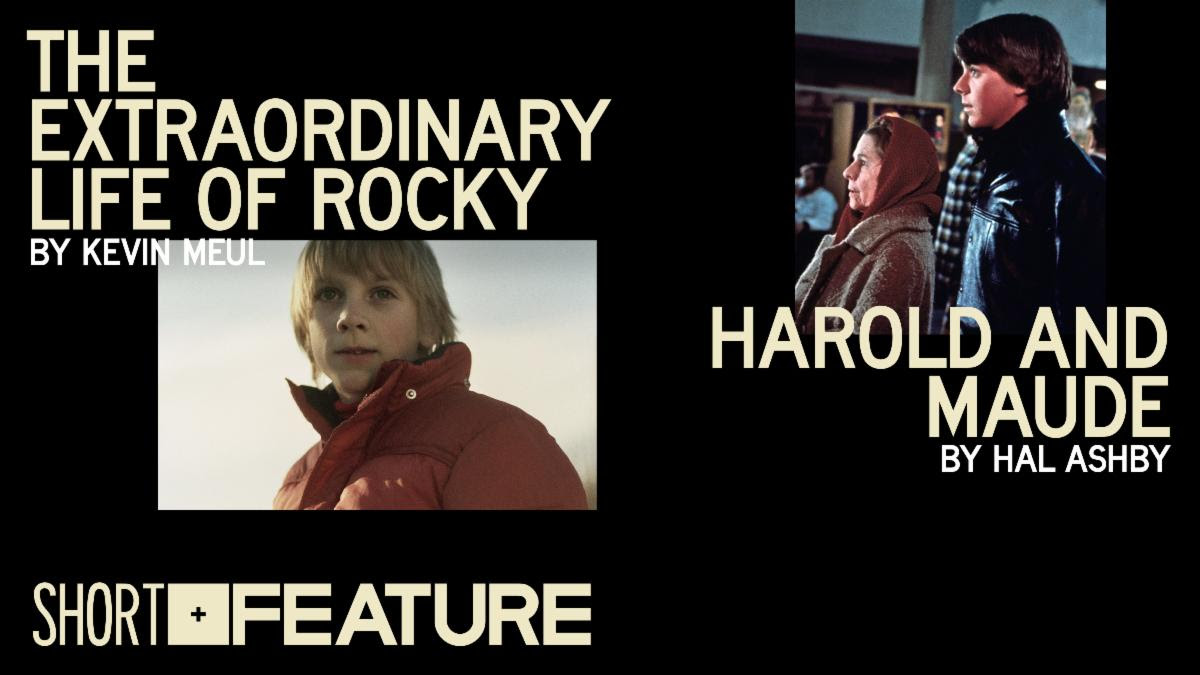 Short + Feature: Die Laughing
The Extraordinary Life of Rocky and Harold and Maude
Two deliciously dark coming-of-age comedies tackle the ultimate taboo—death—with wicked humor. First, don't get too close to the subject of Kevin Meul's deadpan short The Extraordinary Life of Rocky, a most unfortunate young man who finds that everyone he loves meets a grisly end. It's an appropriately macabre companion to Hal Ashby's counterculture classic Harold and Maude, in which a chance encounter (at a funeral, naturally) leads to a surprising relationship between a suicide-obsessed teenager and a bohemian septuagenarian.
Tuesday, December 1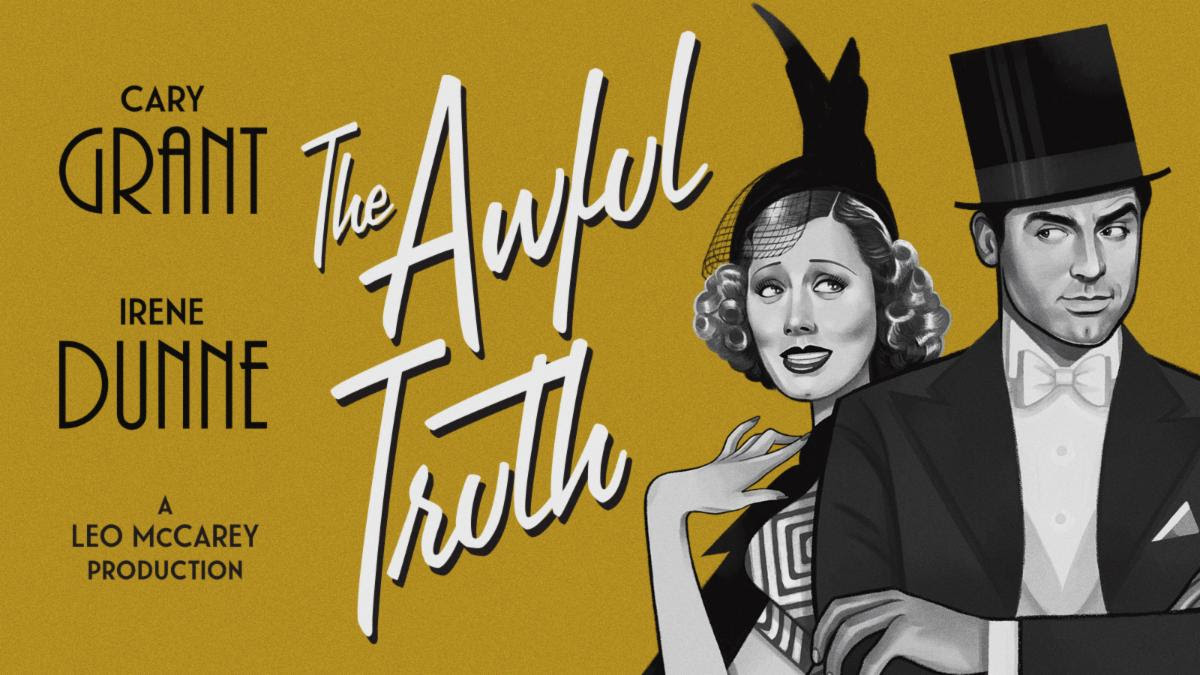 The Awful Truth: Criterion Collection Edition #917
In this Oscar-winning farce, Cary Grant (in the role that first defined the Cary Grant persona) and Irene Dunne exude charm, cunning, and artless affection as an urbane couple who, fed up with each other's infidelities, resolve to file for divorce. But try as they might to move on, the mischievous Jerry can't help meddling in Lucy's ill-matched engagement to a corn-fed Oklahoma businessman (Ralph Bellamy), and a mortified Lucy begins to realize that she may be saying goodbye to the only dance partner capable of following her lead. Directed by the versatile Leo McCarey, a master of improvisation and slapstick as well as a keen and sympathetic observer of human folly, The Awful Truth is a warm but unsparing comedy about two people whose flaws only make them more irresistible. SUPPLEMENTAL FEATURES: An interview with critic Gary Giddins, a video essay by David Cairns on Cary Grant's performance, an illustrated audio interview with Irene Dunne, and a Lux Radio Theatre adaptation of the film starring Grant and Claudette Colbert.
Wednesday, December 2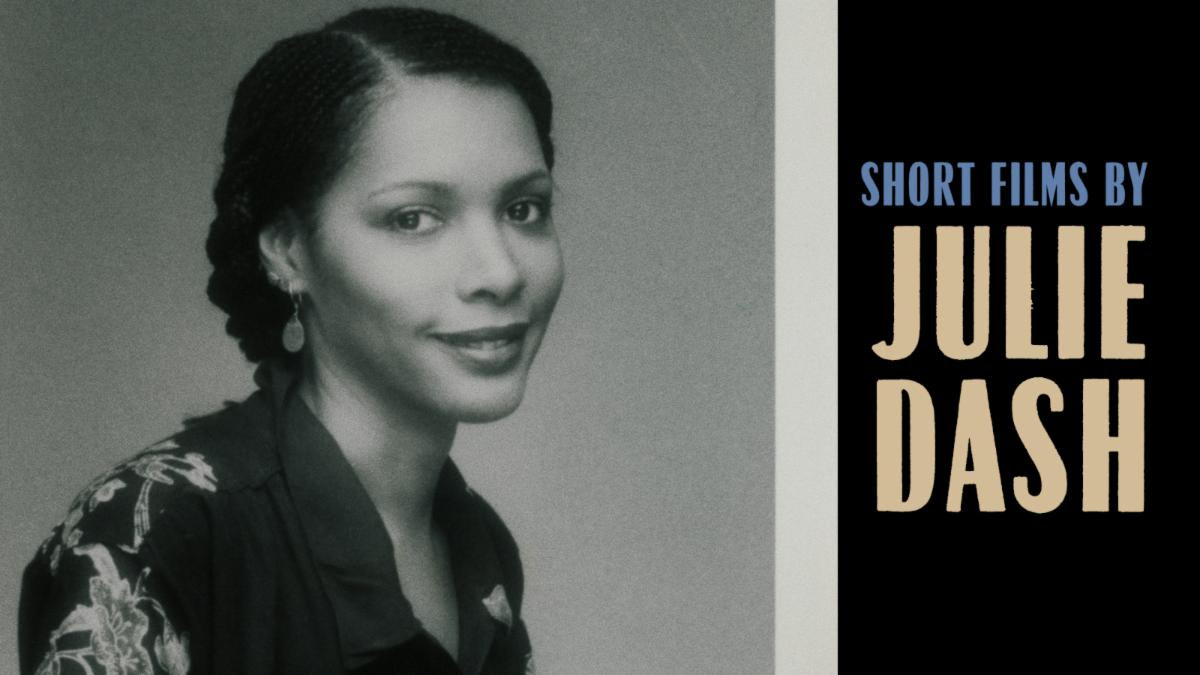 Short Films by Julie Dash
Featuring The Cinematic Jazz of Julie Dash, a 1992 interview program
One of the leaders of the now legendary LA Rebellion movement that rumbled forth from the UCLA Film School in the 1970s, Julie Dash became the first Black American woman to have a feature widely released with her stunning, dreamlike Daughters of the Dust. Made between 1975 and 2016, these five remarkable short films—including Illusions, her landmark look at Hollywood's racial deceptions—encompass a variety of modes including narrative, dance, and performance. Each is a testament to Dash's visionary artistry and unique ability to give poetic visual expression to the creative, cultural, spiritual, and historical dimensions of Black womanhood.
Four Women, 1975
Diary of an African Nun, 1977
Illusions, 1982
Praise House, 1991
Standing at the Scratch Line, 2016
Thursday, December 3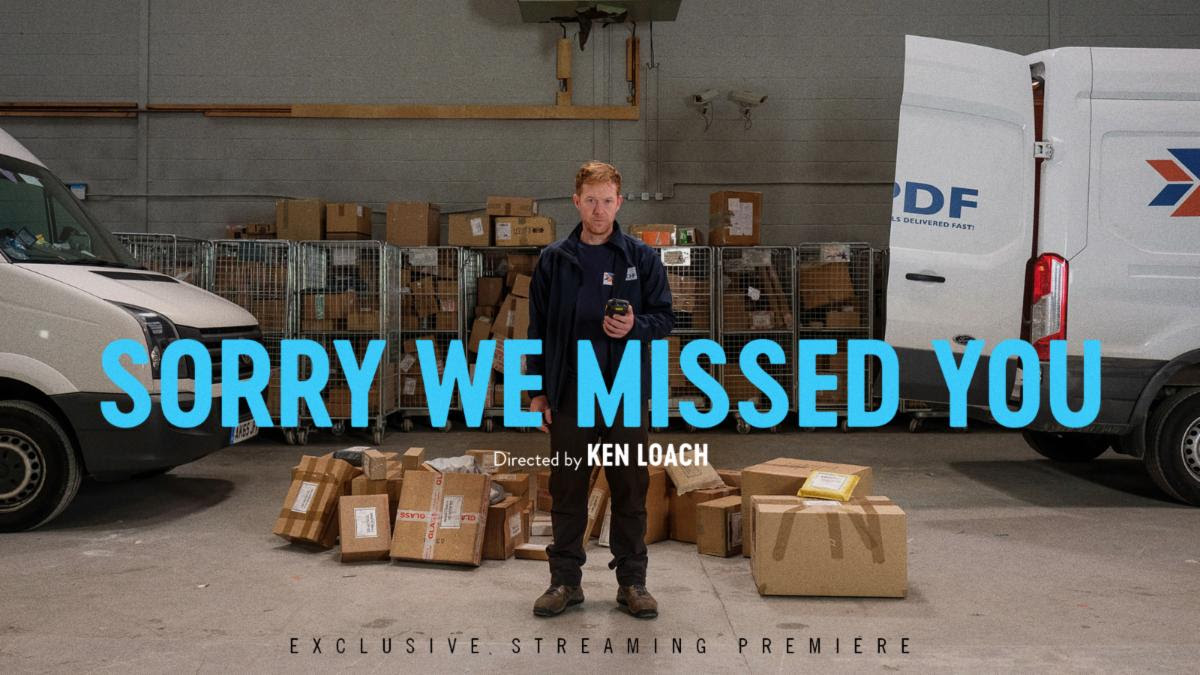 Sorry We Missed You
Exclusive streaming premiere
Humanist master Ken Loach turns his empathetic eye once again to the experiences of the British working class in this wrenching family drama that exposes the dark side of the gig economy. Having lost their home in the 2008 financial crash, Ricky (Kris Hitchen), a former laborer, and his home-attendant wife, Abby (Debbie Honeywood), are desperate to find their way out from their financial distress. When an opportunity arises for Ricky to work as his own boss as a delivery driver, they trade in their only asset, Abby's car, for a shiny new van and the dream that Ricky can work his way up to someday owning his own delivery franchise. But the hope of financial autonomy soon reveals itself to be an illusion as an unrelenting schedule, a ruthless supervisor, and the needs of their two teenage children only push the couple further toward the edge.
Thursday, December 3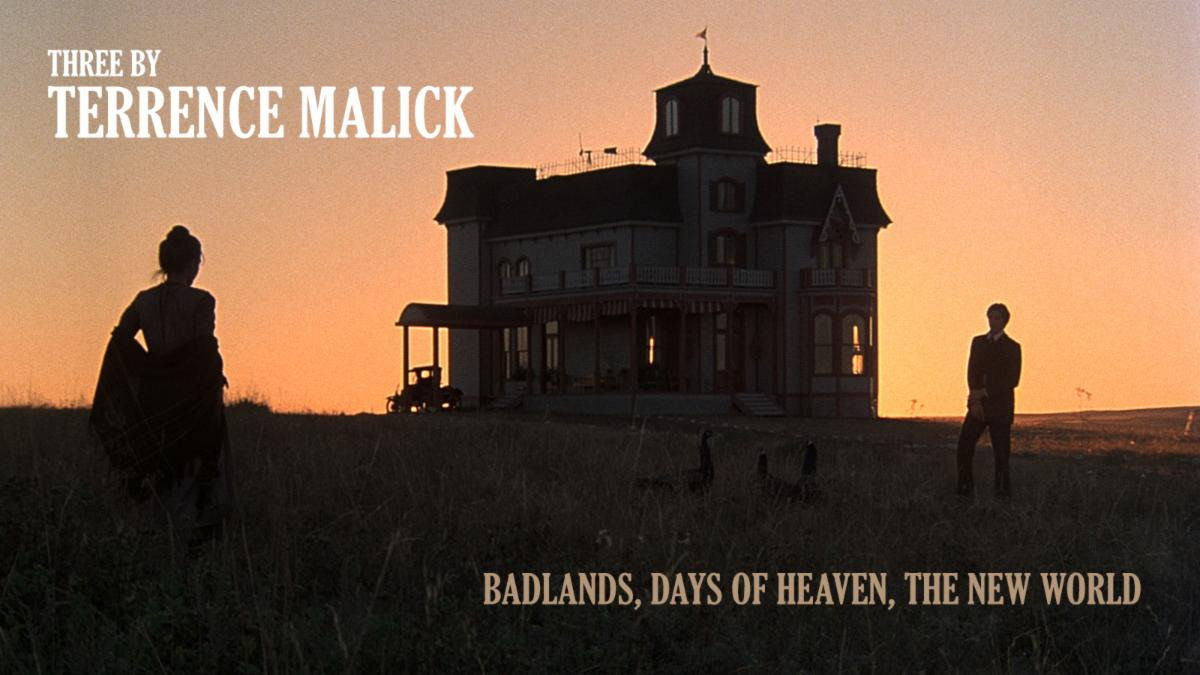 Three by Terrence Malick
Featuring interviews with actors Richard Gere, Sissy Spacek, and Martin Sheen; production designer Jack Fisk; costume designer Jacqueline West; cinematographers Haskell Wexler and John Bailey; and more
The cosmic rhapsodies of Terrence Malick are spoken of with a hushed reverence. Each of these rarefied masterpieces ruminates profoundly on the connection between humanity and the natural world, seeking out transcendence in the landscapes of America's past. This trio of touchstone works—his sublime lovers-on-the-run debut Badlands, golden-hour reverie Days of Heaven, and mesmerizing historical epic The New World—are to be savored for their senses-ravishing imagery and rich philosophical resonance.
Badlands, 1973
Days of Heaven, 1978
The New World, 2005
Friday, December 4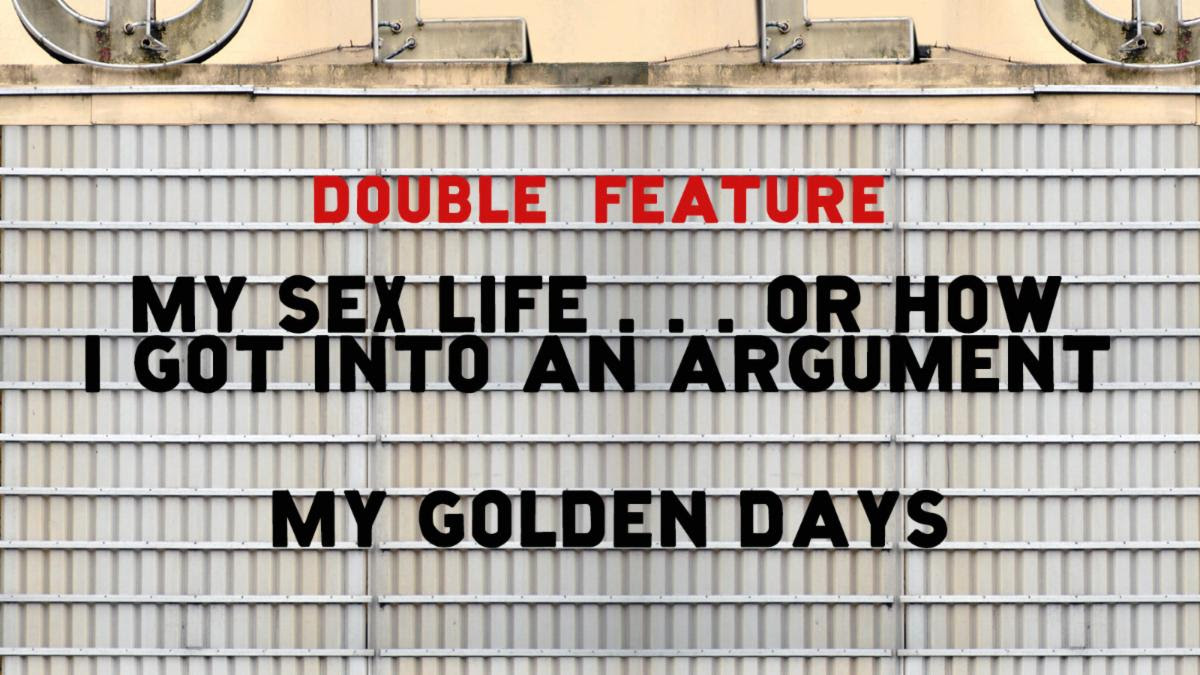 Double Feature: The Adventures of Paul Dedalus
My Sex Life … or How I Got into an Argument and My Golden Days
French-cinema titan Arnaud Desplechin casts Mathieu Amalric as his on-screen alter ego in two rich, absorbingly novelistic explorations of love, sex, and growing up at different stages of life. Desplechin first made a splash with the sprawling My Sex Life … or How I Got into an Argument, in which the self-absorbed academic Paul Dedalus navigates romantic and career crises as he approaches thirty. Nearly twenty years later, the director and star revisited the character in the emotionally layered coming-of-age tale My Golden Days, in which a now middle-aged Dedalus reflects upon his youth and first experiences of love.
Friday, December 4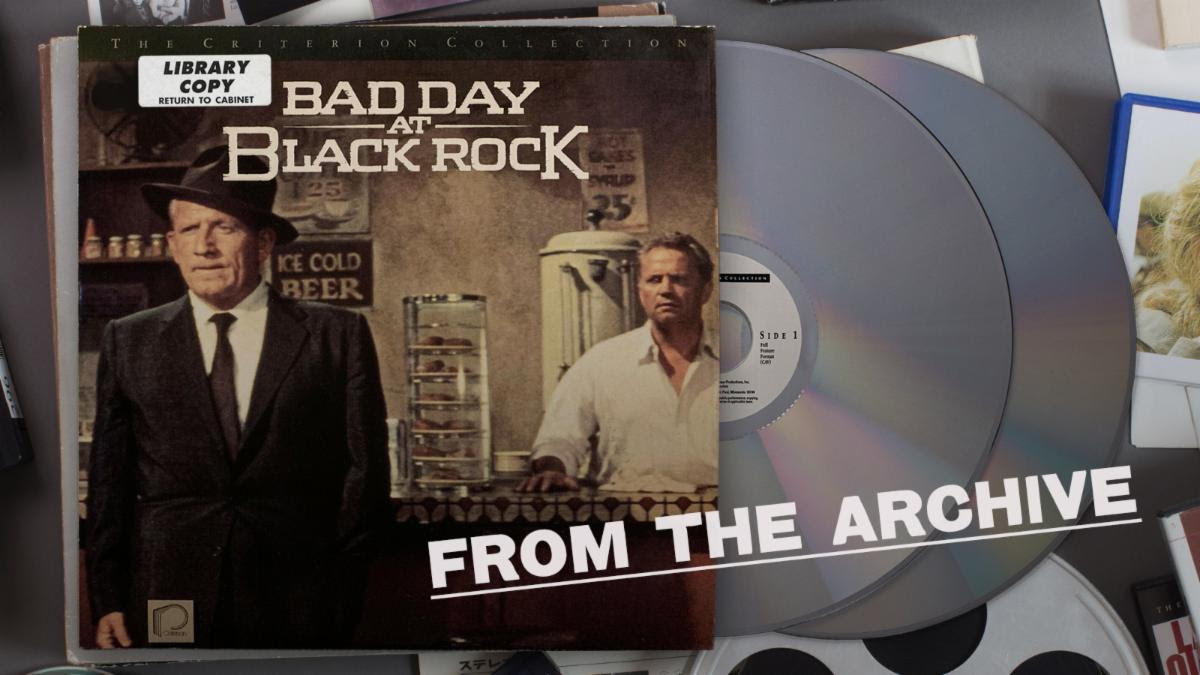 From the Archive: Bad Day at Black Rock
Featuring the original John Sturges commentary from Criterion's 1991 laserdisc edition
Ace genre craftsman John Sturges directs Spencer Tracy and Robert Ryan in this taut western noir. Tracy is the one-armed war veteran John J. Macreedy, who arrives in the remote desert outpost of Black Rock in search of a Japanese American man. As the mysterious Macreedy's presence in the town stirs up hostility and suspicion among the locals, he becomes increasingly convinced that they may be covering up a dark secret. The striking CinemaScope compositions, expertly handled action (witness Tracy's karate technique), and impassioned antiracist message come together in one of the finest and most morally courageous thrillers of the 1950s.
Saturday, December 5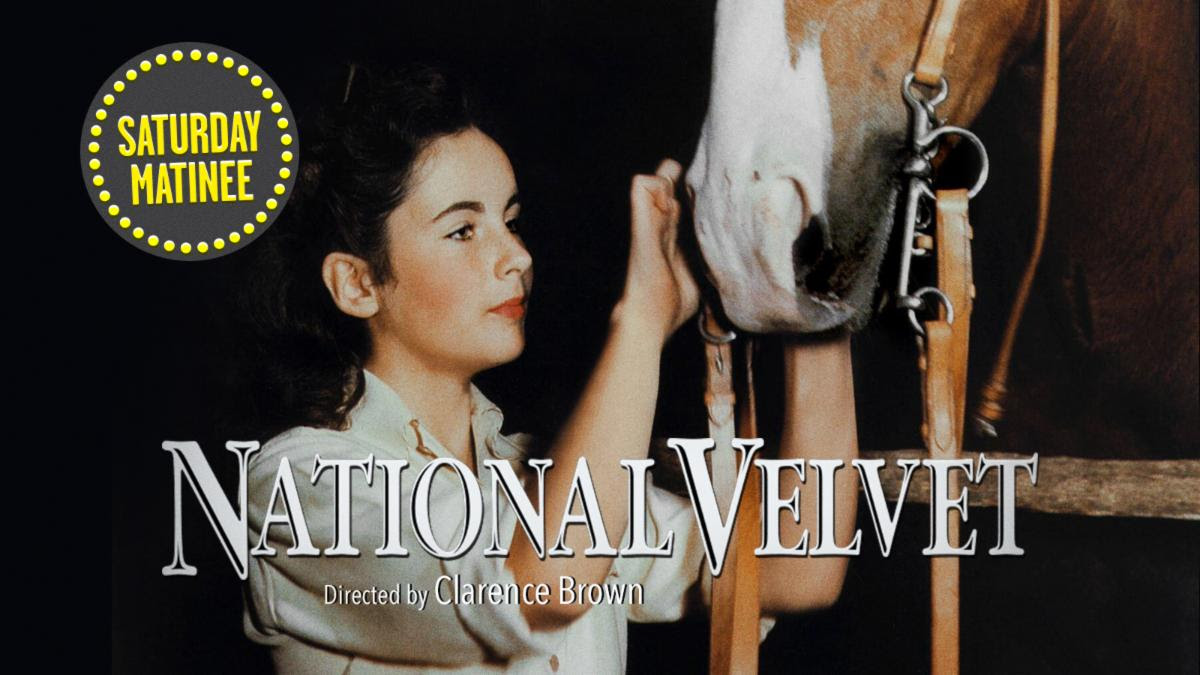 Saturday Matinee: National Velvet
A twelve-year-old Elizabeth Taylor delivers a star-is-born performance in one of the most beloved films ever made about the bond between children and animals. She is the equine-obsessed Velvet Brown, who, after she wins a spirited steed in a raffle, works alongside a headstrong jockey (Mickey Rooney) to turn the "unbreakable" horse into a champion. The heavenly Technicolor cinematography adds to the nostalgic glow of this enduring family favorite.
Sunday, December 6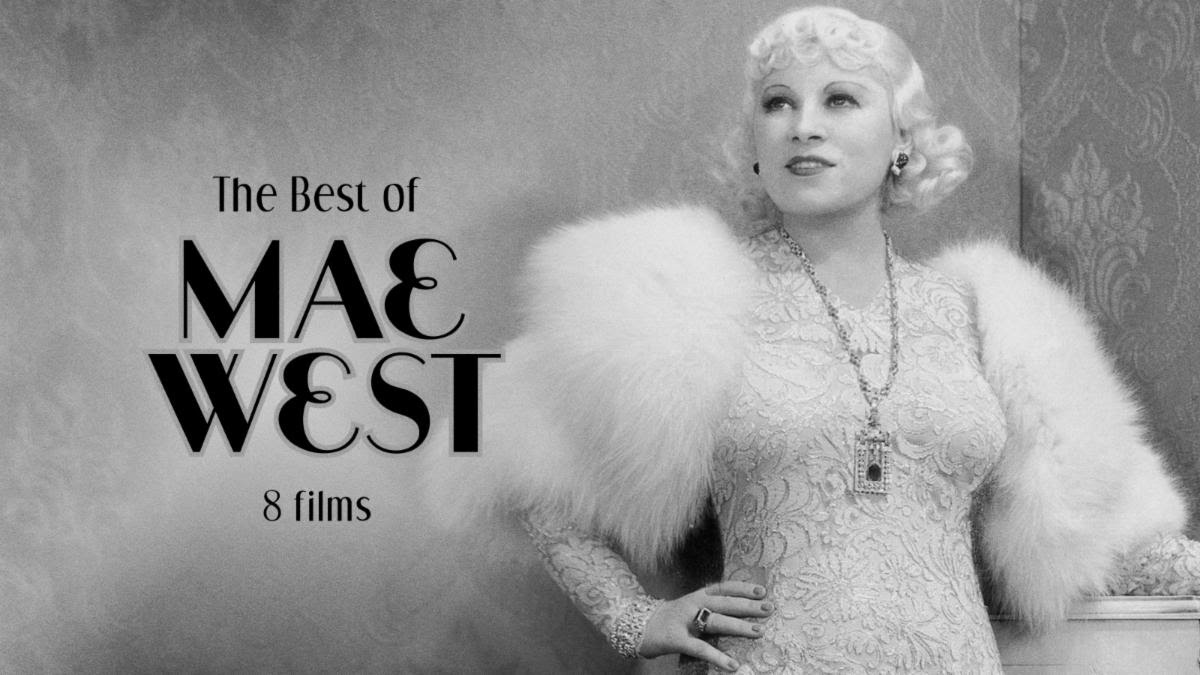 The Best of Mae West
Queen of the risqué double entendre Mae West said it best herself: "When I'm good, I'm very good. But when I'm bad, I'm better." The singular performer, playwright, sex symbol, and all-around star had brass and brilliance to burn in her ascent from vaudeville vamp to scandal-inciting Broadway sensation to Hollywood's biggest box-office draw of the early 1930s, when she kept censors on their toes with her bawdy one-liners and liberated approach to sexuality in pre-Code jaw-droppers like She Done Him Wrong (the success of which almost singlehandedly saved Paramount from bankruptcy) and I'm No Angel. An icon of emancipated womanhood, West always more than held her own in a man's world, both on- and off-screen—she wrote or cowrote every screenplay featured here.
She Done Him Wrong, Lowell Sherman, 1933
I'm No Angel, Wesley Ruggles, 1933
Belle of the Nineties, Leo McCarey, 1934
Goin' to Town, Alexander Hall, 1935
Klondike Annie, Raoul Walsh, 1936
Go West Young Man, Henry Hathaway, 1936
Every Day's a Holiday, A. Edward Sutherland, 1937
My Little Chickadee, Edward F. Cline, 1940
Monday, December 7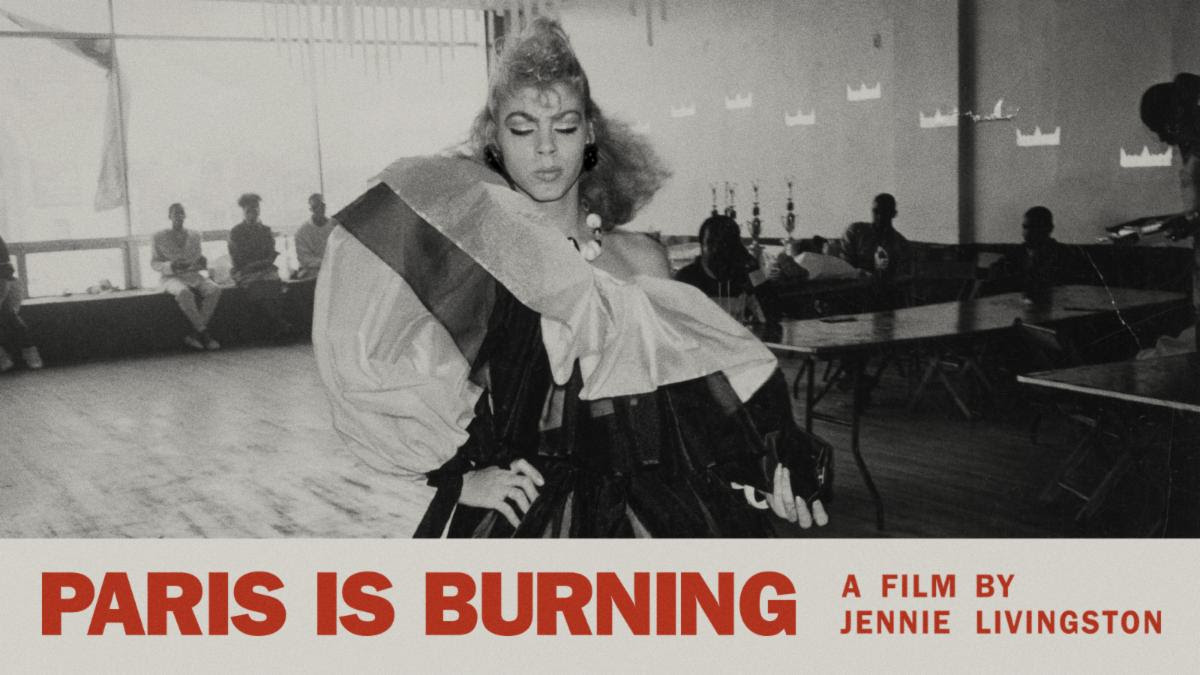 Paris Is Burning: Criterion Collection Edition #1018
Where does voguing come from, and what, exactly, is throwing shade? This landmark documentary provides a vibrant snapshot of the 1980s through the eyes of New York City's African American and Latinx Harlem drag-ball scene. Made over seven years, Paris Is Burning offers an intimate portrait of rival fashion "houses," from fierce contests for trophies to house mothers offering sustenance in a world rampant with homophobia, transphobia, racism, AIDS, and poverty. Featuring legendary voguers, drag queens, and trans women—including Willi Ninja, Pepper LaBeija, Dorian Corey, and Venus Xtravaganza—Paris Is Burning brings it, celebrating the joy of movement, the force of eloquence, and the draw of community. SUPPLEMENTAL FEATURES: A conversation between director Jennie Livingston, ball community members Sol Pendavis and Freddie Pendavis, and filmmaker Thomas Allen Harris; over an hour of never-before-seen outtakes; audio commentary featuring Livingston, ball community members Freddie Pendavis and Willi Ninja, and film editor Jonathan Oppenheim; and more.
Monday, December 7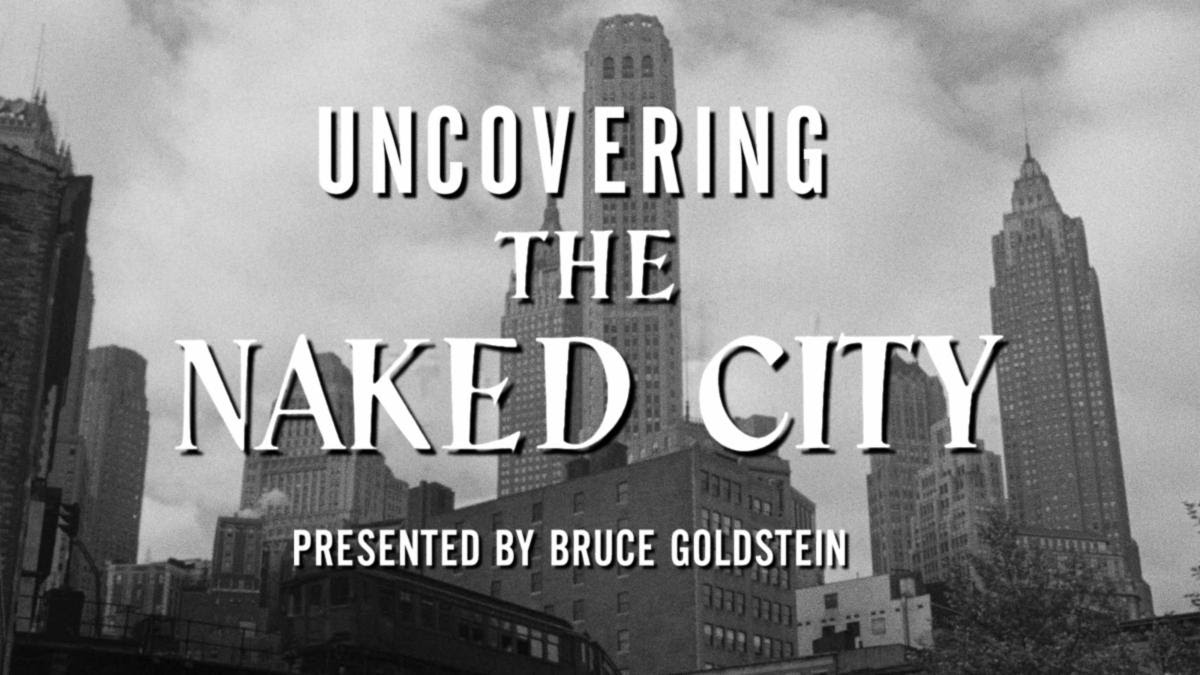 Uncovering "The Naked City"
In this original short documentary and personal essay, Bruce Goldstein, founder of Rialto Pictures and repertory director at New York's FIlm Forum, tracks down many of the 100+ New York City locations—from the Bronx to the Lower East Side—used in his friend Jules Dassin's classic police procedural The Naked City, while also spotlighting the contributions of producer Mark Hellinger and cinematographer William Daniels.
Tuesday, December 8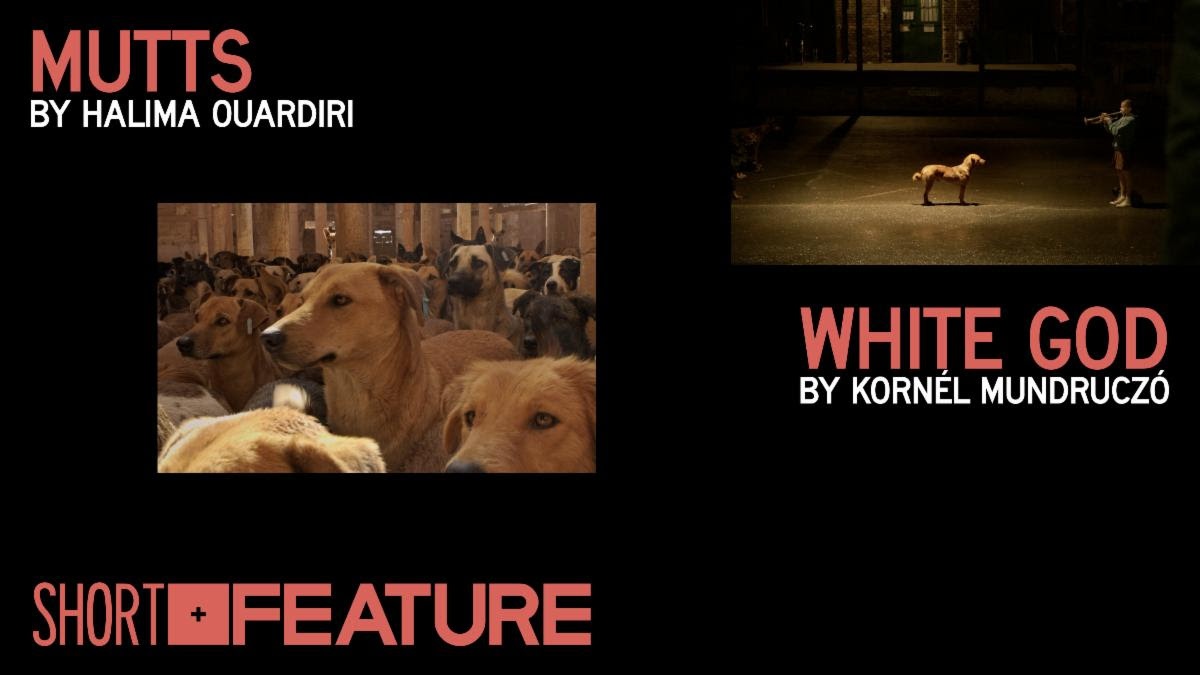 Short + Feature: Release the Hounds
Mutts and White God
The dogs have their day in two totally unleashed visions of canine chaos that double as searing political allegories. Halima Ouardiri's short Mutts is a visceral immersion into an enormous dog shelter in Morocco, home to some 750 strays, that draws subtle but powerful parallels with the plight of refugees. Then, 250 pooches (all real—no CGI trickery here!) are let loose onto the streets of Budapest in Kornél Mundruczó's audacious animal revenge thriller White Dog, in which abandoned mutts rise up in revolt against their human abusers.
Wednesday, December 9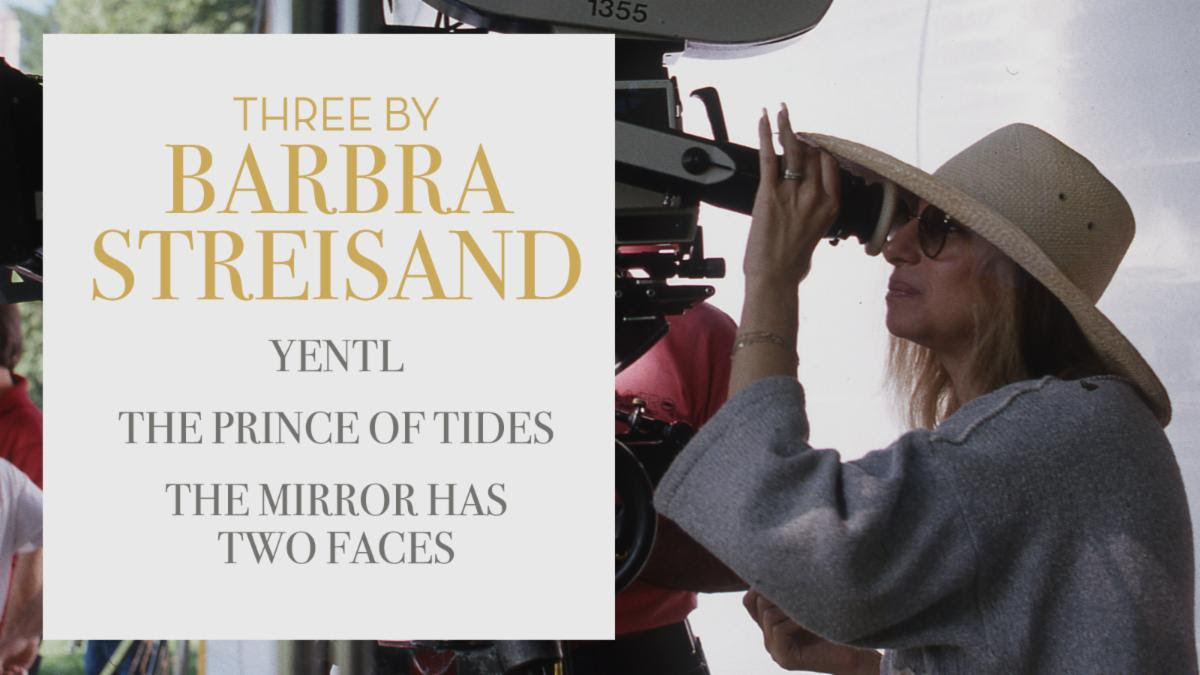 Three by Barbra Streisand
Featuring a new interview with Streisand
There are legends … and then there is Barbra Streisand. A trailblazing triple threat, Streisand not only left her mark on the countless films she starred in, she has also directed and produced three acclaimed features, all of which she produced as well. It took fifteen years to bring her passion project, the acclaimed musical Yentl, to the screen, with Streisand cowriting the screenplay as well as producing, directing, and starring. The film garnered five Academy Award nominations and one win, for best music/original song score—and Streisand took home the Golden Globe for best director, the only woman to do so to this day (Yentl also won the Golden Globe for best picture – musical or comedy). More accolades followed for her second feature, The Prince of Tides, which was nominated for a whopping seven Academy Awards, and which netted Nick Nolte a Golden Globe for best actor. For the unconventional romantic comedy The Mirror Has Two Faces, she assembled a formidable cast led by Jeff Bridges, Pierce Brosnan, and Lauren Bacall, with Bacall winning the Golden Globe and SAG Award for best supporting actress. The three films Streisand directed garnered fourteen Academy Award nominations, and are sensational showcases for the larger-than-life talents of an icon who shines both in front of and behind the camera.
Yentl, 1983
The Prince of Tides, 1991
The Mirror Has Two Faces, 1996
Thursday, December 10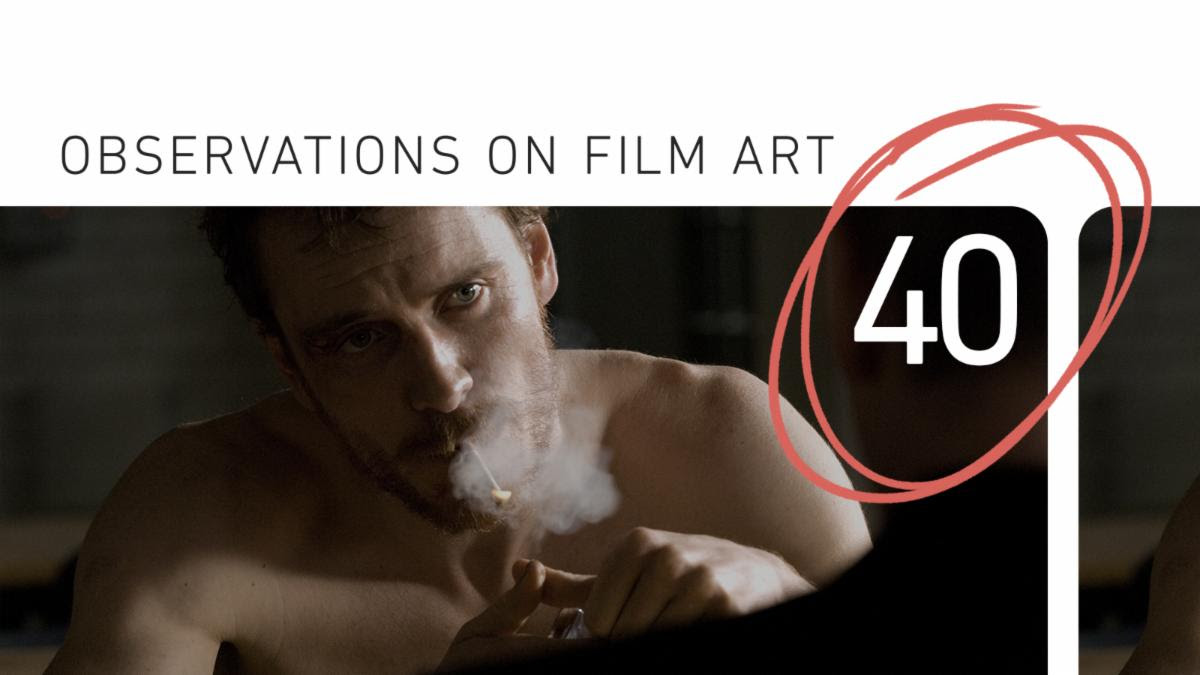 Observations on Film Art #40: Telling Details in Hunger
In his stunning feature debut, Steve McQueen (Small Axe, 12 Years a Slave) used minimal dialogue and vivid imagery to tell the harrowing true story of Irish Republican Army member and political prisoner Bobby Sands's hunger strike against the British state. In this edition of Observations on Film Art, Professor Kristin Thompson explores how McQueen's background as a sculptor and installation artist informed his uniquely tactile approach to storytelling and how he uses an accumulation of seemingly small, often elusive visual details—a fly, a snowflake, a brush, an ashtray, a feather—to create a visceral experience that "speaks" more fully through its images than it does through words.
Friday, December 11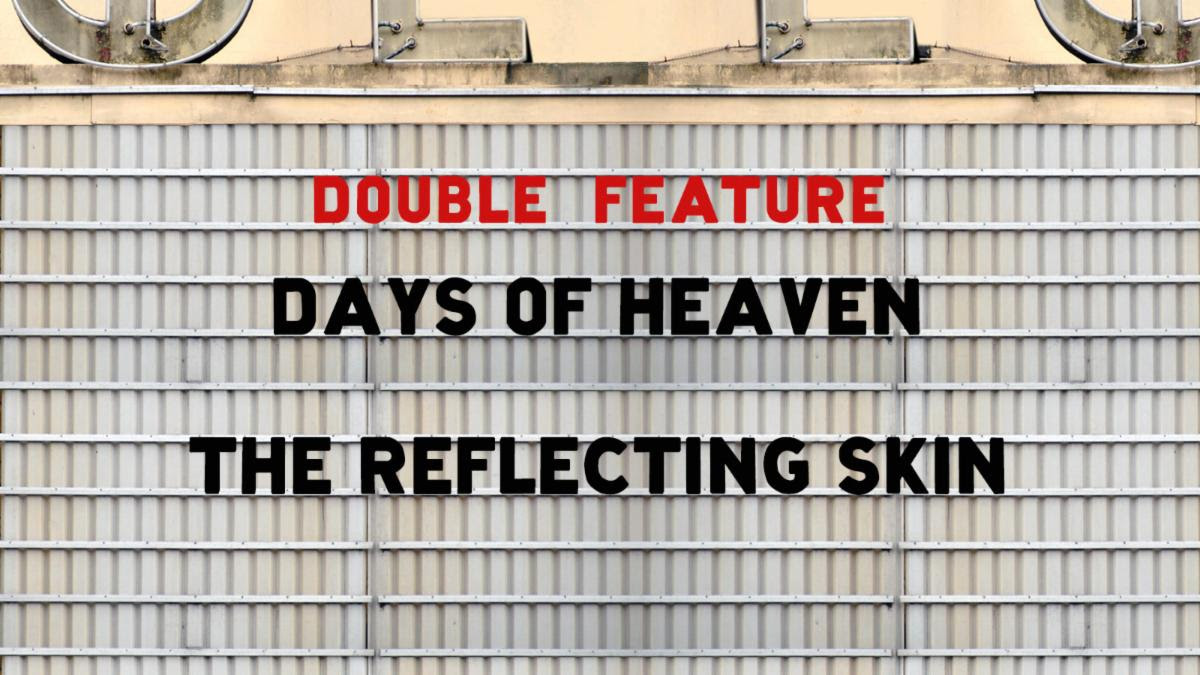 Double Feature: Against the Grain
Days of Heaven and The Reflecting Skin
Magic hour meets black magic in two visually stunning slices of Americana set amid rippling wheat fields and bathed in sunset's golden glow. One of the most gorgeous films ever made, Terrence Malick's Days of Heaven pushes the story of a turn-of-the-century romantic tragedy into the realm of the sublime, thanks to the rapturous cinematography of Nestor Almendros. Its dreamy, Hopperesque aesthetic is unsettlingly mirrored in Philip Ridley's surreal cult classic The Reflecting Skin, which blends horror and wicked humor into a singularly strange and arresting vampire tale.
Saturday, December 12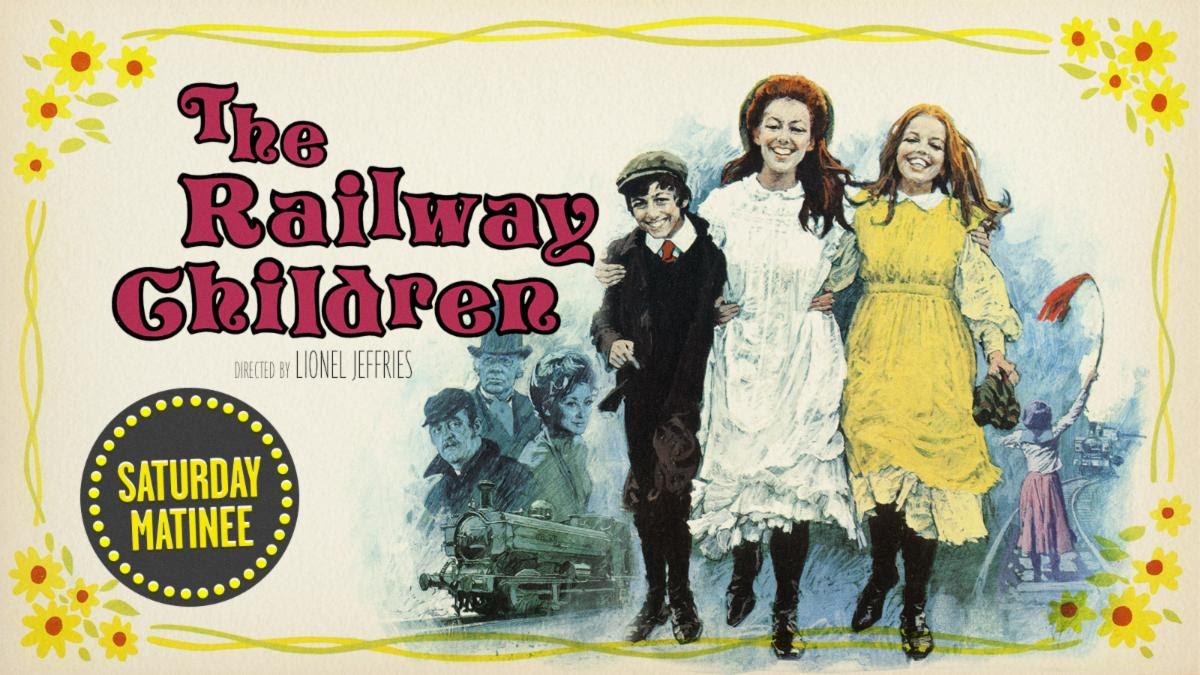 Saturday Matinee: The Railway Children
Bursting with turn-of-the-century English charm, this beloved adaptation of the classic novel by Edith Nesbit has been a favorite of British children for five decades. Directed with consummate taste by Lionel Jeffries, The Railway Children stars Jenny Agutter (of Walkabout fame) as one of three children in a wealthy family whose lives change dramatically when their father is disgraced and they must move from London to a Yorkshire cottage near a railway station. A series of memorable episodes—birthday parties, childhood adventures, family reunions—are captured with a glowing sincerity and poignant sense of nostalgia.
Sunday, December 13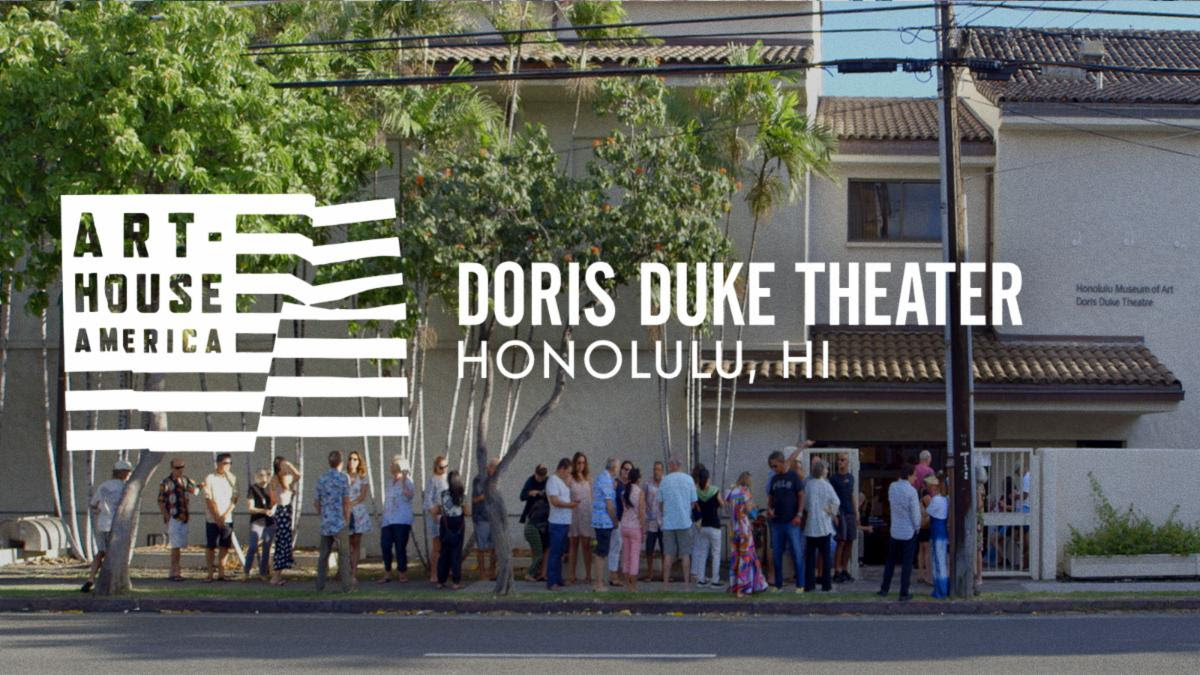 Art-House America: The Doris Duke
Located in the heart of Honolulu, Hawaii, the Doris Duke Theatre began operating out of the Honolulu Museum of Art in 1977 and has become a fixture of Hawaiian film culture. Through their annual Surf Film Festival and series that highlight the perspectives of Hawaii's Native, Asian, and Black communities, the Doris Duke has dedicated itself to championing films that reflect the diversity, complexity, and cultural richness of the island, challenging longstanding cinematic depictions of Hawaii as an exoticized paradise. The theater's commitment to showcasing homegrown stories and amplifying marginalized voices is on display in the Hawaiian-focused lineup of films they have selected.

From programmer Taylour Chang: "Tourism and Hollywood have shaped the perception of Hawai'i as a paradise destination since the early twentieth century. A rising tide of Native Hawaiian and Hawai'i-based filmmakers challenge those colonial stereotypes and present a worldview of Hawai'i that is rooted in the land and its people. This slate is a snapshot of a genealogy of filmmakers who express Hawai'i's spirit and resilience. Pioneers like Victoria Keith (The Sand Island Story) and Nā Maka o ka 'Āina (Mauna Kea: Temple Under Siege) captured an awakening of Native Hawaiian political consciousness and set a foundation for current generations—from Ty Sanga (Stones), who inspired a wave of Native Hawaiian filmmakers to embrace narrative fiction, to talents like Ciara Lacy (Out of State). These storytellers, among many others, provoke an innovative understanding of a Hawai'i-specific visual language."
Features
Mauna Kea: Temple Under Siege, Joan Lander and Puhipau, 2005
Out of State, Ciara Lacy, 2017
August at Akiko's, Christopher Makoto Yogi, 2018
Shorts
The Sand Island Story, Victoria Keith, 1981
Stones, Ty Sanga, 2009
Like a Mighty Wave, Michael Inouye, 2019
Kapaemahu, Hinaleimoana Wong-Kalu, Dean Hamer, and Joe Wilson, 2020
Standing Above the Clouds, Jalena Keane-Lee, 2020
Monday, December 14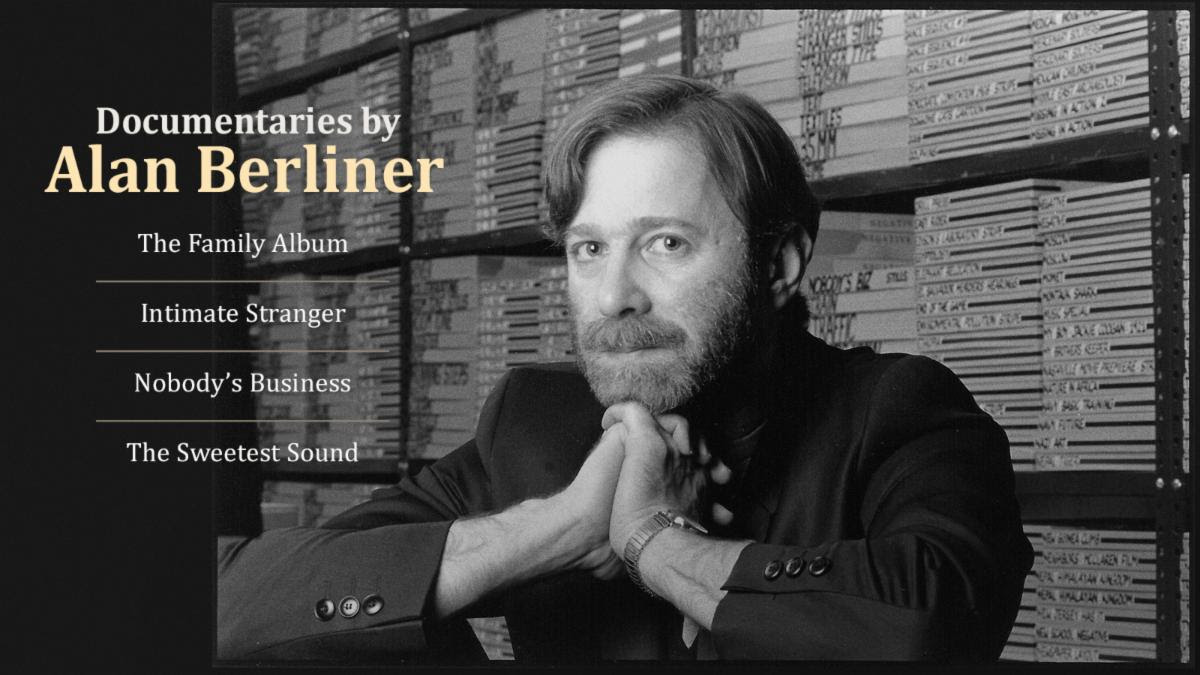 Documentaries by Alan Berliner
With a rare genius for rendering the personal universal, Alan Berliner has quietly established himself as one of the premier film essayists of our time. Drawing his subjects from his immediate life—his grandfather in Intimate Stranger, his father in Nobody's Business, and his own name in The Sweetest Sound—he excavates the mysteries and mythologies embedded within family histories, using found footage, photographs, voice-over, interviews, and ephemera to construct intricate cinematic collages that are revealing, humorous, wise, and totally unique.
The Family Album, 1988
Intimate Stranger, 1991
Nobody's Business, 1996
The Sweetest Sound, 2001
Tuesday, December 15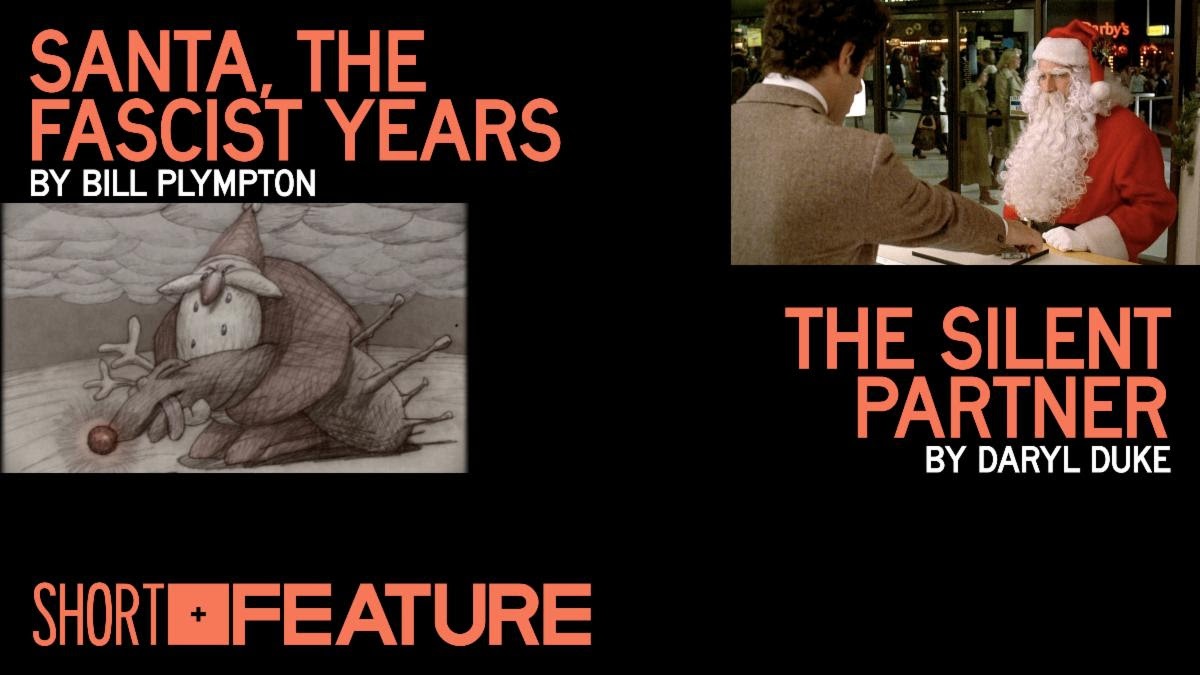 Short + Feature: Bad Santas
Santa, the Fascist Years and The Silent Partner
Jolly old St. Nick goes rogue in two dark tales that will leave you wondering: what evil lurks behind that snow-white beard and red cap? First, underground-animation legend Bill Plympton reveals the untold story of Kris Kringle's disturbing flirtation with authoritarianism in the black-comic alternate history Santa, the Fascist Years. Then, mild-mannered bank teller Elliott Gould finds himself drawn into a dangerous game of cat and mouse with Christopher Plummer's psychotic shopping-mall Santa in the 1978 heist thriller The Silent Partner, a Hitchcockian tour de force of nerve-twisting tension that features an early appearance by John Candy and an unforgettable bit of grisly business with a fish tank.
Wednesday, December 16
Films by Marie Losier
Featuring a new interview with the filmmaker
New York City–based French filmmaker Marie Losier captures the freewheeling energy of the avant-garde underground through her playful, lovingly handmade 16 mm portraits of boundary-pushing musicians, artists, and performers. Her acclaimed feature documentaries The Ballad of Genesis and Lady Jaye, about the gender-bending journey of industrial-music pioneer Genesis Breyer P-Orridge, and Cassandro, the Exotico!, an intimate snapshot of a drag-queen luchador, reflect Losier's ability to achieve an almost symbiotic creative rapport with her larger-than-life subjects. They are presented alongside a selection of the filmmaker's exuberantly inventive experimental shorts, which feature such counterculture luminaries as George Kuchar, Guy Maddin, Alan Vega, and Tony Conrad.
Features
The Ballad of Genesis and Lady Jaye, 2011
Cassandro, the Exotico!, 2018
Shorts
The Passion of Joan Arc, 2002
The Touch Retouched, 2002
Bird, Bath and Beyond, 2003
Electrocute Your Stars, 2004
Eat My Makeup!, 2005
The Ontological Cowboy, 2005
Flying Saucey!, 2006
Manuelle Labor, 2007
Tony Conrad, DreaMinimalist, 2008
Papal Broken-Dance, 2009
Cet Air La, 2010
Byun, objet trouvé, 2012
Alan Vega: Just a Million Dreams, 2013
Bim, Bam, Boom, Las Luchas Morenas, 2014
Draw Me Now, 2018
Thursday, December 17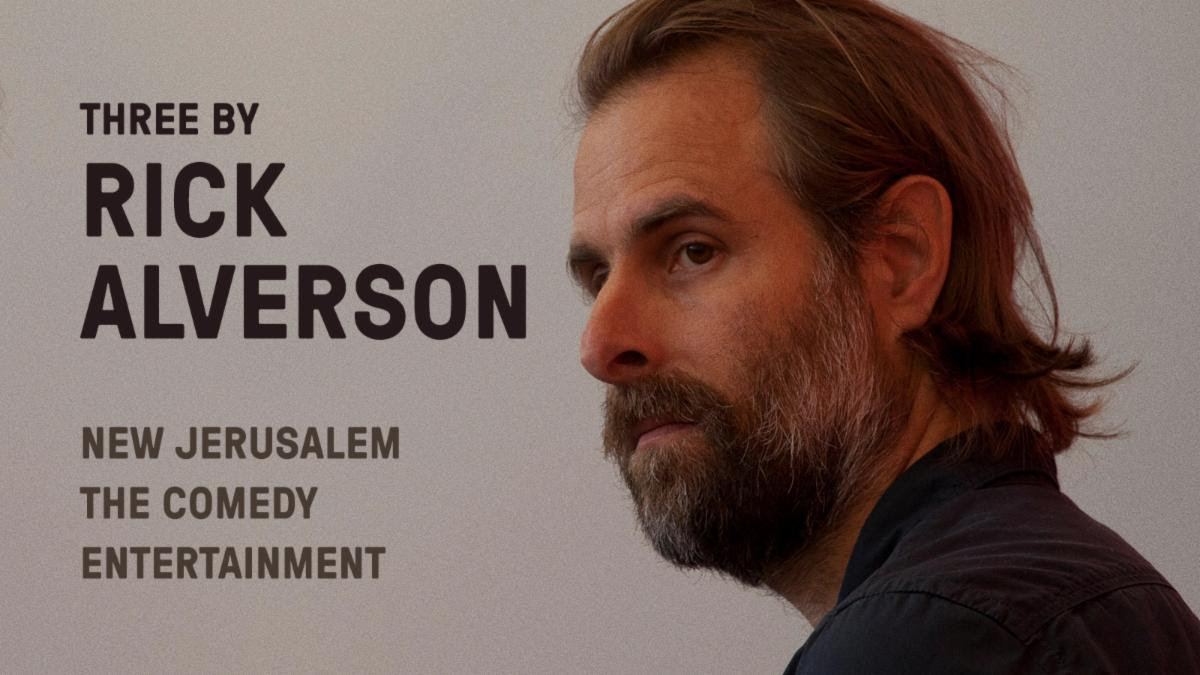 Three by Rick Alverson
Featuring a new interview with the filmmaker
Watching a film by Rick Alverson can be a singularly uncomfortable experience—but just try to look away. Refusing to conform to tidy narrative arcs and conventional notions of "likable" characters, Alverson creates transgressive, confrontational, tragicomic portraits of masculinity in crisis that dare viewers to stare into the existential void. Following the journeys of a foundering Afghanistan veteran (New Jerusalem), a relentlessly nihilistic Brooklyn hipster (Tim Heidecker in The Comedy), and a repellent stand-up comedian (Gregg Turkington, a.k.a. Neil Hamburger, in Entertainment), Alverson's films reckon unflinchingly with the loneliness at the heart of modern American life.
New Jerusalem, 2011
The Comedy, 2012
Entertainment, 2015
Friday, December 18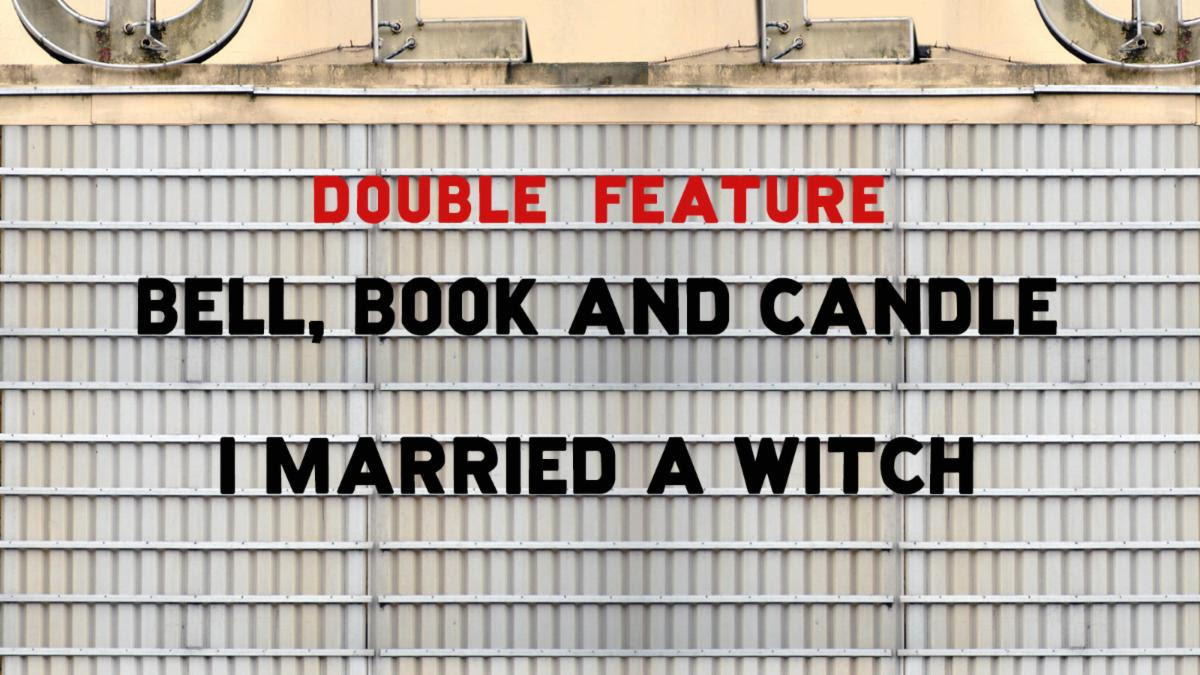 Double Feature: I Put a Spell on You
Bell, Book and Candle and I Married a Witch
Modern-day witches cast a silver-screen spell in two utterly enchanting romantic comedies. Fresh from their pairing in Vertigo, stars Kim Novak and James Stewart reunited for Bell, Book and Candle, featuring black-magic beatniks, some serious queer subtext, and a memorable cat named Pyewacket. Then, Veronica Lake uses her otherworldly charms to ensnare Fredric March in René Clair's I Married a Witch, a delightful screwball confection bursting with playful special effects and sparkling wit. Fun fact: both films were key influences on the classic sitcom Bewitched.
Saturday, December 19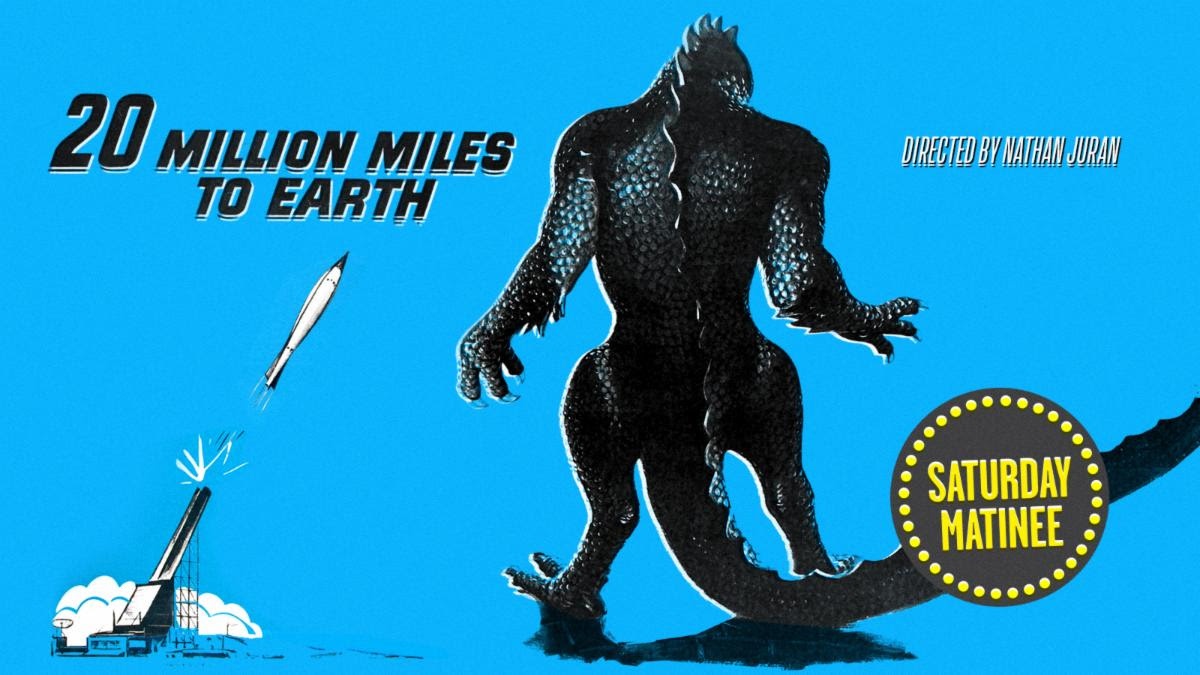 Saturday Matinee: 20 Million Miles to Earth
Featuring an alternate color version of the film
This thrilling creature-feature classic stands out thanks to dazzling special effects by Ray Harryhausen. En route from Venus back to Earth, a United States Army rocket ship crash-lands in the Mediterranean Sea just off the coast of Italy, and from the wreckage rises one of the stop-motion master's most memorable creations: a rapidly growing lizardlike menace that destroys everything in its path as it romps its way across Rome. An epic monster vs. elephant showdown and a Roman Colosseum–set climax are among the eye-popping attractions.
Sunday, December 20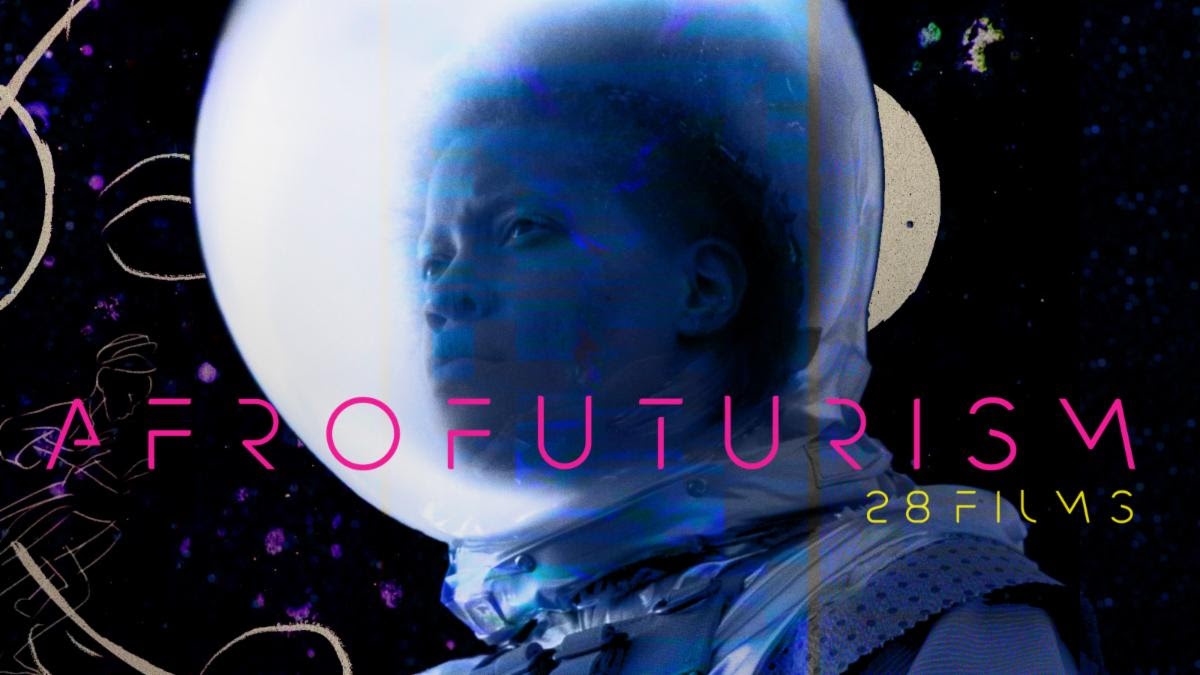 Afrofuturism
Featuring an introduction by programmer Ashley Clark
Coined in 1994 by critic Mark Dery, the term "afrofuturism" has become an essential framework for art about imagined and alternative global Black experiences. As the author Ytasha Womack writes, "Afrofuturism combines elements of science fiction, historical fiction, speculative fiction, fantasy, Afrocentricity, and magic realism with non-Western beliefs." Afrofuturist ideas have found fertile ground in film, and this expansive series takes viewers on an international, intergalactic journey that stretches back long before the term existed, and far into the future. Spanning animation, documentary, and genre spectacle, these exuberant visions of Black creativity, resistance, and freedom zigzag across the African diaspora from New York to Brasilia to Kinshasa to worlds unknown. Curated by Ashley Clark, the series draws together films from Space is the Place: Afrofuturism on Film, which took place at Brooklyn Academy of Music in 2015; a sequel planned for 2020 that was canceled due to the pandemic; and a selection of all-new titles, many of them available for streaming for the first time.
Features
Space Is the Place, John Coney, 1974
Born in Flames, Lizzie Borden, 1983
The Brother from Another Planet, John Sayles, 1984
Ornette: Made in America, Shirley Clarke, 1985
Yeelen, Souleymane Cissé, 1987
Welcome II the Terrordome, Ngozi Onwurah, 1995
The Last Angel of History, John Akomfrah, 1996
An Oversimplification of Her Beauty, Terence Nance, 2012
White Out, Black In, Adirley Queirós, 2014
Crumbs, Miguel Llansó, 2015
Once There Was Brasilia, Adirley Queirós, 2017
Supa Modo, Likarion Wainaina, 2018
Shorts
The Changing Same, Cauleen Smith, 2001
Dark Matters, Monique Walton, 2010
The Becoming Box, Monique Walton, 2011
Hasaki Ya Suda, Cedric Ido, 2011
Native Sun, Terence Nance and Blitz Bazawule, 2011
Robots of Brixton, Kibwe Tavares, 2011
Jonah, Kibwe Tavares, 2013
Touch, Shola Amoo, 2013
Twaaga, Cédric Ido, 2013
Afronauts, Nuotama Bodomo, 2014
You and I and You, Terence Nance, 2015
The Golden Chain, Adebukola Bodunrin and Ezra Claytan Daniels, 2016
1968 < 2018 > 2068, Keisha Rae Witherspoon, 2018
I Snuck Off the Slave Ship, Lonnie Holley and Cyrus Moussavi, 2019
T, Keisha Rae Witherspoon, 2019
Zombies, Baloji, 2019
Monday, December 21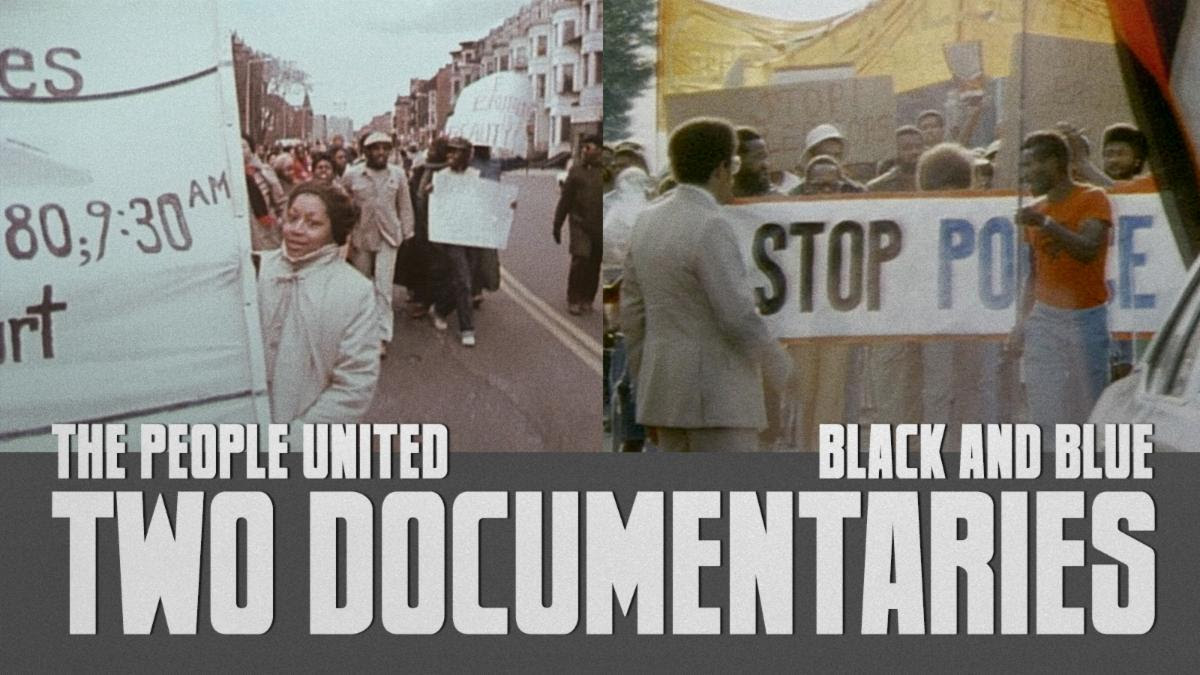 The People United and Black and Blue
In the midst of a historic reckoning over police brutality and systemic racism, two essential documentaries from the mid–1980s offer timely lessons on the power of protest. Alonzo Speight's The People United is a crucial snapshot of a decisive moment in Boston history when the city's predominately Black Roxbury neighborhood took unified action against escalating incidents of police brutality. Its galvanizing portrait of organized resistance is echoed in Hugh King and Lamar Williams's Black and Blue, which chronicles an impassioned community response to decades of police violence against people of color in Philadelphia through a hard-hitting mix of archival materials, news clips, and documentary footage.
Tuesday, December 22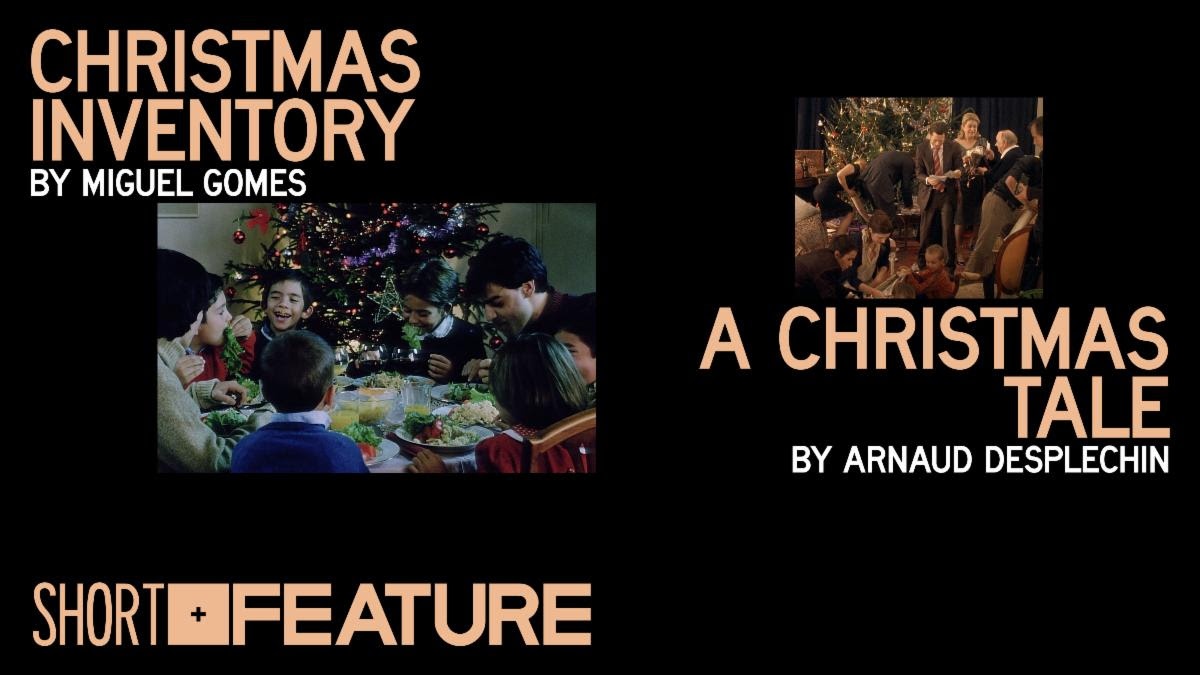 Short + Feature: It's a Mad, Mad Christmas
Christmas Inventory and A Christmas Tale
There's no place like home for the holidays as two singularly imaginative auteurs capture the comedy and chaos of Christmastime family gatherings. First, Portuguese spellbinder Miguel Gomes takes a kaleidoscopic, kid's-eye view of a rambunctious yuletide get-together in his delightfully cozy holiday surprise Christmas Inventory. Then, Arnaud Desplechin weaves a tapestry of merriment, melancholy, and messy emotions in A Christmas Tale, a marvelously rich, unpredictable portrait of a most unforgettable family reunion, presided over by an imperious Catherine Deneuve.
Wednesday, December 23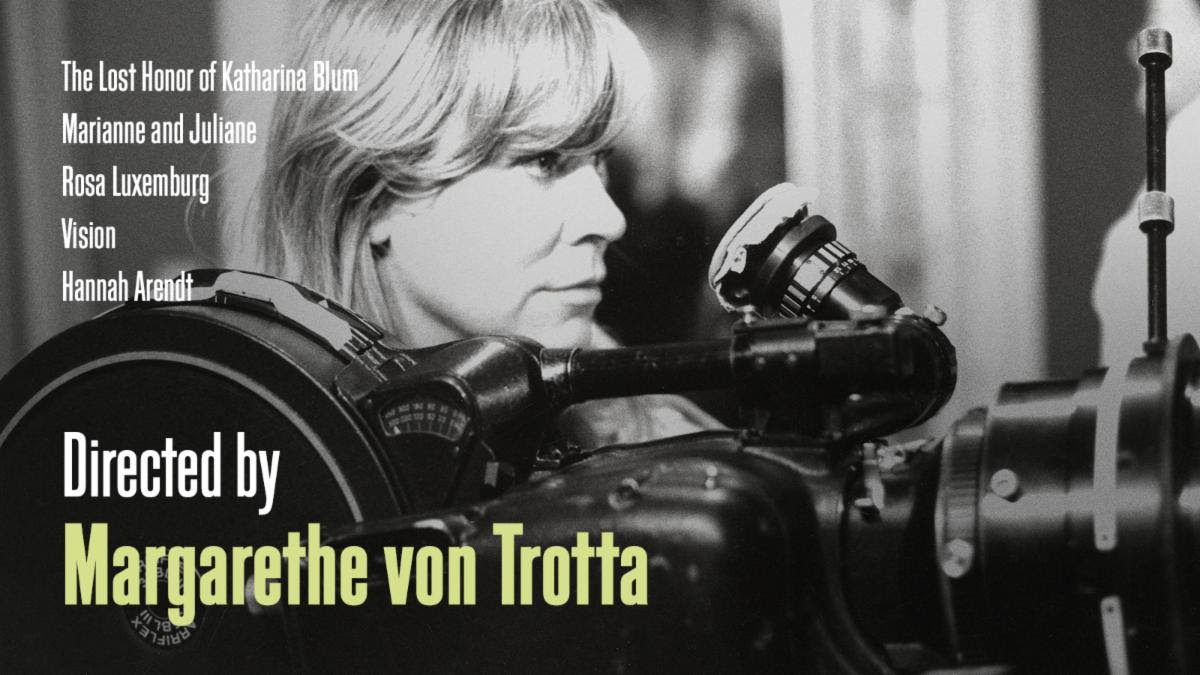 Directed by Margarethe von Trotta
One of cinema's foremost feminist artists, German auteur Margarethe von Trotta engages fearlessly with political, historical, and social issues to redefine the representation of women onscreen. Emerging from the New German Cinema movement that launched her early collaborators Rainer Werner Fassbinder and Volker Schlöndorff (with whom she codirected The Lost Honor of Katharina Blum), von Trotta went on to become the first woman to win the Golden Lion at the Venice Film Festival with Marianne and Juliane. She's remained one of contemporary European cinema's leading voices ever since, bringing searing stories of courageous, visionary women—including Marxist revolutionary Rosa Luxemburg, twelfth-century mystic Hildegard von Bingen, and philosopher Hannah Arendt—to the screen with complexity and conviction.
The Lost Honor of Katharina Blum, Volker Schlöndorff and Margarethe von Trotta, 1975
Marianne and Juliane, Margarethe von Trotta, 1981
Rosa Luxemburg, Margarethe von Trotta, 1986
Vision: From the Life of Hildegard von Bingen, Margarethe von Trotta, 2009
Hannah Arendt, Margarethe von Trotta, 2012
Thursday, December 24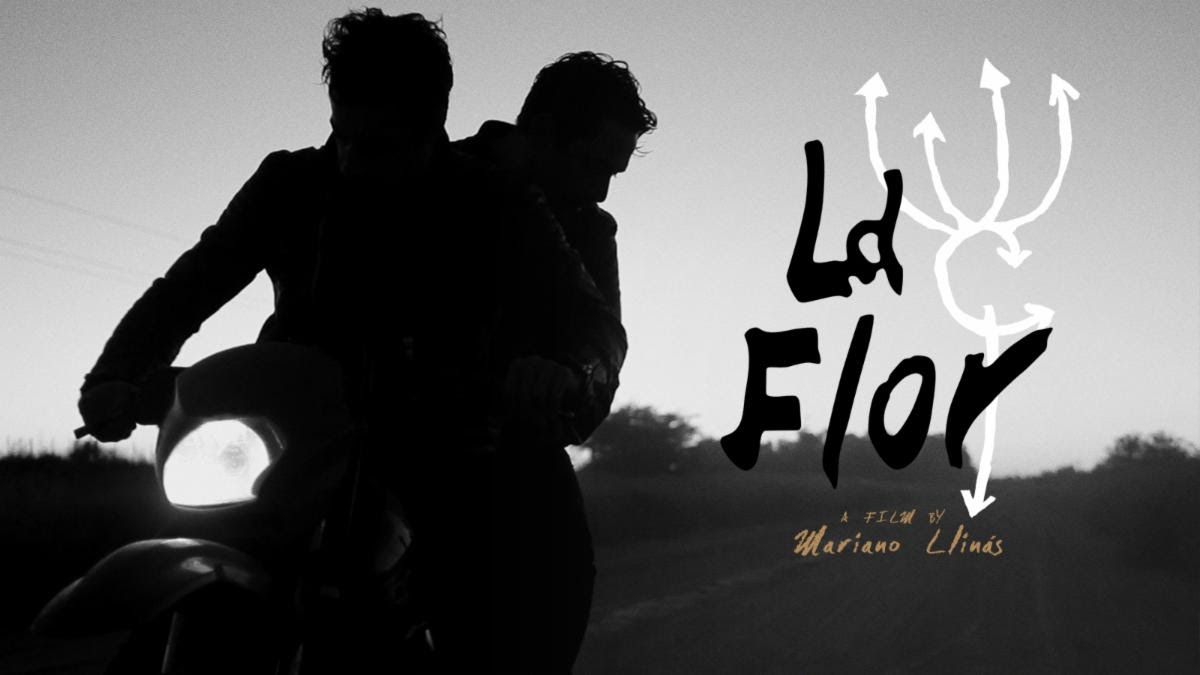 La flor
A decade in the making, Argentine filmmaker Mariano Llinás's La flor is an audacious, unrepeatable labor of love and madness that redefines the concept of binge viewing. Filmed around the world, this landmark of marathon cinema is composed of six distinct episodes—including a monster movie, a musical, a spy thriller, and a remake of a French classic—each starring the same four women. A delirious plunge down a seemingly endless array of narrative rabbit holes, La flor is an epic adventure in scale and imagination, a wildly entertaining and addictive ode to the power of storytelling.
Friday, December 25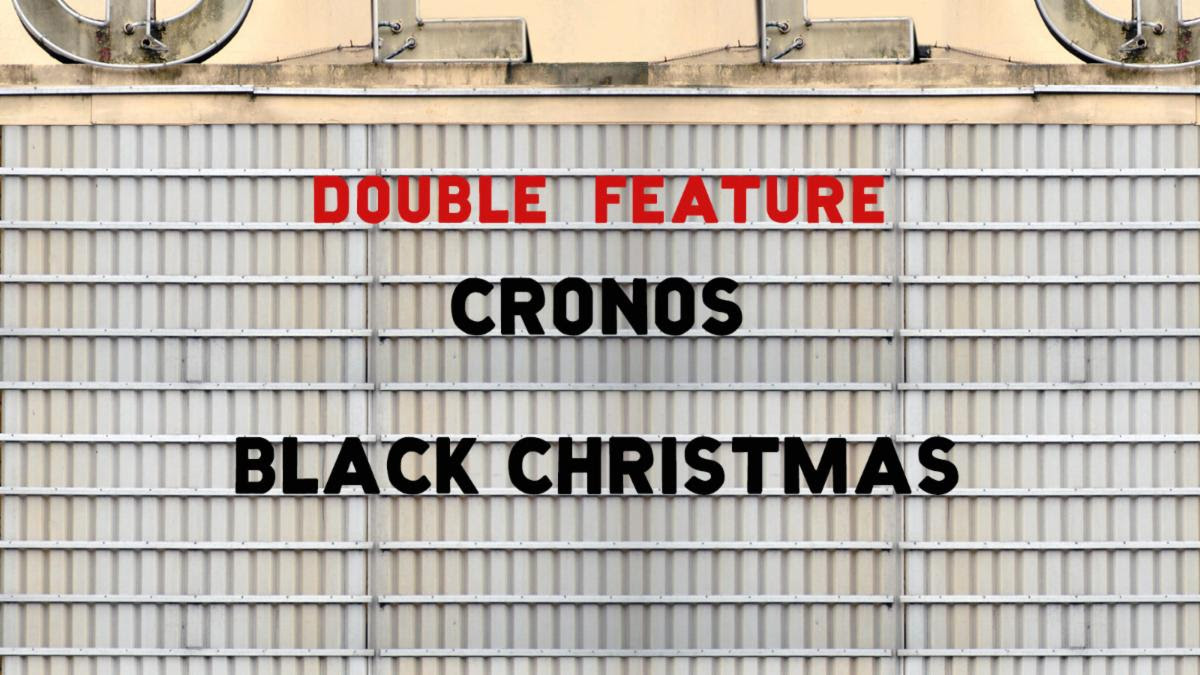 Double Feature: And to All a Good Fright
Cronos and Black Christmas
Have yourself a scary little Christmas with two nightmares that prove that fruitcake, ugly sweaters, and your extended family aren't the most disturbing things about the holidays. Master of the twisted fairy tale Guillermo del Toro made his auspicious debut with Cronos, a visually rich and emotionally captivating Christmastime vampire fable awash in the haunting imagery for which he would become renowned. Then it's time for a winter slay ride with Bob Clark's cult classic Black Christmas, the groundbreaking independent shocker that spawned the modern slasher genre as we know it.
Saturday, December 26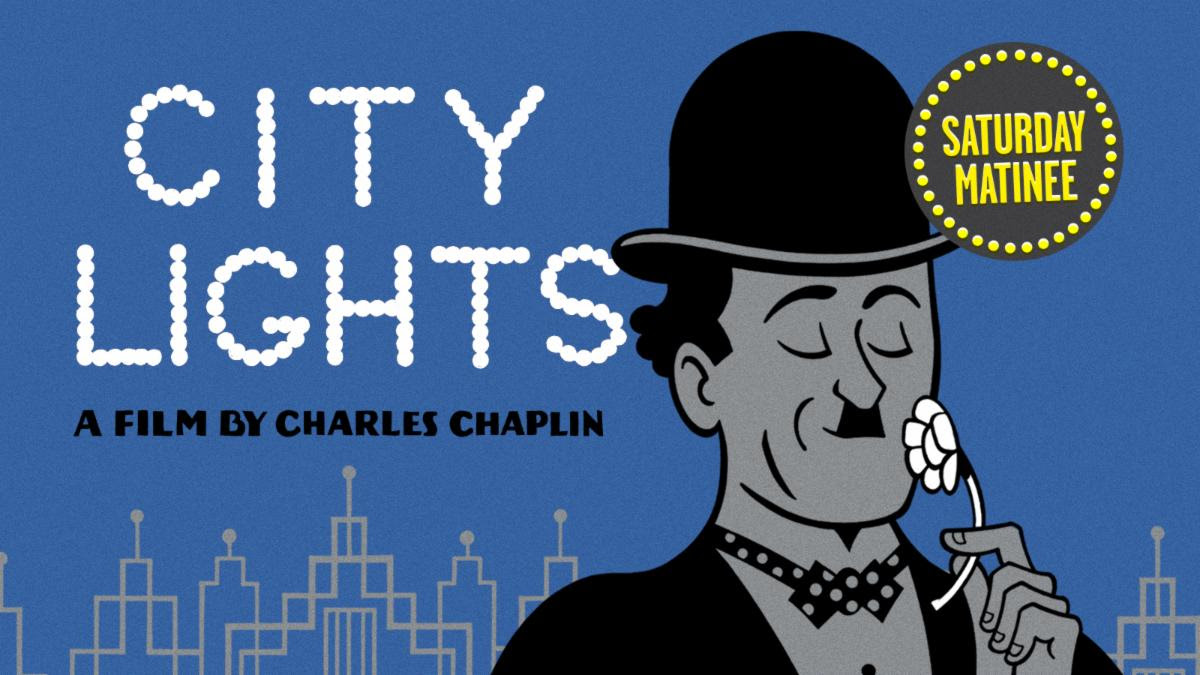 Saturday Matinee: City Lights
City Lights, the most cherished film by Charlie Chaplin, is also his ultimate Little Tramp chronicle. The writer-director-star achieved new levels of grace, in both physical comedy and dramatic poignancy, with this silent tale of a lovable vagrant falling for a young blind woman who sells flowers on the street (a magical Virginia Cherrill) and mistakes him for a millionaire. Though this Depression-era smash was made after the advent of sound, Chaplin remained steadfast in his love for the expressive beauty of the pre-talkie form. The result was the epitome of his art and the crowning achievement of silent comedy.
Sunday, December 27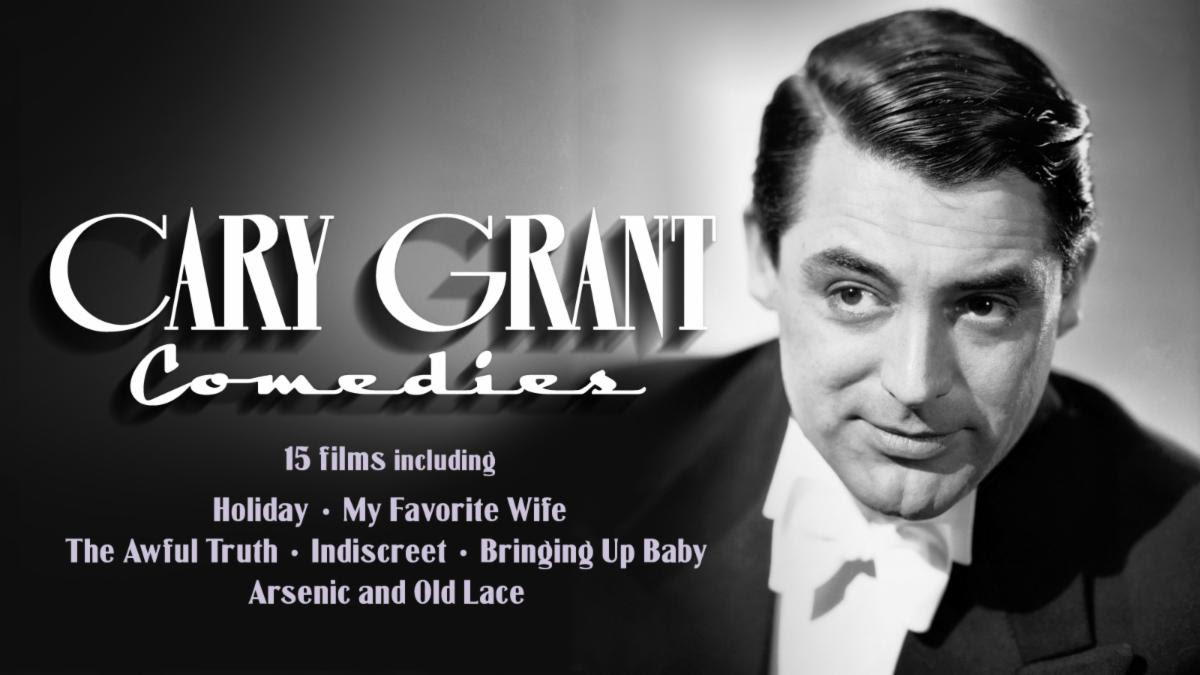 Cary Grant Comedies
Cary Grant may have been classic Hollywood's ultimate embodiment of suave sophistication, but thankfully he never took himself too seriously, as seen in these comedy classics that showcase his inimitable flair for farce. A former acrobat who was as adept at delivering sparkling banter as he was at taking a slapstick pratfall, Grant imbued his comic performances with a slyly winking charm and breezy joie de vivre that feels at once effortless and virtuosic. The perfect antidote to the winter blues, these slices of golden-age heaven pair Grant with some of the studio era's most legendary leading ladies—including Katharine Hepburn (Holiday), Irene Dunne (The Awful Truth), Myrna Loy (Mr. Blandings Builds His Dream House), and Ingrid Bergman (Indiscreet)—and let the screwball sparks fly.
I'm No Angel, Wesley Ruggles, 1933
She Done Him Wrong, Lowell Sherman, 1933
The Awful Truth, Leo McCarey, 1937
Bringing Up Baby, Howard Hawks, 1938*
Holiday, George Cukor, 1938
My Favorite Wife, Garson Kanin, 1940
The Talk of the Town, George Stevens, 1942*
Arsenic and Old Lace, Frank Capra, 1944*
The Bachelor and the Bobby-Soxer, Irving Reis, 1947
Mr. Blandings Builds His Dream House, H.C. Potter, 1948
Indiscreet, Stanley Donen, 1958
Operation Petticoat, Blake Edwards, 1959
The Grass Is Greener, Stanley Donen, 1960
That Touch of Mink, Delbert Mann, 1962
Father Goose, Ralph Nelson, 1964
*Available January 1
Monday, December 28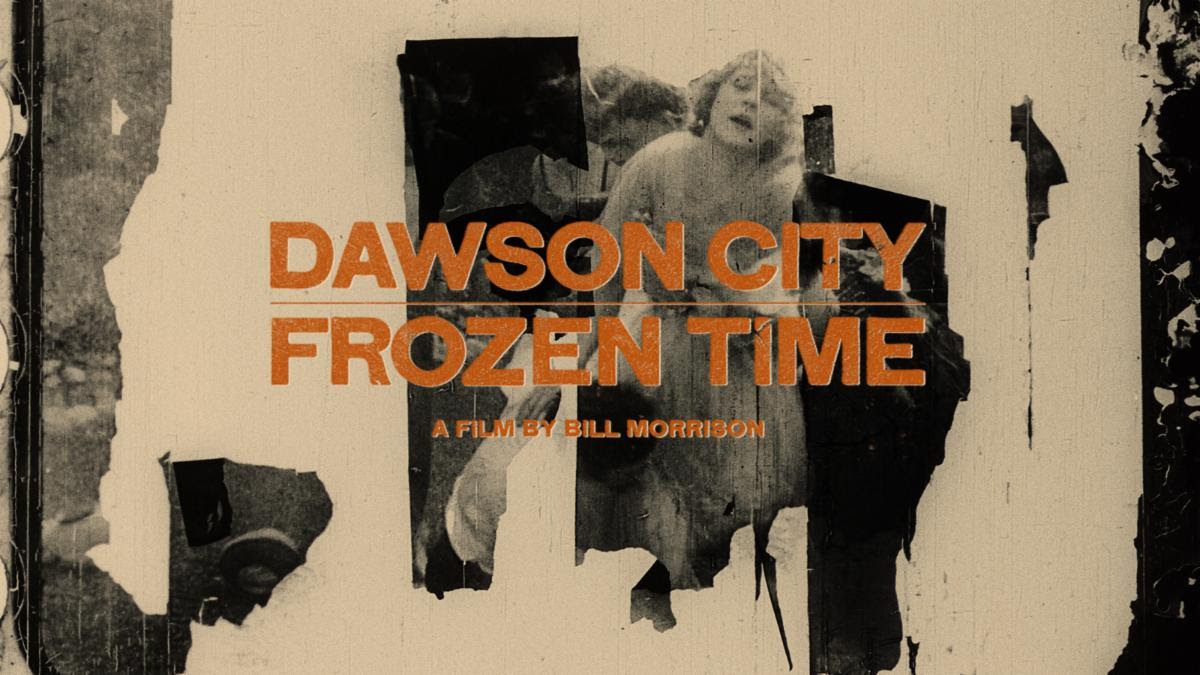 Dawson City: Frozen Time
This astonishing meditation on cinema's past from Bill Morrison pieces together the bizarre true history of a long-lost collection of 533 nitrate film prints from the early 1900s. Located just south of the Arctic Circle, Dawson City was settled in 1896 and became the center of the Canadian Gold Rush that brought one hundred thousand prospectors to the area. It was also the final stop for a distribution chain that sent prints and newsreels to the Yukon. The films were seldom, if ever, returned. The now-famous Dawson City Collection was uncovered in 1978 when a bulldozer working its way through a parking lot dug up a horde of film cans. Morrison draws on these rare, permafrost-protected silent films and newsreels, pairing them with archival footage, interviews, historical photographs, and an enigmatic score by Sigur Rós collaborator and composer Alex Somers. Dawson City: Frozen Time chronicles the life cycle of a singular film collection through its exile, burial, rediscovery, and salvation.
Tuesday, December 29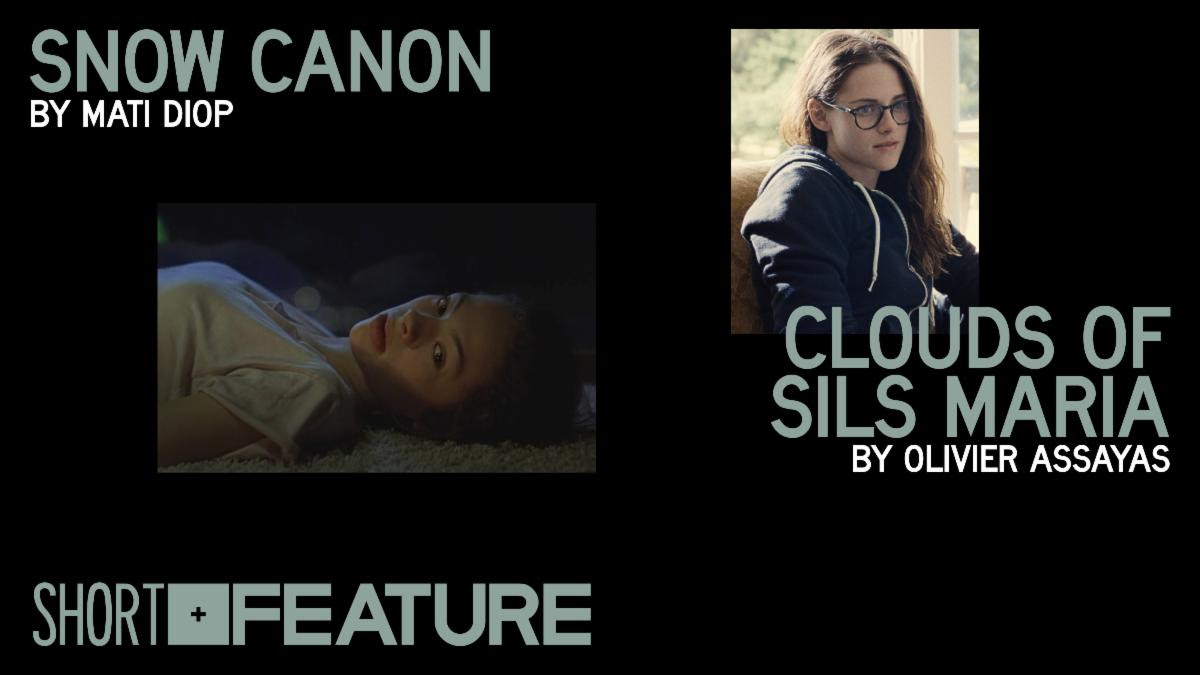 Short + Feature: Altitude Adjustment
Snow Canon and Clouds of Sils Maria
Intense, complex relationships between women play out against the dramatic landscapes of the Alps in these multilayered explorations of power dynamics and female intimacy. Isolated in a snowbound chalet, a teenage girl and her babysitter test the boundaries of their relationship in Mati Diop's psychosexual chamber piece Snow Canon. It's an appropriately heady prelude to Olivier Assayas's shape-shifting backstage drama Clouds of Sils Maria, in which Juliette Binoche and Kristen Stewart blur the line between the personal and professional while on a transformative Alpine excursion.
Wednesday, December 30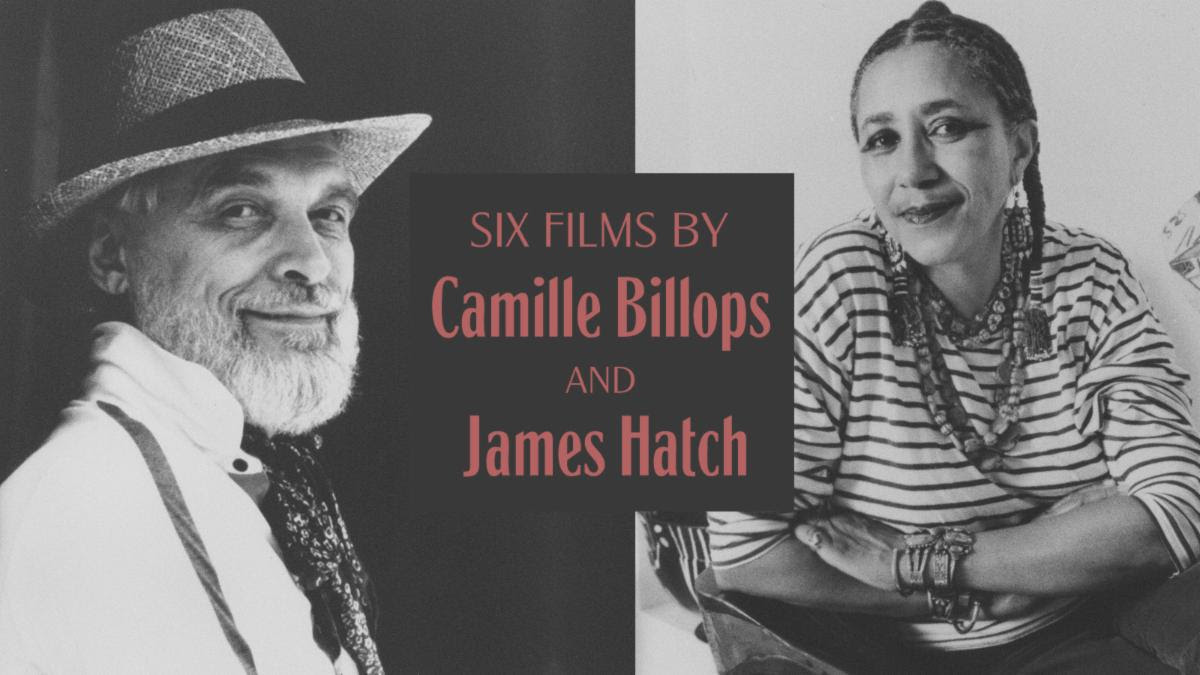 Films by Camille Billops and James Hatch
Trailblazing artist and polymath Camille Billops (1933–2019) and her partner in life and work, James Hatch (1928–2020), left behind invaluable legacies as archivists who worked tirelessly to preserve records of Black cultural life and as filmmakers who turned their unflinching camera on Billops's own, often painful personal experiences. The films they made together, while grounded in documentary, use a range of techniques including reenactments, dramatization, and satire to illuminate the ways in which race, gender, and class shape everyday life. In their Family Trilogy—Suzanne, Suzanne; Finding Christa; and A String of Pearls—the pair cover more than thirty years of troubling truths from Billops's own family, tackling issues of drug addiction, abuse, unwanted pregnancy, and motherhood with fearless honesty.
Features
Finding Christa, Camille Billops and James Hatch, 1991
The KKK Boutique Ain't Just Rednecks, Camille Billops and James Hatch, 1994
A String of Pearls, Camille Billops and James Hatch, 2002
Shorts
Suzanne, Suzanne, Camille Billops and James Hatch, 1982
Older Women and Love, Camille Billops and James Hatch, 1987
Take Your Bags, Camille Billops, 1998
Thursday, December 31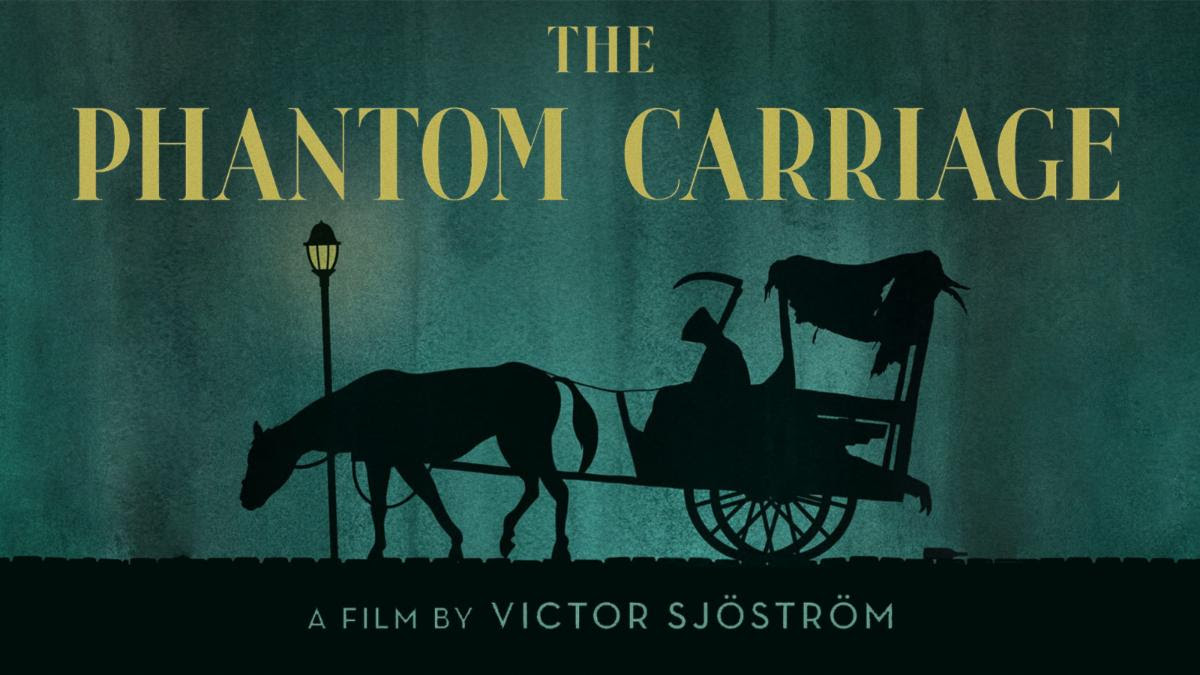 The Phantom Carriage: Criterion Collection Edition #579
The last person to die on New Year's Eve before the clock strikes twelve is doomed to take the reins of Death's chariot and work tirelessly collecting fresh souls for the next year. So says the legend that drives The Phantom Carriage (Körkarlen), directed by the father of Swedish cinema, Victor Sjöström. The story, based on a novel by Nobel Prize winner Selma Lagerlöf, concerns an alcoholic, abusive ne'er-do-well (Sjöström himself) who is shown the error of his ways, and the pure-of-heart Salvation Army sister who believes in his redemption. This extraordinarily rich and innovative silent classic (which inspired Ingmar Bergman to make movies) is a Dickensian ghost story and a deeply moving morality tale, as well as a showcase for groundbreaking special effects. SUPPLEMENTAL FEATURES: Two scores, one by Swedish composer Matti Bye and the other by the experimental duo KTL (Stephen O'Malley and Peter Rehberg); audio commentary featuring film historian Casper Tybjerg; an interview with Ingmar Bergman; and more.
Plus: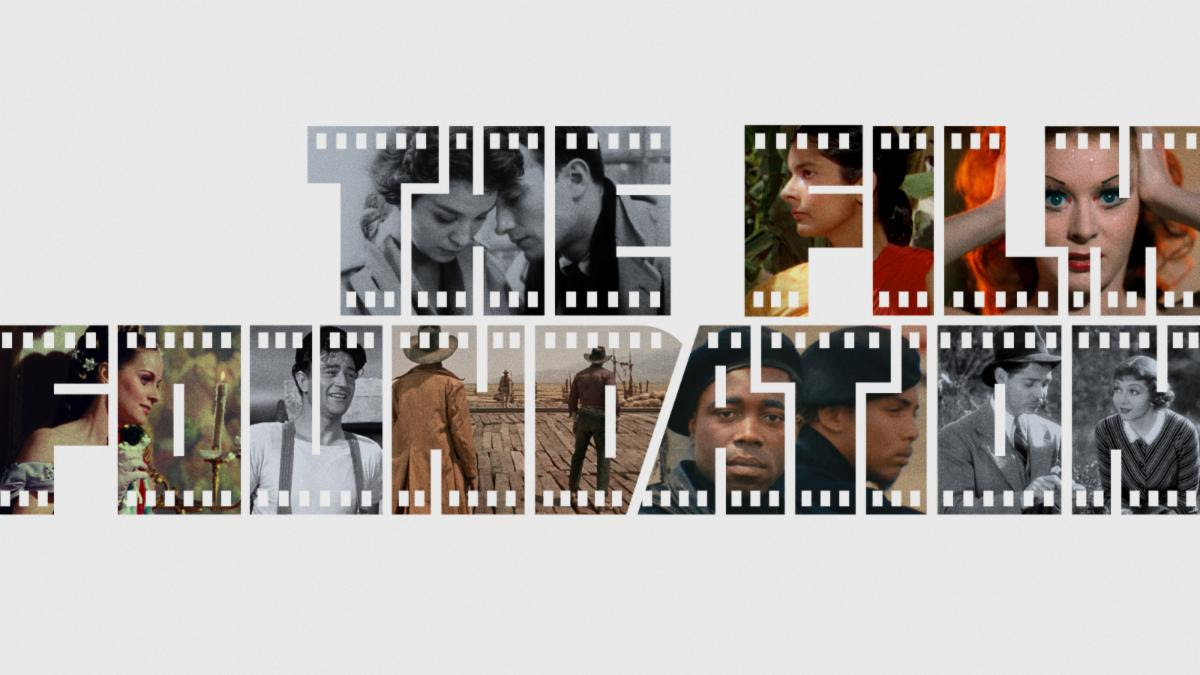 Thirty Years of the Film Foundation—New Titles Added!
In November, we kicked off our thirtieth-anniversary celebration for film-preservation powerhouse The Film Foundation, founded by Martin Scorsese in 1990. This month, the initial thirty-title line-up is joined by four restored films directed by an array of Hollywood-pantheon auteurs: a jewel of pre-Code horror from Michael Curtiz, Nicholas Ray's poetic rodeo tale, Charles Laughton's legendary sole feature, and an antiwar classic by Stanley Kubrick.
Mystery of the Wax Museum, Michael Curtiz, 1933
The Lusty Men, Nicholas Ray, 1952
Night of the Hunter, Charles Laughton, 1955
Paths of Glory, Stanley Kubrick, 1957
Complete list of films premiering on the Criterion Channel this month:
1968 < 2018 > 2068, Keisha Rae Witherspoon, 2018
20 Million Miles to Earth, Nathan Juran, 1957
Afronauts, Nuotama Bodomo, 2014
Alan Vega: Just a Million Dreams, Marie Losier, 2014
August at Akiko's, Christopher Makoto Yogi, 2018
The Awful Truth, Leo McCarey, 1937
The Bachelor and the Bobby-Soxer, Irving Reis, 1947
The Baker's Wife, Marcel Pagnol, 1938
Bad Day at Black Rock, John Sturges, 1955 *
Badlands, Terrence Malick, 1973
The Ballad of Genesis and Lady Jaye, Marie Losier, 2011
The Becoming Box, Monique Walton, 2011
Bell, Book and Candle, Richard Quine, 1958
Belle of the Nineties, Leo McCarey, 1934
Bim, Bam, Boom, las Luchas Morenas, Marie Losier, 2014
Bird, Bath and Beyond, Marie Losier, 2003
Black and Blue, Hugh King and Lamar Williams, 1987
The Brother from Another Planet, John Sayles, 1984
Byun, objet trouvé, Marie Losier, 2012
Cassandro, the Exotico!, Marie Losier, 2018
Cet Air La, Marie Losier, 2010
The Changing Same, Cauleen Smith, 2001
Christmas Inventory, Miguel Gomes, 2000
The Comedy, Rick Alverson, 2012
Crumbs, Miguel Llansó, 2015
Dark Matters, Monique Walton, 2010
Dawson City: Frozen Time, Bill Morrison, 2016 *
Days of Heaven, Terrence Malick, 1978
Diary of an African Nun, Julie Dash, 1977
Draw Me Now, Marie Losier, 2018
Eat My Makeup!, Marie Losier, 2005
Electrocute Your Stars, Marie Losier, 2004
Entertainment, Rick Alverson, 2015
Every Day's a Holiday, A. Edward Sutherland, 1937
The Family Album, Alan Berliner, 1986
Father Goose, Ralph Nelson, 1964
Finding Christa, Camille Billops and James Hatch, 1991
La flor, Mariano Llinás, 2018 *
Flying Saucey!, Marie Losier, 2006
Four Women, Julie Dash, 1975
Go West Young Man, Henry Hathaway, 1936
The Golden Chain, Adebukola Bodunrin and Ezra Claytan Daniels, 2014
Goin' to Town, Alexander Hall, 1935
The Grass Is Greener, Stanley Donen, 1960
Hannah Arendt, Margarethe von Trotta, 2012**
Harold and Maude, Hal Ashby, 1971
Hasaki Ya Suda, Cédric Ido, 2011
Holiday, George Cukor, 1938
House of Games, David Mamet, 1987
I Snuck off the Slave Ship, Lonnie Holley and Cyrus Moussavi, 2019
I'm No Angel, Wesley Ruggles, 1933
Illusions, Julie Dash, 1982
Indiscreet, Stanley Donen, 1958
Intimate Stranger, Alan Berliner, 1991
Jonah, Kibwe Tavares, 2013
Kapaemahu, Hinaleimoana Wong-Kalu, Joe Wilson, and Dean Hamer, 2020
The KKK Boutique Ain't Just Rednecks, Camille Billops, James Hatch, 1994
Klondike Annie, Raoul Walsh, 1936
The Last Angel of History, John Akomfrah, 1996
Like a Mighty Wave, Mikey Inouye, 2020
The Lusty Men, Nicholas Ray, 1952
Manuelle Labor, Marie Losier, 2007
March of the Wooden Soldiers, 1934
Marianne and Juliane, Margarethe von Trotta, 1981
Mauna Kea: Temple Under Siege, Joan Lander and Puhipau, 2005
The Mirror Has Two Faces, Barbra Streisand, 1996 *
Mr. Blandings Builds His Dream House, H.C. Potter, 1948
Mutts, Halima Ouardiri, 2019
My Favorite Wife, Garson Kanin, 1940 *
My Golden Days, Arnaud Desplechin, 2015
My Little Chickadee, Edward F. Cline, 1940
My Sex Life … or How I Got into an Argument, Arnaud Desplechin, 1996
Mystery of the Wax Museum, Michael Curtiz, 1933
National Velvet, Clarence Brown, 1944 *
New Jerusalem, Rick Alverson, 2011
The New World, Terrence Malick, 2005 *
The Night of the Hunter, Charles Laughton, 1955
Nobody's Business, Alan Berliner, 1997
Now, Voyager, Irving Rapper, 1942
Older Women and Love, Camille Billops and James Hatch, 1987
Once There Was Brasilia, Adirley Queirós, 2017
The Ontological Cowboy, Marie Losier, 2005
Operation Petticoat, Blake Edwards, 1959
Out of State, Ciara Lacy, 2017
Papal Broken-Dance, Marie Losier, 2008
Paris Is Burning, Jennie Livingston, 1990
The Passion of Joan of Arc, Marie Losier, 2002
Paths of Glory, Stanley Kubrick, 1957
The People United, Alonzo Speight, 1985
Praise House, Julie Dash, 1991
The Prince of Tides, Barbra Streisand, 1991
Quadrophenia, Franc Roddam, 1979
The Railway Children, Lionel Jeffries, 1970
The Reflecting Skin, Philip Ridley, 1990
Robots of Brixton, Kibwe Tavares, 2011
Rosa Luxemburg, Margarethe von Trotta, 1986
Les saignantes, Jean-Pierre Bekolo, 2005
The Sand Island Story, Victoria Keith, 1981
She Done Him Wrong, Lowell Sherman, 1933
The Silent Partner, Daryl Duke, 1978
Sorry We Missed You, Ken Loach, 2019
Space Is the Place, John Coney, 1974
Standing Above the Clouds, Jalena Keane-Lee, 2020
Standing at the Scratch Line, Julie Dash, 2016
Stones, Ty Sanga, 2009
A String of Pearls, Camille Billops and James Hatch, 2002
Supa Modo, Likarion Wainaina, 2018
The Sweetest Sound, Alan Berliner, 2001
T, Keisha Rae Witherspoon, 2019
Take Your Bags, Camille Billops, 1998
That Touch of Mink, Delbert Mann, 1962
Tony Conrad, DreaMinimalist, Marie Losier, 2008
Touch, Shola Amoo, 2013
The Touch Retouched, Marie Losier, 2002
Twaaga, Cédric Ido, 2013
Uncovering Naked City, Bruce Goldstein, 2020
Vision: From the Life of Hildegard von Bingen, Margarethe von Trotta, 2009 *
White God, Kornél Mundruczó, 2014
White Out, Black In, Adirley Queirós, 2014
A Woman Under the Influence, John Cassavetes, 1974
Yeelen, Souleymane Cissé, 1987
Yentl, Barbra Streisand, 1983
Zombies, Baloji, 2019
*Available in the U.S. only