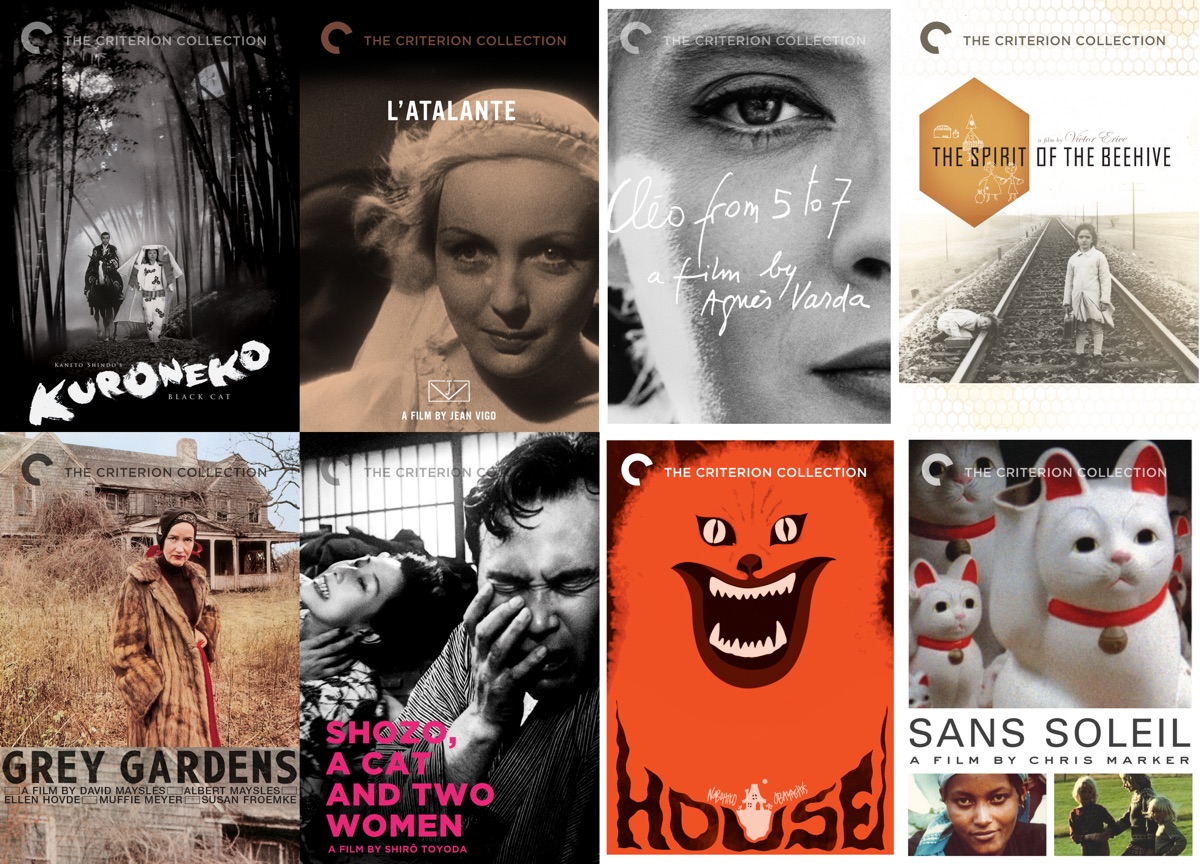 Each week, the fine folks at Fandor add a number of films to their Criterion Picks area, which will then be available to subscribers for the following twelve days. This week, the Criterion Picks focus on eight films featuring cats!
Need we say more? Meet the furry feline familiars that have graced some of the world's greatest movies with their mercurial and mesmerizing presence.
Don't have a Fandor subscription? They offer a free trial membership.
---
---

L'Atalante, the French Classic Drama by Jean Vigo
In Jean Vigo's hands, an unassuming tale of conjugal love becomes an achingly romantic reverie of desire and hope.

Cléo from 5 to 7, the French Drama by Agnès Varda
Agnès Varda eloquently captures Paris in the sixties with this real-time portrait of a singer set adrift in the city as she awaits test results of a biopsy.

Grey Gardens, the Documentary by Ellen Hovde, Albert Maysles, David Maysles and Muffie Meyer
An impossibly intimate portrait, this 1976 documentary by Albert and David Maysles, codirected by Ellen Hovde and Muffie Meyer, quickly became a cult classic and established Little Edie as a fashion icon and philosopher queen.

House, the Japanese Cult film by Nobuhiko Ôbayashi
Equally absurd and nightmarish, HOUSE might have been beamed to Earth from some other planet. It's one of the most exciting cult discoveries in years.

Kuroneko, the Japanese Horror film by Kaneto Shindô
A spectacularly eerie twilight tale with a shocking feminist angle, evoked through ghostly special effects and exquisite cinematography.
Sans soleil, the Japanese Documentary by Chris Marker
SANS SOLEIL is Chris Marker's mind-bending free-form travelogue that journeys from Africa to Japan.

Shozo, a Cat and Two Women, the Japanese Comedy by Shiro Toyoda
Shozo is plagued by the needs of his ex-wife and his current one but prefers the company of his cat.

The Spirit of the Beehive, the Spanish Drama by Victor Erice
Produced as Franco's long regime was nearing its end, THE SPIRIT OF THE BEEHIVE is a bewitching portrait of a child's haunted inner life and one of the most visually arresting movies ever made.