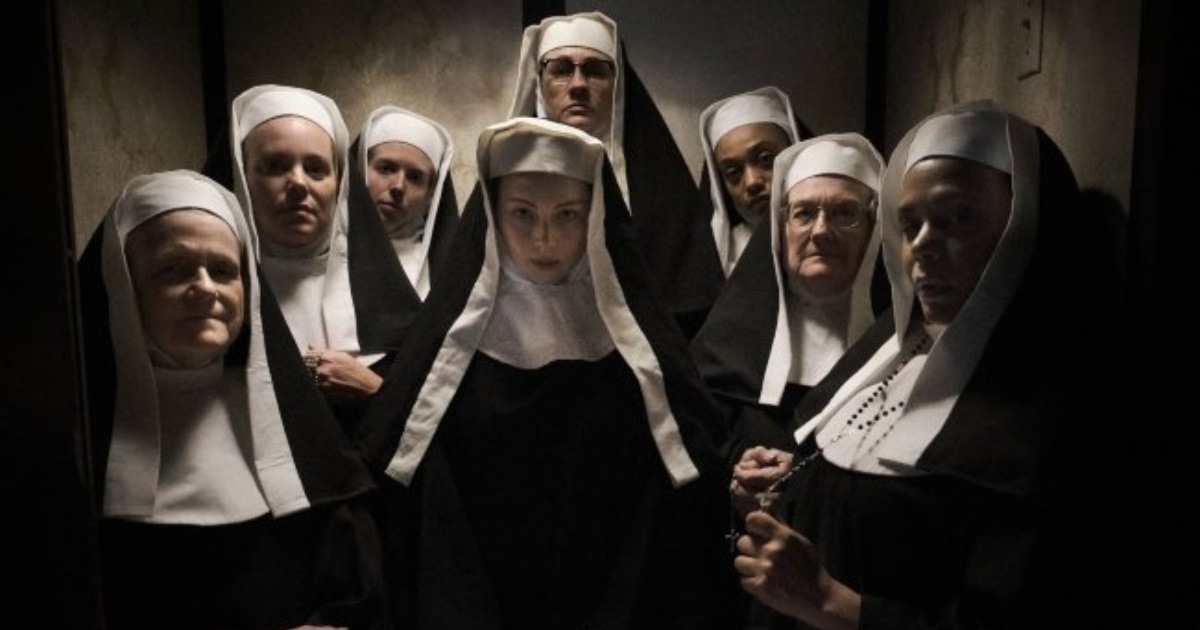 As the world continues to be ravaged by the COVID-19 pandemic, more and more film festivals are continuing the trend started in 2020 and running virtual festivals opposite some sparse in-person screenings. Giving a wider audience access to an increasing number of fascinating films from across the globe, these festivals are offering various types of viewing experiences, and we here at The CriterionCast are attempting to bring you the latest and the greatest from these festivals. And so begins a series highlighting some films from the ongoing Fantasia International Film Festival.
Starting off this second dispatch from Fantasia 2021, let's dive into the festival's bread and butter for one of its more fascinating horror films. From director Mickey Reece comes Agnes, a film with a tried and true logline but a good heap of engrossing craftsmanship that elevates it above its contemporaries. Once rumors begin spreading about a possession at a convent, church officials begin investigating a priest and his gaggle of nuns, culminating in a film that's as much about faith as it is paranoia and isolation. Reece is a relatively unknown entity to most despite having a rather cult-ish following in the underground scene, but this will hopefully change that quite soon.
What makes Agnes such a fascinating film is Reece's ability to modulate tone and atmosphere. With each subsequent film, Reece's direction is getting more and more ambitious, this time finding the director channeling exorcism films of the past while giving the proceedings a decidedly modern feel through the use of crisp yet jaundiced photography and performances that feel just enough "off" as to give the film a strange, otherworldly energy. At times a bit too ambitious and feeling as though it may be multiple films in one, Agnes is a fascinating, thoughtful and provocative rumination on isolation and faith that's truly one of a kind.
Next up we take a glance at something completely different, the brilliantly titled The 12 Day Tale of the Monster that Dies in 8. The latest film from director Shunji Iwai, 12 Day Tale is part of the festival's Official Selection series, and stars Takumi Saitoh as Sato, an out of work actor struggling with the COVID-19 pandemic. Very much keeping the pandemic on its mind, this is one of the first works that does so in a surrealist manner, once director Shinji Higuchi (Shin Godzilla) pops up on screen, telling Sato to buy "capsule monsters" with the hopes of beating the virus by brute force.
Riffing on Higuchi's own Kaiju Defeats COVID, Iwai's latest is a brilliantly funny, often bracingly melancholic look at isolation and internet subcultures, through the lens of a world where Japanese tokusatsu is fact rather than fiction. Shot largely through Zoom, the film carries with it an aesthetic that may feel of this very specific moment in world history, but as it rightly posits, this may be the future we're all going to be living in. Iwai's direction is simple, yet engrossing, and the performances here elevate what could be a simple "from the headlines" B-picture into something with real power and emotion.
Next up we head back into the world of straight horror cinema. Directed by Lee-Haven Jones and penned by Roger Williams, The Feast is a fascinating, volatile and grotesque journey into the lives of the 1%. Spanning more or less one night, the film invited viewers into the world of a wealthy governmental family living in the Welsh mountains, who, upon setting up a dinner party for a couple close friends (well a close friend and someone they want to rope into a get rich scheme) encounter a strange young woman tasked with serving them dinner.
What follows is a chilling and disturbed descent into proverbial madness, with Jones and Williams crafting a biting, if not entirely subtle, satire about conspicuous consumption in the final days of global capitalism. "After you've taken everything, what will be left?" is the question, and complete chaos and violence is more or less the answer. The film does take a second to get moving, but Jones' direction is shockingly assured and textured, with it getting more and more surreal as the film progresses. Surely not everyone's cup of tea, this will no doubt be one of the talks of the proverbial town as the festival continues.
Rounding out this preview is a trio of fascinating new documentaries that are bound to be a hit with audiences upon their theatrical releases. Foremost among them is Satoshi Kon: The Illusionist, a moving, thoughtful deep dive into the life and work of one of animated cinema's true geniuses. Mixing footage from the director's films with archival materials and new conversations with friends and contemporaries, the film, in just a pinch under 90 minutes, gives an in depth, thought-provoking look into one of the great artists of his time. A little simple in its form, the film will, regardless, become absolute catnip for Kon fans both new and old. On the more experimental side, you have Dear Hacker, which marks the debut of filmmaker Alice Lenay. Coming off the heels of a debut at this year's Cinema Du Reel festival, the film is a strangely nightmarish look at modern connectivity, particularly in our modern moment where the entire goal seems to be to separate as much as possible. And finally there's Alien On Stage, which brings to light the stage performance of the legendary film Alien that went viral a few years ago. Easily the biggest crowd pleaser of this trio, this is a simply told, yet endlessly rousing look at community theater and performance, all while keeping its center decidedly focused on the men and women who put their blood, sweat and tears into the piece. Billed as the documentary version of Waiting for Guffman, the comparison is apt and lovingly given, with every emotion it musters worn lovingly on its sleeves.