With his career allegedly winding down within the next year or so, Steven Soderbergh is going out with one hell of a bang. As both Haywire and Magic Mike remain somewhat critical darlings of 2012, his final few films may very well be his most intriguing, as next he'll be jumping into a biopic of none other than Liberace.
The long talked about biographical feature, Behind the Candelabra, has finally begun filming, and thanks to E!, we now have our first look at its star, Michael Douglas, and co-star Matt Damon, in costume, on the film's set. The picture will also co-star Dan Aykroyd, Debbie Reynolds, Scott Bakula, Rob Lowe, Cheyenne Jackson, Boyd Holbrook and Tom Papa, and look at the life of Liberace and his relationship with lover Scott Thorson.
Based on the book 'Behind The Candelabra: My Life With Liberace, the film has been one of Soderbergh's most talked about, given both the great cast, and the really intriguing subject matter. I think Damon and Douglas are inspired choices for the film, and if I may add, that wig is kind of something special. All joking aside, the film will be hitting sometime in the next calendar year thanks to HBO, so expect to hear a load more about this massively anticipated picture in the coming months. It's apparently going to be his last (at least at this point, save for the in post-production  The Bitter Pill), so here's to hoping that this will be his true crowning achievement. It looks fantastic so far.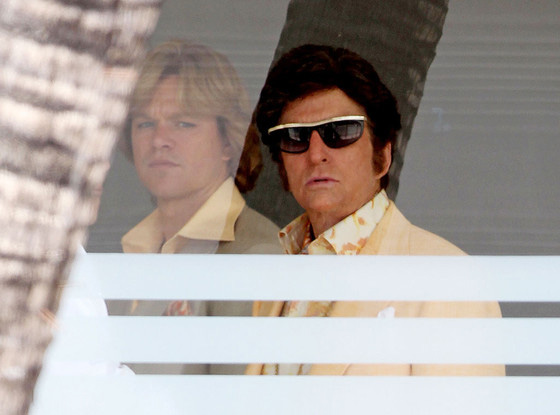 Source E!