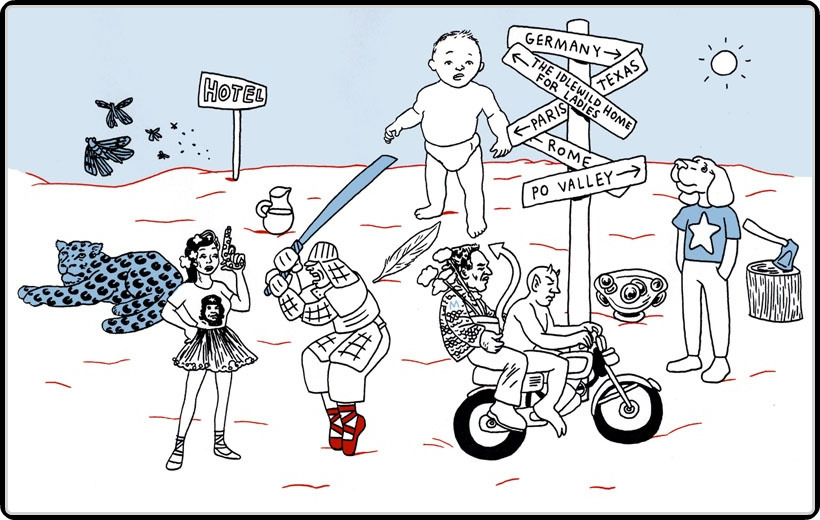 Criterion makes us think. Rather than providing us with campy comedies and mindless, explosion-laden action flicks (well, save one or two), they provide us with intellectually-gratifying cinema coupled with essays, theses, and commentary from scholarly folk of all shapes and sizes. They give credit to their audience's brain power, and would never sleight us the consideration.
Our New Year's present from Criterion, then, should come as no surprise. On the morning of the 1st, they posted Jason Polan's illustrated cypher of a handful of films slated for release in the Collection this year. Some were relatively self-explanatory. Others were mind-boggling and required the collaborative effort of this entire Criterion Cast and the super sleuths over at The Criterion Forum Board. Here is what we believe to be the definitive solution to the puzzle, clockwise:
"Although on one level Red Desert might be taken as a story about a harsh modern industrial culture to which only the neurotic Giuliana has awakened, Antonioni later said he wanted to show that industrial technology has a beauty of its own and that he had filmed a story about human adaptability…" Wiki
"The film stars Anna Karina, Godard's then wife, as Nana, a young Parisian woman who abandons her marriage and a child in order to pursue a career as an actress. Faced with financial troubles she drifts into prostitution. Nana believes she makes this choice of her own free will, but the film emphasizes the social structure that forces the poor into such situations, and builds to a tragic conclusion." Wiki
"Two brothers and a sister witness the disappearance of their childhood memories when they must relinquish the family belongings to ensure their deceased mother's succession." Wiki
the axe in the stump: Revanche РG̦tz Spielman, 2008
"Jake Roedel and Jack Bull Chiles are friends in Missouri when the Civil War starts. Women and Blacks have few rights. Jack Bull's dad is killed by Union soldiers, so the young men join the Bushwhackers, irregulars loyal to the South. One is a Black man, Daniel Holt, beholden to the man who bought his freedom. They skirmish then spend long hours hiding. Sue Lee, a young widow, brings them food. She and Jack Bull become lovers, and when he's grievously wounded, Jake escorts her south to a safe farm. The Bushwhackers, led by men set on revenge, make a raid into Kansas. At 19, Jake is ill at ease with war. As his friends die one after another, he must decide where honor lies." IMDB
"…directed by Iranian filmmaker Abbas Kiarostami. The film tells the story of the real-life trial of a man who impersonated film-maker Mohsen Makhmalbaf, conning a family into believing they would star in his new film. It features the people involved, acting as themselves. " Wiki
blue "M" on man's shoulder: M [Blu-Ray] – Fritz Lang, 1931
"A British army officer who resigns his commission on the eve of his unit's embarkation to a mission against Egyptian rebels seeks to redeem his cowardice by secretly aiding his former comrades disguised as an Arab. When his unit is overwhelmed and captured by the rebels, the hero finds an opportunity to return the 'feathers' of cowardice sent to him by his former comrades by freeing them." IMDB
samurai's shoes: The Red Shoes [Blu-Ray] – Mihcael Powell & Emeric Pressburger, 1948
woman's tshirt: Che – Steven Soderbergh, 2008
blue leopard: The Leopard [Blu-Ray] – Luchino Visconti, 1963
Good work, gumshoes! Now that we've been given a chummy taste of what's to come, we cinephiles have become something like maddened, circling sharks. I can envision the 15th of each month offering one or two of these at a time, along with plenty more that we haven't been promised in this drawing. I'll keep you updated of these monthly releases as the year goes by. If you believe any of this to be erroneous, or if you have any suggestions to what we might have overlooked (there is a sun that is unaccounted for), give us your comments/feedback.
Happy New Year from the CriterionCast!
[Note from the Editor: you can also find a copy of the image in question, along with each drawing tagged, on our
Facebook Page
.]