Who lit the fuse that tore Harold's world apart?
When sitting down to write a review on a new DVD or Blu-ray release, one has to look at the movie and review it accordingly. If the film is an older one and has been well received, then one can reiterate this fact but then delve into the actual home video release of sorts. This has been my problem with the new release of The Long Good Friday from Handmade Films.
---
---
The film itself is a favorite in my household when it comes to gangster films, especially the section of British gangster flicks that had a slight resurgence when Lock, Stock and Two Smoking Barrels came through to this side of the ocean. The Long Good Friday is the breakout role of Bob Hoskins, who most people know as Eddie Valiant from Who Framed Roger Rabbit or Mario Mario from the abysmal Super Mario Bros. The Movie. Hoskins at his visceral best, the leader of the British underworld who wants to finally go legit in this world. The only problem is someone is out to destroy everything he's worked so hard to attain.
Usually a film like this would be all about the revenge, but instead director John Mackenzie uses the film instead to show Harold (Bob Hoskins) trying to figure out where this attack is coming from in the first place. Being the undisputed leader of the London underworld, he's more or less killed every potential enemy in the years he's been in charge, so whoever is trying to topple his empire must be working from within. So the movie is a path of carnage, with Harold at he forefront, going through supposed friends who might or might not know anything pertaining to the world shattering events that occurred on what was going to be the most important day of his life.
---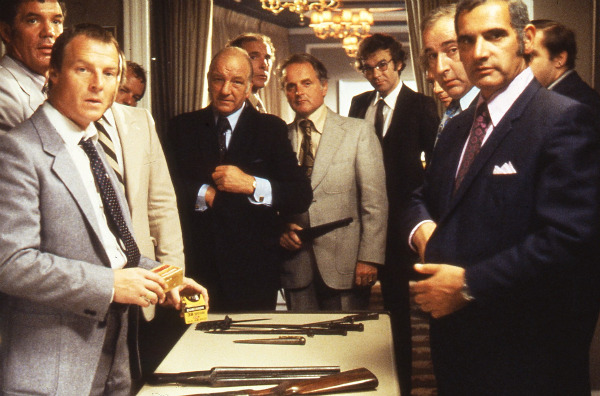 ---
The film itself is a fantastic showcase for Bob Hoskins, who had done about a decade's worth of TV in England before bashing down the cinema's door with this tour de force performance which sadly, due to some legal wranglings during and after the production, wasn't as widely seen in UK cinemas as you'd dare to believe. Not wanting to ruin it for the viewer who hasn't seen this film, there's many scenes that display Hoskins' knack for careful ferociousness, who is a fair boss and would rather go the path of diplomacy than outright violence but is stern and will unleash the wrath of hell itself to get to the bottom of this quandary.
This is the third time The Long Good Friday has been released on DVD in the States and it's definitely not a charm. I'm not sure what improvements were made, if any, to the print from previous versions of the film. Criterion put out the first version here, which was a perfectly fine version of the film (that and Mona Lisa, another Hoskins' gangster flick from that time) and then a couple of years back Anchor Bay also released a slightly prettier print and had a good amount of special features with Bob Hoskins and Helen Mirren, as well as a great commentary track with the Mackenzie.
Handmade Films dropped the ball with a subpar transfer to a fantastic film and no special features whatsoever. It is very affordable, as well as the other Handmade Films they acquired, but we as cinephiles as for more from our home releases. Especially when a former release on DVD looks head and shoulders above this release. If you haven't seen the film before, check out this Blu-ray because it's affordable. If you want superior versions with extras, spend the extra cash on the Criterion or Anchor Bay versions. Or be like me and own all 3 so you can compulsively compare.
---
Entrepreneurial mob boss Harold Shand (Academy Award-nominee Bob Hoskins, Mona Lisa) runs an underworld empire but his dreams are much bigger. He and his sophisticated wife (Oscar-winner Helen Mirren, The Queen) aspire to partner with American mobsters to turn the barren docklands of London into a development for the upcoming Olympics. But their perfect plan begins to unravel when a string of deadly bombings leads Shand to the stunning realization that he is being targeted by the IRA. A bloody race to hold on to his crumbling schemes brings him to an explosive climax in this taut, riveting thriller.
---